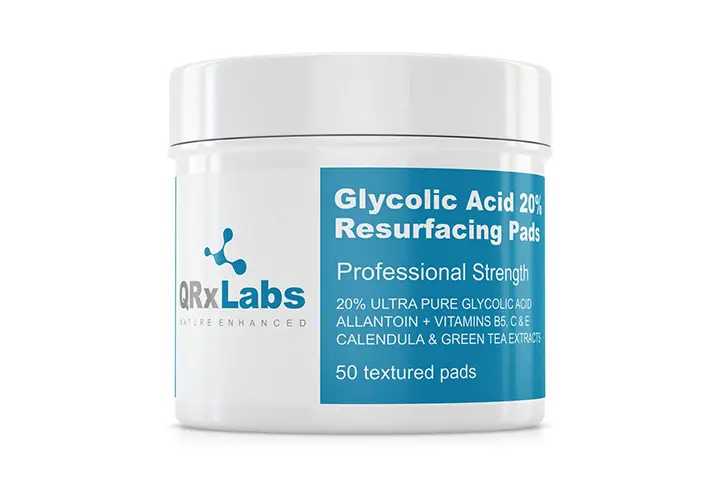 Exfoliate skin with QRxLabs store's Resurfacing pads. They reduce scars, bumps, lines and wrinkles. These work gently on the skin and effectively reduces the appearance of fine lines and improves texture.
To get newer and youthful skin use these pads. They remove dead skin cells and maintain your skin healthy and hydrated.
QRxLabs Glycolic Acid 20% Resurfacing Pads
How it Works:
The main ingredient is Glycolic acid, it removes dead skin cells and helps to fade any unevenness or discoloration in your skin tone.

It effectively removes dark spots, age spots and hyperpigmentation.

These pads are infused with vitamin B5, C and E, Green tea, Calendula and allantoin.
Vitamin B5, C and E are the antioxidants which help to reduce the number of acne related problems.
It also moisturizes and repairs the damage caused by UV rays.
Green tea works as an anti-inflammatory and it also effectively treats acne-prone skin and calendula help to heal the wounds and also soothe and protect your skin.
Pros:
Exfoliate the skin and reduce the appearance of fine lines and wrinkles.
Improves skin hydration.
Reduce photo-damage and skin tone issues.
Makes your skin younger and more radiant.
The ingredients act as antioxidants and anti-inflammatory.
Cons:
Not suitable for all skin types.
Rating: 4.4 out of 5
Get a smoother looking skin without irritation using these Glycolic acid pads. This moisturizes the skin by reducing the appearance of fine lines and improves skin texture.
Frequently Asked Questions (FAQ's)
Q. How wet are these pads?
Ans: They're VERY wet! So wet that you'll need to use your fingernail to grab a pad, even though the pads are notched.
Q. Will this help to get rid of brown spots?
Ans: Glycolic Acid 20% Resurfacing Pads help fade away dark spots through exfoliation. With consistent applications, you can expect great results over time.
Q. Can it be used under the eye?
Ans: No…do not use the under eye because it's so fragile
Alternate Products:
You Might Also Like:
.