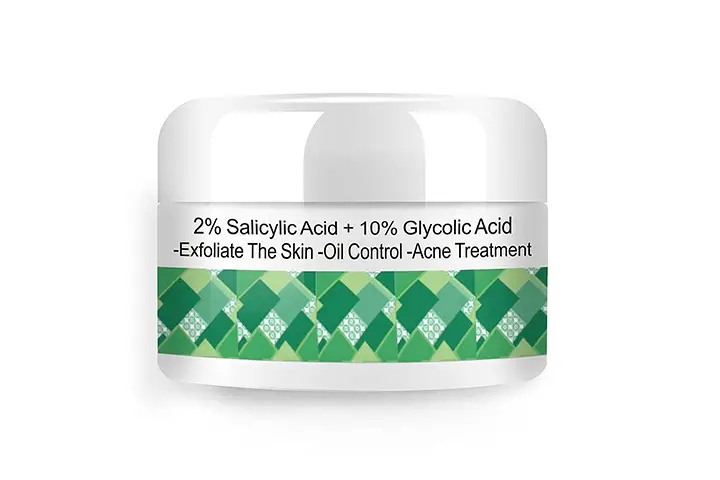 Acne is caused when tiny holes in the skin become blocked. It leaves marks on your face. Grocerism Acne wipes help to remove acne and keep skin clear.
They effectively resolve different acne related problems and other skin problems like black heads, acne scars and post acne marks. These wipes are designed for both men and women.
Grocerism Glycolic Acid
How it Works:
This product contains 10%glycolic acid, which exfoliates and improves the effect. 2% salicylic acid penetrates into your skin and works to dissolve the dead skin cells and clogging pores.
The hypoallergenic cleaning formula of this product cleanses your skin without stripping its natural moisture.
It is specially designed for acne prone skin.
Pros:
Keeps pores unclogged and clear.
Oil-free and alcohol free.
Moisturize and hydrate your skin.
Best for acne, dry skin, black heads and acne scars.
Removes excess oil and dead skin cells, dull skin.
Cons:
For some people it may cause skin dryness.
Rating: 4.4 out of 5
These soft touch cleansing pads are suitable for all skin types. They deeply cleanse the skin, exfoliate the skin and control oil. They also effectively solve acne problems. So try it once to maintain your skin healthy and happy.
Frequently Asked Questions (FAQ's)
Q. How long do you normally leave these pads on your face?
Ans: Use a cotton pad to wipe the skin, apply the smooth side of the pad on the acne area for 3-5 minutes to diminish inflammation and also hydrate and moisturize.
Q. Does this product contain alcohol?
Ans: The oil-free, alcohol-free, hypoallergenic cleansing formula, mild and non-irritating, contains moisturizing ingredients.
Q. Should I wash my face after application?
Ans: No need, it can be moisturizing. If you feel discomfort, such as itching, you should rinse gently with cold water. It will be neutralized by water, so once in contact with water, it must stop working.
Alternate Products:
You Might Also Like: