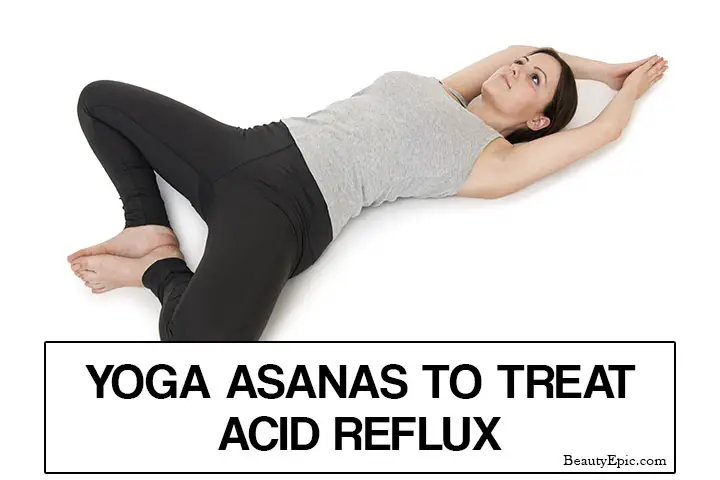 Gastroesophageal reflux disease can cause damage to the esophagus and can cause serious health problems. Acid can cause heartburn and you may have sleepless nights. The most effective natural remedy is practicing yoga poses. Here are five yoga poses to treat acid reflux.
5 Effective Yoga Poses to Treat Acid Reflux
1. Reclining Bound Angle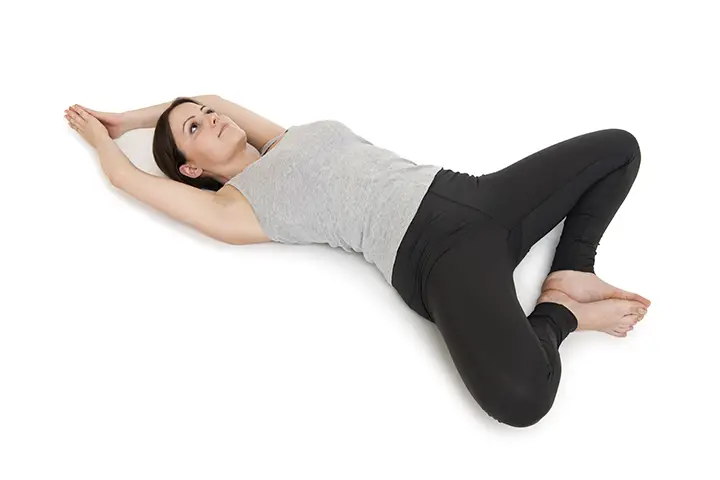 How to Do:
Sit with your legs stretched in front of you.
Cross your legs and bring the heels towards the pelvis.
The soles of the feet should press together.
Lean backward till your back touches the floor.
Let your arms rest on the sides of the body.
Stay in this position at least for 5 to 10 minutes.
Number of Repetitions: If you can remain in the pose for more than 10 minutes, no need to repeat the pose.
How it Helps: This pose relaxes the mind and abdomen and reduces acidity in the stomach.
[ Read: Best Yoga Poses for Better Digestion ]
2. Supported Supta Sukhasana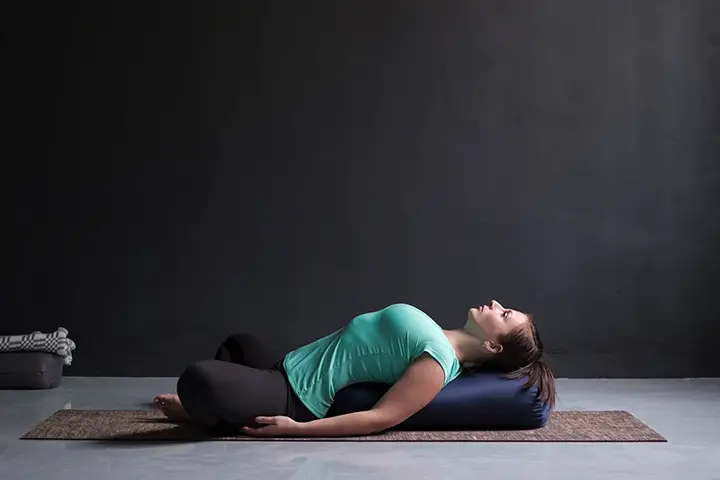 How to Do:
You will need supporting pillows or blankets to do this pose.
Arrange the pillows or blankets under your knees, under the arms, and your head.
Lie down with proper support under the knees, arms, and head.
Stay in this position as long as you feel comfortable.
Number of Repetitions: Lie in this position whenever possible.
How it Helps: This reclining position prevents back flow of acid into the esophagus reducing discomfort. It strengthens the muscle of the esophagus.
[ Read: Easy Yoga Asanas for Irritable Bowel Syndrome ]
3. Warrior I Pose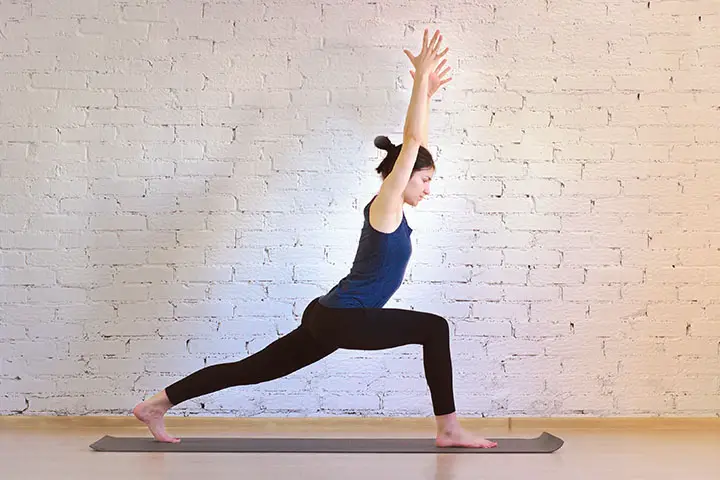 How to Do:
Stand with the feet apart and arms on your sides.
Turn and move your left foot to a distance of 3-4 feet, this foot should be in a 90-degrees angle with the other foot.
Move the right foot inwards at an angle of 45 degrees.
Give weight on the right heel and bend left knee over the left ankle.
Stretch your arms up and keep the arms parallel.
Your gaze should be on your fingers.
Hold for 1 minute.
Release and repeat with the other foot on the front for the same length of time.
Number of Repetitions: You can do at least 2 repetitions on both sides.
How it Helps: Stress is a major reason for acid reflux and performing this pose to reduce stress and improves breathing and abdomen toning.
[ Read: Yoga Poses to Boost Your Immune System ]
4. Triangle Pose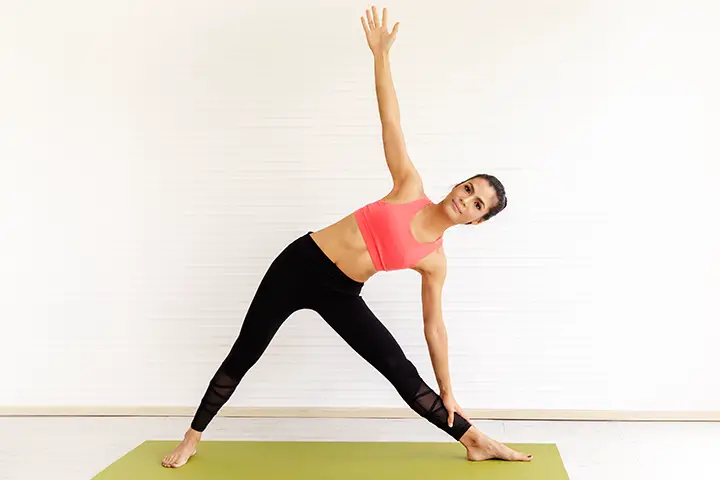 How to Do:
Stand with your feet wide apart (at least 4 feet).
Stretch your arms sideways.
Turn your left foot to 90 degrees and right foot 45 degrees.
Bend slightly on to your left leg and place the left hand on the left ankle.
The right arm should point towards the ceiling.
Turn your gaze to the top hand.
Remain in the pose for 5 to 6 breaths.
Release and repeat with the other side.
Number of Repetitions: Repeat it 5 times on both sides.
How it Helps: This pose improves digestion and reduces acid reflux.
[ Read: Best Morning Yoga Poses to Start Your Day ]
5. Revolved Triangle (Parivrtta Trikonasana)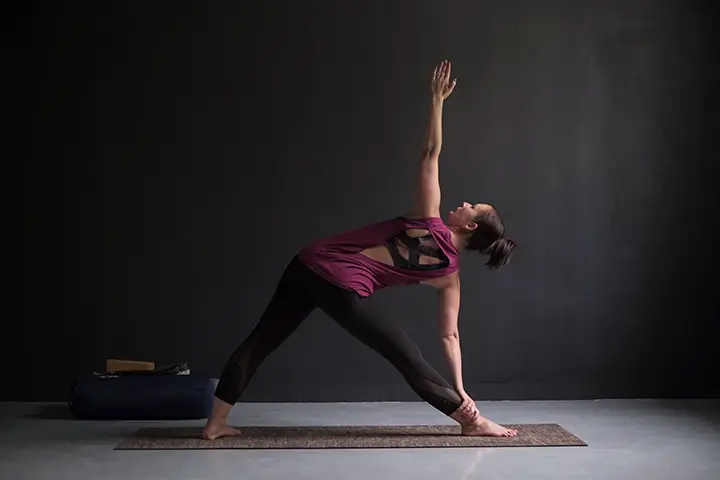 How to Do:
Stand with your feet one–leg width apart and arms stretched to the sides.
Put your right leg forward with foot forming 90 degrees and left foot 45 degrees.
Bring your left hand to the floor to the inside of the right foot.
Your right arm should point to the ceiling.
Hold for 5 to 8 breaths and release.
Repeat with the other side.
Number of Repetitions: Perform 2 to 3 repetitions on each side.
How it Helps: The twist activates the digestive system to function better and this prevents excess production of digestive acids.
These yoga poses not only keeps you calm but also improves digestion and increases your stamina.
Best Yoga Accessories
You Might Also Like: