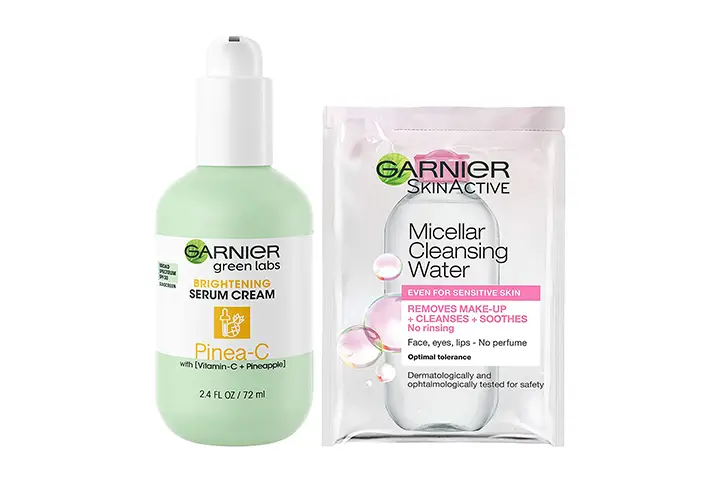 We all try different tips to brighten up our skin but because of pollution, stress skin will become dull. Choose Garnier Skin Active Green Labs Pinea-C Brighten serum. It keeps your skin healthy, plump and gives brightness.
This bottle is one but performs 3 jobs.
It works as a moisturizer for 24 hour hydration, as a serum for potency and as a sunscreen for protection.
Garnier SkinActive Green Labs Pinea-C Brightening Serum Cream
How it Works:
The brightening formula of this product contains vitamin C and pine apple.
Vitamin C is an antioxidant which helps to stop the abnormal production of skin pigments to even out skin tone and it lightens dark spots, sun spots and hyperpigmentation.
Pine Apples are rich in Alpha hydroxy acids that exfoliate dead skin cells and brighten your skin.
The enzymes of this fruit help to maintain your skin healthy and looking good.
The lightweight texture of this cream is absorbed quickly and corrects uneven skin and brightness.
The safe and effective sun filters and provide SPF 30 protection.
Pros:
It will not leave any white cast residue on skin.
The formula of this product does not contain mineral oils, parabens and dyes.
Allergy and dermatologist tested for safety.
Brighten and hydrate skin.
Lightweight and quickly absorbs.
Cons:
Rating: 4.5 out of 5.
The best ever product which contains cleansing water helps to cleanse gently and removes makeup effectively. with in a week you can get healthy, glowing looking skin.
Frequently Asked Questions (FAQ's)
Q. Is this fragrance free?
Ans: The Pinea-C Brightening Serum Cream Sunscreen Broad Spectrum SPF 30 is not fragrance free.
Q. Does this have vitamin C in it?
Ans: This product does not contain vitamin c.
Q. Can this product be used under the makeup?
Ans: Yes you can use this under the makeup.
Q. Does it help to remove fine lines?
Ans: Yes it helps to moisturize and remove fine lines.
Alternate Products:
You Might Also Like: