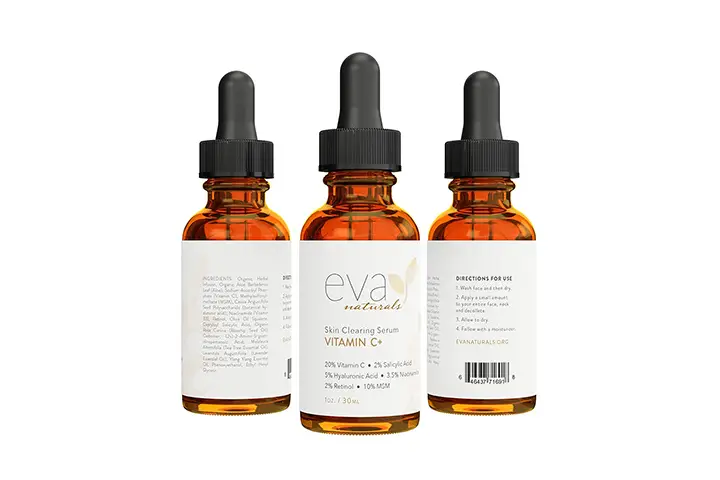 Vitamin C is the best beauty ingredient. It has many benefits to maintain our skin health. Eva naturals vitamin C serum also contains some more components to keep our skin firmer and smoother.
Eva naturals vitamin C serum also works great to lighten dark spots and hyperpigmentation. The silky light serum contains nutrient-rich ingredients that repairs your skin such as moisturizing, strengthening and firming.
Eva Naturals Vitamin C Serum
How it Works:
This vitamin C serum is a blend of 2% salicylic acid,5% hyaluronic acid, 3.5% niacinamide, 2% Retinol and 10% MSM.
Vitamin C is an antioxidant which helps to heal the damage caused by UV rays.
The hyaluronic acid is the best ingredient which effectively increases skin moisture and reduces the appearance of fine lines and wrinkles.
It also contains niacinamide which helps to maintain your skin healthy by reducing inflammation and protecting from environmental stresses.
It also fights with the blemishes and improves acne skin prone. Salicylic acid shed the dead the dead cells and decreases redness.
MSM avoid sign of aging and works as an anti inflammatory.
Pros:
Eliminates pimples.
Prevents pimples.
Combat with aging signs.
Renews our skin and nourishes.
Removes redness and softens scars.
Cons:
Rating: 4.3 out of 5
The best ever vitamin C serum which blends with other components. It avoids aging signs, treats acne and maintains skin complexion. It also helps as a natural skin care and best for dry skin. Eva naturals vitamin C serum is safe and effective for all skin types.
Frequently Asked Questions (FAQ's)
Q. What is the age to start this product?
Ans: Need it until you're in your 20's and beyond.
Q. At what time do I have to use this?
Ans: It is better to use at night, but you can use it anytime. It will not irritate skin at all.
Q. What is the percentage of retinol in this product?
Ans: 2 percent. That is the most you can have in a product that is not a prescription.
Alternate Products:
You Might Also Like: