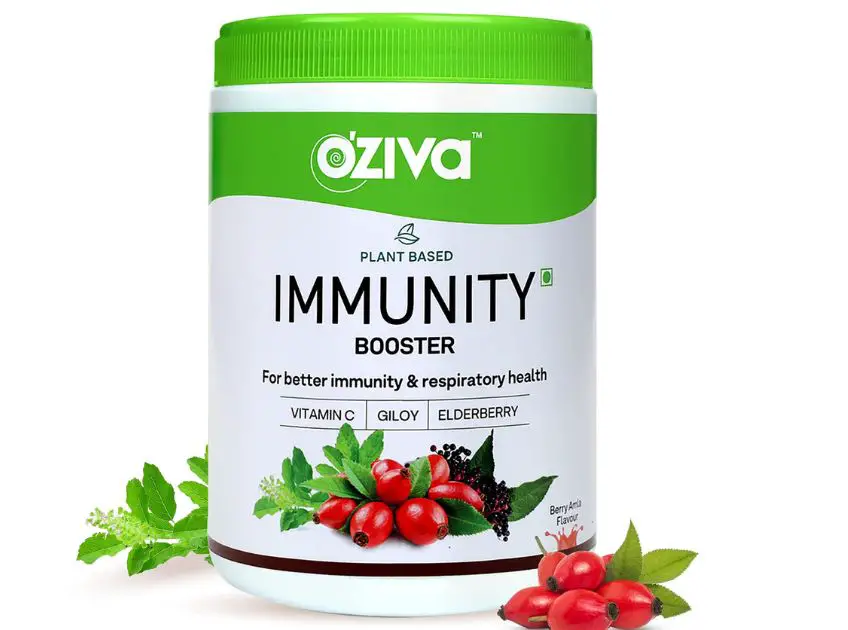 Strong immunity is essential to fight off infections and keep diseases at bay. In the times of the covid19 pandemic, we have seen the havoc virus has created. People with strong immunity came out healthy, and those with the slightest weaker immune system fell into the prey.
Pandemic has told us the importance of having a strong immune system. Even if you take a healthy diet that consists of all the nutrients, minerals, and vitamins, intake of some immunity booster will ensure that you are working on your immune system.
There are multiple brands that sell immunity booster pills but are they really effective? Today we will review Oziva plant-based immunity booster and see how effective it could be for the body and overall fitness.
Product Review
Oziva Plant-based immunity booster is an amazing product as its formulation consists of extracts from plants and herbs. It consists of antioxidants, immunity-boosting herbs, and vitamins from plant extracts that keep you fit and healthy.
Since it replenishes the nutritive requirements of the body, all the nutritional demands are met, helping to keep you fitter and healthier. It is believed that a regular intake of Oziva Immunity Booster keeps diseases at bay and makes the immune system powerful enough to fight off infection-causing microbes like bacteria and viruses.
Since all the components of the product are plant-based, there are no side effects. While most immunity-boosting pills are made with synthetic vitamins and minerals, the results of Oziva seem fruitful.
Product Description
Oziva plant-based immunity booster consists of natural ingredients like Elderberry, Guduchi (Giloy), Acerola Cherry, and Tulsi plant that naturally increase the strength of your immune system. There are five super antioxidants in whole, three standardized Vitamin plant extracts, and four immunity-boosting herbs- basically, everything your body needs to fight off infections and stay healthier than ever.
The special formulation of this product is highly effective. When a person takes it regularly, the body becomes stronger, and its ability to keep diseases at bay enhance. It also consists of elderberry extract, acerola cherry, and acai berry that are naturally richer in Flavonoid BioActives.
For Vitamin C, there are pomegranates, orange, and amla extracts which increase the body's ability to fight off diseases. To use it, mix two scoops, which are approximately 8 g of powder, in 200 ml of water. Stir well and enjoy your healthy drink.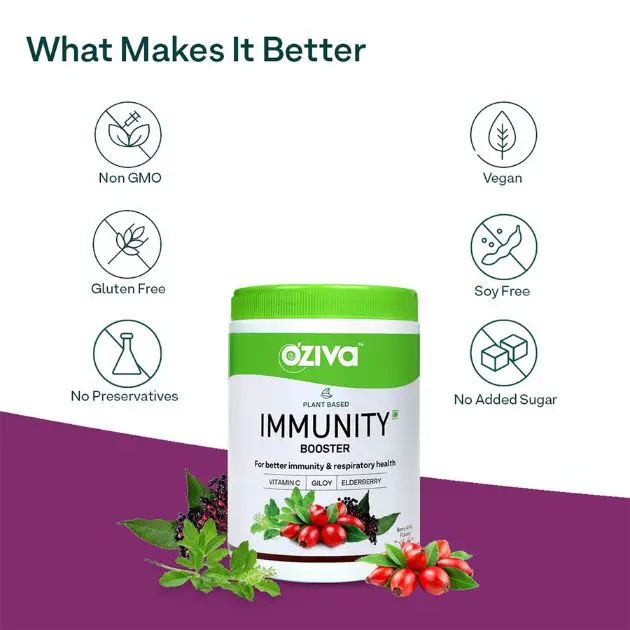 Nutrition Facts
The major components of Oziva Immunity Booster include the following-
Elderberry – It is a rich source of phytonutrients that helps to improve the respiratory health of the body.
Rose Hip – The presence of polyphenol in the Rose Hip helps to reduce inflammation.
Acerola Cherry – Being a rich source of Vitamin C, this is a natural immunity booster ingredient present in the capsules.
Holy Basil – It helps to combat pathogens and build the resistance power of the body.
Acai Berry – A rich source of antioxidants, Acai Berry increases the body's ability to fight off infections and disease-causing organisms.
Giloy – It helps to improve innate immunity and rejuvenate the health.
What We Like
It is a chemical-free product, highly effective in boosting immunity.
Every ingredient of the product is plant-based.
It is soy-free, gluten-free, and non-GMO.
There are no preservatives or artificial sweeteners.
It is completely vegan, making it suitable for all types of people.

What We Don't Like
The only drawback of Oziva plant-based Immunity Boosters is it does not give instant results. The plant extracts work on the root cause and replenish the nutritional deficiencies in the body, which is a time-taking process. However, the results are long-lasting.
How Much Does Oziva Immunity Booster Cost?
The regular price of the Oziva Immunity Booster is Check Here. It is available at a discounted price only at these two sources. Always buy Oziva products from trusted sources to enjoy the benefits of the sale.
Alternative Products
Conclusion
Oziva Immunity Booster is highly effective, and there are no side effects. Since the ingredients are plant-based, you can definitely give it a try and strengthen your immune system.
Read More