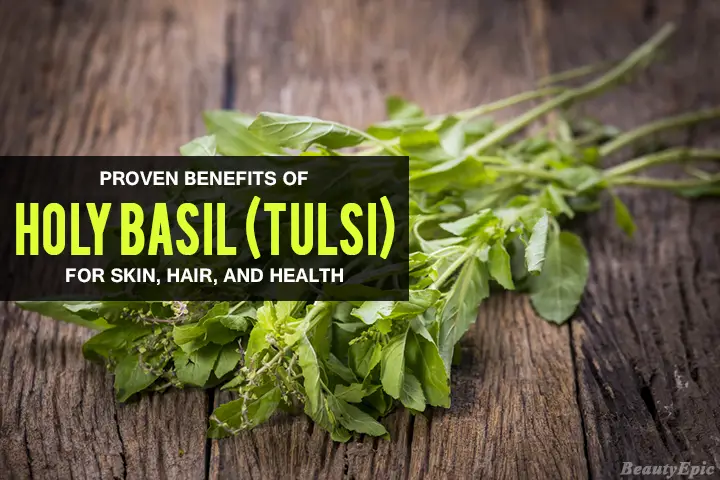 The holy basil in India holds a lot of importance. It is just not a medicinal herb but also a worship plant. We Indians pray Tulsi and has a special place for it in our house premises. The Tulsi leaves have multiple purposes. The following are some of the benefits of Tulsi:
Holy Basil Benefits for Health
1. Treats Fever
The basil leaves has phytonutrients which cures the fever. The malaria and dengue fevers are the most complicated ones and takes time to be treated. They are life taking ones and needs immediate cure. The basil tea can cure these fevers.
Take 1 glass of water and set it to boil.
Add few basil leaves to it.
Add crushed ginger to ti.
Once the water quantity reduces to half, switch off the burner.
Add little sugar to it and blend it well.
Drink this after every 3 hours for a faster recovery.
2. Treats Cold and Cough
You don't have to suffer for long to get rid of these cold and cough. Chew some basil leaves and you will feel relieved. They have antioxidants that can fight with the bacteria. The basil leaves are mostly used in the cough syrup and cough tablets. Chew them continuously for 3-4 days and see the benefits of it.
3. Treats Sore Throat
Tired of vicks and other sore throat medicines? Basil leaves has the natural properties to deal with sore throat.
Take a glass of water and set it to boil.
Add few basil leaves to it.
Add 1 pinch of salt to it and stir it well.
Cool this water and use it as a gargle water.
The sore throat will get a relief from the pain. Repeat this process thrice a day.
4. Treats Bites and Stings
Got stung by an insect? Unable to bear the pain? Basil leaves can be your medicine. Take few basil leaves and squeeze the juice out of it. Apply it on the affected area and leave it for few hours. The venom will be thrown out and the you will see a decrease in the pain.
[ Read: Uses of Apple Cider Vinegar ]
5. Benefits for Eyes
Basil leaves are a natural source of Vitamin A, which is must for your eyes. The eyes demands a lot of rest, hence proper care must be taken of.
Take few basil leaves and soak it in water.
Use the water to wash your eyes .
6. Removes Toxins Out of Body
The body produces tons of toxins on everyday basis. These toxins are generated as a result of digestion process. They must be thrown out from the body as part of everyday routine or else you can be a victim of diseases. The antibacterial and antifungal properties deals with the toxin levels. Chew few basil leaves early in the morning or you can also take basil tea.
This will relax your tiring eyes. This is also a remedy to prevent conjunctivitis and other eye problems.
7. Prevents Acne and Pimples
The red inflamed acne gives an ugly look to our face and we so hate it. Neither we can allow it to stay on our face nor can we burst it out with our fingers. A natural remedy is the only solution to it. There are antibacterial and antifungal properties present in the basil leaves. Take some basil leaves and squeeze the juice out of it. Apply the paste on the acne and leave it overnight. The pimple will slowly diminish.
8. Treats Vitiligo
If you have white patches on your skin, it can be slowly treated by consuming basil leaves on everyday basis.
9. Prevents Blackheads
Those hidden blackheads on the skin will soon start looking visible. These blackheads can be easily removed using Basil leaves. Take 2 basil leaves and wet it. Place it on the affected area and leave it for few minutes. You can also rub it to absorb all the ingredients from Tulsi leaves.
10. Improves Skin Tone
Looking for an even skin tone? A healthy and fresh skin is a gift to those who has it. The pollutants and harmful chemicals leaves the skin affected and damaged.
Take few basil leaves and soak it in water.
Crush it in the morning to form a thick paste.
Apply on your face and neck region.
Leave it for few hours.
Wash it off once it dries.
11. Prevents Hair Loss
A common problem that we face in today's time is hair fall and hair loss. There could be various reasons for hair fall, but control at the initial stage is must. Take some basil leaves and make a paste to it. Add this paste to the regular oil that you use. Apply this newly formed oil to your scalp and hair follicles and massage in circular moments. Leave it overnight and wash it with a mild shampoo in the morning. This will reduce itchiness and will relax your mind.
12. Strengthen Hair Shaft
Hair thinning is the initial stage of hair loss. If you are suffering from baldness or hair thinning, add basil leaves to your regular oil and apply on your hair. This will strengthen the hair shaft.
13. Protects against Radiation
The basil leaves has antioxidants and flavonoids which protects the cells against radiation. This prevents cell ageing as the oxidation of the cells are prevented.
14. Treats Grey Hair
Take 2 teaspoons of basil leaves powder and 2 teaspoons of amla powder. Make a thin consistency of it and leave it overnight. Strain it in the morning and wash it as a final rinse. This will gradually prevent hair from greying. You can apply it twice for better and faster results.
These are some of the best benefits of basils. This is an ancient herb and has been added in diet from those good olden days. They do not have any side-effects, hence can be consumed by all the age groups. You can keep a Tulsi plant in your premises to get easy access to the leaves.
You Might Also Like:
Image:- 1