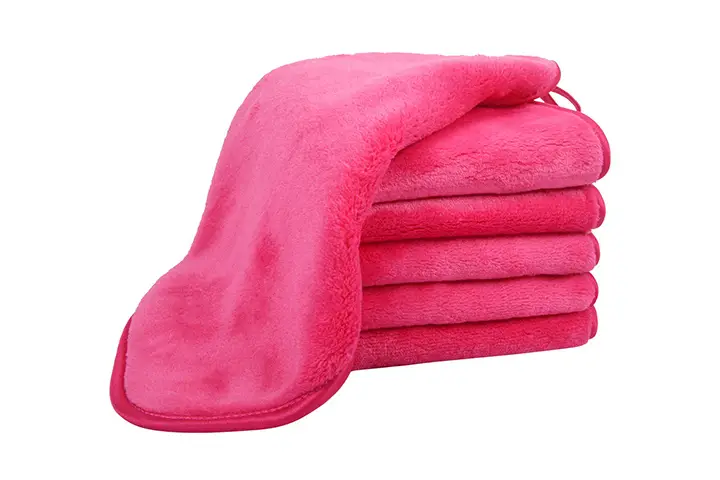 Vivote microfiber makeup remover cloth is a soft fleecy flannel with dense, soft fibers are about half a centimeter long. This cloth can be used as daily cleansing cloth as it works gently on the skin and removes makeup effectively.
After a long war of chemical cosmetics, an entire day on your face gives a natural method for removing makeup by using this Vivote microfiber makeup remover cloth.
VIVOTE Microfiber Makeup Remover Cloths
How it Works:
The cloth is made of 100% polyester material and it is very smooth and soft.
The new eco-friendly way to remove your makeup without using any cleansers oil, which initiates your skin.
You just moistened with warm water to meet the requirements of full face makeup removal.
This cloth effectively removes eye shadow, mascara, eyeliner. It also works great for foundation, blush, lipstick.
This reusable cloth is long lasting and also saves your time and money.
After every use you just rinse and dry it.
Pros:
The Clothes are extremely soft and gentle.
Cleanse your face by removing dirt and leaves healthy.
Great for self use and less wastage of your money.
No rinsing required.
Helps to use less makeup removers and cleansers.
Cons:
They won't remove all types of makeup effectively.
Rating: 4.6 out of 5
This microfiber cloth removes all the dirt and stubborn makeup. Buy this product for sensitive skin and delicate eye area. Pick this product and enjoy an oil and dirt free face.
Frequently Asked Questions (FAQ's)
Q. Does this product remove waterproof makeup?
Ans: Yes it does. use warm water, wash your face with normal water.
Q. Do we need to wash this cloth between uses?
Ans: It is suggested to give the face towels a hand wash between uses and throw it in with your washing machine. You can also scrub with antibacterial soap after each use and then put them in your weekly wash, they come out good as new.
Alternate Products:
You Might Also Like: