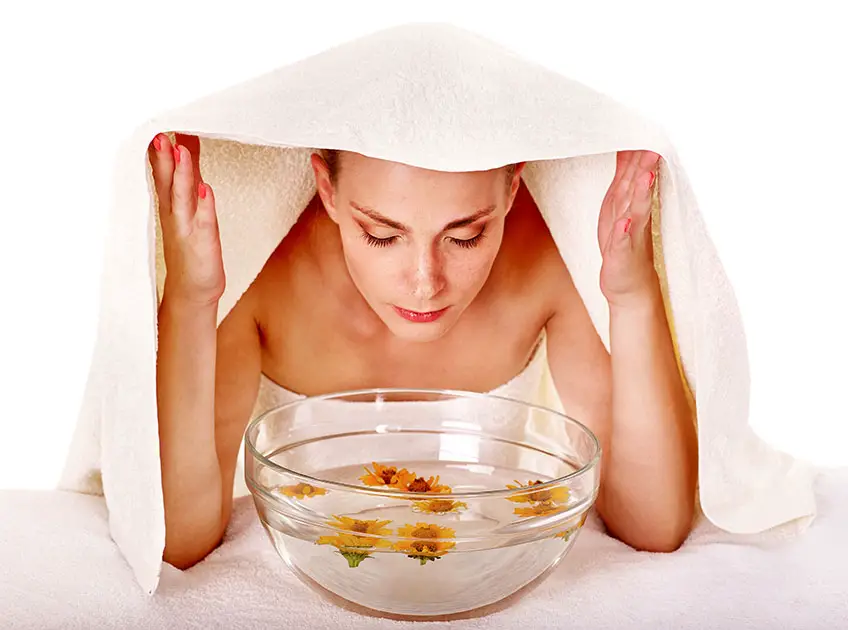 Giving steam to your face can do miracles. With plenty of benefits, face steaming should be a part of everyone's skincare regime. The best part is you can do it at your home and make the skin deeply cleansed, nourished, and hydrated. Keep reading to learn how to steam your face and get the glorious glow right at home.
How To Steam Face?
Here are some of the best DIY methods to help you steam at home. These simple techniques will give boost your skin and make it feel refreshed and rejuvenated.
Taking Steam Over A Bowl Or Sink Of Hot Water
For this technique, you would require a fluffy towel big enough to cover your head and face, water, and a pot or bowl. You can also use herbs or essential oil of your choice.
Secure your hair and cleanse your face thoroughly. You can also exfoliate the skin to open the pores and remove all the dirt and grime. Cleanse your neck too.

Boil 4 to 6 cups of water, depending on how much your bowl can handle.

Add herbs and let the water begins boiling. Keep stirring to let the herbal extracts seep into the water.

Once the water comes to boiling, transfer it to your bowl. If you want to use essential oils, this is the right time to add a few drops of them.

Now take your seat, drape the towel over the head and pot and hold your face at least 6 inches above the water.

Make sure to maintain enough distance to avoid burning your face with steam.

You can move your head up and down depending upon the heat or lift a corner of the towel to cool off whenever needed.

Steam for 5 to 10 minutes.
Taking Steam With Warm Towels
For this method of steaming, you need a hand towel, hot water, and herbs, if needed.
Boil 4 to 6 cups of water, depending on how much your bowl can handle, and add herbs.

Stir constantly and let the water comes to boiling.

By that time, cleanse your face and neck thoroughly with a gentle exfoliating cleanser.

Once the water has boiled, transfer it into the bowl and soak the towel.

Take the towel out and wring it out to remove excess water. The towel should be damp.

Now lean back in a comfortable chair and place the towel on your face. Hold each corner in such a way that they meet at the center of your forehead.

Make sure your entire face is covered with a towel, including your eyes, leaving just your nose to peek.




Stay like this and relax for 5 to 6 minutes.
Steaming With A Home Facial Steamer
It is one of the easiest techniques to steam the face; however, you need to have a facial steamer at home.
Read the instructions provided in the instruction booklet that came with the facial steamer.

Fill the steamer with water as per the directions.

Place it on a tabletop near an outlet, so you can easily plug it in.

After a few minutes, the steamer will start emitting steam.

Secure your hair and cleanse your face with a gentle exfoliating cleanser.

Now sit comfortably and set your face inside the attachment.

Keep the face away from the steamer, generally 5 to 10 cm or as written in the instruction booklet, to avoid burning the face.

Steam your face for two to three minutes and see how your skin is handling the steam. Take a break for one minute and repeat.
It is one of the best techniques, offering more powerful steam than any other technique.
How Does Steaming Help Skin?
Some of the major benefits of steaming skin include the following-
1. Cleanses And Hydrates The Skin: When your take steam, the pores of the skin open, which helps to loosen the buildup of dirt and provide deep cleansing. Also, it softens the blackheads so that you can pop them out easily. The skin gets well-nourished and deeply hydrated.
2. Promotes Circulation: Warm steam and increased perspiration dilate the blood vessels and increase the blood circulation. This boost in blood flow nourishes the skin and delivers oxygen to it, resulting in healthy and glowing skin.
3. Releases Bacteria And Trapped Sebum That Cause Acne: When the pores open, the dead skin cells, along with bacteria, accumulated sebum, and other impurities come out, leaving behind healthy, dirt-free and supple skin.
4. Allows Better Absorption Of Skin Care Products: Whatever skin care products you apply after steaming, they get absorbed instantly, giving you more advantages.
5. Promotes Production Of Collagen And Elastin: Steaming boosts the production of collagen and elastin, the two components that contribute to firmer and youthful skin.
Now that you know how to steam the skin in three different ways and the benefits of doing it include it in your beauty regime for glowing and healthy skin.
You Might Also Like: