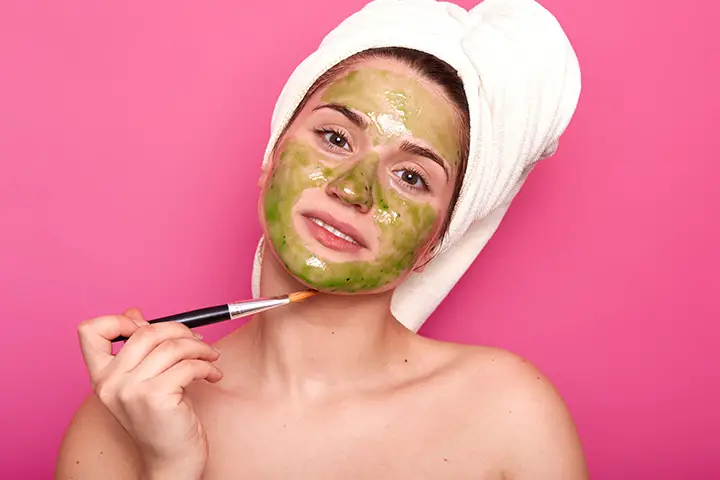 After a long stressful day and exposure to sunlight and pollution while traveling, our skin feels dull and tired. There are a wide range of products in the market which claim to clear the skin but they have some chemical ingredients added to them and if you want to avoid them, you can go for natural ones that can be made easily at home.
Homemade Face Mask For Clear Skin:
Some of the easy DIY homemade face masks for clear skin are as follows:
1. Honey, Avocado, and Coconut oil Face Mask:
Honey has vitamin K which brightens the skin and reduces dark circles. Free radical damage is reversed by the zinc in it, thus avoiding premature aging.(1)
Besides this, the blemishes are reduced by vitamin E in honey which is also an amazing anti-oxidant. It also has B-complex vitamins which ensure better skin health, controls oil, and reduces skin irritation.
Ingredients for making the face mask:
Take 1 teaspoon each of:
Natural honey
Mashed avocado
Coconut oil
Process of application:
It is better to use facial steam first for opening up the pores.
Mix coconut oil, mashed avocados, and honey in a bowl, and massage this mixture on clean skin using your fingers.
Continue this for about 60 seconds and let it remain on the skin for about 15 minutes.
Then use some warm water to wash your face and wipe it off with a tissue to remove any excess coconut oil.
[ Read: Homemade Skin Tightening Face Mask Recipes ]
2. Honey, Yogurt, and Strawberry Face Mask:
Yogurt has lactic acid which ensures smooth skin, keeps it moisturized, exfoliates, prevents pigmentation, and helps fight wrinkles too. The calcium in it reveals the brighter skin underneath and scars are lightened by vitamin B5.(2)
Ingredients:
1 teaspoon Yogurt
Natural honey
A ripe Strawberry
Process of application:
Mash a ripe strawberry with the other ingredients using a fork. On your clean and dried face, apply this mixture, avoiding contact with eyes, and leave for about 15 minutes.
Once it dries up, you can scrub it off gently with warm water. Then clean it with cool water for closing the pores.
[ Read: Homemade Face Mask Recipes for Acne ]
3. Banana Face Mask:
Bananas are quite useful to avoid premature aging of the skin. It fights the fine lines and wrinkles occurring because of skin exposure to UV light. The potassium in it keeps the skin hydrated.(3)
Elasticity or strength is maintained by amino acid, lectin destroys the harmful bacteria which causes pimples. Besides this, it has vitamin C which is a strong antioxidant that fights free radical damage and helps in collagen production.
Ingredients:
1 ripe banana (ripe)
1 teaspoon each of:
Orange juice
Yogurt
Process of application:
Mix all the ingredients above by mashing the banana to create a smooth mixture. Apply it on a clean face with fingers or a brush and let it sit for about 15 minutes.
Then use some warm water to wash it off to get a fresh feeling. The mixture can be stored in the refrigerator for 5-7 days.
You can also use overripe bananas in this process. In case you need more exfoliation, add some ground oats to the above mixture along with a few drops of olive or coconut oil to lock in moisture.
[ Read: Homemade Banana Face Mask Recipes ]
4. Avocado Oats Face Mask:
The healthy fatty acids of avocado ensure skin moisturization, making it softer. Any dryness or cracked skin is healed by biotin in it. Besides this Vitamin A keeps the skin healthy.
Ingredients:
1 tablespoon each of:
oat powder
Mashed avocado
Process of application:
Mix the ingredients in a bowl to get an even-textured mixture and apply it on a clean face.
Let it sit for about 15 min or even more if you want.
Then use normal water to rub it off in circular motion for removing the dead skin cells so that the softer ones will be revealed.
After the process, you don't have to moisturize as avocado is a natural moisturizing agent.
[Read: DIY Baking Soda Face Mask Recipes ]
5. Egg White, Lemon, and Honey Face Mask:
The protein in egg white helps in tissue repair, resulting in skin free from wrinkles. It has potassium that ensures hydration and magnesium eliminates the free radicals responsible;e for wrinkles.
Besides this, it also has Riboflavin that slows the aging process and keeps the skin radiant.
Ingredients:
1 egg white
Half teaspoon honey
Half of a small lemon
Process of application:
Take the egg white and mix some lemon juice and honey in it. Beat it to get a consistent texture. Use a cotton ball to apply it to the clean face.
You can also get a brush for a mess-free experience while applying it to your face. This brush has to be thoroughly washed after the application.
Lemon juice in the face mask may lead to a stingy experience especially for those having sensitive skin.
They can reduce the quantity of lemon juice in the mask or simply dilute it with some water drops.
Final Words:
These were some simple face masks that are quite cheaper than those available in the market. The best part about them is that they are free from any chemicals. So you can gradually start using any of these recipes to experience smoother glowing skin.
Scientific Evidence:
You Might Also Like: