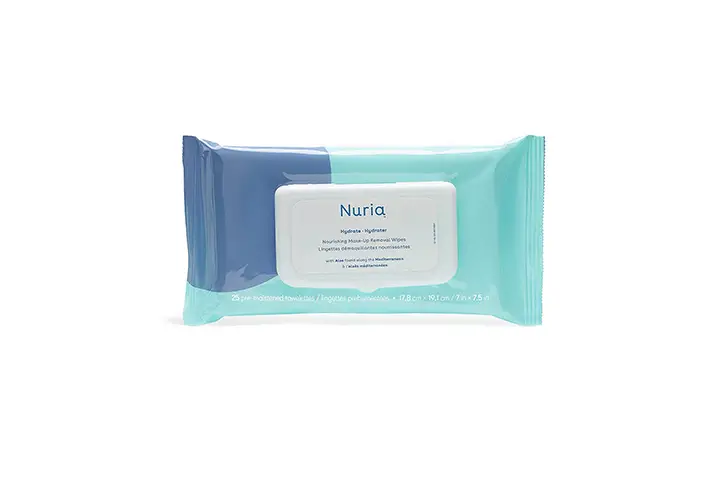 Remove your makeup with Nuria cleansing wipes to eliminate oil, dirt, and all types of makeup instantly without water. These wipes instantly cleanse and makes your face hydrated. These remove all the debris easily and nourishes your skin.
They freshen you up and leave your skin bright, refreshed and feeling naturally clean. No need to rinse.
Nuria – Hydrate Nourishing Makeup Removal Wipes
How it Works:
These facial towelettes work to dissolve all traces of dirt, oil and all buildup on skin.
They are specially formulated to be gentle on the eyes and harsh on the dirt.
They are also suitable enough for contact lens wearers.
The natural ingredients of this wipes is to cleanse and hydrate your skin.
Aloe vera leaf juice acts as a cleansing and detoxifying agent, rejuvenates aged skin and promotes healthy skin.
Vitamin E helps to restore your skin's antioxidant activity.
Pros:
They help to hold skin moisture.
Great to use in a daily beauty routine.
They work gently on your skin to give a radiant glow.
It will not leave any oily residue. So no need to rinse with water.
Vegan and cruelty free.
Cons:
Not suitable for all skin types.
Rating: 4.0 out of 5
The best wipes which contain key ingredients like vitamin E , B and aloe leaf extract, which nourishes your skin and keeps you healthy. The compact pack is easy to carry wherever you want to go.
Frequently Asked Questions (FAQ's)
Q. Did they work gently on your skin?
Ans: Yes. They work gently on your face.
Q. How does it work?
Ans: It works great on your skin.
Alternate Products:
You Might Also Like: