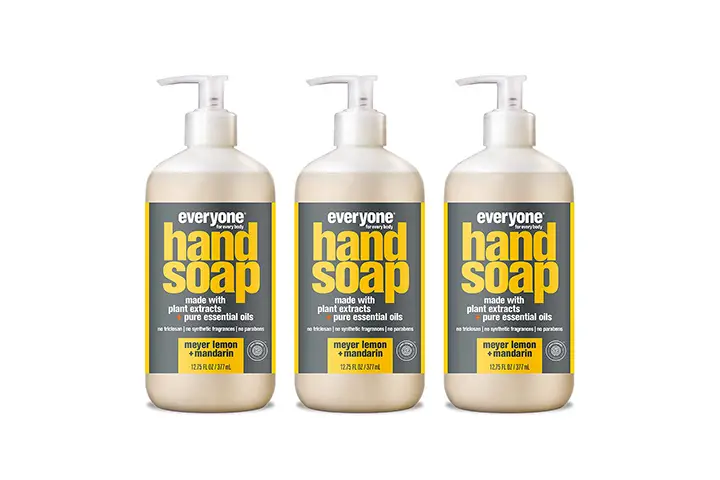 Washing hands with Everyone hand soaps will help you to fight with the germs and also protects us from harmful bacteria. This product cleans and leaves our hands scented.
Everyone hand soaps are non-allergic and dermatologist tested to create a better clean for everyone in the family.
Everyone Liquid Hand Soap
How it Works:
This hand soap is made with coconut-derived cleansers, which clean hands gently and effectively. It is a blend of organic chamomile, calendula, aloe and white tea extracts ,where chamomile works as anti bacterial, aloe gives moisture to your hands and white tea extracts will take out unwanted odour.
It is GMO free, gluten free, triclosan free, synthetic fragrances free and cruelty free none of these products tested on animals.
100% pure lemon and mandarin orange essential oil's refreshes the senses of hands.
How to Use:
Apply enough hand soap to cover all the surfaces of your hand.
Rub hands together to make foamy bubbles, rinse and enjoy great smelling, clean and healthy hands.
Pros:
Hand soaps help us to avoid common infections and prevent uncomfortable intestinal diseases.
This product contains pure essential oil to keep our hands clean and fresh.
It keeps your hands healthy and protected.
Everyone hand soap bottles made with 25% recycled material.
Cons:
Too much usage may cause hands to dry.
Ratings: 4.8 out of 5
Everyone Hand Soap is a certified B-corp, it contains no synthetic fragrances or harmful chemicals. Get the product for healthy and smelling fresh hands.
Frequently Asked Questions (FAQ'S)
Q. Is this foaming?
Ans: No. But it's a nice liquid soap, non – drying.
Q. Is a refill available?
Ans: We do not yet have a refill option for the hand soap. We will be sure to develop the product.
Q. Is this antibacterial?
Ans: No, but lemon and mandarin are good for killing germs.
Q. Is this soap considered hypoallergenic?
Ans: This product doesn't have ingredients that are likely to be allergens.
Alternate products:
Related Articles: