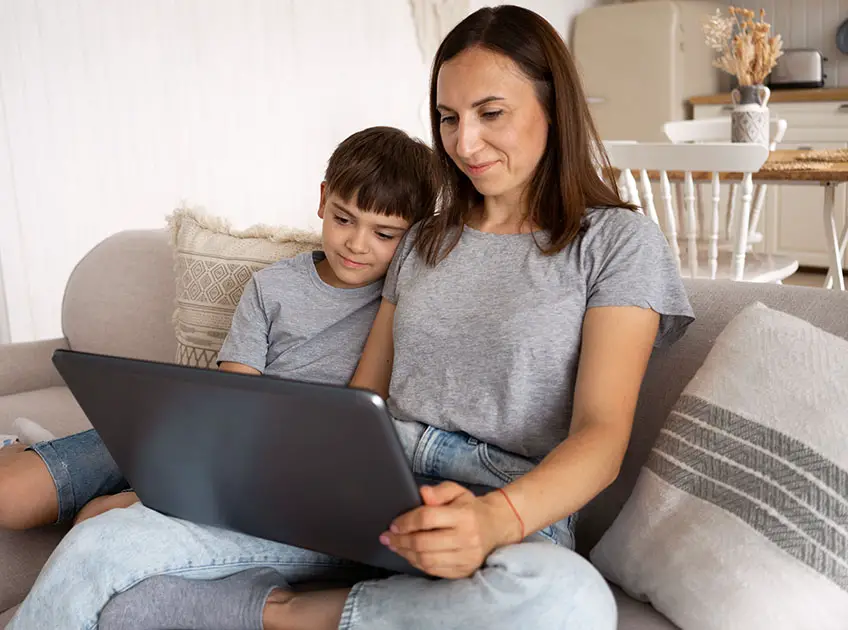 Being a single mother isn't easy. A single mother has to fit in the role of parents while bearing the family's financial responsibility. In such a complex environment, if a mother is still studying, then she may need financial assistance. Governments worldwide have financial assistance and grants for single mothers to help them attain proper education and jobs.
These financial aids aim to make mothers self-sufficient in raising their children in a happy and positive environment, helping them meet all of their children's needs efficiently.
Read on as we give you an insight into various types of grants the US government establishments offer and the procedure you need to follow to obtain those grants.
Grants For Single Mothers
What Is A Grant?
A grant is a monetary, educational, or other form of assistance provided by the government, organizations, corporations or trusts for those who are below the threshold level of income. Unlike a loan, there is no interest on the money nor does the receiver has to pay it back. Grant money is also exempted from tax.
Various Grants For Single Mothers In The US
Federal Grants
The US Government has designed certain grant programs to help low-income individuals secure their lives. A few such federal grants are listed in this section.
1. Community Development Block Program (CDBG): This program provides annual grants to eligible cities and communities to help low-income individuals. It helps to make the community better through:
Loans for business start-ups and small business incubators.
Technical assistance for persons developing microenterprises.
Loans for businesses and assistance in the form of roads and other public facilities.
Improvements to water, gas and electrical services.
Setting up community facilities such as daycare centers, medical facilities, and fire stations.
Eligibility:
Eligibility and services offered differ depending on where you live. Interested single mothers should inquire with their municipal or county officials.
3. Temporary Assistance For Needy Families (TANF): This program supplies funds to the states and territories to provide financial assistance and related support services such as child care, job preparation, and work assistance.
This program helps needy families in the below ways, among others:
Provide assistance to take care of their children.
Support in job preparation and marriage.
Prevent or reduce out-of-wedlock pregnancies.
Form and maintain two-parent families.
Eligibility:
The applicant must be pregnant or responsible for children below 19 years of age.
They must be a US citizen, legal alien or permanent resident.
They must be from a low-income group and underemployed, unemployed, or about to become unemployed.
4. Women, Infants and Children (WIC): This super-supplemental nutrition program for women, infants, and children is designed to safeguard the health of low-income pregnant, postpartum, and breastfeeding women, infants, and children up to five years of age.
Through this program, the participants are provided:
Nutritional food supplements.
Counseling and education about nutritional foods.
Screening and referrals to other health, welfare, and social services.
Eligibility:
This program generally targets low-income and nutritionally at-risk populations. Those who fulfill the below criteria are eligible:
The applicant's gross income is below 185% of the US Poverty Income Guidelines.
Pregnant women throughout their pregnancy and up to six weeks after birth or pregnancy ends.
Breastfeeding women up to the infant's first birthday.
Non-breastfeeding women up to six months after the birth of an infant or the end of pregnancy.
Children up to their fifth birthday.
2. Workforce Investment Act Grant: This grant can help single mothers access job training facilities and develop skills. It also helps people improve upon skills for better pay.
The grant provides three-tiered services:
Core services: Provides assistance in preparing the resume, and workshops related to certain job skills.
Intensive services: Offered to people who could not secure a job using the core services. The services include additional assistance such as career counseling, certification courses, referral to training, short-term pre-vocational training, etc.
Training services: Those who have cleared the intensive services but have not succeeded in securing a job can go for training services such as on-the-job training and occupational skills training.
Eligibility:
The applicant must be 18 years or above and must be a US citizen or a permanent resident holder,
The applicant must be laid off without the possibility of being rehired or displaced due to bankruptcy or merger.
The applicant must be facing difficulty in securing a job with their current skill set.
5. Supplemental Nutrition Assistance Program (SNAP): This program provides nutritional benefits to low-income individuals and families by giving them grants to purchase food from stores.
Using SNAP, the citizens can buy:
Fruits and vegetables
Meat, poultry, and fish
Dairy products
Bread and cereals
Snack foods and non-alcoholic beverages
Seeds and plants, which are used as a food source
Eligibility:
Applicants must meet the below criteria:
Reside in the state for at least five years and have children below 18 years. Income must fall within the SNAP income limits, which are reviewed annually.
Must not already be receiving resources under the Supplemental Security Income or TANF.
Must be seeking work, not quit their job or reduce work hours, and willing to take a job if offered, as well as participate in the employment training program.
6. Medicaid and Children's Health Insurance Program (CHIP): This federal grant and state health insurance program is for low-income individuals. Services such as inpatient and outpatient physician visits, and laboratory, X-ray, and home health support, are covered under this program.
Eligibility:
Different states have different criteria, but it mostly depends on income levels.
Children up to the age of 19, with a family income of $49,200 qualify for this grant.
Youth who have been 'aged out' of foster care are covered until they reach 26 years.
7. Earned Income Tax Credit (EITC): This is a benefit program for working people, who fall in the low-income group. The eligible person must file their tax returns and EITC would then reduce the amount of tax and may give a refund.
Eligibility:
The applicant must have earned income by working for someone or by running their own business.
Must be a US citizen or resident alien for the entire year and have a valid social security number for themselves and their children.
Must not have investment income exceeding $3,500 and not be filing the Form 2555 or 2555- EZ (Foreign Earned Income Exclusion).
College Grants For Single Mothers
These grants help the single mother secure formal education, which can help her to get better employment opportunities.
8. Teach Grant: The Teacher Education Assistance for College and Higher Education provides funds to students who wish to complete a course required to begin a career in teaching.
Eligibility:
To receive this grant, the applicant must fulfill the following criteria:
Agree to teach in low-income areas where there is a shortage of specific subject teachers. Must be eligible for federal student aid programs.
Must participate and be enrolled in a TEACH-Grant-eligible program of study.
Score more than the 75th percentile in the college admission test or maintain a 3.5 CGPA.
10. Federal Supplemental Educational Opportunity Grant (FSEOG): This grant is for students who wish to pursue higher education and need financial aid to cover the expenses. The grant money ranges from $100 to $4,000 a year.
Eligibility:
The applicant must be a US citizen and have a valid social security number.
The applicant must be in substantial financial need and have a low family contribution.
The college/school being applied for must be accredited.
9. American Association of University Women (AAUW): This association has several grants and fellowship programs, career development grants, and international fellowships for women.
Eligibility:
Each grant and fellowship program has its own eligibility criteria; however, all of them are available for women, who are US citizens or permanent residents.
11. Smart Grant (Academic Competitiveness Grant): These programs were started in 2006 to encourage students to take up more challenging courses in high school to succeed in college.
Eligibility:
The applicant must be a US citizen or an eligible non-citizen.
They must have a GPA of 3.0 and above and have completed a rigorous secondary school program of study.
12. Pell Grants: This subsidy is provided by the US Government for education in post-secondary schools, including universities, colleges, trade schools, and other training programs. These are awarded based on financial need.
Eligibility:
The applicant must be an undergraduate student.
Must be enrolled or accepted as a regular student in an eligible degree or certification program.
The applicant must have completed a high school diploma or completed high school education in an approved home-school.
They must be a US citizen or an eligible non-citizen.
Housing Grants For Single Mothers
The US Government also provides housing grants to help single mothers establish a secure place to live.
13. Housing and Urban Development (HUD) Grants: This grant provides financial assistance to those who are unable to afford housing. There are several programs under HUD to help economically backward afford a house. You can learn more about them here.
Business Grants For Single Mothers
For mothers seeking to start a business and in need of capital, there are some grants she can make use of.
14. Community Development Financial Institution (CDFI): This financial institution helps promote capital and economic growth by providing private loans, investments, financial services, and technical assistance to underserved populations and communities, through local community institutions or banks.
Eligibility: The eligibility criteria differs from one institution to the other. You may go to your nearest community bank for details.
15. PeaChic Grant: This $500 grant offers financial assistance to female business owners and is intended to assist women in expanding their business or buying new equipment.
Eligibility:
All women, who own a business and need financial assistance for expanding, are eligible.
16. National Association for the Self-Employed (NASE): Through this program, a winner is selected each month and awarded up to $4,000 grant to support their business. The NASE also offers scholarships to dependent children.
Eligibility:
All US citizens with a business plan are eligible.
Childcare Grants
If you are a single mother, you can also make use of childcare grants that are meant to help in the child's development and education.
17. National School Lunch Program (NSLP): This federally assisted meal program operates in public and nonprofit schools. It provides nutritionally balanced lunch at a low cost or free.
Eligibility:
All children studying in public and nonprofit schools can make use of this assistance.
19. Child Care and Development Block Grant: This program provides assistance to low-income families, who need childcare due to work, training, or attending school.
Eligibility:
The applicant must be the parent or primary caregiver for children under the age of 13 years.
Their financial situation must be low income or very low income.
The applicant must be either employed or enrolled in a training or education program.
18. Child Care Assistance Program (CCAP): This program helps low income working parents by providing daycare assistance.
Eligibility:
The eligibility of the applicant is determined by their earnings, activity hours, and the child's age. The applicant must be a US citizen.
The parent must be working, training or attending college.
The activity must be 25 hours/week for a one-parent household and 50 hours/week for a two parent household.
The child must be 12 years or younger.
You may find more details here.
20. Head start: This welfare program provides comprehensive early childhood development services to low-income children. It promotes school readiness by enhancing the social and cognitive development of children.
Eligibility:
Children younger than five years whose families are not financially capable of placing them in preschools are eligible for this grant.
21. Dependent care assistant programs: This is a non-taxable program in which the employer reimburses employee's dependent care expenses, by making payments directly to third parties who provide care for the employee's dependents.
Eligibility:
The employer must be enrolled in this program.
Stay-at-home single mothers and students are not eligible.
Grants For Highly Achieving Single Mothers
There are programs to help fund the research programs or ideas of highly-qualified single mothers.
22. MacArthur Genius Grant: This is a five-year grant for individuals who have exceptional creativity, enabling them to pursue their passions.
Eligibility:
Individuals are nominated based on the following:
Exceptional creativity.
Promise for important future advances based on a track record of significant accomplishments.
Potential for the fellowship to facilitate subsequent creative work.
23. National Science Foundation (NSF) Grant: This grant money assists research and education in science and engineering fields.
Eligibility:
Eligibility depends on the specific grant.
There are various grants available to single mothers. However, note that these grants are not exclusively for single mothers but also for other citizens who meet the eligibility criteria of those specific grants.
If you are eligible for the grant, you might want to know how to apply for it.
How To Apply For A Grant?
To secure grant benefits, one must apply. Here is how to do it:
1. Visit the Grants website to look for a grant that suits your needs.
2. Download the application package and register with the website.
3. Carefully review the instructions and prepare your grant proposal accordingly. 4. Submit your application along with your grant proposal.
In the case of Pell grants and scholarships, fill out the application and submit it to the institute or college concerned.
What If You Do Not Qualify For Grants?
If you do not fall under the eligibility criteria of any grants, then you may consider the following options.
1. Take up part-time work: If you are a student, you may take up part-time, on-campus positions that can help you cover certain costs. You can also take up non-campus jobs.
2. Private loans: Certain financial institutions offer loans for education, housing, etc., but unlike grants, they need to be repaid.
Life as a single mother is incredibly challenging, even when money is not an issue. Needless to say, it's even harder for those struggling to reach financial stability. Fortunately, there are now several programs available to single mothers in need of a monetary boost.
Did you avail of any of these grants? Let us know about it in the comments section below.
Key Pointers
Single mothers are eligible for certain grants provided by their country's government.
These facilities are intended for low-income individuals and include employment training, child-care, housing, nutrition supports, and more for single mothers.
Check the eligibility criteria and other services covered in these grants.
Further important details to note before applying for these grants as you scroll down
Image Credit: freepik
You Might Also Like: