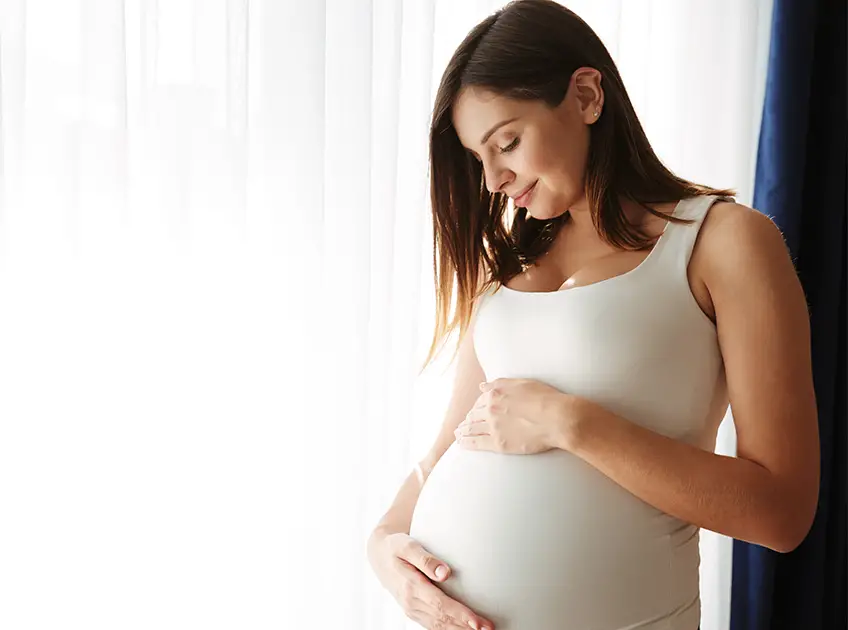 Are you expecting and want to surprise your family with the good news? Are you looking for creative ways to convey the arrival of the newest member of the family? If you nodded along excitedly, you might want to read our post. 
Here are some fun and creative ways to tell your family you're pregnant.
10 Fun Ways To Tell Your Family You're Pregnant
1. Gift A 'Best Dad Ever' T-Shirt To Husband: 
Guys simply love T-shirts. So you can get a T-shirt with a print of 'Best Dad Ever' on it. Gift the shirt to your husband and surprise him with the good news.
2. Arrange A Family Dinner: 
If you are thinking when to tell family about pregnancy, this is one of the simplest ways. Yes, organize a family dinner and set a place for your baby at the dining table during the dinner. Your entire family will get the hint and learn about the good news in no time.
3. Fill The Grocery Cart With Prenatal Items: 
Do you visit grocery shop with your family and husband? Plan a visit to a grocery shop and fill your grocery cart with prenatal food items, vitamins, and parenting magazines. Your act will certainly surprise your family members and hubby, and they will learn the surprise in no time.
4. Get A Funny Book Or Movie On Pregnancy: 
Gift your husband a funny book on pregnancy, such as 'My Boys Can Swim'. Also, you can get him to watch a funny movie on pregnancy and see how long it takes for him to get the clue about your good news.
5. Wear A T-Shirt With A Clue Of Baby:
You can wear a t-shirt that bears the humor above your pregnancy. A t-shirt bearing an image of 'bun in the oven' not only will make your hubby smile, but also your entire family will congratulate you. 
6. Get Coffee Mugs Bearing The Message:
Coffee mugs can be a great way to tell your husband that you are pregnant. You can get a personalized mug with a message about your pregnancy, such as 'You + Me = Baby'. Greet your husband with a cup of coffee in the morning with the cup bearing the print or message about the baby. In no time, your husband will get your surprise. Watch his expression change from confusion to surprise. (1)
7.  Distribute Cards On A Festive Occasion: 
You may wonder when to tell the family you are pregnant if there is an occasion coming up. Choose one of the festive holidays, such as Easter, Christmas, Mother's Day, or Valentine's Day, to give creative cards to your family members. Make sure the cards bear the clue of the arrival of your baby. Give your mother and mother-in-law cards addressed to 'Grandma'. It will take them a minute to realize that you are expecting, and their faces will light up with joy. (2) 
8. Pull Your Car Into An Expectant Mothers' Parking Space:
When driving out to a lunch or shopping with your family to a mall, pull your car into the Expectant Mothers' parking area. You will initially find them saying that you can't park here. Then smile smugly and tell them about your good news. Watch the reaction on the face of your family members. (3)
9. Let Your Kids Announce The News: 
Do you already have kids? Let your dear little ones announce the arrival of the new member of your family. Make your kids wear t-shirts with 'I have a secret' or any other message that will appear adorable and convey the news. 
10. Create CDs Of Favorite Tunes Revealing The Good News In The End: 
Are your parents and in-laws great fans of music? You can create a CD having their favorite songs and tunes. At the end of the CD playlist, record you and your husband announcing your pregnancy or news saying your parents are soon going to be grandparents. Not only CDs will be a great way to announce the news, but also a memento that they can treasure after the baby is born.
Hope you liked our creative ways to tell your family you're pregnant. Did you try telling family about pregnancy in any creative way? If you have more ways to tell family about pregnancy, share with other moms here. Leave a comment below.
Image Credit: freepik
You Might Also Like: