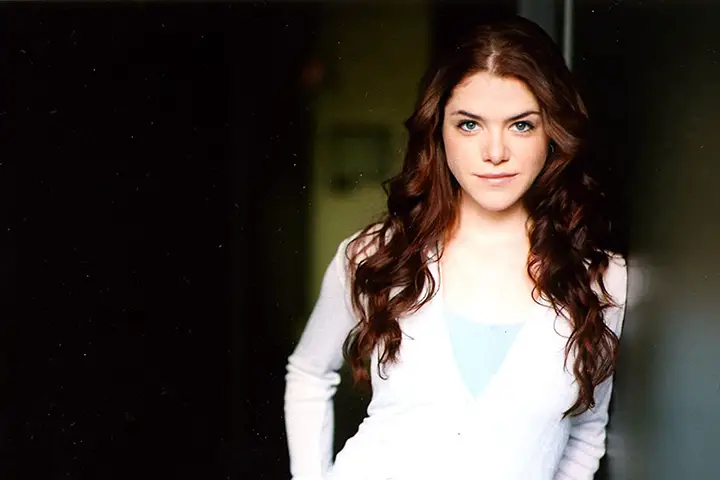 The real identity of Kaniehtiio Horn is Kaniehtiio Alexandra Jessie Horn was born on 8th November 1986. She is a Canadian actress and sometimes she used to call Tiio Horn. She was introduced in the miniseries called "Indian Summer: The Oka Crisis" in 2006. She then appeared in plenty of television movies including "Too Young to Marry", "Moccasin Flats: Redemption" and "The Terrorist Next Door". In 2008, she acted in a small role in "Journey to the Centre of the Earth", an American Science Fantasy film. Then she appeared in a supporting role in "The Trotsky", a Canadian comedy film. In the year 2009, she performed as a lead character in "The Wild Hunt", a Canadian horror film. This movie helped her to obtain the Best Canadian First Feature Film Award. In 2010, she appeared in two movies namely "Good Neighbors" and "A Flesh Offering".
Kaniehtiio Horn – Height, Weight, Age, Movies & Family – Biography
Kaniehtiio Horn Childhood accomplishment
Kaniehtiio Horn was born on Kahnawke. Her mother Kahn Tineta Horn was involved in political activism for the theme Kahnawake First Nation as well as she was a former model. Her father belongs to German & Scottish descent and worked as a lawyer. At a very young age, she had already decided to become an actress. At first, instead of an acting career, she fully focused on swimming as well as water polo because these both are her favorite sports. She has introduced herself as a multi-skilled actress with different roles on television. She also co-hosted the 2019 Inspire Award program on CBC, recognizing the excellent achievements of individuals in Canada's Indigenous Community. Horn completed her graduation from Dawson College for theatre arts in the year 2005.
Kaniehtiio Horn Awards and achievements
Kaniehtiio Horn won the ACTRA Montreal Award for the Canadian comedy movie "The Trotsky" at ACTRA Awards in 2010.
In 2013, She has won the Drama Pitch Prize at the ImagineNative Film + Media Arts Festival.
At South Film and Arts Academy Festival, she received the Short Film Award in 2020 for "The Remnant" under the genre of Best Horror Short.
She obtained the Award at the IndieX Film Festival in 2020 under the category of Best Ensemble Cast for the Short Film "The Remnant".
In the year 2022, She has got the Canadian Screen Award for the Canadian television series "Letterkenny" at the 10th Canadian Screen Awards under the grade of Best Supporting Actress, Comedy.
She got the Gemini Award Nomination for the Television movie "Moccasin Flats: Redemption" in 2009.
She won the ACTRA Montreal Award Nomination at the ACTRA Awards under the genre of Outstanding Performance – Female for the American television series "The Man in the High Castle" in 2019.
She received the Canadian Screen Award Nomination in 2021 for the Canadian comedy web series "Ghost BFF" under the category of Best Lead Performance, Web Program, or Series.
Best known for
Kaniehtiio Horn is best known for her character in the series "Hemlock Grove and Defiance"
She was also nominated for Gemini Award for her excellent performance in "Moccasin Flats: Redemption"
Kaniehtiio Horn Body Measurements
| | |
| --- | --- |
| Height | 5 ft 8 in or 173 cm |
| Weight | 59 kg or 130 lbs |
| Breast Size | 36 in / 91.5 cm |
| Bra Size | 32 D (US) |
| Cup Size | D (US) |
| Body Measurements | 36-25-35 in | 91.5-63.5-89 cm |
| Chest Size | 36 in / 91.5 cm |
| Waist Size | 25 in / 63.5 cm |
| Hips Size | 35 in / 89 cm |
| Shoe Size | 8 US | 38.5 EU |
| Dress Size | 4 (US) |
| Eye Color | Blue |
| Hair Color | Dark Brown |
| Natural Breasts or Implants | Natural |
Interesting facts about Kaniehtiio Horn
Kaniehtiio Horn shared her different reactions photos on her Instagram page

She makes her son to walk by holding her hand

Horn celebrating her son's first birthday

She released a beautiful picture with her family

Horn showed her condolences for BrodieLee, an American Professional Wrestler
She is with her mom
Kaniehtiio Horn Personal Info
| | |
| --- | --- |
| Full Name | Kaniehtiio Horn |
| Nickname | Tiio |
| Occupation | Actress |
| Religion | Not known |
| Date of Birth | 8 November 1986 (age 35 years) |
| Birthplace | Kahnawake Mohawk Territory, Quebec, Canada |
| Zodiac Sign | Scorpio |
| Father Name | Not Known |
| Mother Name | Kahn-Tineta Horn |
| Sibling Names | Waneek Horn-Miller, Kahente Horn-Miller, Dr. Ojistah Horn |
| Partner | Bradley LaRocque (2019–2020) |
| Children | 1 |
Kaniehtiio Horn Pre-relationships:
Kaniehtiio Horn started dating Bradley LaRocque her boyfriend. They are in a long-time relationship. But Kaniehtiio Horn disclosed her relationship on social media only in 2019. After that, they normally used to share their happy moments captures on social media. They have a boy baby. They have not revealed their boy-baby name anywhere. Till now, they don't have any plan for their marriage, and they are enjoying blissful life. The talented Horn looks very happy on enjoying her life with her lovable people and hoping she sustain the same in the future also
Kaniehtiio Horn Family and personal life
The beautiful actress Horn showed her strength and talent towards acting over a decade now. Apart from acting, Kaniehtiio Horn also wrote as well as directed a movie called "The Smoke Shock( Shack)1". Some of her other television works include "Letterkenny" in 2016, "Ghost BFF" in 2018, and "Slasher" in 2019. She has also made her presence in films such as "As Mohawk" in 2017 and "The Hummingbird Project" in 2018. She then rendered voices for two video games such as "Assassin's Creed III" in 2012 and "Defiance" in 2013. About her physical appearance, she is 5 feet 8 inches in height and 58 kgs in weight. Speaking about her personal life she dated Bradley LaRocque and has one boy child. She staying in Toronto, Canada with her mom, son, and loved one, Brad.
Kaniehtiio Horn Most Favorite Things
| | |
| --- | --- |
| Hobbies | Swimming |
| Favorite Food | Thai |
| Favorite Color | Pink |
What is the net worth of Kaniehtiio Horn?
The net worth of Kaniehtiio Horn is around 1 million US dollars.
What are her sources of income?
Kaniehtiio Horn has earned the maximum income from the Hollywood industry.
How much is Kaniehtiio Horn educated?
Kaniehtiio Horn enrolled at Dawson College and completed her theatre arts graduation there in 2005
Does Kaniehtiio Horn smoke?
In movies and short films, there are some pictures about smoking. In real life, there is no detail revealed about her smoking.
Controversies of Kaniehtiio Horn
Kaniehtiio Horn doesn't involve any controversies in her personal and professional life
How old is Kaniehtiio Horn?
She is 35 years old (2022)
is Kaniehtiio Horn Married?
Minka isn't married yet. But She has an affair with her boyfriend, Brad, and has one child.
Assets of Kaniehtiio Horn
There are no proper details available about her assets.
Does Kaniehtiio Horn have any tattoos?
No. Kaniehtiio Horn doesn't have any tattoos on her body.
Does she own any brand?
No. She doesn't own any brand
Kaniehtiio Horn Social Media Profiles
Kaniehtiio Horn Movies List
2004 – Might of the Starchaser
2006 – Montreal Stories: 1971
2007 – The Colony
2008 – Journey to the Center of the Earth, South of the Moon
2009 – Missing, The Trotsky, The Wild Hunt, Leslie, My Name Is Evil
2010 – Til Death…, Good Neighbours, You Are So Undead, A Flesh Offering
2011 – Gene-Fusion, The Theatre Bizarre, Voyez comme ils dansent, Immortals
2012 – On the Road
2013 – Embrace of the Vampire
2014 – Penthouse North
2017 – Mohawk
2018 – 22 Chaser, The Hummingbird Project
2020 – Possessor
Kaniehtiio Horn TV Shows
2006 – Indian Summer: The Oka Crisis
2007 – Abducted: Fugitive for Love, Too Young to Marry, Les Hauts et les bas de Sophie Paquin, Moccasin Flats: Redemption, The Terrorist Next Door
2009 – Web of Lies
2009,11 – Doggy Day School
2010 – Mohawk Girls
2010,11 – 18 to Life
2011 – Being Human, By the Rapids
2012 – Alphas
2013 – Gavin Crawford's Wild West, Supernatural
2013,14 – Defiance
2013,15 – Hemlock Grove
2015 – 19-2, The Fixer
2016 – The Strain
2016,18 – The Man in the High Castle
2016,present – Letterkenny
2017 – What Would Sal Do?
2018 – Ghost BFF
2019 – Wayne, Slasher
2020 – Barkskins
2021 – Reservation Dogs