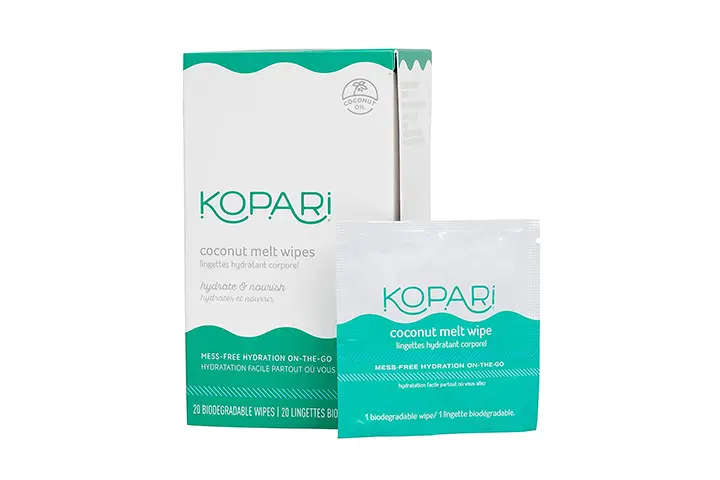 A single wipe will do 8 functions. It is nothing but Kopari Coconut melt wipes work great for your skin and hair.
These multi purpose wipes are suitable for all skin types and hair.
For healthy and strong and smooth hair use this product. They give a glossy effect while moisturizing your scalp.
These wipes can be used as a hair mask, as a moisturizer and also removes makeup by nourishing your skin.
It can also be used as a bath wipe to get ultra soft skin and to get refreshed.
This product helps to avoid stretching and to get rid of dark circles.
Kopari Coconut Melt Wipes
How it Works:
Kopari uses 100% pure, organic coconut oil, where each wipe is infused with vitamin E, antioxidants and restorative proteins.
All these vitamins and minerals help to make your skin glow.
They keep your skin healthy and stay hydrated and give young, supple and smooth skin.
It is loaded with fatty acids to help seal moisture and lauric acid to fight with inflammation.
This product works well and gives visible results instantly.
The package of this product is more convenient to carry anywhere.
Get an instant refreshness on the go, at home travelling, camping.
Each wipe is individually packed and mess free.
Pros:
Removes all types of makeup.
Works gently on the skin and hair.
Sulphate and paraben free.
Made from 100% organic coconut melt.
Travel friendly.
Cons:
Takes time to remove tough makeup.
Rating: 4.4 out of 5
The best product ever made with organic ingredients which help to seal moisture and nourishment .Keep it in your bag for instant refreshness with coconut touch.
Frequently Asked Questions (FAQ's)
Q. How many wipes are in the pack?
Ans: There are 20 individual wipes in a box.
Q. Are they biodegradable?
Ans: Yes they are biodegradable.
Q. Is it cruelty free?
Ans: Yes it is cruelty free.
Alternate Products:
You Might Also Like: