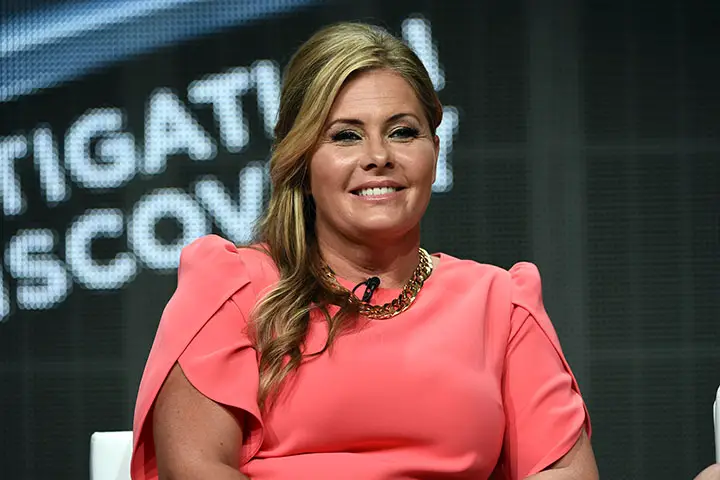 The full name of Nicole Eggert is Nicole Elizabeth Eggert and was born on 13th January 1972. She is a well-famed American actress and as well as a producer. She pursued her acting career at a very young age. At the age of eight, She played the role of the younger daughter in the movie "Rich and Famous" in the year 1980.
Her tremendous acting in the situation comedy television series "Charles in Charge" grabbed her a "Young Artist Award" in the year 1988. In addition, Eggert had a chance to host the "Nickelodeon Kid's Choice Awards" with Wil Wheaton in the following year. Nicole Eggert has a successful career in television series including "Baywatch", and "Who's the Boss" and her recent appearance was in the television series "Back in the Game" in 2019.
Nicole Eggert – Height, Weight, Age, Movies & Family – Biography
Nicole Eggert Childhood Accomplishments
Nicole Eggert was born in Glendale, California and she grew up in Huntington Beach. She has American nationality and has German-English ethnicity.
Since her childhood, she had an attraction towards acting and appeared in Johnson's baby shampoo commercial. Moreover, she won "Miss Universe" in the petite division at the age of five.
Throughout her acting career, Nicole has been nominated several times for various grades of the Young Artist Awards association.
Beyond acting, she posed for the cover of her debut album "Lemonade and Brownies".Regarding her educational background, there is no information revealed.
Best known for
Nicole Eggert is best known for her notable role as Jamie Powell in the huge hit television series "Charles in Charge" which she featured from 1987-to 1990.
She also lent her voice to Dennis's snobby archrival Margaret Wade in Dennis the Menace in Mayday for Mother.
Nicole Eggert appeared in tv shows such as "The Super Mario Bros. Super Show!", "Celebrity Fit Club" "Splash", and on the Comedy Central Roast of David Hasselhof.
Nicole Eggert Awards and Achievements
In the year 1983, Nicole Eggert was nominated for the "Young Artist Award" under the grade of Best Young Actress, Guest on a Series for her wonderful work in the television series "Fantasy Island".
Nicole Eggert's amazing acting in the television series "Who's the boss" brought her the nomination for "Exceptional Performance by a Young Actress, Guest Starring in a Television, Comedy or Drama Series "for Young Artist Award in the year 1987.
She won the "Young Artist Award" in the year 1988 under the grade "Exceptional Performance by a Young Actress in a Television Comedy Series " for her astonishing acting in the super hit series "Charles in Charge".
She was then nominated Young Artist Award in the years 1989 for her huge hit series "Charles in Charge" under the category of "Best Young Actress".
In the years 1993 and 1994, Nicole Eggert was nominated for "Best YoungActress Starring in a Television Series" and "Youth Actress Leading Role in a Television Series" by the Young Artist Award association for her magnificent work in the Tv series "Bay watch".
Nicole Eggert Body Measurements
| | |
| --- | --- |
| Height | 5 ft 3 in / 160 cm |
| Weight | 130 lb / 59 kg |
| Breast Size | 33 in / 86 cm |
| Bra Size | 38 C (US) / 85 C (EU) |
| Cup Size | C (US) |
| Body Measurements | 33-24-33 in | 86-61-86 cm |
| Chest Size | 33 in / 86 cm |
| Waist Size | 24 in / 61 cm |
| Hips Size | 33 in / 86 cm |
| Shoe Size | 6 US |
| Dress Size | 10 |
| Eye Color | Blue |
| Hair Color | Blonde |
| Natural Breasts or Implants | Natural |
Nicole Eggert's Pre-Relationship
Nicole Eggert was formerly married to Justin Herwick in 2000 after dating for four years.
The couple welcomed their first daughter Dilyn Elizabeth Eggert in the year 1998.
However, their marriage didn't last long and got divorced in the year 2002.
At the age of 39, Nicole gave birth to her second child Keegan Eggert in 2011.
Back in1991, she was engaged to Canadian actor Corey Haim with whom she shared her screen space in films such as "Blown Away", "The Double 0 Kid", and "Anything for Love".
Their relationship broke up after dating for a couple of years.
Nicole Eggert was rumored with Eric Etebari and they also split up soon.
In addition, she was also linked with a couple of actors such as Jeremy Jackson, Aaron Paul, and Mark Wahlberg.
Nicole Eggert Family and Personal Life
Nicole Eggert was the daughter of Gina Duncan and Rolf Eggert and has a sibling named April Eggert. Her mother Gina Duncan was British.
Nicole's father Rolf Eggert was German-born and was employed as a canning company executive.
Josie Davis who co-starred with her in "Charles in Charge" remains a very good friend of Nicole Eggert.
She got her saline breast implants done for her astonishing role as Summer Quinn on the Baywatch series.
In personal, she owns Nicole Eggert an ice cream truck named Scoops established in 2014.
About her physical appearance, she is 5 ft and 3 inches in height and owns a pair of gorgeous blue eyes. Additionally, the actress has sexy blonde hair.
Nicole Eggert Personal Info
| | |
| --- | --- |
| Full Name | Nicole Elizabeth Eggert |
| Nickname | Nickel |
| Occupation | Actress |
| Religion | – |
| Date of Birth | 13 January 1972 (age 50 years) |
| Birthplace | Glendale, California, United States |
| Zodiac Sign | Capricorn |
| Father Name | Rolf Eggert |
| Mother Name | Gina Duncan |
| Sibling Names | April Eggert (Sister) |
| Spouse | Justin Herwick (m. 2000–2002) |
| Children | Dilyn Elizabeth Eggert, Keegan Eggert |
Interesting facts about Nicole Eggert
Nicole Eggert shared the throwback picture of her with the baby bump.
Fun day on the sets of The Bachelor
Teenage picture of Nicole Eggert
Lovely daughters of Nicole Eggert
Posing with her long time friend Erika Eleniak
Having a great time in Disney land
Clip of playing with her daughter
Halloween ready with kids
Gorgeousness in a red swimsuit
Pose with a pony
Nicole Eggert Most Favorite Things
| | |
| --- | --- |
| Favorite Food | Avocado Toast |
What is the net worth of Nicole Eggert?
Nicole Eggert has a net worth of approximately $500 to 1 million dollars.
What are her sources of income?
Nicole Eggert earns a maximum income from the entertainment industry.
How much is Nicole Eggert educated?
There are no details revealed about Nicole Eggert's educational background.
Does Nicole Eggert smoke?
No. She doesn't smoke.
Controversies of Nicole Eggert
She was once flashed in a headline after she claimed that she was sexually assaulted by her co-star Scott Baio. Nicole Eggert revealed that she was 14 years old when Scott Baio sexually harassed her.
How old is Nicole Eggert?
Nicole Eggert is 50 years old (2022).
Is Nicole Eggert married?
She was previously married to Justin Herwick and got divorced in 2002. Presently the actress is enjoying her single life with her Charming daughters.
Assets of Nicole Eggert
Nicole Eggert owns a house in Glendale, California, USA.
Does she have any tattoos?
No. She doesn't have any tattoos.
Does she own any brand?
Nicole Eggert doesn't own any brand.
Nicole Eggert Social Media Profiles
Nicole Eggert Movies List
1981 – Rich and Famous
1983 – Hambone and Hillie
1986 – The Clan of the Cave Bear, Omega Syndrome
1989 – Kinjite: Forbidden Subjects
1990 – The Haunting of Morella, Grandpa
1992 – The Double 0 Kid, Blown Away
1993 – Just One of the Girls
1995 – The Demolitionist, Secret Sins
1997 – The Price of Kissing, Bartender, Pink as the Day She Was Born
1998 – Siberia, Triangle Square
1999 – Sleeping Beauties
2000 – Submerged, Murder Seen
2001 – Thank You, Good Night
2004 – Decoys, What Lies Above
2006 – Cattle Call, Dead Lenny
2008 – Loaded
2009 – Nicole Eggert Is Back in Baywatch
2014 – The Dog Who Saved Easter, F.L.U.I.D.
Nicole Eggert TV Shows
1976 – Miss Universe Pageant
1979 – When Hell Was in Session, When She Was Bad…
1981 – Today's F.B.I., Someday You'll Find Her, Charlie Brown, Dennis the Menace in Mayday for Mother
1981,82 – Fantasy Island
1982,83 – T.J. Hooker
1984 – Rose Petal Place
1984,90 – CBS Schoolbreak Special
1985 – Rose Peta Place: Real Friends, I Dream of Jeannie…Fifteen Years Later
1985,86 – Who's the Boss?
1985,89 – The New Leave It to Beaver
1986 – Annihilator
1987,90 – Charles in Charge
1989 – 1989 Kids' Choice Awards, The Super Mario Bros. Super Show!
1991 – What a Dummy
1992 – Secrets, Home Fires
1992,94 – Baywatch
1993 – Blown Away, Family Feud
1994 – Heaven Help Us
1995 – Burke's Law, Amanda & the Alien
1996 – Frequent Flyer, Married with Children
1996 – Clueless
1997 – Duckman: Private Dick/Family Man, The Big Easy
1999 – Boy Meets World
2000 – The Outer Limits, Murder Seen, Sexiest Bachelor in America Pageant
2001 – Gilmore Girls, The Test
2003 – Baywatch: Hawaiian Wedding, Wall of Secrets, Devil Winds
2006 – Lightspeed, Celebrity Paranormal Project
2007 – Holiday Switch
2008 – A Christmas Proposal, Past Lies
2009 – Phantom Racer
2010 – Turbulent Skies, Keeping Up with the Kardashians, Celebrity Fit Club, Comedy Central Roast
2011 – Celebrity Ghost Stories
2013 – Splash
2014 – Where's the Love?, Heartbreakers, Tattoo Nightmares
2015 – Oprah: Where Are They Now?, Botched
2017 – Battle of the Network Stars
2019 – Back in the Game, Robot Chicken
You Might Also Like: