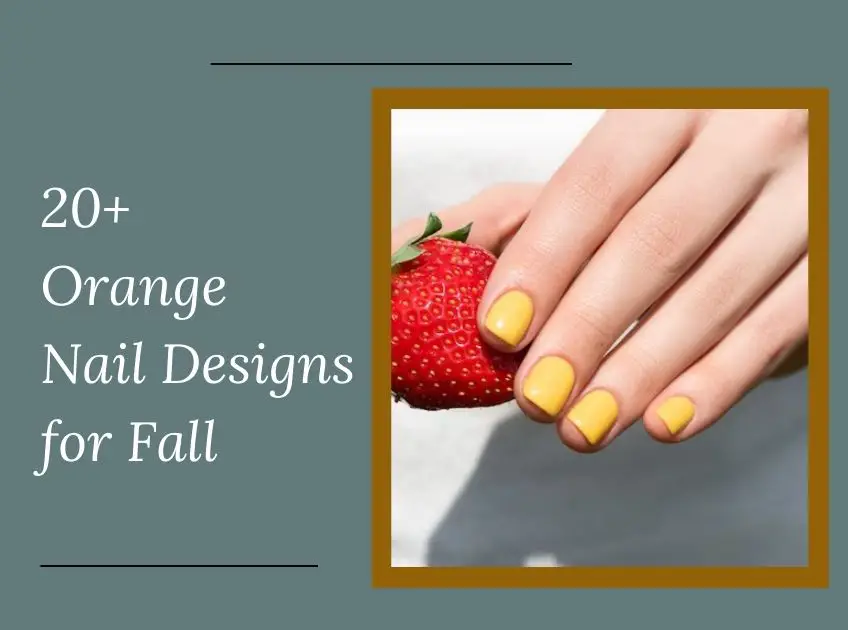 Orange is a popular nail color for fall for a reason. It's warm, inviting, and versatile. And in 2023, there are more stunning orange nail designs than ever before.
Whether you're looking for a classic solid orange manicure or a more intricate design with embellishments, there's an orange nail art look that's perfect for you. And with so many different designs to choose from, you're sure to find one that you love.
In this article, we'll feature 20 of the best orange nail designs for fall 2023. So get ready to inspire your next manicure!
Fall Nail Inspiration: 20 Orange Designs
1. The Perfect Burnt Orange Long Nails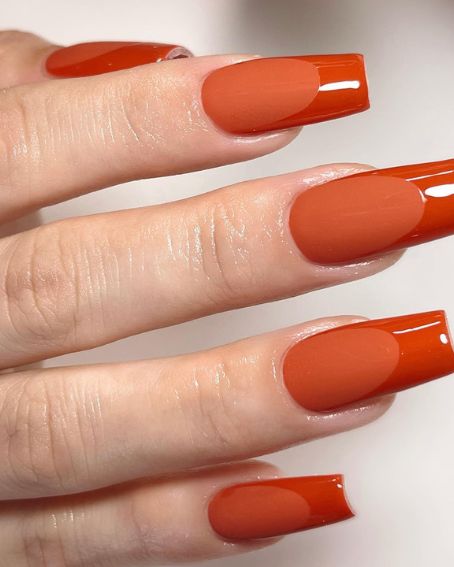 Capture sophistication with long, burnt orange nails, offering a bold yet elegant statement for fall. This versatile shade complements any outfit, exuding warmth and confidence.
2. White Flowers on Orange Nails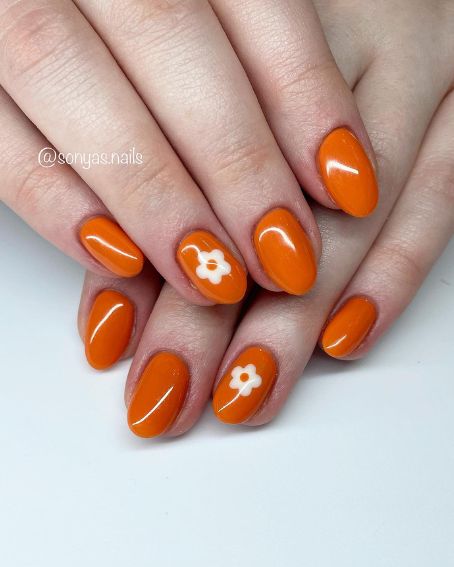 Delicate white flowers on vibrant orange nails create a stunning contrast, adding a touch of femininity and grace. This design embodies a harmonious blend of elegance and freshness.
3. Halloween Art on the Orange Nails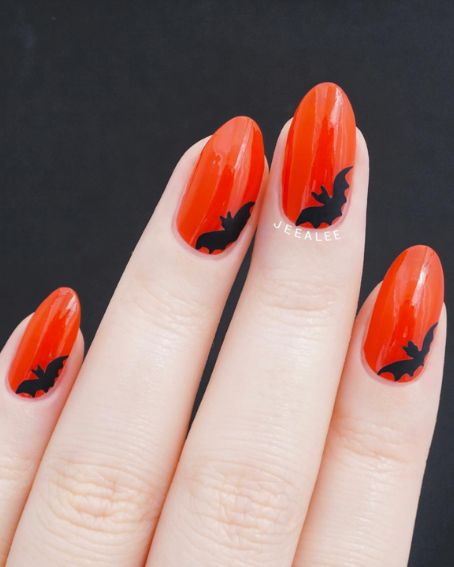 Embrace the spirit of Halloween with playful and spooky designs on orange nails. From pumpkins to ghosts, these creative nail arts are perfect for festive gatherings and parties.
4. 3D Jelly Orange Nail Art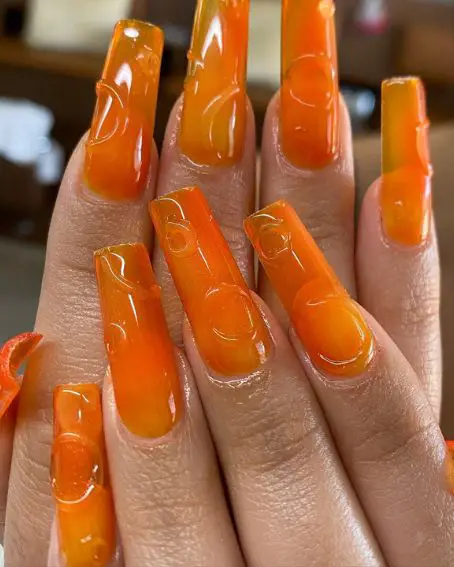 Experience the magic of 3D jelly orange nail art, where layers create depth and texture. These nails not only look mesmerizing but also provide a tactile delight.
5. Orange Blossom Nails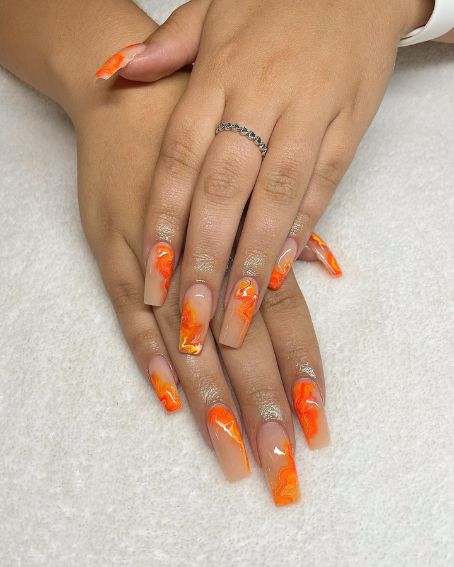 Channel the charm of blooming orange blossoms on your nails. This design captures the essence of nature's beauty, offering a refreshing and lively appearance for any occasion.
6. Orange Ombre Almond Nail Designs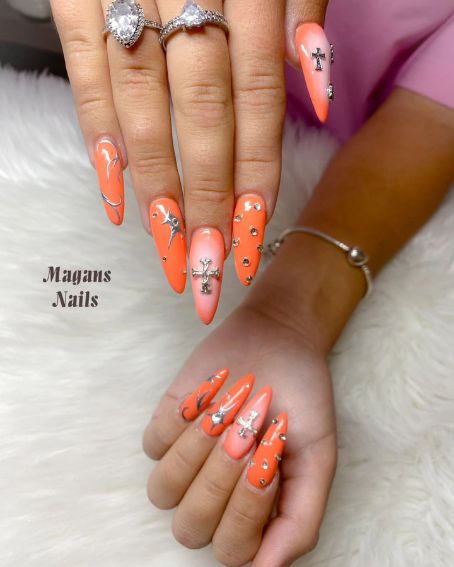 Transition from light to dark hues with ombre almond nails in shades of orange. This design exudes sophistication and trendiness, making a subtle yet impactful fashion statement.
7. Orange Marble Swirls with Flowers on Nails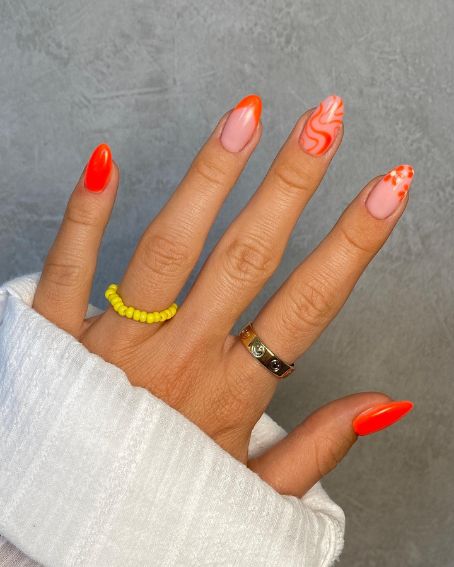 Combine the elegance of marble swirls with delicate flowers on orange nails. This fusion of patterns creates a visually captivating effect, showcasing artistic flair and creativity.
8. Orange Ocean Waves Nails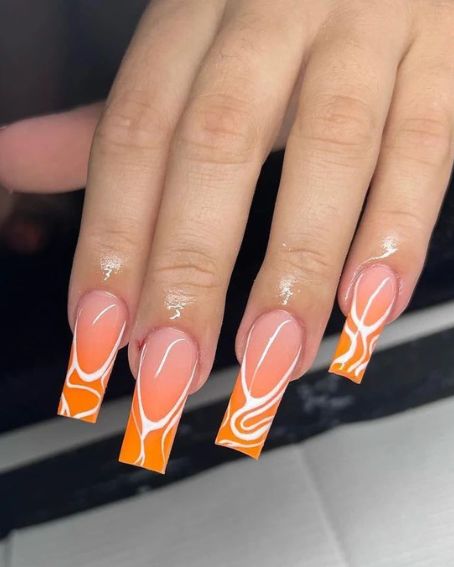 Emulate the tranquil beauty of ocean waves with a mesmerizing orange nail design. This calming and sophisticated pattern adds a touch of serenity to your fingertips.
9. Handpainted Orange Stars with Diamond Nail Designs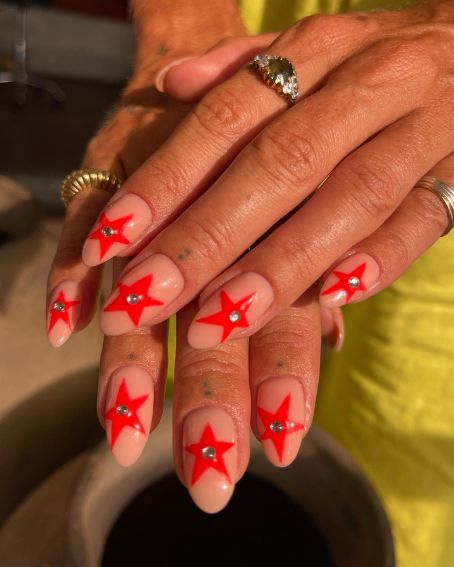 Illuminate your nails with hand-painted orange stars and dazzling diamonds. This glamorous design captures the sparkle of the night sky, making your nails the center of attention.
10. Orange Cone Shape with Hand-Painted White Flowers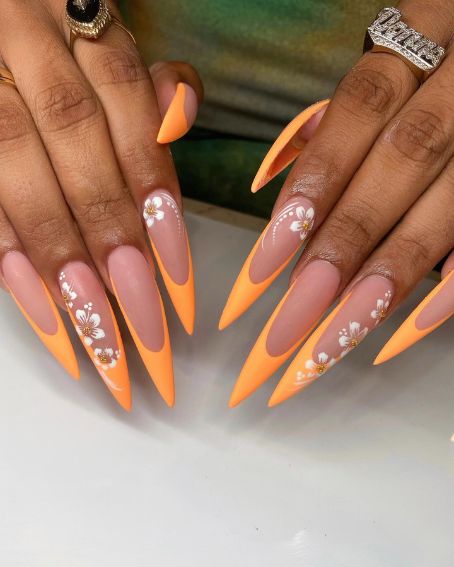 Opt for a unique cone shape adorned with hand-painted white flowers. This unconventional design adds a modern twist to classic floral motifs, showcasing individuality and style.
11. Orange Slice Nail Art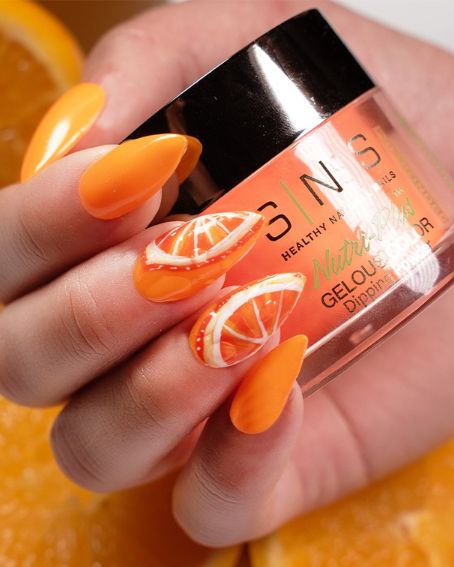 Celebrate the citrus charm with playful orange slice nail art. This fun and vibrant design bring a pop of color to your nails, adding a touch of freshness and energy.
12. Orange Geometric Nails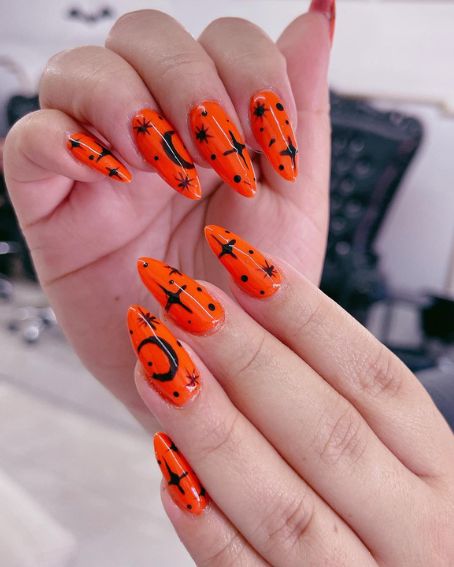 Embrace modernity with geometric patterns in shades of orange. This minimalist yet striking design offers a contemporary appeal, perfect for those who appreciate sleek aesthetics.
13. Autumn Leaves and Metallic Flakes on Burnt Orange Coffin Nails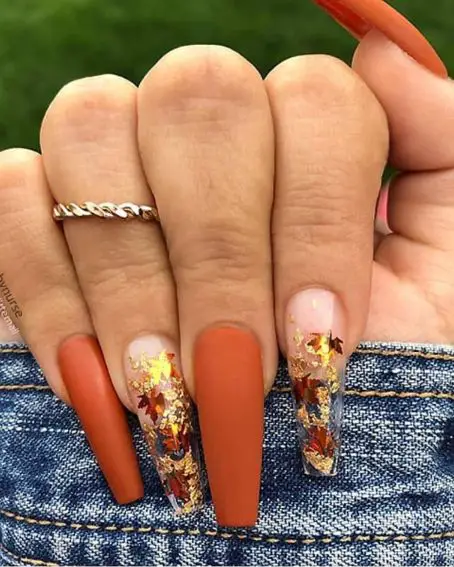 Channel the essence of fall with burnt orange coffin nails adorned with autumn leaves and metallic flakes. This design captures the warmth and richness of the season, offering a chic and stylish look.
14. Almond Shaped Orange Nails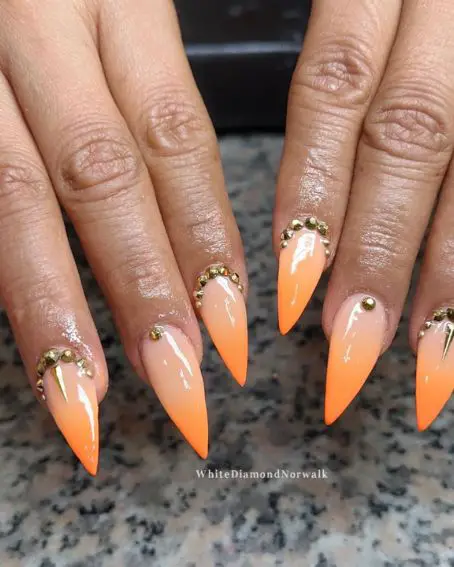 Opt for the timeless elegance of almond-shaped orange nails. This classic nail shape enhances the natural beauty of your hands, adding a touch of sophistication to your appearance.
15. Orange Coffin Nails with Swarovski Crystals for Fall and Thanksgiving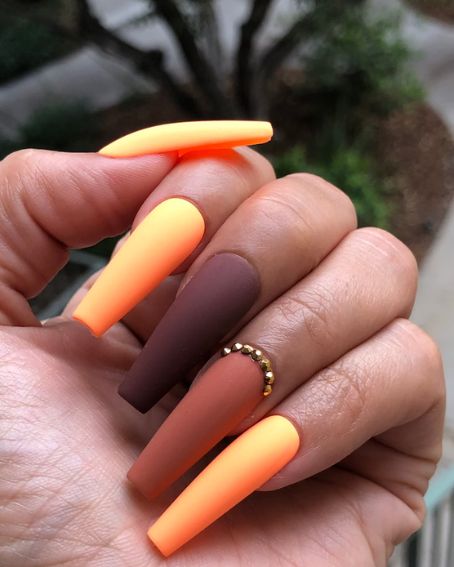 Elevate your fall and Thanksgiving look with orange coffin nails embellished with Swarovski crystals. These nails exude luxury and glamour, making you the epitome of style.
16. Minimalist Orange Leaf Nails with Matte Top Coat
Embrace simplicity with minimalist orange leaf nails featuring a matte top coat. This understated design captures the essence of fall in a subtle and chic manner.
17. Orange Galaxy Nails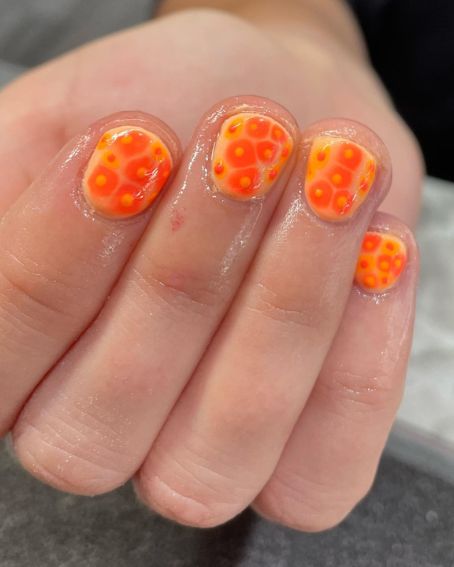 Embark on a cosmic journey with mesmerizing orange galaxy nails. This design mimics the ethereal beauty of the universe, adding a touch of mystery and wonder to your fingertips.
18. Smiley Face, Flowers, and Checkmate Orange Nail Designs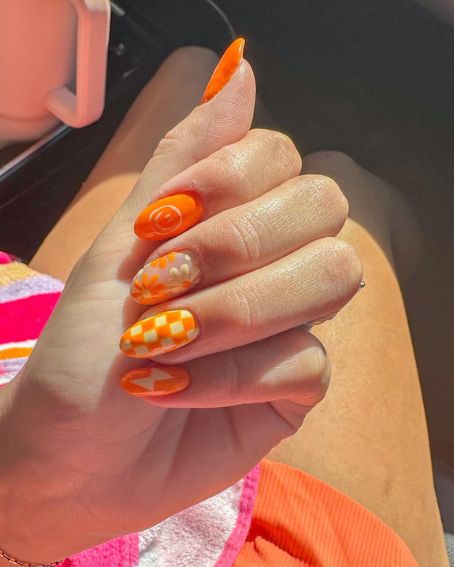 Infuse playfulness into your nails with smiley faces, flowers, and checkmate patterns in vibrant orange. This eclectic mix of designs adds a cheerful and youthful vibe to your nails.
19. Black and Orange Autumn Leaf Nails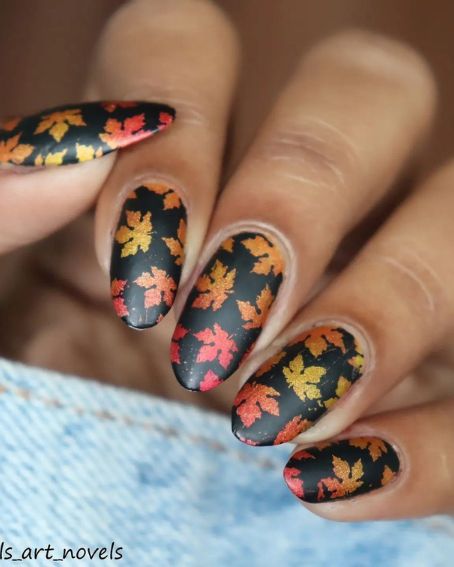 Celebrate the beauty of autumn leaves with black and orange nail art. This design captures the rustic charm of fall, offering a bold and stylish statement for the season.
20. Burnt Orange Nails With Dance of Multiple Swirls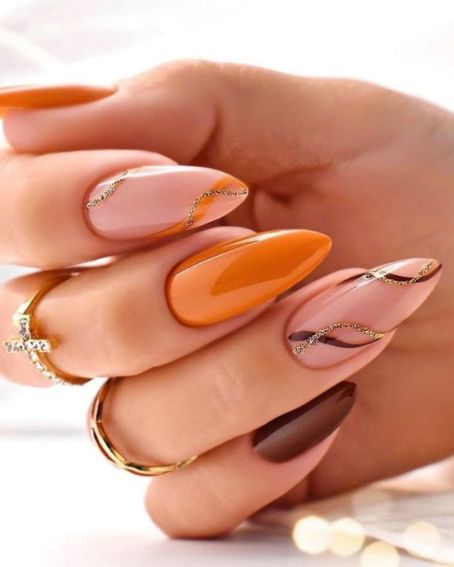 Dance into fall with burnt orange nails adorned with swirling patterns. These playful and dynamic swirls add movement and energy to your fingertips, creating a lively and eye-catching effect.
21. Handpainted Ornamental 1970s Inspired Designs on Natural Nails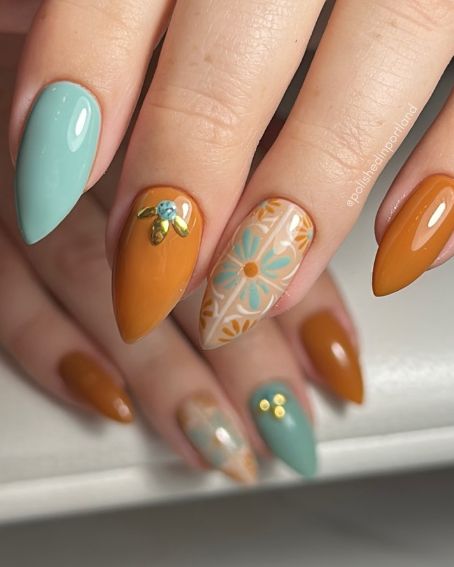 Revive the spirit of the 1970s with hand-painted ornamental designs on natural nails. This retro-inspired nail art captures the essence of vintage glamour and artistic expression.
22. Citrus Design with Orange Color Nails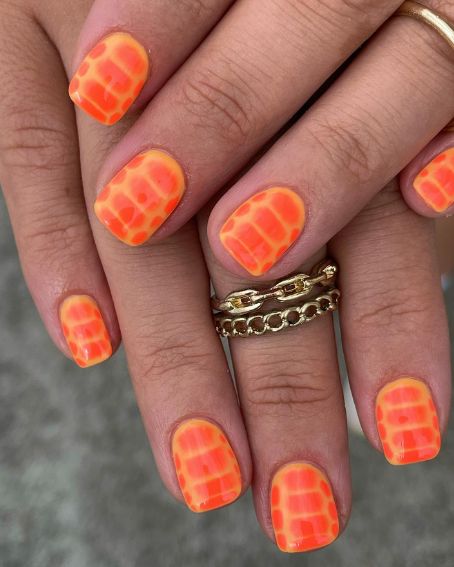 Embrace the freshness of citrus fruits with orange color nails featuring citrus designs. This lively and vibrant nail art adds a pop of color to your fingertips, exuding vitality and zest.
Incorporating these diverse designs, you can embrace the vibrant spirit of fall and express your unique style, turning your nails into a canvas of creativity and beauty.
If you're looking for a stunning nail art look for fall 2023, consider one of these orange nail designs. Orange is a versatile and flattering color that can be dressed up or down. And with so many different designs to choose from, you're sure to find one that you love.