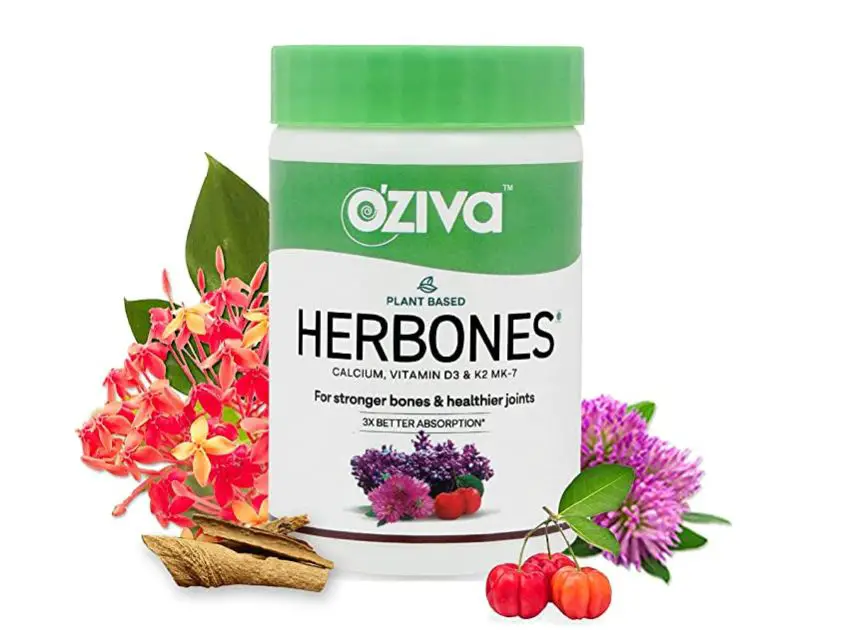 With age, the bone density starts reducing. It is one of the most common issues among middle-aged women, and it often leads to different types of health issues. Problems like weaker bones, difficulty in healing, and ailments like arthritis and osteoporosis start occurring, due to which additional intake of calcium becomes necessary.
When the body has a sufficient amount of calcium, the bone density restores, and the bone stays strong. Although there are different brands that sell calcium supplements, companies that offer plant-based supplements are the best as there are no side effects.
So, in this context, let's review Oziva HerBones, which consists of only plant-based calcium and vegan vitamin D3 and K2 that keep the bones healthier and stronger. Let's know how effective this product is.
Product Review
Oziva Plant-Based HerBones comprises calcium and Vitamin D and K, extracted from the plants. It is committed to furnishing the calcium requirements of the body that promotes bone density and strength. Since it is made with 100% natural and plant-based ingredients, there are no side effects.
Being plant-based, this product claims to support three times more calcium absorption and distribution in the body. On the other hand, synthetic calcium is not readily absorbed by the body. It gets bone-building nutrients like magnesium, boron, and calcium from marine algae, Lithothamnium Calcareum. Marine algae consume minerals and predigest that make them readily available to the human body.
Also, it helps to maintain the estrogen level in women with the help of extracts of Lodh Bark, Ashoka, and Black Cohosh. All these make it a decent and effective product for women to use on a daily basis.
Product Description
Oziva HerBones is a combination of plant-based, easy-to-absorb, and highly effective ingredients that supports bone health. It has multiple components that, in some ways, help to maintain bone density and keeps bone-related ailments at bay.
The different blends in the capsules help in improving the overall health and fitness of women. The good thing is it is certified vegan, and there are no added preservatives and sweeteners, making it a wholesome product for daily consumption.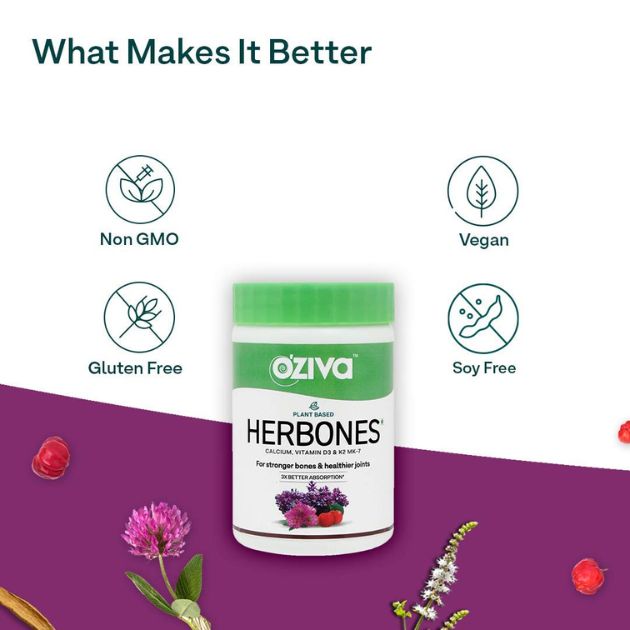 Nutrition Facts
The three different blends that make HerBones capsules highly effective are-
Bone building blend – This blend consists of a concoction of calcium, boron, and magnesium that helps to keep the body fit and healthy.
Calcium absorption blend – It consists of essential vitamins like Vitamin K2 MK7, Vitamin C, and Vitamin D3- everything that helps in easy absorption of calcium in the body.
Hormonal balance blend – The extracts from Ashoka, Lodh Bark, and Black Cohosh helps to maintain health and replenish the nutritive requirements of the body.
What We Like
It is a vegan product and certified by the Vegan Society of the UK.
There is no added preservative, soy or artificial sweeteners, or taste enhancer.
It is a non-GMO product.
There are no side effects of Oziva HerBones on the body as the major ingredients are plant-based.
What We Don't Like
You need to be highly patient to see the effectiveness of the HerBones capsules. Also, it needs to be taken at least two to three months to get the desired results. However, the outcome is long-lasting.
How Much Does Oziva Herbones Cost?
The regular price of Oziva HerBones is Check Here. Always remember to buy the product from Oziva's official website or reliable source like Amazon to get the benefits of offers and discounts running on the website.
Alternative Products
Conclusion
Over time, losing bone density is common. Even though you start taking a calcium-rich and vitamin D-rich diet, an additional need for calcium supplements becomes essential. It helps to keep the bones strong that keep bone's related ailments like osteoporosis at bay.
Since many women experience side effects from consuming calcium supplements, there are no drawbacks when you consume Oziva plant-based HerBones capsule in which the major components are the extracts of plants. With no side effects, this product is excellent for daily use.
Read More