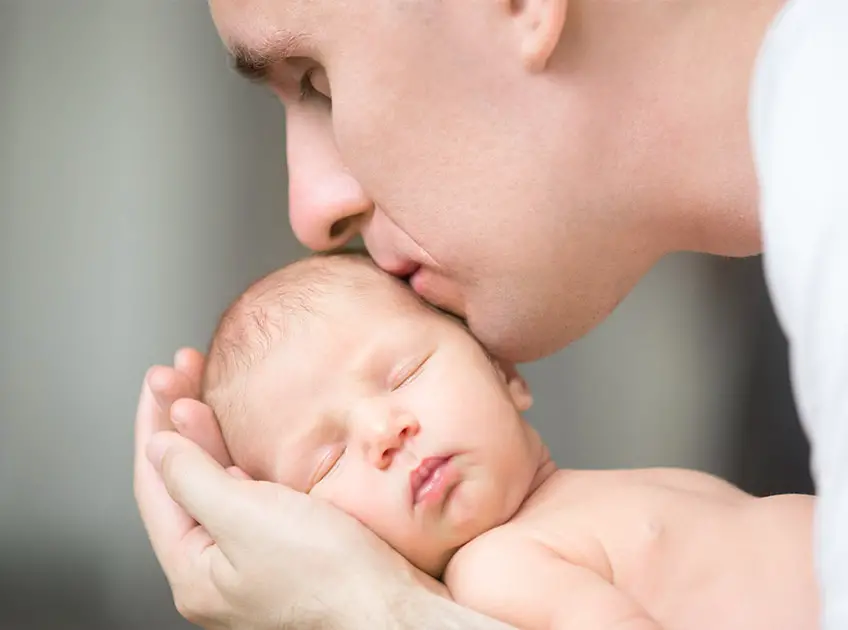 The idea of being a parent is exciting and can also be terrifying, especially for would-be and new dads who have little to no knowledge of how to be a dad and meet the baby's needs. If you are also a would-be dad or a new dad, consider reading the tips for new dads to help you on your journey of caring for your new arrival and your spouse. These tips are shared by experienced dads who have been there, they are truly tried and tested.
30 Essential Tips For New Dads
1. Establish a routine
One of the vital tips for new dad is to establish a routine. Remember, the little one is the boss here. So, you can't decide when your child will sleep, eat or soil the diaper. But you can adjust your routine according to the baby's needs so that you are always there when your child needs you.
2. Decode crying
A baby usually uses crying as a means of expression. So, babies cry when they are hungry, bored, or in pain. You need to decode what the baby wants and learn how to help them stop crying. You can try methods like long humming sounds, swaying the baby, or having a quick car ride.
3. Seek help
Seek help when needed. If your parents can be trusted, and are offering to take care of the baby for a couple of hours so that you can catch up on sleep, do it. Similarly, if a neighbor wants to do marketing for you to help you with your business, thank them and accept the offer. You can't fight every battle alone.
4. Care for your partner
No matter how busy you are, take the time to hug, or kiss your partner. When your baby can safely be looked after by someone else, spend some "we time" with your partner so that your relationship stays loving!
5. Connect with your baby
When seeking newborn baby tips for dads, make sure that you learn to maintain eye contact with your child. Babies can see about a foot around their face. So, while talking to your baby, stay close, smile and look them softly in the eyes. It will help your baby to build a sense of security and feel connected to you. If the baby needs to take a break and look away, wait patiently for the baby to re-engage.
6. Offer the magic touch
All babies crave love and attention. Make sure you give them that as a new dad. Hold your baby close, gently bounce them and jiggle them as often as they welcome it. The movement will help your baby's brain development and will improve their sense of balance. Be their motion magician by offering the motion your child craves. It can be anything like roaming around with the baby's head on your shoulder or bouncing them.
7. Stick to your words
An amazing one among new dads' tips is to be there for your kid. If you promise your baby that you'll meet them in the evening, make sure you do. Similarly, if you promise a reward, make sure you fulfil that promise. Parents are the first teachers, so you need to make only those commitments you can keep.
8. Do chores
Being a parent is often more exhausting for a mother than the father. Be mindful to help your partner with the chores. You can make a lot of difference by choosing one responsibility, be it the dishes or the laundry and doing all the chores related to it. Your partner will truly appreciate it.
9. Let the mom go…for a while
This tip works only after a few weeks of having a baby as the child cannot stay away from the mother for the first few weeks. When you think your baby can stay with you for a couple of hours, let your partner enjoy some much-needed "me -time." You can do that by planning a get together for her with her friends or booking a salon appointment. Your partner will love you for this.
10. Be ready for the outside world
When you have a new baby, everyone from your neighbors to your long-lost cousin would want to visit the baby. Do not hurry, do what is best for your baby and your family. Invite people to come to your home according to a set schedule. It will ensure that the baby doesn't get overwhelmed, scared, or overstimulated. Also, ensure that only the closest loved ones arrive in the first few weeks. When guests come, they must spend minimal time with the baby, and you or the home doesn't need to look put together. Do not force your baby to be held by people baby does not wish to be held by.
11. Make your baby a priority
It is a fact that you need to focus on your career or mow the lawn. But it is also a fact that your baby is your priority. So, if you miss an important meeting because your child was sick or you couldn't mow the lawn because you were busy having lunch with your little munchkin, do not regret it. Your baby will grow very fast, so make them a priority and don't regret the precious moments you spend with them.
12. A potty is a serious business
When your baby wants to go to the potty, you can't ignore it. As babies can't and should not hold or control their urges as adults do, thus you need to drop everything and take the baby to the toilet.
13. Be kind
Another vital one among tips for dads to be is to be kind. There will be times when you would get frustrated or angry at the baby for making the same mistake over and over again. In such a situation, you need to learn to be kind rather than angry. Make eye contact with your baby and explain just in a few words why and how something needs to be done differently. Do not demand your child to make eye contact with you. Be sure to acknowledge good intention behind behavior that you do not like. Never, never assign a negative intention to your child. It is a simple way to make a life-long connection with your kid.
14. Buy good shoes/slippers
One of the personal safety-related tips for first-time dads is to invest in good slippers and shoes. Having a baby at home means you will step on toys or bump into baby furniture more than you can assume. So, you better get the protective gear!
15. Always be prepared
Babies leak everywhere, be it on the cozy cushions you just bought or your favorite shirt. Always be ready for the cleanup. Make sure you have some tissues with you all the time. Also, keep a pack of tissues in every room of the home and even in your car.
16. Work as a team
Being a mother is a new experience for women too. Seek the help of your partner when you don't know something, like changing a diaper. At the same time, you need to understand that your partner is new at this too. So, don't expect them to be your savior every time.
17. Make memories
Every parent will tell you that babies grow too fast. Make sure that you capture special moments and make loads of memories. Have a camera handy to record special moments like your baby's first walk, first tantrum or the first word. Similarly, spend time with them to make memories that you will cherish when they are all grown up. At the same time, take time to connect and enjoy your baby, don't let chasing photo moments take you away from being in the moment.
18. Be aware of what you wear
As a new dad, you should try to mold your life around the baby. One of the ways to do that is to start investing in clothes with lots of pockets, like cargos. It will allow you to keep a lot of baby stuff like diapers, toys and other necessities in your pockets, and will save you from the hassle of carrying a baby bag everywhere. And sometimes you still need to carry around a baby bag. Do not be ashamed of it
19. Travel with your baby
Traveling with the baby can be tiring or sound exhausting, but it can also be wonderful and enriching. Make sure that you don't have a tight schedule and take a lot of breaks so that you don't panic when your baby poops unexpectedly or when your little one wants a nap..
20. Have some quiet time
We are so obsessed with gadgets that we rarely spend quiet time with our loved ones. As a new dad, make it a habit to spend some quiet time with your child every day. Make sure there are no gadgets in the room. You can spend this time telling the baby about things you are grateful for share a story or even sing to the baby. This small habit will strengthen your bond and make a big impact on your baby's life.
21. Be involved
When you have a newborn, there is no such thing as being overinvolved. Spend as much time as you can with your baby and make the little one a priority you cannot skip. When you come home from the office, ask your partner how their days went and inquire about how your baby spent his or her day, what they discovered, how was their mood, etc. Stay involved, curious and caring.
22. Remember babies add fun to life
There is no doubt about the fact that babies need a lot of attention, and raising a child means a lot of hard work. But they also add the enrichment to your life. Let your stresses go away when you cuddle your little one or hear them laugh or just look at you with those big and beautiful eyes. Remember to enjoy the fun times and feel blessed to have a baby.
23. You need the "me-time" too
As a new father, you need to take some "me-time" as well. It will help keep your thoughts in order and will offer some much-needed relaxation. Spending an evening with friends or going to the beach could do the trick. Plan things in such a way that you get your me-time on one weekday while your partner gets it the next time. Like every Tuesday evening is ame-time from 5-7 pm.
24. Let things go
Learn to accept the fact that she will not always understand the reasons for everything your child does. For instance, if your baby was cranky at night but you couldn't find out the reason, but the baby is fine now, accept it and move on. Don't dwell on why you couldn't figure it out and stop overthinking.
25. Don't play the blame game
Mistakes are a part of life, and as a new parent, you or your spouse will make mistakes. It can be anything like not buying enough diapers or not leaving the night light on. Practice self compassion and don't blame your partner or judge them. If you need to communicate something, do so in a nonviolent manner Blaming each other might harmfully impact your relationship.
26. Nursing moms need extra attention
If your partner is nursing, they will need more support, care, and nurture than usual. Sometimes, even giving a glass of water can be a gesture of love. Nursing moms might be sleepless, irritated and cranky, remain kind and respectful.
27. Do anything you like
A baby might not care what activities you plan with them, but they care whether you spend time with them or not. So, if you want to spend time with your baby, you can keep them in the room while you take care of chores like washing clothes, doing dishes or cooking food. Interact with your baby while you do so. If your little one can walk, allow them to follow you around and help you do stuff. Do not be critical about things not being done the right, but appreciate and praise their effort.
28. Be a hot dad
Believe it or not, most women find it sexy when you change the diapers or feed the baby. Being a hot dad is easy – help your partner!
29. Appreciate your partner
Though moms are often more tuned to a baby's needs (because hey, the baby was inside her), they also feel frustrated, incompetent or question their abilities. When your spouse is struggling, it's your job to encourage and appreciate your partner. Let her know that you believe in her abilities and how you admire her.
30. Take responsibility
It is very important that you take on the responsibility for your behavior. If your partner is angry over some small things, do not receive it as blame. In such a situation, it would be good if you don't accept the responsibility. For instance, if your wife is unhappy about putting the plate in the sink, apologize and go a step ahead and do the dishes. She would appreciate it, not at that time but later on.
Conclusion
Being a new dad is a challenge that requires physical, mental and emotional energy. So, you must remember these tips for new dad before moving forward. Also, make sure that you get the best stuff for your child. Here are a few baby care products that you might want to invest in. Do try them and share your experience in the comments.
Image Credit: freepik
You Might Also Like: