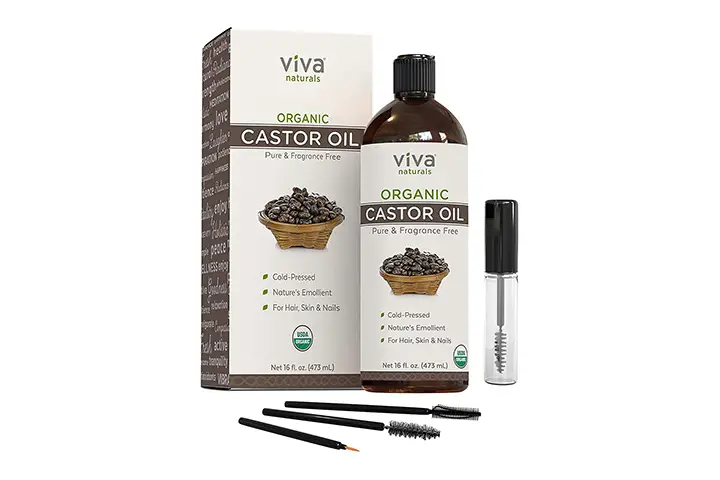 One product has many benefits. Yes! Viva naturals organic castor oil is truly a multipurpose beauty secret. This organic castor oil is a nourishing and hydrating hair treatment for the appearance of thicker, shinier, healthier looking hair. This pure castor oil gives a great eyelash and eyebrow and you no need to use false eyelash if you have this beauty kit!
Viva Naturals Organic Castor Oil
How it works:
Viva natural organic castor oil is a USDA-certified organic product. It is cold pressed without the use of harsh chemicals or solvents.
This organic oil is rich in fatty acids which help you to achieve fuller looking eyelashes and brows in a natural way.
Use a few drops as a hair from ends to roots or add it to shampoo or conditioner for an extra dose of moisture.
It works great for glowing skin and healthy looking nails. Use it alone or add to creams or lotions, it gives a great skin.
Apply a few drops around the nails to hydrate nail beds and cuticles.
Pros:
Get thicker, healthier looking hair and scalp.
Acts as eyelash and eyebrow serum.
Helps to moisturize and soften your face and body.
It sloppies and strengthens hair while repairing split ends.
Perfect for DIY beauty blends.
Hexane and fragrance free.
It is an ideal hydrating and softening ingredient.
Cons:
Too much castor oil can cause cramps, dizziness.
Rating: 4.6 out of 5
Give natural care for beautiful lashes, skin and hair with Viva natural organic castor oil. Softer, more luxurious looking skin is in your hands! Hydrate, soothe and smooth away blemishes with the rejuvenating magic of castor oil.
Frequently Asked Questions (FAQ's)
Q. Is this 100% castor oil or is it a blend?
Ans: The label does not state whether it is 100% castor oil or not.
Q. Does it come with the small mascara container?
Ans: YES it does. It comes in a thick plastic pouch inside the box on the side. Mascara tube , with 3 different brushes. Shows what it comes with in the picture there. Love this.
Q. Is it edible?
Ans: Our Castor Oil is not certified food-grade and is made for topical use only. We would not recommend consuming it internally. Castor Oil is known to have laxative effects if consumed.
Alternate Products:
You Might Also Like: