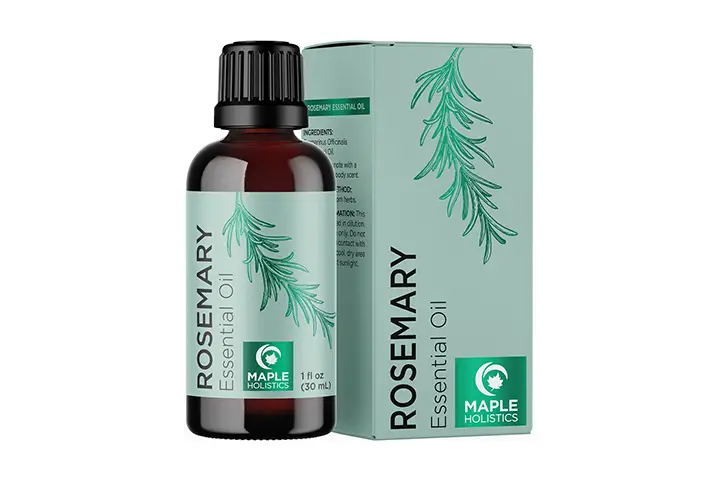 Maple holistic Rosemary essential oil is one of the best oils that have many benefits like stimulating hair growth, stress reliever and may also help to relieve pain. Many more uses of this oil help to boost wellness wherever and whenever.
This oil works great for your hair, nails and as a humidifier and more. It can be used as a massage oil to get relief from work stress and acts as a repellent for certain bugs.
Maple Holistics – Pure Rosemary Essential Oil
How it Works:
Rosemary oil contains a single ingredient which gives awesome results.
It works as a scalp cleanser and makes your hair shine and gives a flawless look.
Rosemary oil has inflammatory properties that promote nerve growth and improve circulation and that stop hair loss.
It has antioxidants to boost anti aging skin care and hydrates the skin which help to control the oil production.
The antiseptic properties of Rosemary oil makes your skin acne and makes your skin wonderful.
It works as a diffuser that fills your room with nice aroma and makes you feel pleasant, perfect oil for aromatherapy.
Pros:
Gives radiant looking skin.
Use this in aromatherapy for best results.
Works as a scalp cleanser for good hair.
Pleasant aroma for diffusing.
Perfect for hair dyes.
Cons:
For some people aroma may be irritating.
Rating: 4.6 out of 5
Rosemary oil works great with a carrier oil or shampoo. It is evergreen and popular with many benefits. Acquire this product and enjoy the benefits.
Frequently Asked Questions (FAQ's)
Q. What is the best use of this product?
Ans: Dilute this with other oils like coconut oil, castor oil, vitamin E oil, or Jojoba oil and then soak your roots for however long you'd like before washing your hair.
Q. Can this be used on eyebrows?
Ans: Yes, but use a cotton tip or something and mix it with a carrier oil. Castor oil is good for making hair thick but it's not a carrier oil.
Alternate Products:
You Might Also Like: