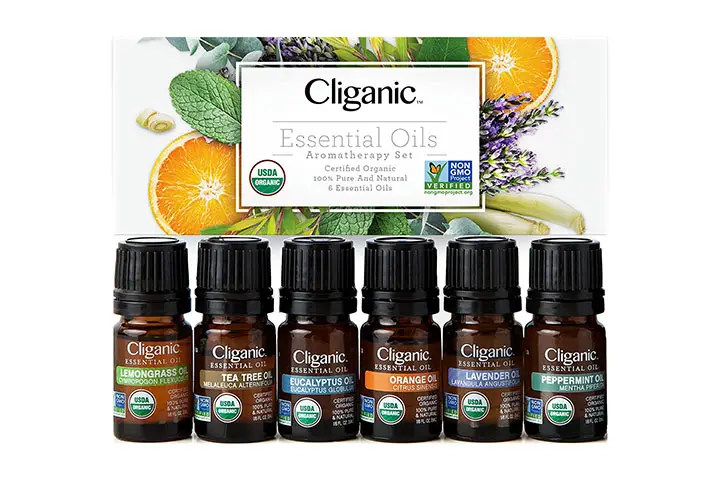 To prevent or cure diseases we generally use herbal remedies. Those who have more interest in natural remedy Cliganic USDA organic essential oils are the best option.
The set contains six essential oils they are Peppermint, Lavender, Eucalyptus, Tea tree oil, Lemongrass oil and Orange oil.
These natural products are the key to a healthy body, mind and soul. These six oils are the most popular essential oils that have a wide range of benefits.
Cliganic USDA Organic Aromatherapy
How it Works:
Cliganic offers essential oils with USDA certified organic oil with one ingredient giving perfect results.
These essential oils are not diluted, alcohol free, no fragrance and no additives.
They are made with 100% natural and no chemical and artificial ingredients added.
Each oil has its own benefits which help in our daily routine.
These oils help with the most common physical, mental and emotional ailments.
You can also get rid of headache, stress, indigestion, fatigue and much more.
Peppermint oil has a clean, refreshing, minty, cool scent, it helps to enhance alertness and stamina.
Lavender oil has a sweet, floral, herbal scent.
It is a gentle oil and most powerful and can be used by anyone.
Eucalyptus oil has a fresh, strong, sweet scent.
We all know well it's respiratory benefits. It helps to relieve pains like joints and muscle.
Tea tree has a medicinal, fresh, woody, earthy herbal scent that strengthens your mental, emotional and physical.
That's why it is one of the most popular.
Lemongrass has a fresh, grassy and earthy scent with a strong lemon note.
It helps you get an uplifting emotional boost.
Orange oil has a citrusy, sweet and refreshing scent.
It rejuvenates and helps to enhance focus.
Orange oil is a great natural ingredient to use for household cleaning.
Pros:
Non GMO project verified.
Affordable.
Cruelty free and vegan.
High quality ingredients.
Cons:
Packaging was not up to the mark.
Rating: 4.6 out of 5
One product of 6 essential oils with many advantages. Get this product which is of high quality, affordable essential oil with a wide range of benefits.
Frequently Asked Questions (FAQ's)
Q. Can this be used in homemade hand soap?
Ans: Yes, sure. This can be used for hair care and skincare products, like body lotion. The oils are potent.
Q. Are these ok to consume?
Ans: No, there for aroma therapy only.
Alternate Products:
You Might Also Like: