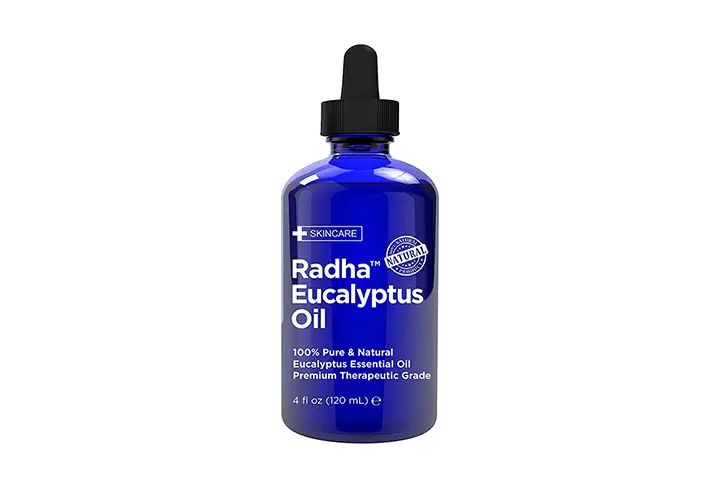 Eucalyptus essential oil is well known for its refreshing scent. It is an excellent oil that is used in Aromatherapy. This product will help to heal muscle pain, headache. It works as a natural cleanser and keeps you fresh after bathing.
The healing power of Eucalyptus oil helps to relieve coughing and removes mucus out of your chest .Just inhale or rub on your chest to relax from cough and cold.
Radha Beauty Eucalyptus Essential Oil
How it Works:
Radha Eucalyptus oil is 100% pure and natural, no additives, undiluted with no filters.
The anti inflammatory properties of Eucalyptus oil help to relieve from joint pains.
The flagrantly sweet aroma of this oil keeps the bugs away.
The pleasant smell of this product may help in disinfecting your house in place of harsh chemical cleaners.
This extraordinary oil helps to eliminate many seasonal threats from the home and supports the immune system.
The bottle comes with a glass dropper to use comfortably without mess.
This oil can also be used to soothe and rehydrate the skin for a healthier appearance.
Pros:
Relax your mind.
Help to relieve minor respiratory issues and clear breathing.
Supports the immune system.
Naturally cleanses yourself and your home.
Protects from seasonal threats.
Cons:
Some people have bad impacts after inhaling.
Rating: 4.6 out of 5
An oil which gives aromatic refreshness and treats your small issues is nothing but Radha Eucalyptus oil. Maintain this oil at your home to refresh yourself without chemical based products.
Frequently Asked Questions (FAQ's)
Q. IS it organic?
Ans: It is 100% natural product,100% pure eucalyptus oil.
Q. Would this work with all diffusers?
Ans: Yes it will work with all diffusers.
Q. Can this oil be stored with a dropper?
Ans: If pure oil, the rubber top (that you squeeze) will start to disintegrate and fall apart.
Alternate Products:
You Might Also Like: