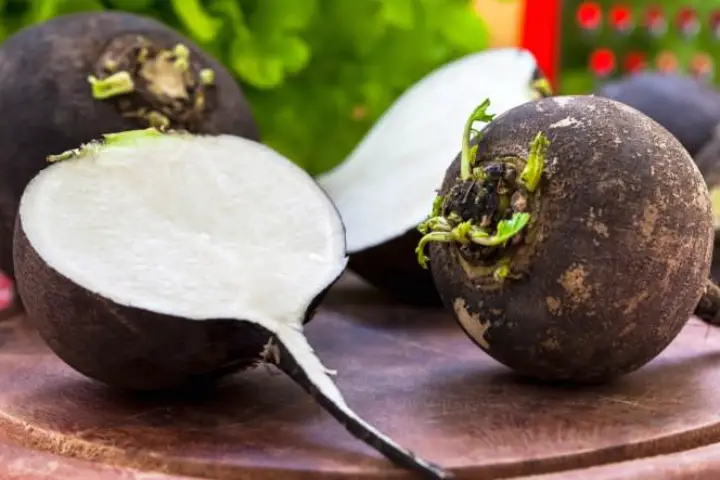 A famous ancient Persian physician Avicenna said that the strongest attributes of a radish are its seeds then the bark leaves and finally the flesh. In most of the cases, it is recommended to squeeze the entire radish for its juice. However, this is advisable only if the vegetable has been grown in an organic environment without using chemical fertilizers. Mostly radishes as well as other vegetables purchased in supermarkets still need thorough cleaning in order to remove the harmful substances. Black radishes must be given a good wash by exfoliating and peeling the skin (If in doubt about the vegetable cultivation and storage conditions).
23 Amazing Black Radish Juice Benefits
1. Diabetes: Take 2 tablespoons of black radish juice, 3 times a day.
2. Hemoptysis (Coughing Up Blood From the Respiratory Tract): Drink 60ML of black radish juice 3-4 times a day to stay away from such cases.
3. Kidney and Bladder Stones: Drink 30ML of black radish juice every day on an empty stomach.
4. Intestinal Parasites: Drink 1-2 tablespoons of black radish juice while fasting.
5. Dropsy: Drink 2 tablespoons of black radish juice 3 times a day.
6. Flatulence (Abdominal Swelling Due to the Gas accumulated in the Intestines): Kidney and bladder stones, neuralgia, anemia, dropsy, pertussis can be cured by consumption of black radish juice and honey mixture 1: 1 of one tablespoon, three to four times a day.
7. For Lactations to Promote Breastfeeding Mothers: Use of 1 to 2 GM of crushed black radish seeds 3 times a day.
8. Impotency (Semen Improvisation and Enhance Libido): Take a spoonful of black radish leaf juice 3 times a day.
9. Anemia: One of the best natural treatments is using black radish, carrot and beet juice by mixing them in a ratio of 1:1:1. Take one tablespoon 3 times a day, 20 minutes before meals for 3 months.
10. Bile and Gastric Juice Promotion: Take a spoonful of black radish juice at least 15 minutes before each meal.
11. Gall Bladder, Kidney, and Bladder Stones: For 3 months, continue to take 200ML of black radish juice every day.
12. Cardiac Arrhythmias: Black radish juice and honey mixture ratio of 1:1 and one tablespoon 3 times a day before meals.
13. Cystitis: Black radish juice and honey mixture of 1:1 ratio of a tablespoon, daily three times after meals for one month.
14. Improving the Spleen and Digestive Organs: Mix honey and black radish juice of 1:1 ratio and use a tablespoon 3 times a day before meals.
15. Cough: Cut the black radish into small cubes, sprinkle some sugar and add up to the glass vessel to leave overnight. The next day take out the juice and drink one tablespoon daily.
16. Bronchitis, Upper Respiratory Tract Disease, Whooping Cough, Pulmonary Tuberculosis can be cured with black radish juice by mixing it with honey or sugar of 1:1 ratio. Take one tablespoon, 3 to 4 times per day.
17. Colds – Inhalation: After grating the black radish, cover and leave it for 30 minutes. The next day take few deep breaths from the container where it was preserved. You may repeat this process up to 8 times a day (approx.) 
18. Gall Detoxification: Drink fresh black radish juice before sleeping in the night, start with 100ML then gradually increase the amount to 400ML. Maintain this body treatment course for 6 weeks continuously.
19. Improvising Thyroid Hormones Performance: Daily drink black radish juice or eat the flesh (can be added to salads, etc.) for regular improvement of Thyroid hormones.
20. Weight Loss: Black radish is very low on fat content, calories and cholesterol levels. Also, they are rich in fiber and water content which suppresses the appetite. They provide more power, making it ideal for weight loss diet. 
21. Improving Skin Condition: 200ML of black radish juice has a lot of Vitamin B, Vitamin C, zinc, and phosphorus which improves skin condition. Externally use the black radish pulp to destroy acne scars, pigmentation spots and relieve from skin inflammation.
22. Hair Loss, Hair Growth, Regulation of Scalp Sebum (Suitable for Scalps which are Very Dry/Oily): Recommended to take a daily dose of 200ML black radish juice. Take the grated black radish, squeeze juice to strengthen the hair roots and scalp. Apply and keep it for an hour then wash your hair with shampoo as usual. The mask can also be applied on your hair during the night and wash it in the morning. This makes it very soft and shiny.
23. To Strengthen the Immune System: Black radish is recommended to be included in the menu during the cold season since most of them suffer from cold, ear infections and flu.
Note: Please ensure to consult your doctor before following the above tips since black radish can have prominent effect on your liver/gallbladder. Try using fresh radish with no blemishes on its skin. And avoid excess intake since that cause constipation.
Image Credit: 1