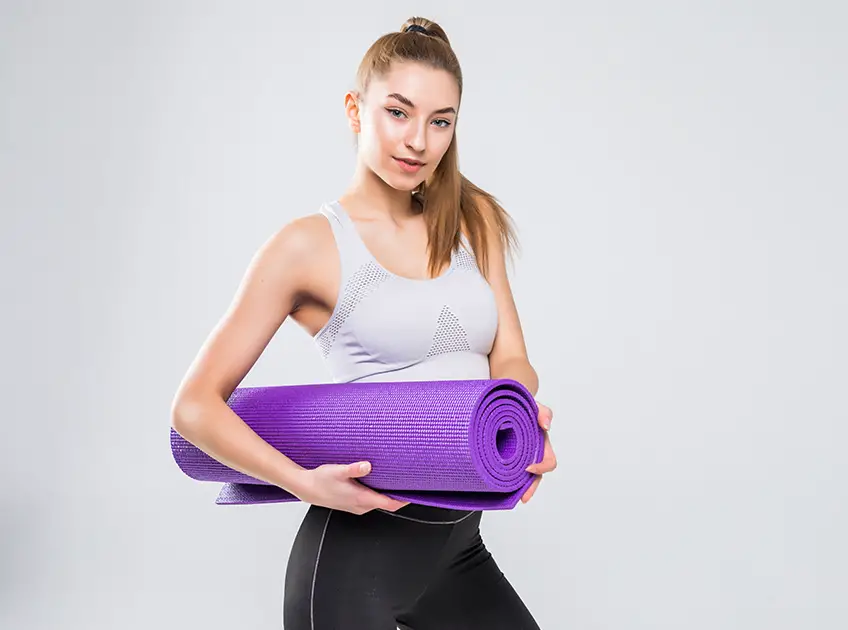 Just as runners have a whole lot of options when it comes to their shoes, so do Yogis, when it comes to their mats. With the popularity of this fantastic practice blowing off the roof, manufacturers are inspired to make different mats to suit the needs of different people. But sometimes, when there are too many options, you tend to get confused, and you might just end up picking the wrong mat.
How To Choose Your Best Yoga Mat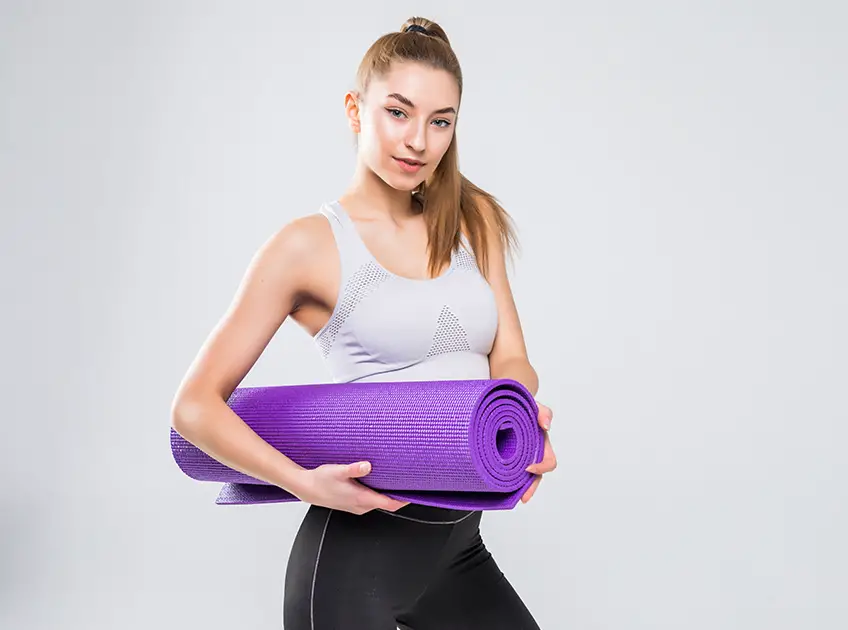 So here is a guide that will give you a list of considerations to make when you head out to shop for that perfect yoga mat. When it comes to picking up an arsenal for your yoga practice, you cannot afford to "judge a book by its cover". You have to deliberate and take into account the following points.
1. Thickness
Standard yoga mats are ⅛ inch thick. If you are a beginner, you could consider investing in a mat that is ⅙ inch thick. These mats are also easy to roll, so it makes them more portable. If you have issues with your joints, or if you are practicing Yin Yoga, you must choose a mat that is ¼ inch thick.
2. Materials And Durability
The material of the yoga mat is also imperative when you pick a mat. These are some options you are going to have when you go out in the market to buy a mat for your workout.
PVC Mats: This is probably one of the most commonly used materials used to make basic, cheap yoga mats. However, these mats are not highly recommended by Yogis. Polyvinyl chloride is carcinogenic. It is neither good for you nor the environment since it is so hard to recycle. For the sake of your health, and for the benefit of your surroundings, try and avoid this mat at all costs.
Rubber Mats: Rubber mats are a better choice. Made of natural rubber, yoga enthusiasts endorse this mat. It is a basic, simple mat that isn't too expensive either. When you go out in the market, you will be able to find these mats quite easily.
Padded Mats: These mats are soft and comfortable. Usually, the insides of these mats are made of foam, which is covered with cloth. These mats give more support than an average mat but give lesser grip. They can also be only partially washed – while it is easy to wash the covering cloth, the foam cannot be washed.
Cotton Mats: These are the most natural of all the mats available in the market, and even though they soak up the sweat, they are easily washable. They are soft and give more grip than the padded mats.
[ Recommended: Yoga Poses to Reduce Belly Fat ]
3. Price
Price is also an important consideration when you buy your mat. Usually, a ⅛ inch thick PVC mat with no frills is the cheapest. Look into the price. But these mats don't have a long life, and will tend to wear out fast. If you are serious about your practice, you could consider buying a mat that is more expensive. Look out for some good brands that guarantee quality products. If you are looking for features like padding and non-stick or sticky mats, it will cost more. But if that's what you need, it is worth it!
4. Style of Yoga
You must consider the kind of yoga practice that you are enrolled into when you invest in a mat.
If you are new to yoga, make sure you buy a cheaper mat. Go for the basic. If after a few weeks into the practice you realize yoga is not for you, you won't be guilty about spending too much on a mat. Besides, you may realize that the mat you bought doesn't suit your needs once you get into the yoga groove, and you can then change your mat depending on your needs.
Remember this:
Vinyasa Yoga classes involve complex movements, so you will need a mat with more friction so that your arms and legs don't slip.

The Yin Yoga is a restorative class, where your movements are ought to be slower and intense, so a soft and cushioned mat is more apt.

If you are into Hot Yoga or Bikram Yoga, where the class takes place in a heated room, you must invest in mats specially designed for these classes. These mats don't absorb the sweat, so your mat will remain clean for long. If you are into this kind of yoga, you definitely cannot use a basic mat as it will get damaged.
[ Recommended: Yoga Asanas for Weight Loss ]
5. Body Type
Yes! It's true. Your body type can determine the type of yoga mat you must invest in. If you are slim and petite, going in for a padded yoga mat is recommended. Your body naturally has less cushioning, considering there are lesser or no pockets of fat. A yoga mat that is about ¼ inch thick should be okay. Even those who have sore joints must pick up thicker mats to make the workout more comfortable. Those who are "healthy" and well cushioned can pick a mat that is about ⅛ inch thick.
A standard yoga mat is usually about 68 inches long. If you are tall, you must consider the length of the mat. A standard yoga mat is good enough for those whose height is below or around 5′ 6". If you are taller than that, ask for a super stretched yoga mat.
6. Practicing Place
You must also keep in mind where you will be practicing yoga when you are buying the mat. If you are practicing yoga at home, a basic mat will do. But if you practice yoga on the go, a lightweight mat is recommended. This will be more portable. If you travel a lot, you could consider buying a second mat to carry along on the trips.
7. Surface of The Mat
Look for a non-slip mat when you buy your mat, especially if you are going to be doing more vigorous forms of yoga. These mats will give you the grip you need, no matter how much you move. You can also pick non-stick mats. While these mats are rough in texture, and could irritate your skin if you are sensitive, it will be of great advantage when you practice the intense yoga poses.
8. Accessorizing The Mat
If you are a yoga regular, you could consider buying accessories for your mat. A handle, a cotton handle, a carrying case are some options available out there. Take your pick, depending on how much and how you use your mat.
9. Easy Storage
A mat that is easy to store is always a great buy! It could be quite a pain to store mats that don't roll. Pick a mat that's easy to store. It is always a good idea to invest in lightweight mats. They roll up easily and are super easy to store and carry around. When you go to buy your mat, make sure you roll it up a few times to make sure it maneuvers easily.
Good gear is always inspiring, and when it comes to practicing yoga, you just cannot afford to compromise. Your mat should be the last thing that lets down your practice. Now that you know what to consider while buying that mat, you are sure to make the right choice!
Recommended Topics: