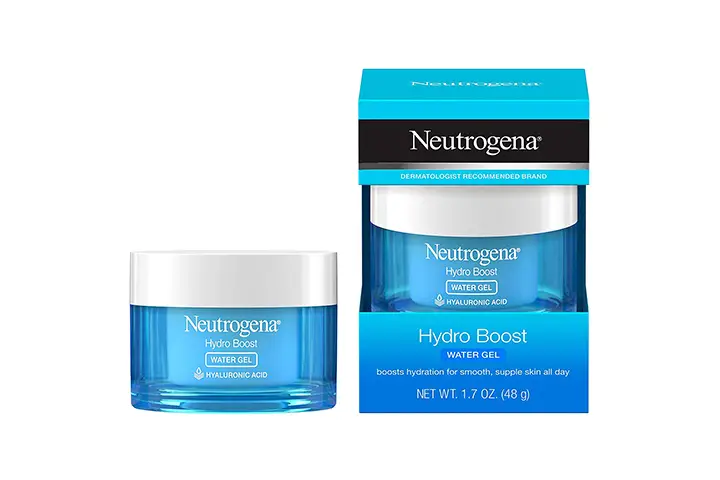 Dry skin causes many skin problems like roughness, itching, cracks and fine lines. Get rid of such issues by using Neutrogena hydro boost water gel. It helps to hydrate your skin and retain its moisture for a long time.
Soothing properties of this product lock the moisture and repair dry skin. This oil free lotion quenches dry skin to keep it looking smooth, supple and hydrated day after day. The formulation of this product works great for dry and sensitive skin.
Neutrogena Hydro Boost Hyaluronic Acid Hydrating Water Gel
How it Works:
Neutrogena hydro boost water gel is made with hyaluronic acid, which helps to promote the skin healthier.
It reduces the visibility of fine lines and wrinkles by retaining the skin's moisture.
It is a unique face moisturizer which absorbs quickly like a gel, so you can wear it under makeup, but long lasting and intense.
Moisturizing power of a cream.
Hyaluronic acid is a hydrator found naturally in the skin,which attracts moisture and locks it in.
The quick absorbing formula of this water gel maintains the skin's moisture and leaves skin feeling hydrated, supple and smooth.
Pros:
Protects your skin from the damage caused by dryness.
Moisturizes and treats your skin.
Suitable for all skin types.
Boost non stop hydration for smooth skin all day.
Dermatologist recommended.
100% alcohol free.
Cons:
Contains parabens.
Expensive.
Rating: 4.6 out of 5.
The cool blue gel absorbs fast and gives a liquid touch feel.It is perfect for oily skin and the formulation of this product works well for dry and sensitive skin. This is an award winning water gel formula that absorbs quickly and maintains skin's moisture for a long time.
Frequently Asked Questions (FAQ's)
Q. Can this item be used by men?
Ans: It is perfect for men.The older you are, the more appreciation you will have. You can use this for wrinkles around your face, elbows, knees and toes.
Q. Does it contain SPF?
Ans: No SPF. It is a water gel moisturizer with hyaluronic acid also.
Q. Does it feel greasy?
Ans: It does not feel sticky at all.
Alternate Products:
You Might Also Like: