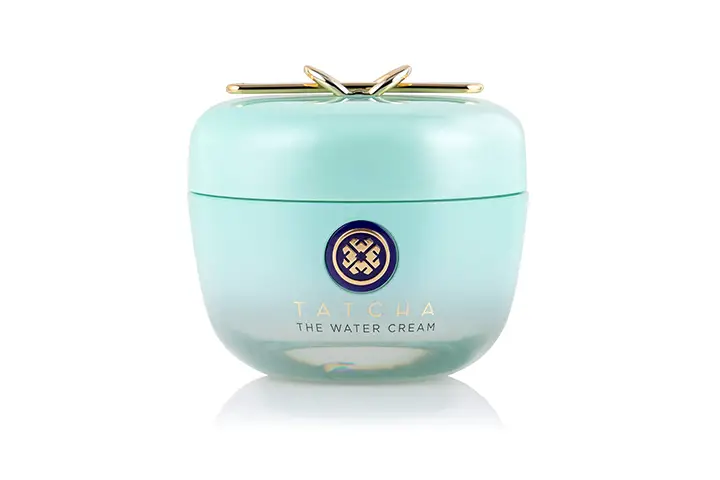 Tatcha The Water Cream is the best moisturizer for pure and poreless skin. The lightweight moisturizer keeps your skin feeling fresh and it quickly absorbs and maintains its moisture and nourishes your skin.
This water cream is suitable for most skin types and this is best for acne prone skin and oily skin.
It deeply moisturizes and nourishes and gives the benefits of hydrating and leaves your skin oil free. The special ingredients of this product help to keep the skin long lasting without a greasy feel. It boosts the radiance by locating moisture.
Tatcha The Water Cream
How it Works:
A burst of skin improving Japanese nutrients, powerful botanicals and optimal hydration for a pore less skin.
The key ingredients like Japanese wide rose balances skin and diminishes the look of pores.
Japanese Leopard lily helps to minimize oil production and calms skin.
Hadasei-3 is a trio of a trinity of green tea, rice and algae, which restores healthy looking and youthful radiance.
It is recommended for normal to oily skin.
Pros:
Delivers balanced hydration.
Visibly tightens pores and smoothes skin texture.
Helps to control excess oil.
Skin looked radiant and luminous.
Clarifies your skin by encouraging natural skin turnover.
Cons:
Rating: 4.7 out of 5.
To maintain your skin hydrate without greasy effect use this unique Tatcha water cream. It gives awesome results by tightening the pores and smoothes the skin texture. Best product ever.
Frequently Asked Questions (FAQ's)
Q. How does it help to diminish the lines?
Ans: No it will not diminish the lines.
Q. Does this product have a scent?
Ans: Very, very subtle scent. This cream is my absolute favorite of all time….really wonderful!
Q. Does it come in a glass container?
Ans: No it will not come in a glass container.
Alternate Products:
You Might Also Like: