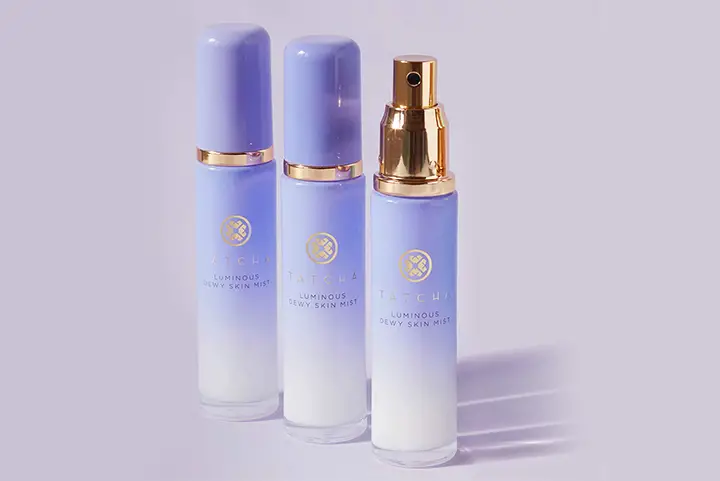 Keep your skin hydrated by quenching the pores with Tatcha luminous dewy skin mist. It is a silky, fine mist moisturizer so that you can use it under or over the makeup for a dewy glowing skin at any time and anywhere.
It is awesome to use on the go moments to refresh yourself and to maintain a smooth and glowing look.
Tatcha dewy mist hydrates your skin instantly and improves skin health by reducing the dullness.
Tatcha Luminous Dewy Skin Mist
How it Works:
This spray moisturizer increases the soothing hydration and makes your skin shining and brightening.
It is formulated with 20 percent botanical oils and humectants that leave skin dewy.
The spray is infused with hadasei-3 complex which restores youthful radiance.
A proprietary complex of okinawa Red algae and hyaluronic acid, which delivers highly efficient hydration to the skin and locks its moisturize and it is an awesome moisture magnet.
Pros:
Can be used with or without makeup.
Helps to nourish skin from the inside out.
Travel friendly.
Imparts a dewy glow.
Get a dewy glowing look anytime.
Cons:
May irritate sensitive skin.
Rating: 4.7 out of 5
It takes only 2-3 spritzes for your whole face. To get a flawless look use it before applying makeup. Maintain it in your bag for easy touch ups in just a couple spritzes. Tatcha dewy spray refreshes your skin and gives it an extra glow.
Frequently Asked Questions (FAQ's)
Q. Can it be used before and after makeup?
Ans: Yes it gives awesome results before or after makeup.
Q. Is this oil based or water based spray?
Ans: Oil-based. It contains Squalane which makes skin so hydrated and soft but not as heavy as other oil-based spray.
Q. Does it contain drying alcohol?
Ans: No it doesn't contain.
Alternate Products: