A hectic schedule and excess workload often lead to stress and anxiety. There could be many others reasons for the same, but combating them is essential to maintaining health. If you often feel restless, wound-up, or on-edge, it indicates you are under stress. Feeling fatigued and irritated all the time and having difficulty concentrating are also the symptoms of stress and anxiety.
You may have headaches, muscle aches, stomach aches, and feel worried most of the time. Sleeping problems are also indicated the same. Acute stress and anxiety may cause severe issues. Therefore, timely management of the problem is essential. While there are many products to combat stress, we will review Oziva Sero.D3+, which is known to boost serotonin, a happy hormone, and make you feel relaxed.
Product Review
Oziva Sero. D3+ is formulated with plant-based ingredients that make it suitable for all, irrespective of age, and this is what we like the most about it. It is designed to elevate the mood by helping release serotonin, a hormone responsible for making you feel happy and lightheaded.
To maintain calmness and goodness in the body, the extracts of plants like Chamomile, Ashwagandha, Brahmi, Shankhpushpi, and Kawach Beej are used. The chemicals released from these plants are believed to enhance the mood and make you feel relaxed and contented.
If you are one of those who have anger issues and problems with concentration, Oziva Sero. D3+ is known to help in multiple ways. Ingredients like Tyrosine, Theanine and Melatonin also help in calming the body. So, overall, we think this is a good product with no side effects and therefore worth giving a try.
Product Description
Oziva Sero. D3+ is formulated to bring calmness and relaxation to the mood. It is a plant-based stress relief product that stabilizes the mood and induces a feeling of wellness and happiness. A regular intake of the product helps in the release of serotonin, which gets activated with Tryptophan, Vitamin B6, and D3.
It consists of the plant extracts of Chamomile, Ashwagandha, Brahmi, Shankhpushpi, and Kawach Beej that furnish the need for major components that help in making one relax and calm. It also helps in anger management and increases concentration.
You have to take two capsules of Oziva Sero. D3+ daily. One capsule should be taken one hour after breakfast and another one hour after dinner. Consume it for 2 to 4 months to get the results.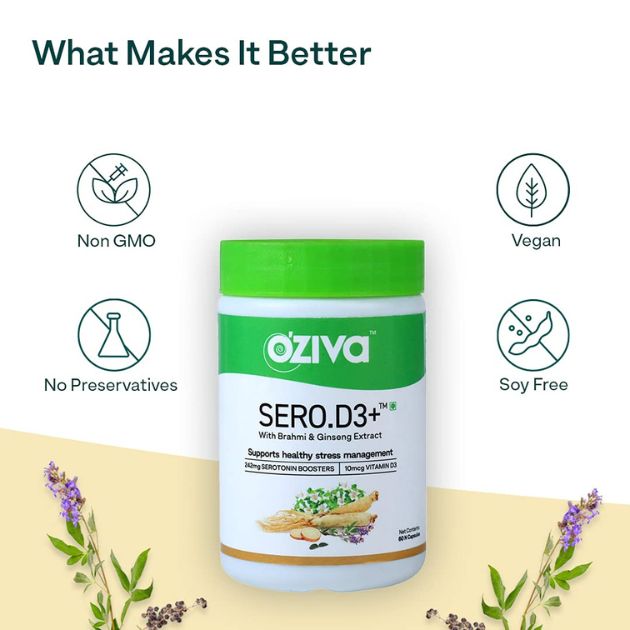 Nutrition Facts
The major blends present in Oziva Sero. D3+ are-
Serotonin Booster Blend- It consists of extracts from Ginseng and Chasteberry that deliver L-Tryptophan, Vitamin B6, and Vitamin D3 to the body.
Stress Buster Blend- The presence of Chamomile, Velvet Bean, Blueberry, and Ashwagandha furnish the needs of Melatonin and L-Tyrosine that helps to calm the mind and give relaxation.
Anxiety Relief Blend- To provide relief from anxiety, there are Brahmi, Ashwagandha, Shankhpushpi, and Black Pepper. They provide L-Theanine and Magnesium to the body.
What We Like
It is a vegan product and certified by the Vegan Society of the UK.
There is no added preservative, soy, or artificial taste enhancer.
It is a non-GMO product.
There are no side effects of Oziva Sero. D3+ on the body.

What We Don't Like
There are certain limitations in the intake of Oziva Sero. D3+ like you are bound to have two capsules daily. You have to take one capsule at least 1 hour after breakfast and dinner. Also, you need to take it regularly for two to three months to see the difference.
How Much Does Oziva Sero. D3+ Cost?
While the regular price of Oziva Sero. D3+ is Rs 699; you can buy it at Rs 629 only from the official website of Oziva or from Amazon, where the products are available at a discounted price.
Alternative Products
Conclusion
If you often feel stressed and anxious or have anger issues, a regular intake of Oziva Sero. D3+ will give fruitful results. Since it is a plant-based product will 100% natural ingredients, there won' be any side effects. Additionally, it will furnish the requirement of vitamins and minerals in the body, ensuring you stay calm and relaxed.
For the best result, consume the capsules as per the directions.
Read More