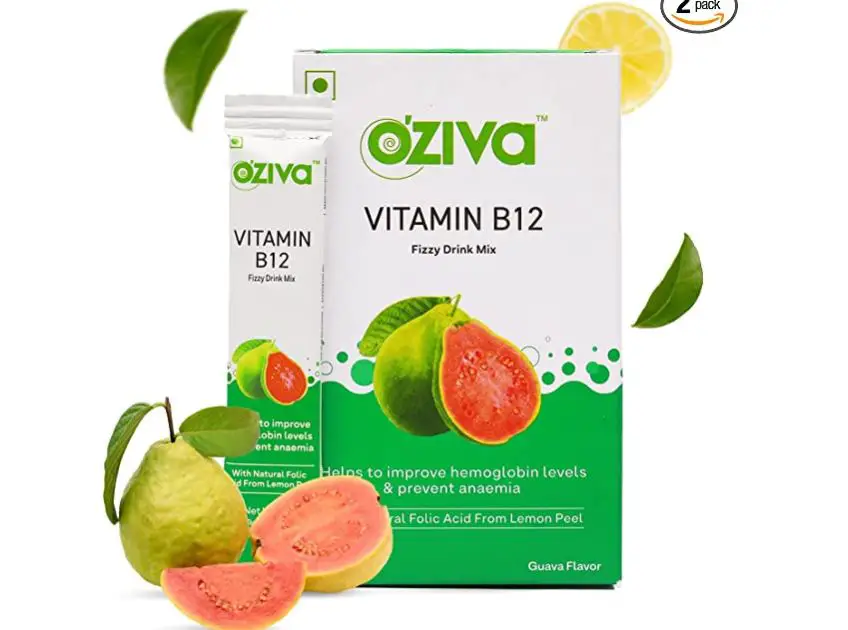 Out of so many vitamins and minerals, Vitamin B12 is one of the essential vitamins that help in the formation of red blood cells and DNA. Also, it helps brain cells and nerves to function well. Vitamin B12 is also called cobalamin and is naturally found in animal food. Since animal food is a good source of Vitamin B12, people who are vegetarian often wonder how to furnish its need in the body.
Fortunately, there are many supplements on the market that delivers Vitamin B12 to the body. In these supplements, Vitamin B 12 is in its free form, therefore easy for absorption. Oziva has also come up with its plant-based Vitamin B12, which helps to improve hemoglobin levels and prevent anemia.
Today, let's unveil Oziva's Vitamin B 12 supplement and see how effective it could be.
Product Review
Oziva Vitamin B12 is a fizzy drink that not only furnishes Vitamin B12 requirements in the body but also makes you feel refreshed and relaxed due to fizz. What we like the most ion this product is plant-based Vitamin B 12, therefore suitable for people who are vegetarian and vegan. In fact, it is certified vegan by the vegan society of the UK.
It consists of highly concentrated 99% Vitamin B12 which is stable and easily absorbable. Fizz drinks help to improve the level of hemoglobin among women. Regular consumption helps prevent weakness, tiredness, fatigue, and anemia.
Another good thing about the product is the presence of lemon peel, which helps in the easy absorption of Vitamin B12 in the body. Additionally, 4% plant-based folic acid perks up the effectiveness and worth of the product.
Overall, we believe this is one of the best Vitamin B12 supplements that can boost red blood cell formation and support hemoglobin levels. Fizz in the drink makes it even better; it's worth trying.
Product Description
Vitamin B12 helps brain development and keeps nerve cells and blood healthy. Oziva Vitamin B12 supplement is a one-stop solution for plenty of health issues related to low hemoglobin and inefficient nerve cells.
It consists of plant-based ingredients and lemon peel to help absorb Vitamin B12 effectively. Fizz and the delicious taste of guava are all that make this drink one of its kind and perfect for all. There are no harmful ingredients, and it is free of gluten, soy, and artificial sweeteners.
To use, mix one sachet of Oziva Vitamin B12 with 150 ml of water. Now mix well and enjoy the fizz. It will make you feel refreshed and deliver Vitamin B12 to the body.
Nutrition Facts
The two major ingredients that make Oziva Vitamin B12 one of the best health supplements are-
99% Vitamin B12- It aids in the production of red blood cells (RBCs) and prevents anemia. Also, it improves the level of hemoglobin in the body and promotes nerve tissue health.
Folic Acid- It is essential to increase the absorption of Vitamin B12 in the body.
What We Like
Oziva Vitamin B12 is a vegan product and certified by the Vegan Society of the UK.
There is no added preservative or artificial sweetener.
It is a non-GMO product.
There are no side effects of Oziva Plant-Based Bettr.D3K2+-on the body.
It is gluten-free and soy-free with no artificial colors or dye.
What We Don't Like
To see the desired result, you need to be highly patient. Since the product is plant-based and vegan, it will take time to replenish the Vitamin B12 deficiency in the body; therefore, you need to be patient and give it some time to show results.
How Much Does Oziva Vitamin B12 Cost?
The regular price of Oziva Vitamin B12 is Rs 199. You can buy it from Oziva's official website or from Amazon, where you can find offers and deals running on the product.
Alternative Products
Conclusion
If you are anemic or often feel tired, exhausted, or fatigued, maybe your body is not able to produce enough RBCs due to a lack of Vitamin B12. It happens mostly among people who are vegetarian and vegan. If you fall under the same category, it's time to switch to the Oziva Vitamin B12 supplement that will replenish the deficiency and help you get better with improved hemoglobin.
Read More