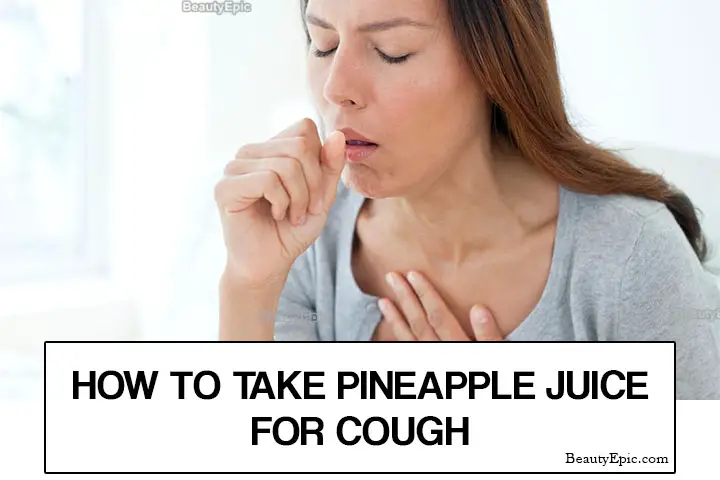 Natural remedies are the first choice of anybody affected with common ailments. These usually are age old remedies used and suggested by ancestors and carried forward for generations. Pineapple Juice is usually considered one simple remedy to treat cough.
Pineapple Juice contains bromelain which has anti-inflammatory and pain reducing properties.  It can combat infections and eradicate bacteria. It dilutes the mucus and also cures sinus and hay fever.
A study in 2010 found that Pineapple juice was a part of treatment for tuberculosis due to its soothing properties.
Is Pineapple Juice Really for a Cough?
Do you know what Pineapple juice is considered five times more effective for treating cough than the cough medicines? Well, yes! Researches say that Pineapple Juice helps to thin out mucus, so it is easy and good for cough.
The health benefits that this juice has helps to get relief from cough effectively. Pineapple Juice has high levels of Vitamin C and also manganese which prevents cell damage. It also contains some fiber which helps digestion. This juice dilutes and breaks down the mucus helping to soothe. Thick mucus in the lungs or sinus can cause heavy coughing, sneezing and infections.  Hence Pineapple juice is really good remedy to treat cough.
How to Use Pineapple Juice for Cough
There are simple ways to prepare and sip it up. Just wait for a while and let the remedy work inside your body. For those who are allergic to pineapple juice, please do not try.
1. Fresh Pineapple Juice
The most common of the preparation methods include this:
Ingredients:
1 cup Pineapple
Salt (pinch)
Pepper (Pinch)
1 tbsp. of Sugar
Optional mixes: Honey/ Ginger Root/ Lemon Juice
Process:
Mix all above ingredients and blend together. Pour it out in a jar and store of your entire day.
You may drink ¼ cup up to three times a day.
Tip: Drink as much water as you can to help the mucus break down and moving.
[ Read: Best Essential Oils for Cough ]
2. Honey and Pineapple
Ingredients:
1 cup Pineapple juice
Salt (pinch)
Pepper (Pinch)
1 ½ tbsp. of honey
Process:
Mix salt, pepper and honey with the pineapple juice.
Drink this juice freshly made every day for better benefits.
You may drink ¼ cup up to three times a day.
[ Read: How to Use Honey for Cough Relief ]
What to Avoid During Cough?
Coffee
Smoke
Dairy
Fried Foods
Apart from the above, you may also try other home remedies like warm soup, ginger tea and lots of fruits and vegetable intake. If the cough lasts more than a week it is good to see a doctor and ask for treatment. If you are on antibiotics, you may take pineapple juice as a supplement but check with your doctor before doing that.
Some people may be allergic to Pineapple or its juice. Vitamin C being an immune booster will help a lowers risk of catching common cold and cough. So it is good to take a glass of Pineapple juice whenever it suits you best.
You Might Also Like:
Image:- 1