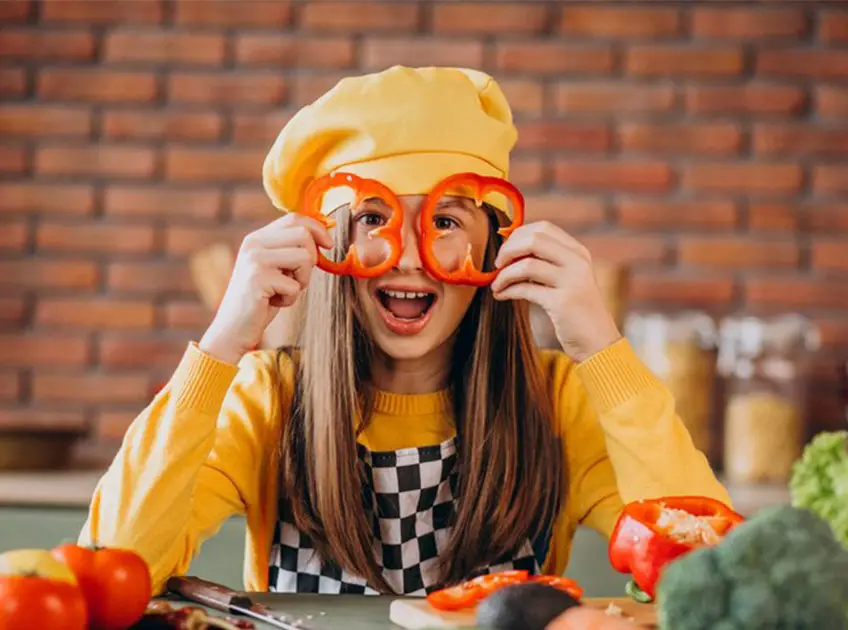 Thanksgiving is that time of the year when we get away from the hustle and bustle of the busy world and relax with our families. It is a fun time for children with all the family members paying a visit and, of course, many mouth-watering delicacies on the table. But Thanksgiving is more than that. It is about being grateful, content, and happy with whatever life has offered us so far. These messages are not just relevant to Thanksgiving, but everyday life too.
What better way to teach these lessons to children than songs? With catchy music and funny words, the Thanksgiving songs for kids could teach many lessons.
20 Thanksgiving Songs For Kids
1. Thanksgiving Feast
The song Thanksgiving Feast from Children's Favorites Autumn Songs by The Learning Station is about Thanksgiving dinner delicacies. It takes you through each item of the menu and expresses gratitude for the same.
2. If You're Thankful and You Know It
This is a song that most kids already know. The song is a festive modification of the popular nursery rhyme "If You're Happy and You Know It." But, here "happy," is replaced with expressions of being grateful. You may also change the lyrics to customize this song as per your family traditions.
3. VeggieTales: The Thankfulness Song
Thanksgiving is about gratefulness, and this song depicts that beautifully. The song captures the story of a child who is content with what the family has. This optimistic view of the child on life radiates through each line of the song, making it thoughtful to sing every day.
4. Fast Train to Grandma's
Thanksgiving is also about families and the bonding. For most children, Thanksgiving means comfort found in their grandparents. Kids enjoy getting pampered, loved, and spoiled by their grandparents. Capturing this essence of grandparents' love, especially that of a grandma, is this song by Frances England.
5. Ten Little Turkeys
The Ten Little Turkeys by The Learning Station is another fun song. This catchy song is educational and fun. The song starts with ten turkeys and none towards the end. With each turkey flying away for a different reason, you and your child could also have a quiz competition with this song.
6. 5 Little Turkeys
The turkey song with a familiar tune is educational and fun. The song with five turkeys resembles the classic rhyme, "Five Little Monkeys Jumping On A Bed", but of course, this is in the Turkey's version.
7. Gobble Gobble Turkey Wobble
Thanksgiving songs with some of the weirdest words are fun and entertaining. It has simple and easy lyrics that everyone can follow. This modern Thanksgiving song Gobble Gobble Turkey Wobble by Koo Koo Kanga Roo with a touch of slow rap could help you begin several new Thanksgiving traditions.
8. The Lord Is Good to Me
The Lord Is Good to Me by Disney's Melody Time depicts how a man sings about his apple tree doing well when expressing his thankfulness. This iconic song is a great way to teach your children about gratitude. It teaches us to look at the good things that happen in life despite the minute roadblocks.
9. Gravy Insane
Of all the Thanksgiving delicacies, gravy is the unsung hero. It brings the flavors of all the dishes together. This joyous song is about a family of bats indulging in the gravy business and the events that transpire. If your child's favorite side dish is gravy, introduce them to the song Gravy Insane by Gustafer Yellowgold.
10. Thanksgiving Day
This Thanksgiving song beautifully depicts the true spirit of this holiday, from appreciating nature's treasures to having loving friends and family. Thanksgiving day by Mother Goose Club would make your child reminisce about the holiday season and cherish the festive spirit.
11. I've Got Plenty To Be Thankful For
The popular song by Bing Crosby was released in 1942. It is a song that teaches the importance of fulfillment and being content. The lyrics speak of what truly matters and shed light on having an optimistic approach towards life. These truths, paired with the amusing background and melodious voice of Bing Crosby, make this song blissful.
12. Powwow
The song Powwow by Jack Hartmann can get your children grooving while reminiscing Mother Nature's beautiful creations. This song depicts the characteristics of animals and the environment around them. Play this song and get everyone dancing to Powwow.
13. Albuquerque Turkey
The song Albuquerque Turkey by The Learning Station is the one you may enjoy listening to if your child loves animals. But, contrary to eating a turkey for Thanksgiving, the singer in this song instead adopts it as a pet teaching us kindness and compassion .
14. Grateful
If your child loves grooving to jazz, then Grateful by Lucy Kalantari & the Jazz Cats is one song they cannot miss. The song can draw everyone into a festive mood. Play this in the morning or anytime to get inspired and express gratitude for your blessings. You may also make it an everyday ritual for your little one to practice gratitude in their daily life.
15. Turkey Hokey Pokey
If your child loves musical tracks involving some activity, then this groovy song is apt for them. It has simple lyrics that are easy to remember. Get ready to groove with a dancing turkey in this upbeat song. Enjoy this fun number on Thanksgiving or all year round.
16. Mahalo
This is another song that captures the spirit of Thanksgiving. "Mahalo" by Laurie Berkner has a simple guitar tune running in the background and lyrics that make one feel grateful for even the smallest blessings that sometimes go unnoticed. Another beautiful feature of this song is that the video also has ASL signs.
17. Do The Turkey Hop
Do The Turkey Hop by The Kiboomers talks about what the turkeys do in a barn. From wagging their tails, hopping around the farm, this song would take your child through a turkey's everyday routine. With funny lyrics and an upbeat tune, this song is sure to get your child hopping around.
18. Tofurky Song
Turkey is mealtime's center of attraction on Thanksgiving day. Not for everyone, though. This song introduces us to Tofurky that is a turkey made with tofu. Isn't this compassionate song worth a listen on Thanksgiving?
19. All Around the Kitchen
If you need your child to help you out in the kitchen, then you could probably lure them in with this Thanksgiving song, All Around The Kitchen, by Dan Zanes and Friends. This funny song would get anybody excited for the Thanksgiving dinner.
20. Let's Turkey Trot
Creating a '60s atmosphere, Let's Turkey Trot by Little Eva is pleasing for children and everyone in the family. This song was released in 1962 and is a popular track played during the Thanksgiving season. When you play this lively track, you may also cue your grandparents to narrate their best Thanksgiving stories or maybe create new ones!
Which of these Thanksgiving songs for kids are you adding to your playlist? Remember to keep your camera handy while you play these songs. Who knows, you might capture something amazing that can become a memory for a lifetime.
Image Credit: freepik
You Might Also Like: