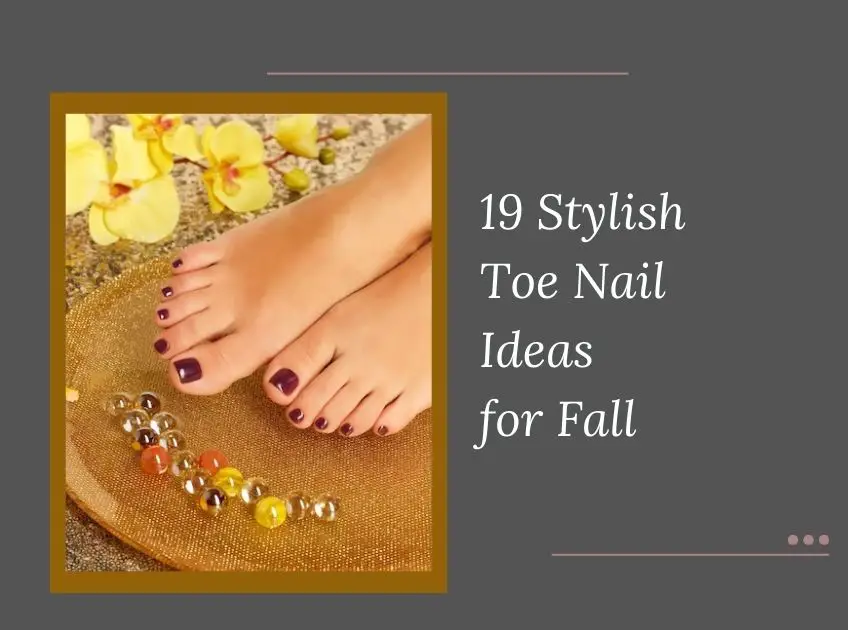 Fall is a time of change, and that includes your nail game. As the leaves change color and the air turns crisp, it's time to update your toe nail designs with the latest trends.
This list features 20 of the trendiest toe nail designs for Fall 2023, from warm hues to intricate patterns.
Whether you're looking for something classic or something more daring, there's a design on this list that's perfect for you.
Top 19 Trendy Toe Nail Designs for Fall 2023
1. Pink and White French Tip Acrylic Toes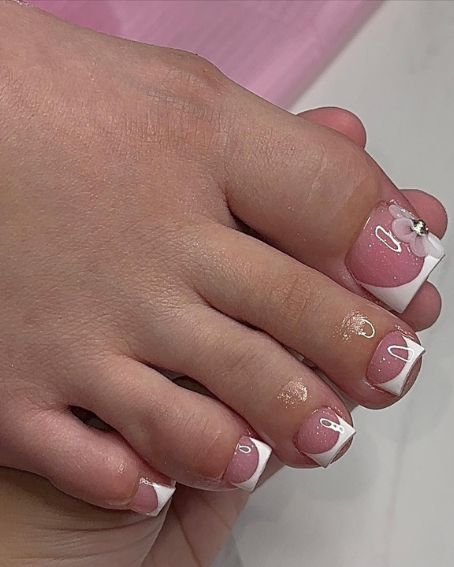 This classic design is perfect for any occasion, and it's especially flattering in the fall.
2. Cute Red Color Fall Toe Nails
Red is a must-have color for fall, and it looks stunning on your toes. You can go for a simple solid red or try a more intricate design, such as a red and gold accent nail.
3. Barbie Pink Toes Nail Art By Shelley Graham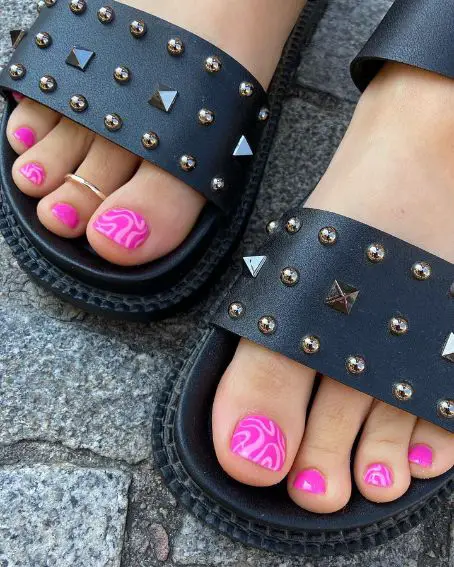 This feminine and creative design is perfect for fashion-forward women. The Barbie pink hue is both playful and sophisticated, and the unique design is sure to turn heads.
4. Halloween Toe Nail Art By Scratch Magazine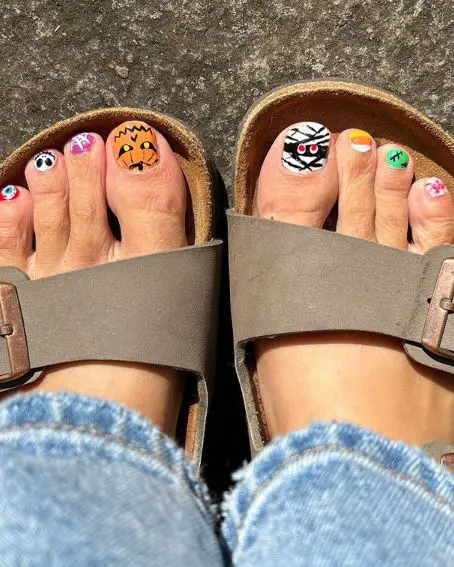 Get into the Halloween spirit with some spooky toe nail art. You can do anything from a simple pumpkin design to a more elaborate haunted house scene.
5. Acrylic Rhinestone Fall Toe Nail Design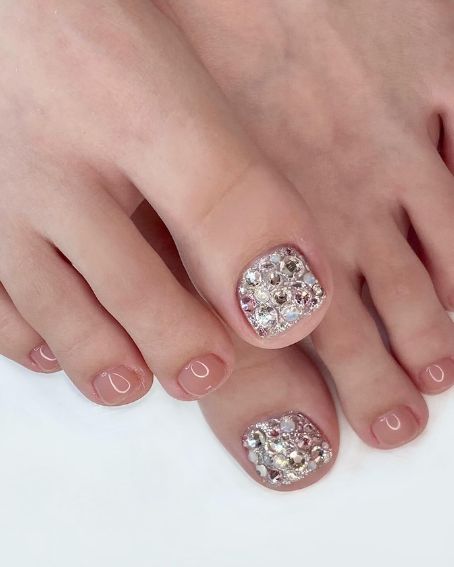 Add some glamour to your fall toes with some rhinestones. You can create a simple design with a few rhinestones or go for a more elaborate design with a full rhinestone accent nail.
6. Cherry Lips White & Red Fall Toe Nail Designs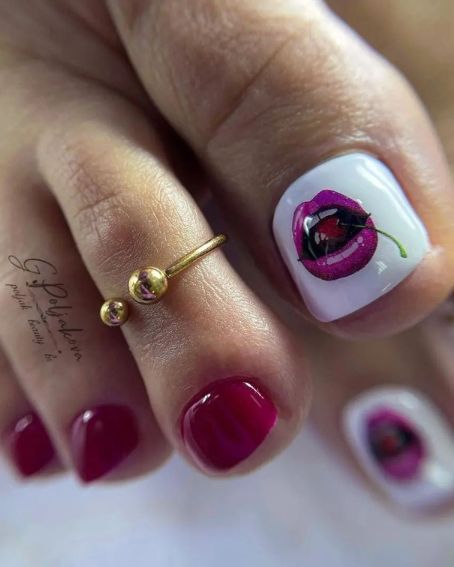 This playful and charming design is perfect for fun-loving women. The cherry lips and red and white hues add a touch of sweetness to your fall style.
7. Baby Pink With Cute Cat Toe Nail Art Design For Fall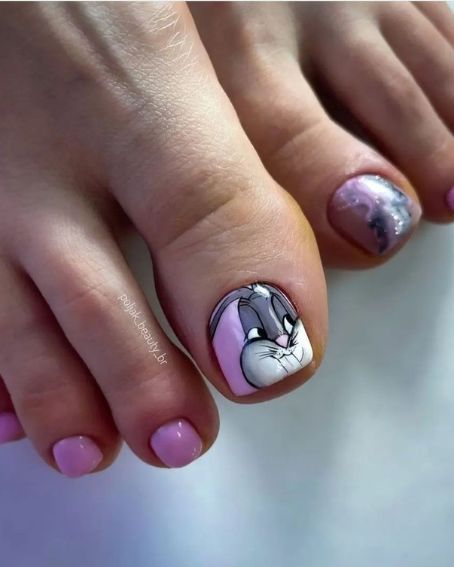 This adorable design is perfect for cat lovers. The soft pink hue and cute cat design add a touch of femininity and charm to your fall toes.
8. Green Leafs Toe Nail Art Design For Fall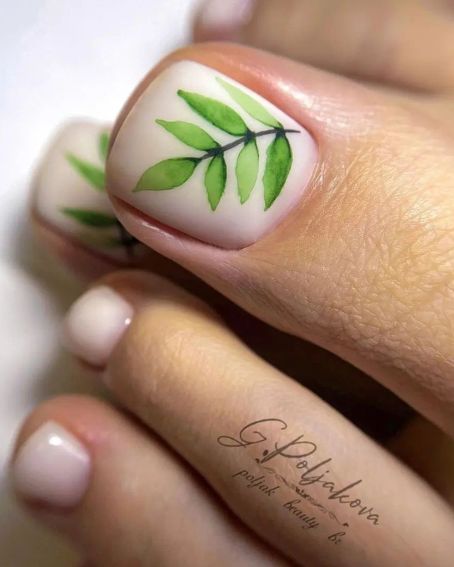 Celebrate the beauty of nature with this green leaf design. The intricate leaf patterns are inspired by autumn leaves, and they're sure to add a touch of the outdoors to your fall style.
9. Flower Toes Nail Art Design For Fall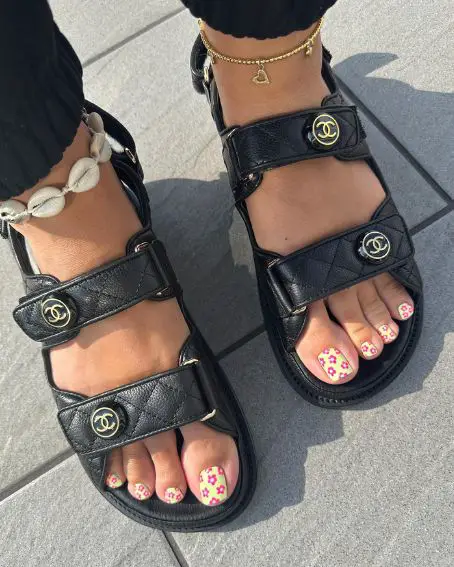 Bloom into fall with this flower design. The delicate flowers on your toes add a touch of femininity and elegance, and they're sure to enhance your fall style.
10. Long French Tip Toe Nail For Fall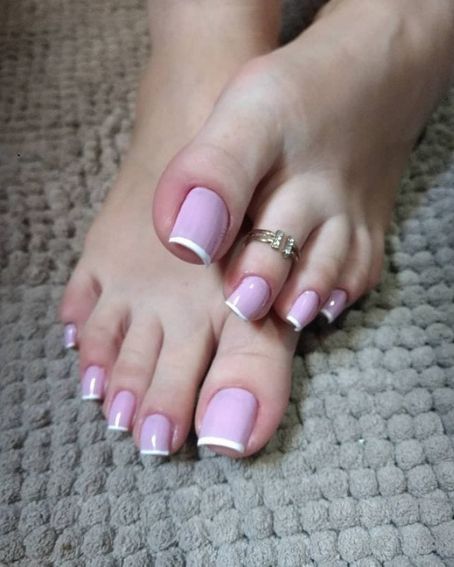 Elongate your nails elegantly with this long French tip design. Classic and timeless, these nails exude sophistication and enhance your fall fashion statement.
11. Flower Toe Nail Design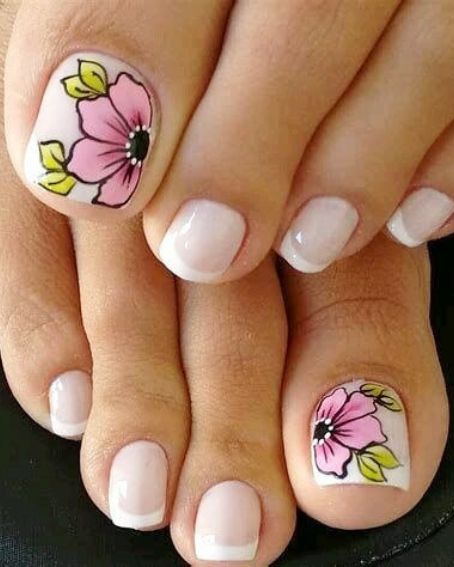 Embrace the beauty of nature with this flower design. Intricately crafted flowers on your toes add a touch of grace and charm, perfect for Fall 2023.
12. Leaf Toe Nail Designs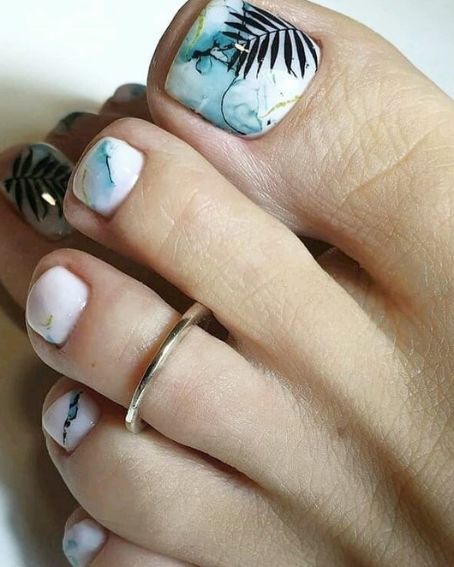 Capture the essence of autumn with these leaf designs. These intricate leaf patterns on your toes bring the beauty of fall to your nail art, creating a stunning look.
13. Skittles Candy Toes Designs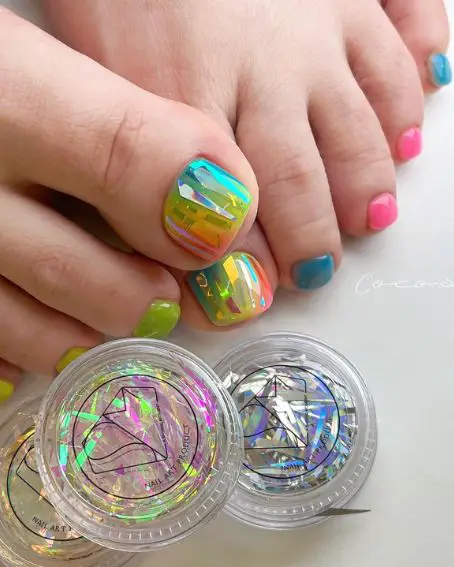 Add a pop of color to your fall style with these Skittles candy designs. Playful and vibrant, these designs mirror the hues of Skittles candies, creating a fun and lively look.
14. Rainbow Colors with Smile Emoji Toe Nail Designs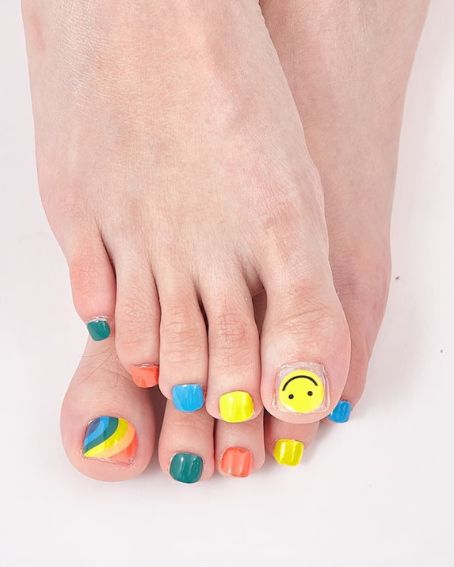 Spread happiness with these rainbow colors and smile emoji designs. Bright, cheerful, and expressive, these nails showcase your positivity and joy this fall season.
15. Nautical Toe Nail Designs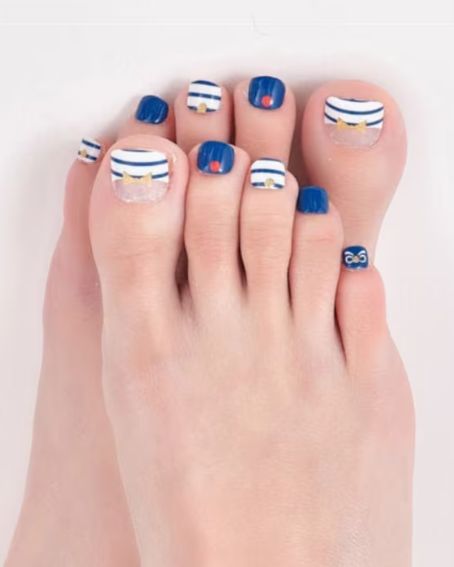 Sail into style with these nautical designs. Anchors, ropes, and marine elements adorn your toes, bringing a touch of the sea to your fall fashion statement.
16. Black + Gold Toe Nail Designs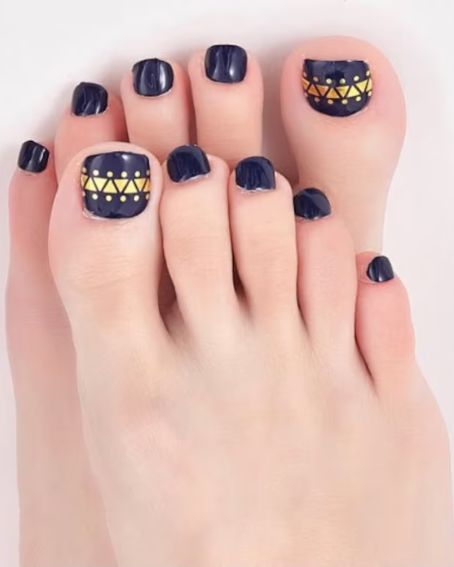 Exude sophistication with these black and gold designs. Bold and glamorous, these nails combine black and gold, adding a touch of luxury to your fall look.
17. Silver Mouse Toe Nail Art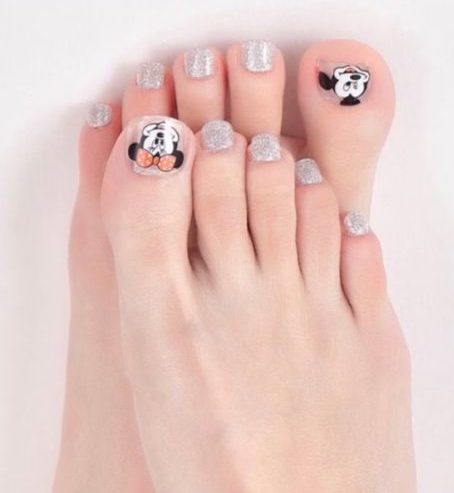 Get creative with this silver mouse design. Adorable mouse designs in silver hues add a playful element to your toes, making your fall style uniquely charming.
18. Red White & Blue Toe Nail Art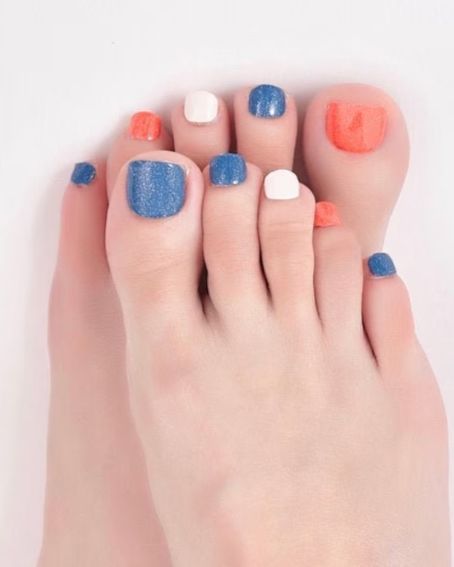 Show your patriotism with this red, white, and blue design. Patriotic colors and creative designs on your toes make a bold statement, showcasing your national pride.
19. Transparent Jelly Gel Nail Art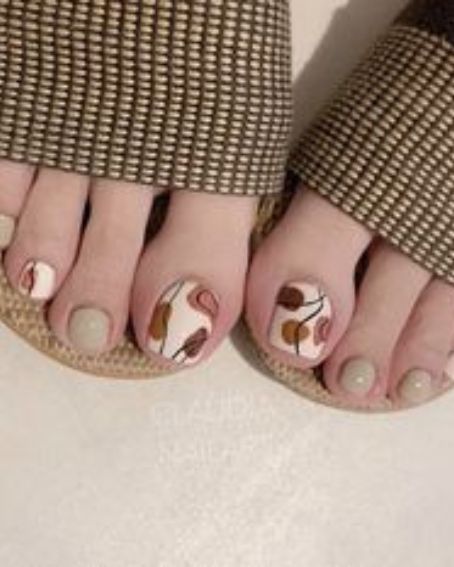 Embrace transparency with this transparent jelly gel design. Minimalistic and chic, these nails add a modern touch to your fall style, highlighting your trendy side.
Conclusion
As we bid farewell to our guide on the top 20 trendy toe nail designs for Fall 2023, remember that your nails can be the perfect canvas to showcase your unique style and embrace the spirit of the season. By experimenting with warm hues, intricate patterns, and creative designs, you can truly nail the fall fashion trends!
So, don't hesitate to try out these fabulous designs and let your toes do the talking. With the right nail art, you can step into the autumn season with confidence, elegance, and a touch of creativity. Stay fashionable, stay fabulous, and let your nails steal the show this fall!