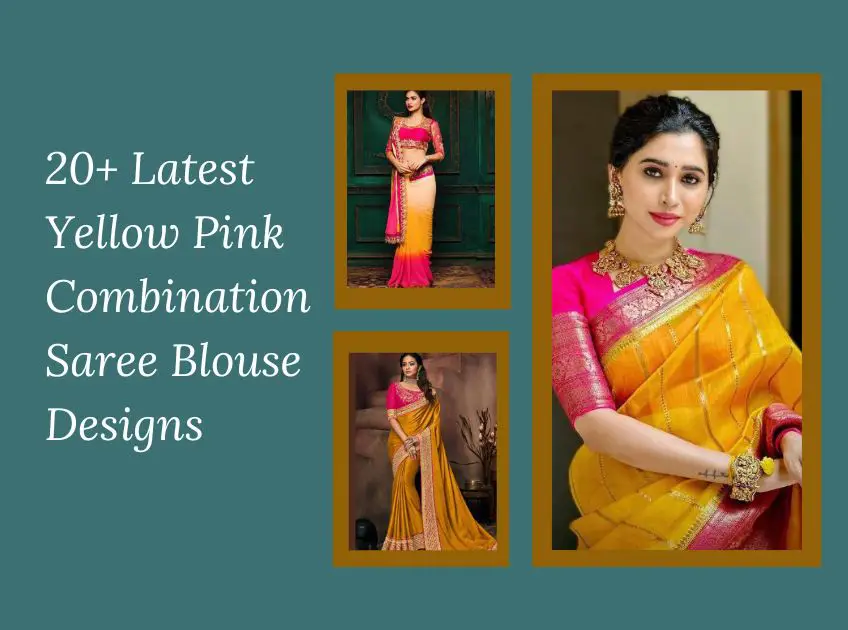 A yellow saree paired with a pink blouse is a beautiful and eye-catching outfit choice that blends tradition and modern fashion. Yellow represents brightness and warmth, while pink symbolizes femininity and grace. Together, they create a stunning contrast that looks both elegant and striking.
People often choose this combination for special occasions like weddings, festivals, and cultural events in India. The yellow saree represents tradition and heritage, while the pink blouse adds a touch of modern style.
20+ Latest Yellow Pink Combination Saree Blouse Designs
1. Elaborate Soft Silk Yellow Saree with Trendy Pink Blouse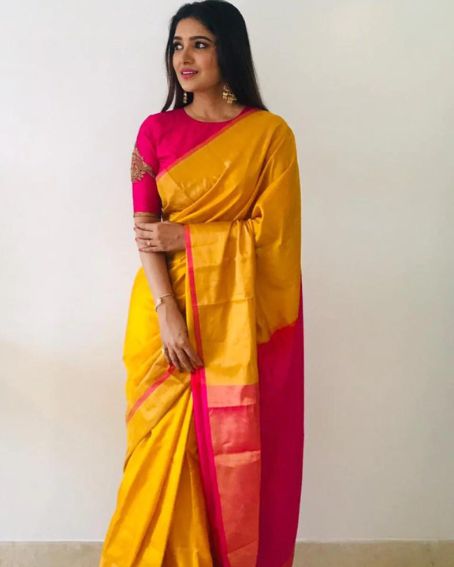 An exquisite choice for women seeking bridal elegance and vibrant colors.
2. Bridal Saree Net Organza Yellow Embroidered Saree with Blouse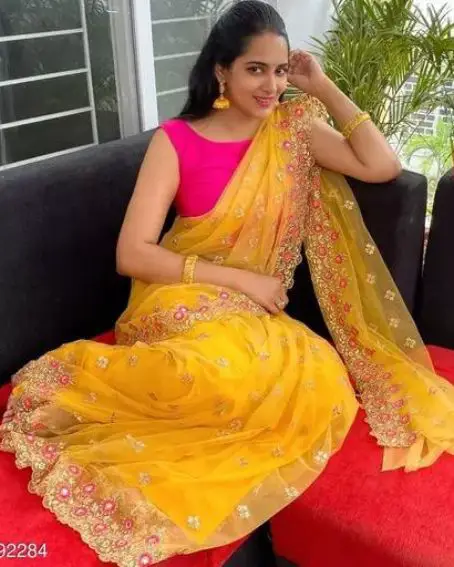 Perfect for young girls who appreciate intricate embroidery and organza's grace, making them feel special on important occasions.
3. Yellow And Pink Color Designer Saree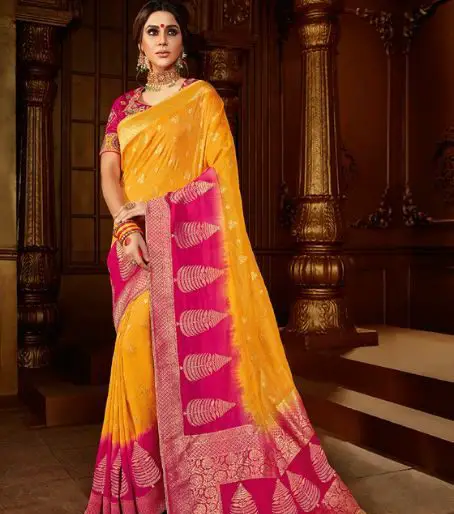 Teenagers looking for fashionable ethnic wear will love this saree's design and the striking color contrast it offers.
4. Turmeric Yellow Patterned Saree with Pink Blouse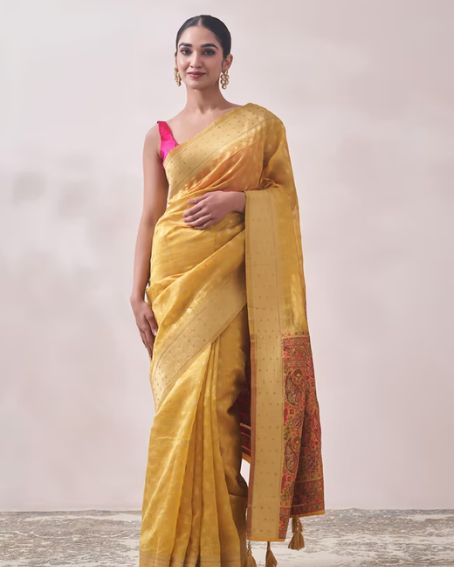 A unique turmeric yellow hue and intricate patterns make this ensemble a must-have for women looking to stand out.
5. Yellow And Pink Georgette Saree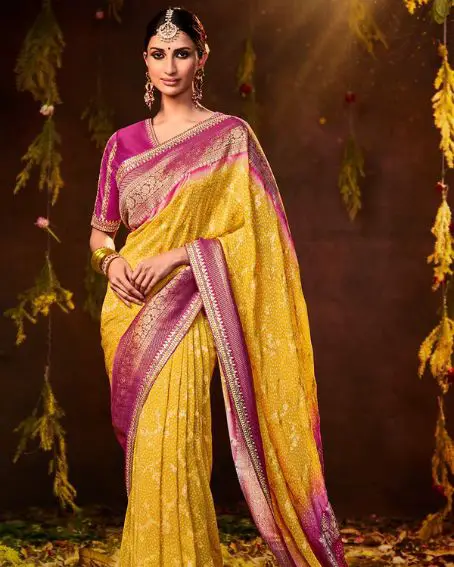 Lightweight georgette fabric drapes gracefully and is perfect for young girls wanting a contemporary style.
6. Yellow Pink Combination Saree For Bride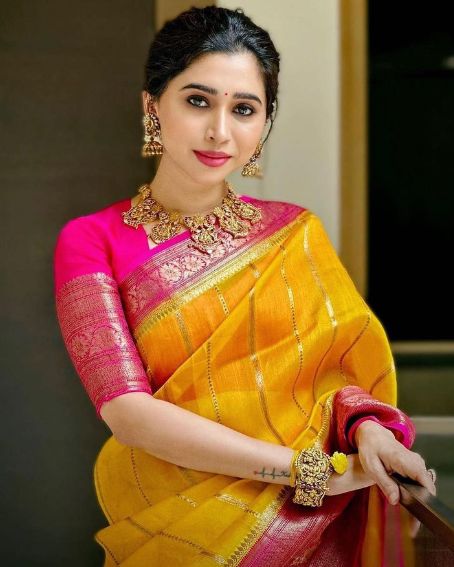 The boat neck blouse and fusion style of this saree cater to the fashion-forward tastes of teenagers.
7. Yellow Pink Embroidered Bollywood Silk Blend Saree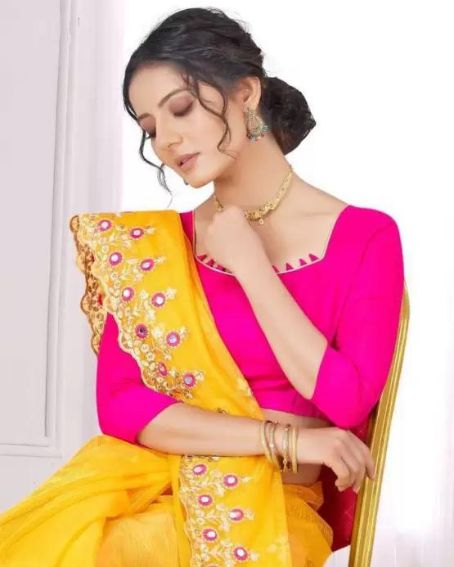 Women who adore Bollywood-inspired fashion and appreciate silk blends will find this saree captivating.
8. Yellow Soft Silk Saree with Pink Blouse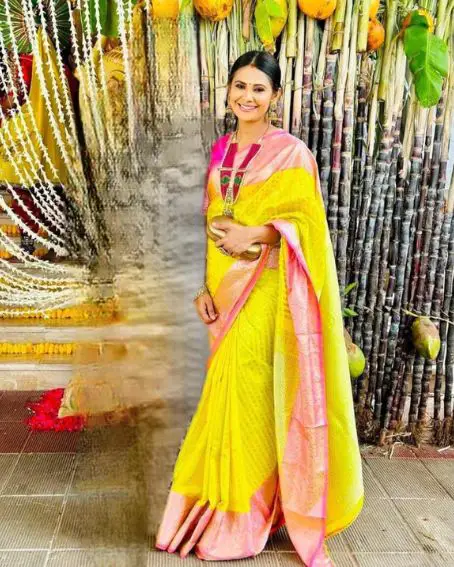 Young girls can exude timeless elegance in this soft silk saree with a classic pairing.
9. Yellow Embroidered Silk Saree With Rani Pink Blouse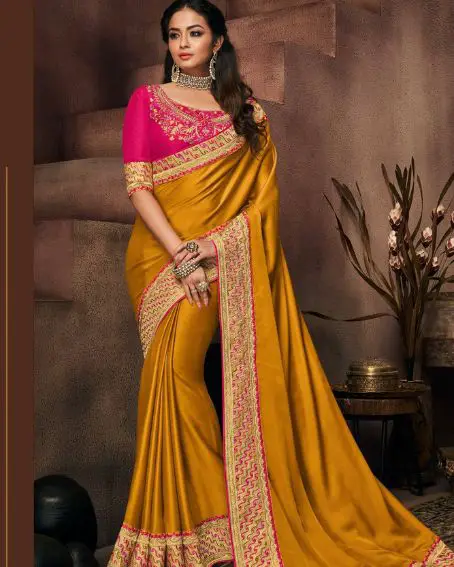 The stone embellishments and striking contrast make this saree perfect for women who want to make a statement.
10. Yellow and Hot Pink Designer Saree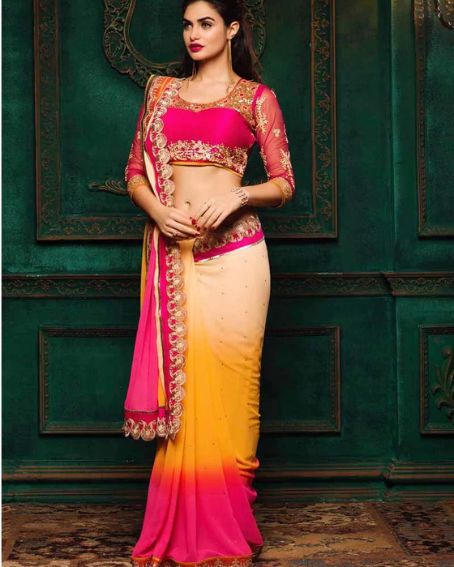 Young girls can embrace contemporary charm in this designer saree with vibrant hot pink hues.
11. Latest Yellow And Pink Half Saree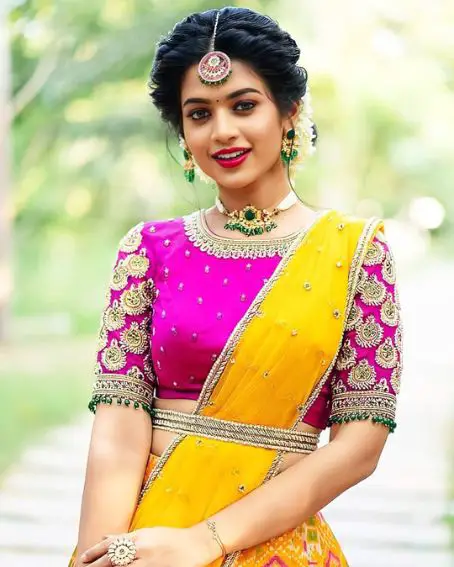 Teenagers looking for a trendy twist on traditional attire will appreciate this half saree's youthful appeal.
12. Yellow Zari Work Banarasi Saree with Pink Blouse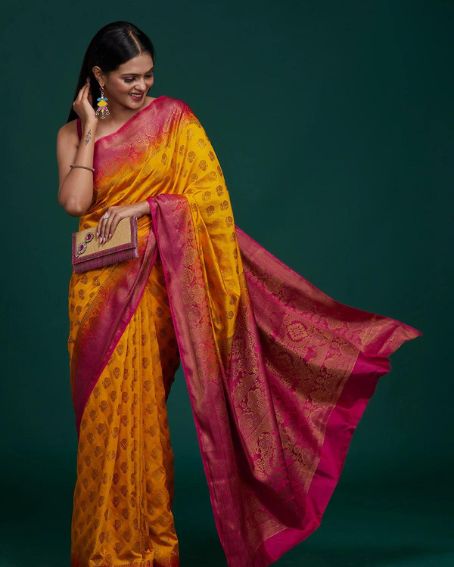 This saree's traditional grandeur, intricate zari work, and regal look make it a choice fit for women.
13. Bandhej Printed Art Silk Saree in Yellow and Pink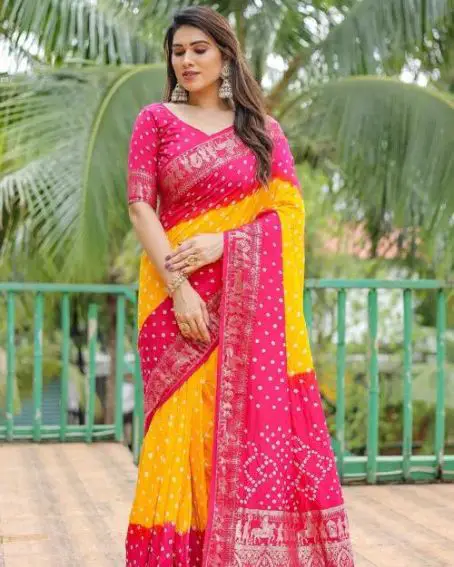 Artistic bandhej print and vibrant color combination cater to the cultural elegance preferred by young girls.
14. Yellow-Pink Gadwal Silk Saree with Zari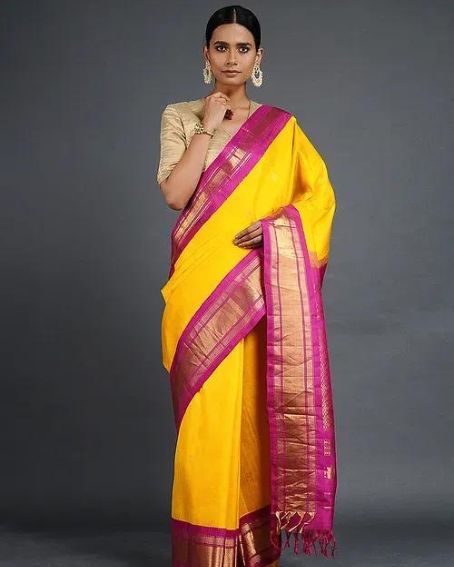 Teenagers can flaunt South Indian finesse in this traditional Gadwal silk saree with exquisite zari detailing.
15. Alia Bhatt Pink Yellow Satin Designer Bollywood Saree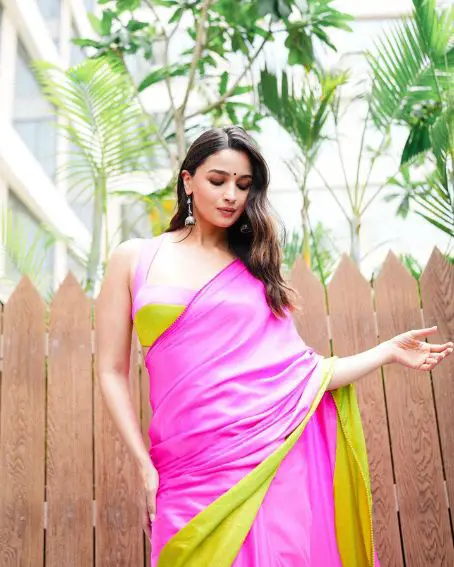 Women seeking celebrity style can emulate Alia Bhatt's charm with this satin designer saree.
16. Amber Yellow With Pink Border Silk Traditional Saree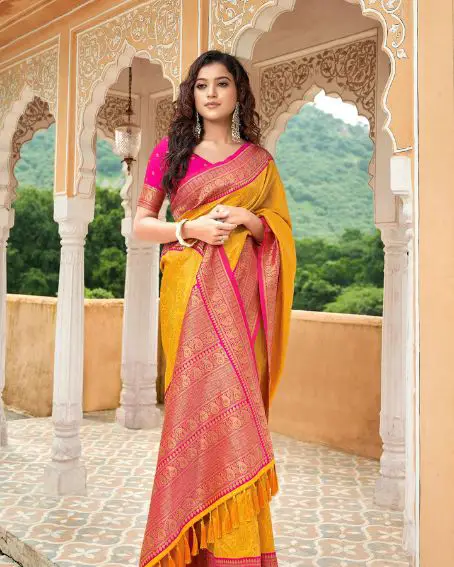 Young girls can embrace traditional charm with this amber yellow silk saree featuring a pink border.
17. Yellow and Pink Uppada Pattu Big Pochampally Border Saree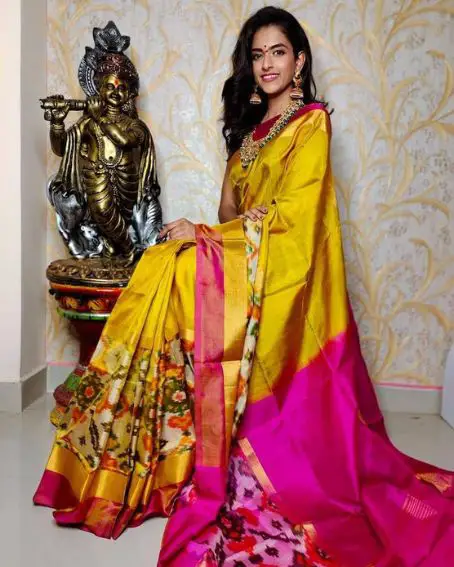 Teenagers can indulge in South Indian finesse with this Uppada Pattu silk saree, adorned with a Pochampally border.
18. Bright Yellow with Pink Border and Blouse
Women looking for eye-catching brightness and a coordinated ensemble will appreciate this saree.
19. Mustard Yellow Waving Saree with Pink Blouse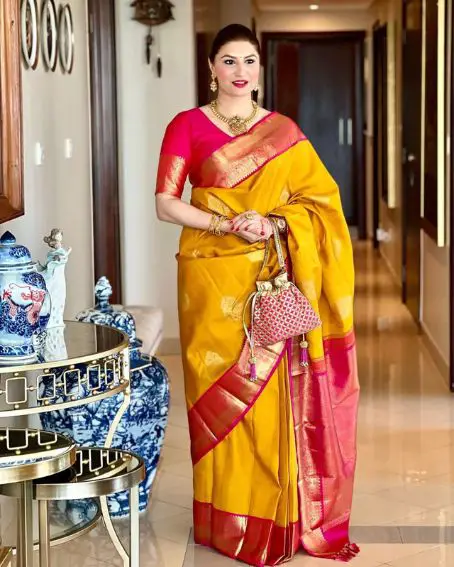 Young girls can opt for this unique mustard yellow saree with a waving pattern for a modern ethnic look.
20. Weaving South Indian Saree in Yellow Cotton and silk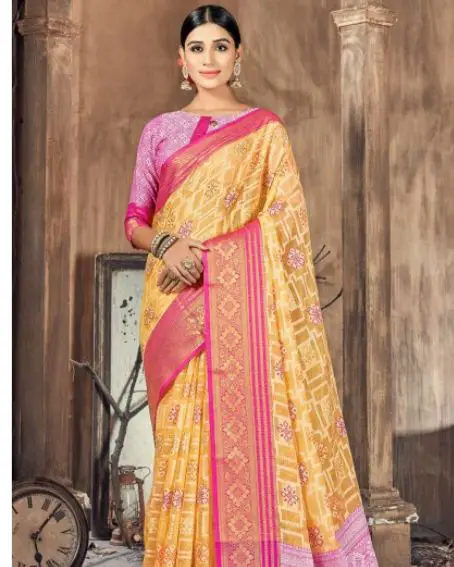 Teenagers with red carpet aspirations can look to Pooja Hegde's style for inspiration in this striking combination saree.
21. Yellow Saree Sari With Stitched Pink Blouse Ready to Wear Silk Saree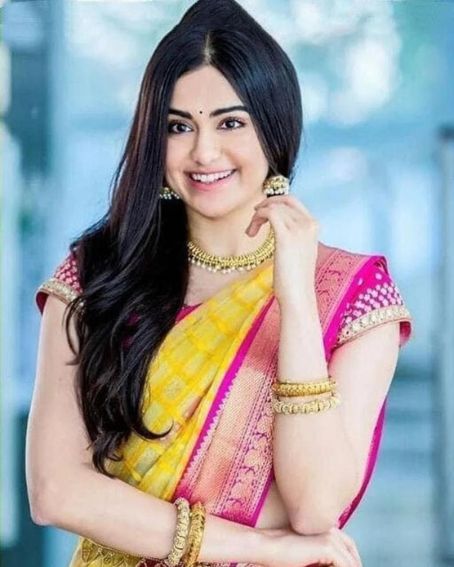 Women seeking convenience and silk elegance can opt for this ready-to-wear saree with a stitched pink blouse.
22. Kajal Aggarwal Yellow Art Silk Festival Wear Saree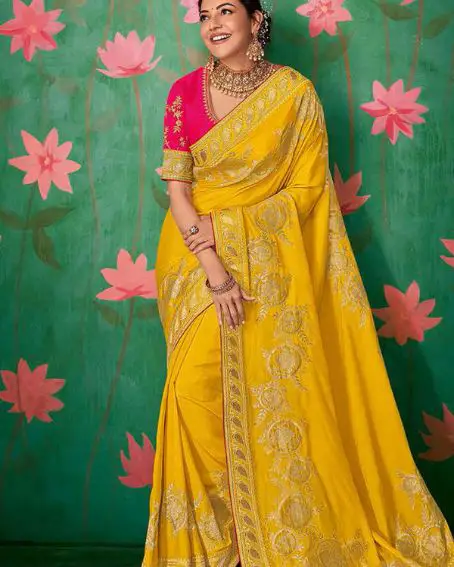 Young girls attending festivals can adorn themselves in style with this art silk saree, inspired by Kajal Aggarwal's fashion.
The combination of a yellow saree and a pink blouse is a timeless and versatile choice in the world of ethnic fashion. This pairing offers a beautiful blend of vibrant and complementary colors that can suit women of all ages, from young girls to teenagers and women. Whether it's a soft silk bridal saree, a contemporary designer saree, or a traditional silk saree, the yellow and pink combination brings out the best of both colors, creating a stunning and eye-catching ensemble. This classic fusion not only reflects the beauty of Indian culture but also showcases individual style and grace.
Related Articles