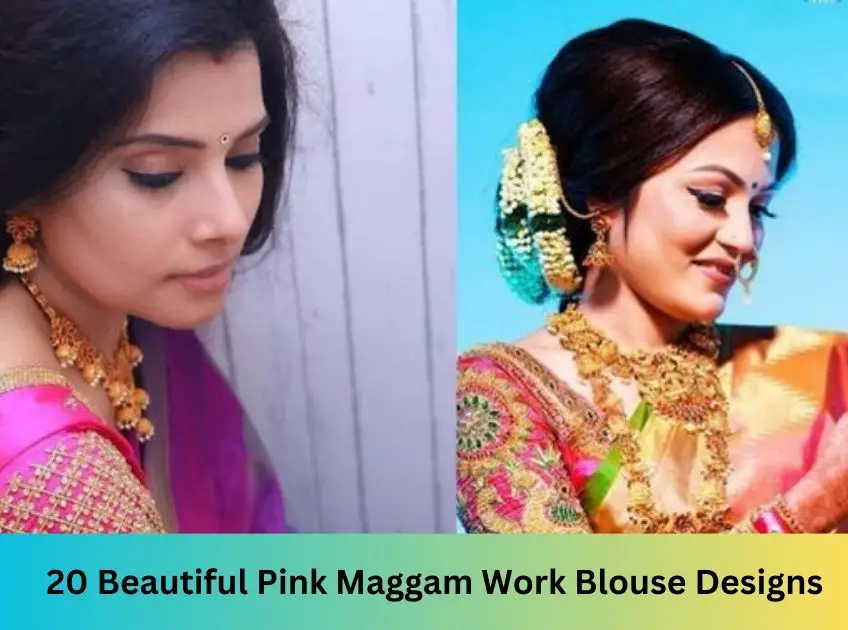 Women all over the world adore the styles of Maggam work blouses. The elaborate work with various materials is done with great precision and accuracy. Maggam bridal blouses are popular for weddings and other important occasions. Maggam blouses come in a huge variety of styles, making it extremely difficult to pick just one. Here are the selective models of the latest maggam work blouse designs catalog given below.
20 Pink Maggam Work Blouse Designs
1. Hand Craft Pink Maggam Work Blouse Design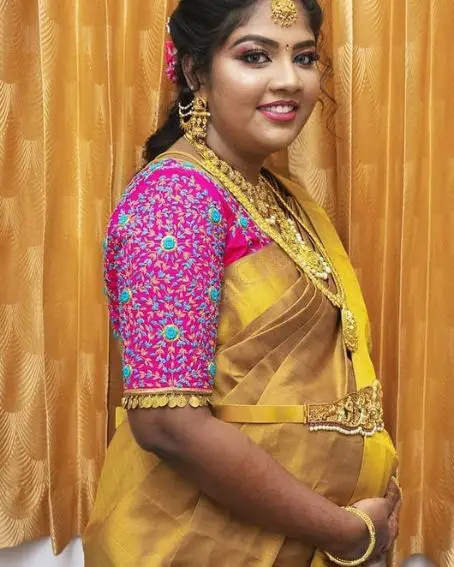 The exclusive zardozi work is given to this blouse. With maggam work embroidery design. It has a gold coin and floral work done. The entire work seems to be exclusive to mehndi's design and pattern look alike.
2. Hakoba Printed Pink Maggam Work Blouse Design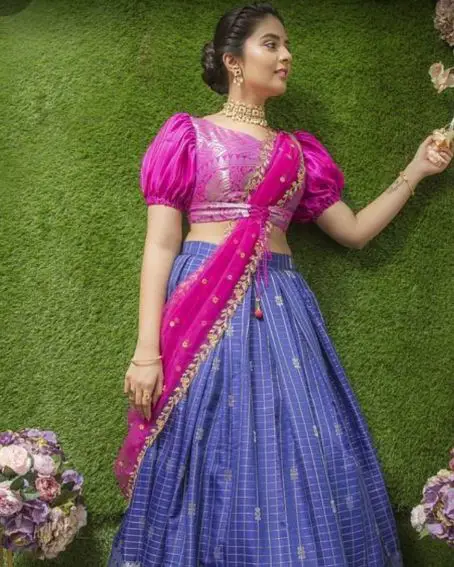 Here, the maggam work is enhanced with a gold-printed pattern. Pink always gives a great combination with gold, it is an upcoming trendy style
3. Pink Mandala Maggam Work Blouse Design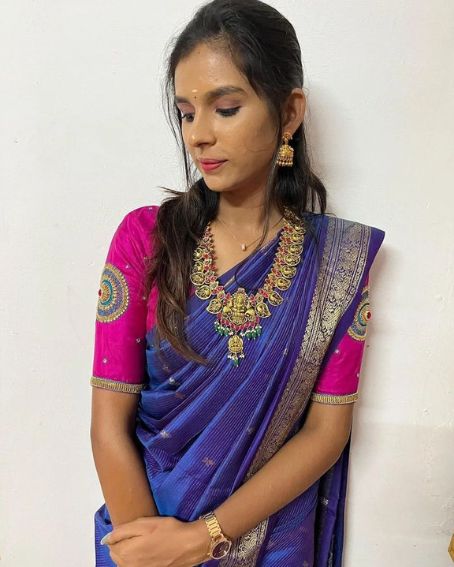 The plain elbow sleeve is decorated with a mandala maggam work design with small butties. The elbow is highlighted with gold stone lace giving a good vibe.
4. Puff Sleeve Pink Maggam Work Blouse Design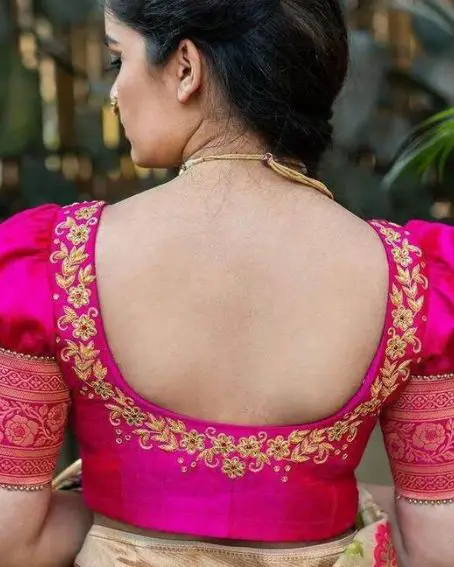 An easy thread maggam technique is used to create an ethnic flower pattern. The floral design has intricate threadwork with the detailing of sequins. It is perfect to pair with a reception dress.
5. Boat Neck Pink Maggam Work Blouse Design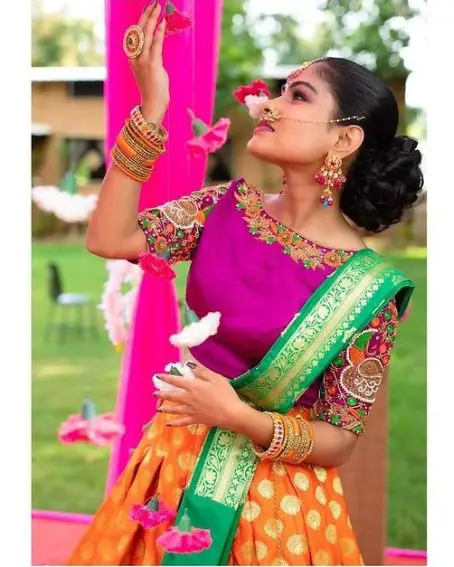 Thread embroidery in this maggam work blouse has stones and comes with a boat neckline. It has elbow sleeves that bear the same work as the rest of the blouse. The floral pattern also appears more lovely.
6. Full Sleeve Pink Maggam Work Blouse Design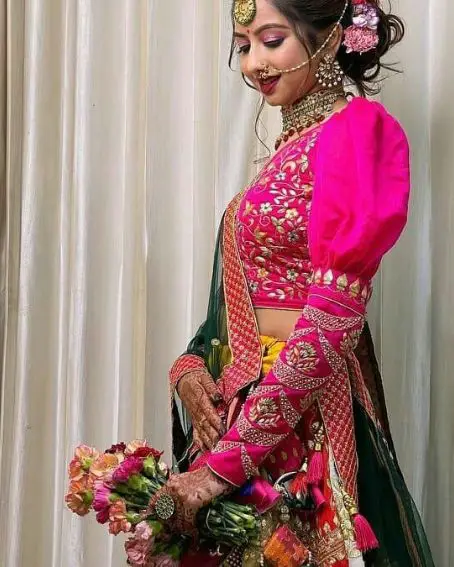 Maggam's work with full long sleeves blouse design is gorgeous. The blouse in pink color looks highly royal with sequin and stone work on the sleeves making it appropriate for weddings and even for new brides.
7. Leafy Design Pink Maggam Work Blouse Design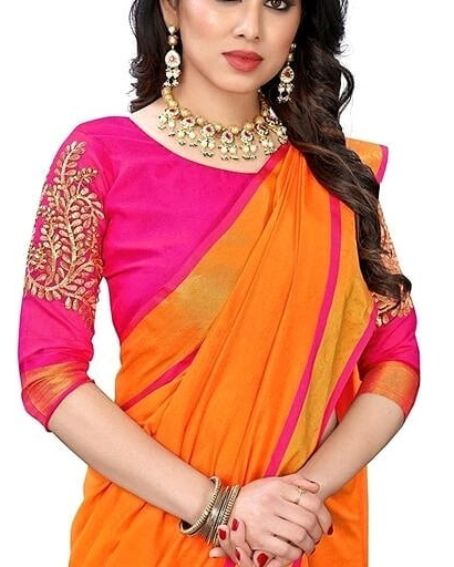 Leafy Maggam designs when done with l Kundan stones give a unique appeal to your silk sarees. Currently, young brides are really into this. You can match it with a plain border saree.
[ Read: 25 Latest Silk Saree Blouse Designs Collections ]
8. Peacock Feather Pink Maggam Work Blouse Design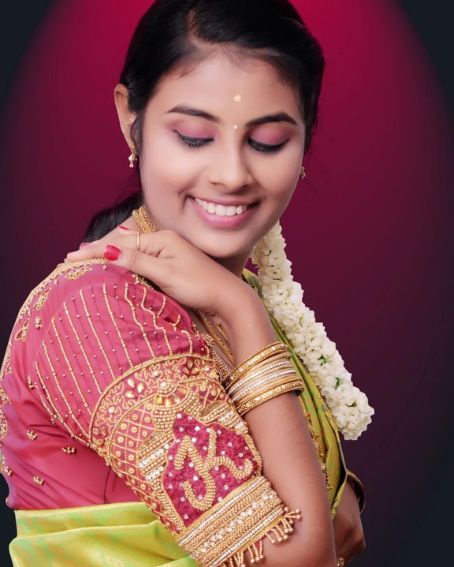 The full sleeve is heavily decorated with a peacock feather maggam work design. It is best for young women. the beauty of this design gives modern and fresh appeal.
9. Chandbali-inspired Pink Maggam Work Blouse Design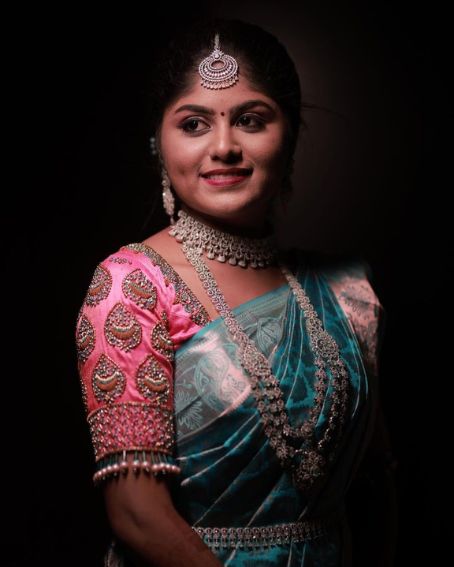 These days, jewelry-inspired patterns are popular. Although jhumka brocade blouses are quite popular, you may go a little fancier by choosing a pattern with chandbali embellishment.
10. Mango Pattern Pink Maggam Work Blouse Design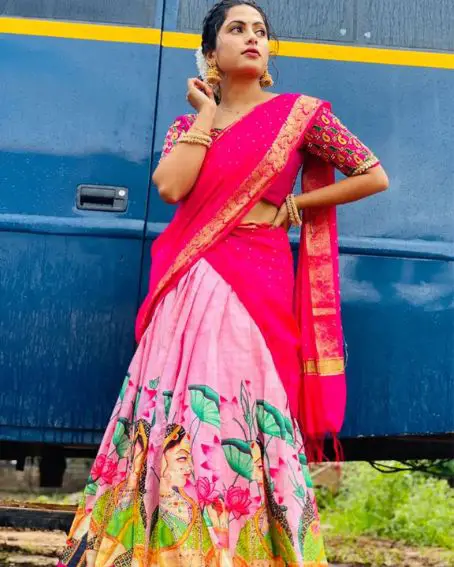 The full blouse is scattered with a mango motif. The pink blouse with yellow mango maggam work is extremely good. It is quite attractive and can pair with any type of saree.
[ Read: 20 Beautiful Aari Work Blouse Hand Designs ]
11. Double Shade Seed Beads Pink Maggam Work Blouse Design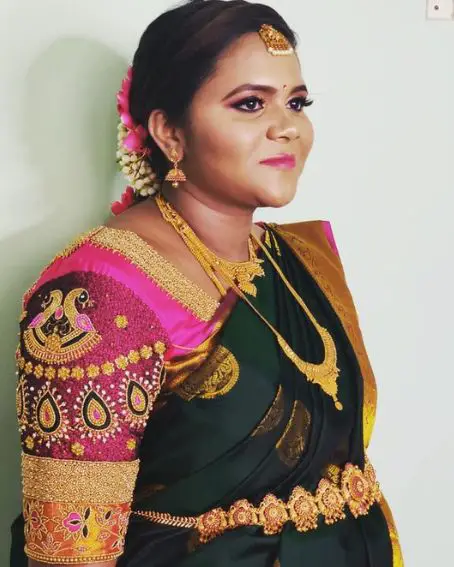 The combination of pink and light shade can take you to another level. It has pink thread embroidery over which the beads are seamlessly placed. Using the rich handwork design
12. Simple Gold Zari Maggam Work Blouse Design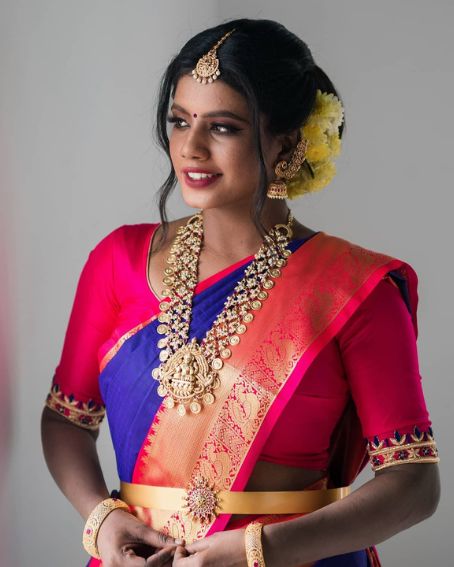 When you choose the plain blouse it can be enhanced with less maggam work to give an interesting feel. It is easily paired with heavy-worked lehenga and Georgette sarees.
13. Short Sleeve Pink Mirror Maggam Work Blouse Design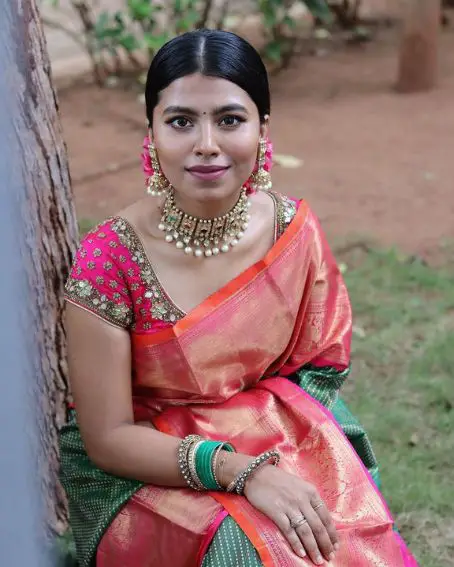 The mirror on the silk blouse looks royal and opulent. This is why the blouse has intricate stone and mirror work with the studded neckline. Zari and stone work together adding more beauty to this maggam blouse.
14. Bridal Pink Maggam Work Blouse Design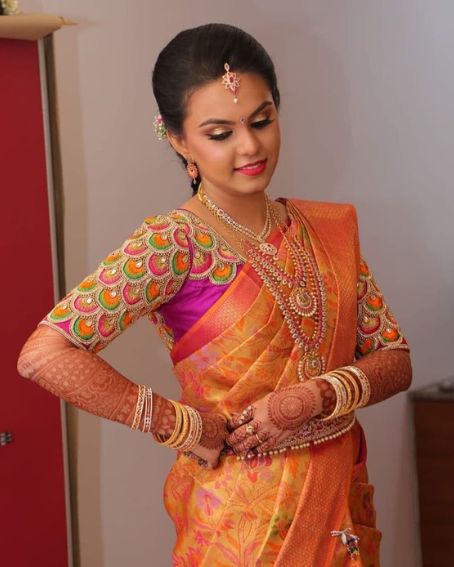 If you're seeking a blouse for bridal wear, you'll undoubtedly adore this style. It has heavy stonework on a half-circle pattern. The entire blouse has been made with handwork using stones.
15. Peacock Motif Pink Maggam Work Blouse Design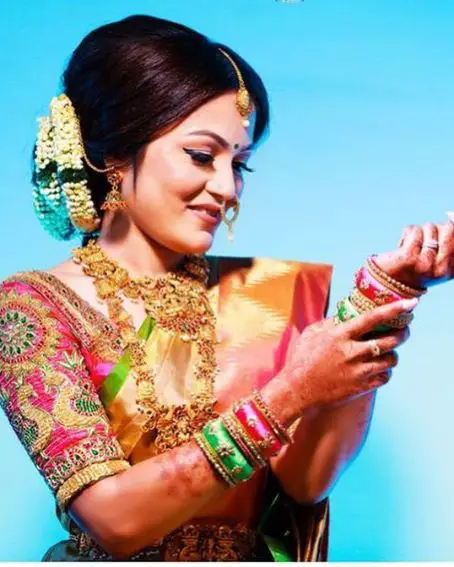 The pink sleeve is established with two peacock motifs made of pink silk fabric. The overall design imparts a very rich and royal style. Such a heavy work blouse apt for a new bride.
16. Punch Pink Maggam Work Blouse Design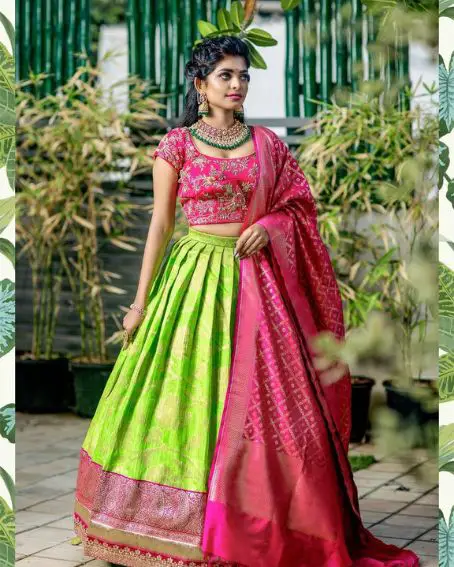 It's a designer blouse with maggam stonework. The work is exclusive and makes this design opulent. Fancy maggam work design is done on the whole blouse and gives a lovely style.
[ Read: 20 Patchwork Pink And Green Blouse Design ]
17. Magenta Pink Maggam Work Blouse Design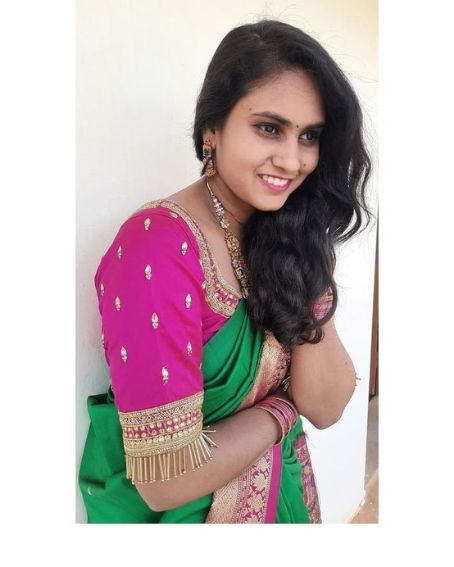 The sleeve and neckline are embellished with Kundan stonework. The sleeve is scattered with stones and the elbow is quite striking and gives a luxurious feel.
18. Geometric Pattern Pink Maggam Work Blouse Design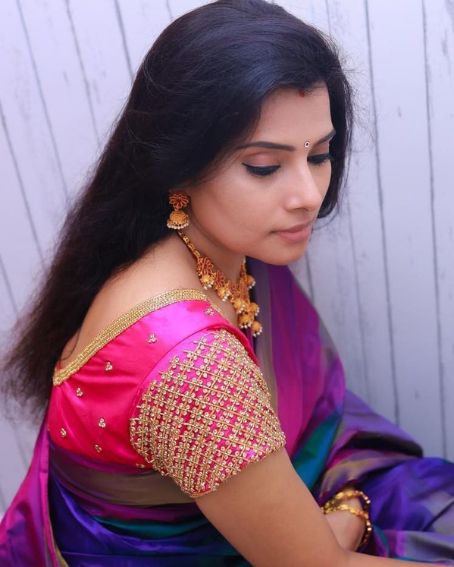 A geometric pattern in maggam work looks subtle and classy allowing you to make an effortless style statement. The neckline has a minimal border. It flaunts the designed blouse
19. Hot Pink Maggam Work Blouse Design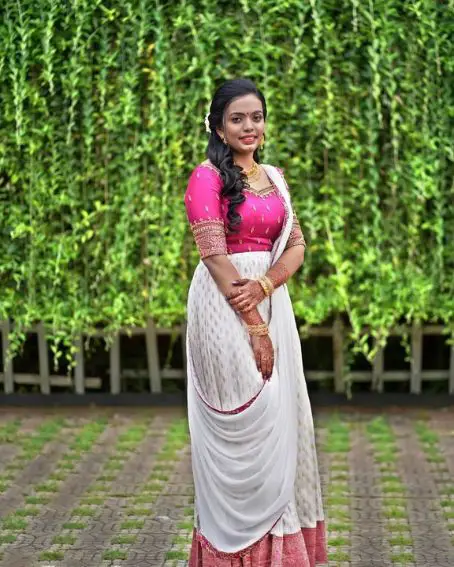 This striking hot pink maggam work blouse featuring silk thread and zari work embroidery looks fabulous indeed. Designed elbow on the sleeves and neckline adds much more dimension to the blouse.
[ Read: Top 20 Trendy High Neck Blouse Back Designs ]
20. Netted Fuscia Pink Maggam Work Blouse Design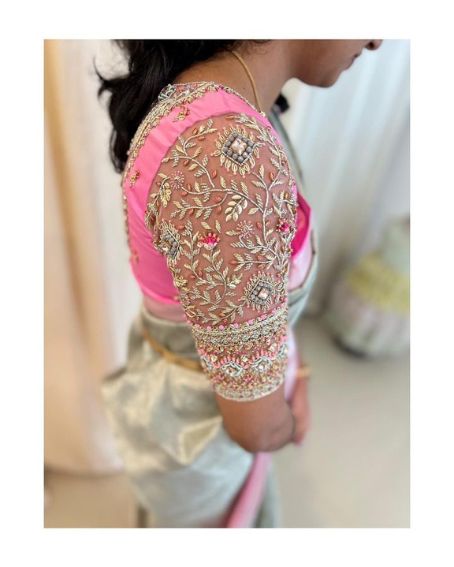 Sheer sleeve with maggam work blouse design has a fresh feel and modern appeal. Requiring no heavy accessories, these designs are sure to add a touch of glamour to your attire
You Might Also Like: