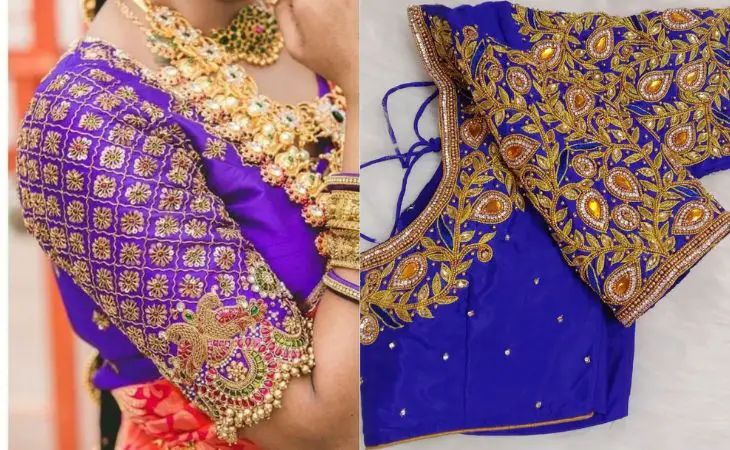 If you are entering any wedding hall, you may spot 80 percent of women wearing Maggam work-designed blouses. Whether it is your own or a relative wedding, assembly of your look is a priority. The blouse is not only used to improve the saree but also adds an oomph factor to the look.
It mostly happens in south India, women of all ages like to flaunt beautiful maggam blouses. Intricately design in which can be created using hooked needles and it ranges from simple florals to complex bridal designs. With so many changing trends, Maggam's work design is still in top fashion.
Maggam's work design has the utmost traditional feel and it matches your saree in so many ways. If you like to have at least one maggam blouse in your wardrobe, this is the time to update yourself by getting the latest maggam work blouse designs.
20 Maggam Work Designs For Blouses To Inspire You
1. Maggam Work With Kundan Stones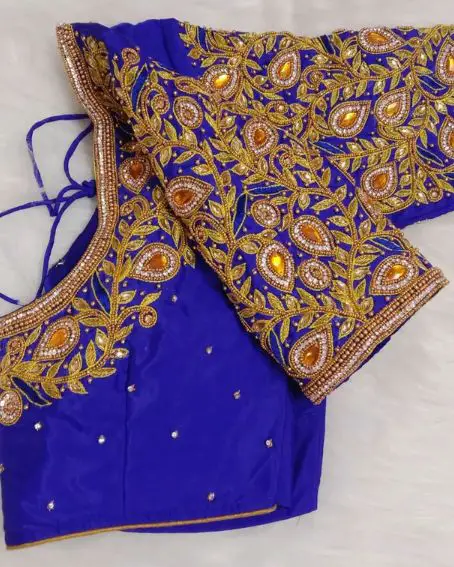 Check out this attractive-looking maggam work with Kundan stone design. Wear it with a silk blouse or stone work saree to look sensational at a party or wedding. This design not only grabs attention but also contemporizes the saree look you wear.
2. Stone Work Embroidery Sarees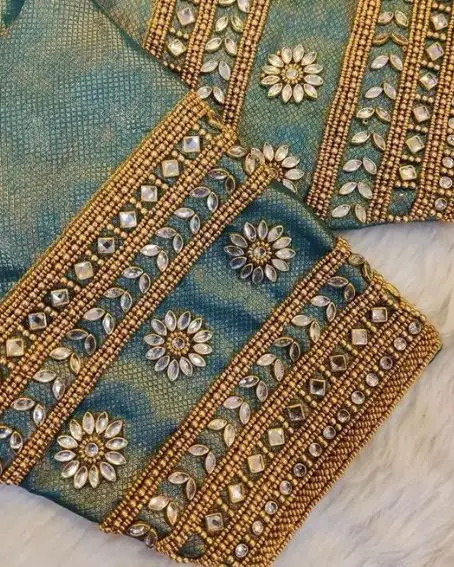 Stonework embroidery maggam designs are giving a trendy touch with pearls and stones for a dazzling effect on the saree. The blouse is studded with stones for a wow look at ramps or weddings.
3. Bridal Maggam Work Blouse Designs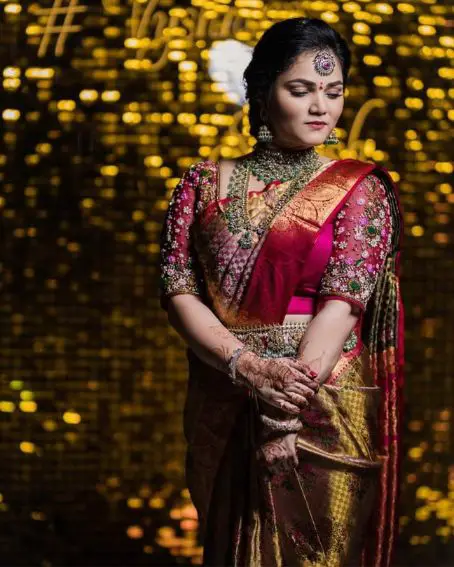 The bridal maggam work blouse contains heavy work in a variety of patterns, designs, and colors. This bridal maggam blouse adds to the grandeur as well as the richness of the bridal look.
4. Maggam Work Peacock Blouse Designs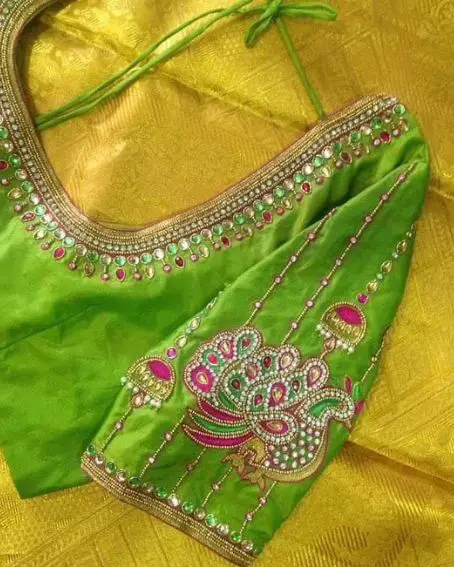 The peacock design is said to be one of the best among the Maggam work blouse designs. It is great for a simple patola saree and also this is quite favorable for bridal wear blouses. Maggam work peacock is highly suitable for broad-shouldered women.
[Read:23 Amazing Blouse Designs for Golden Sarees]
5. Simple Maggam Work Design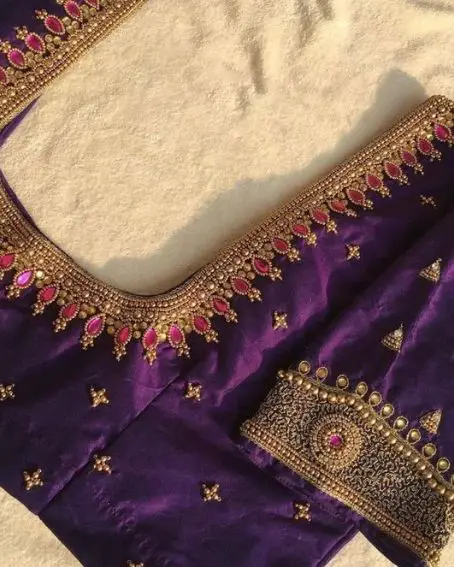 Simple maggam work blouse designs also have a prettiness of their own. If you want a blend of tradition along with trends then this one is for you to express your beautiful appearance.
6. Maggam Work Designs on Pattu Blouses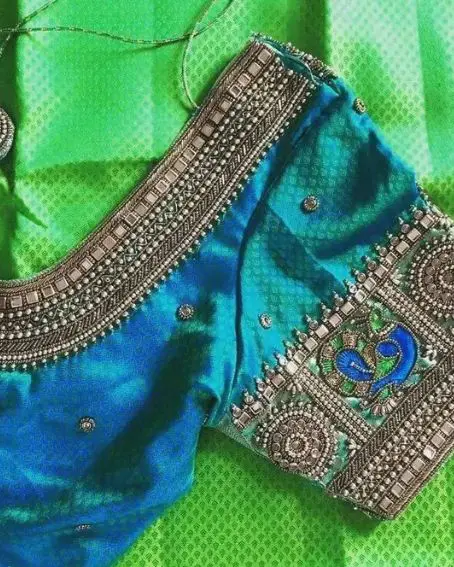 Stimulates the beauty of the pattu saree blouse with maggam work. The look of maggam work with pattu looks perfect and it helps you to highlight the saree. Just add some stone or zari to keep the elegance intact.
7. Peacock Blouse Pattern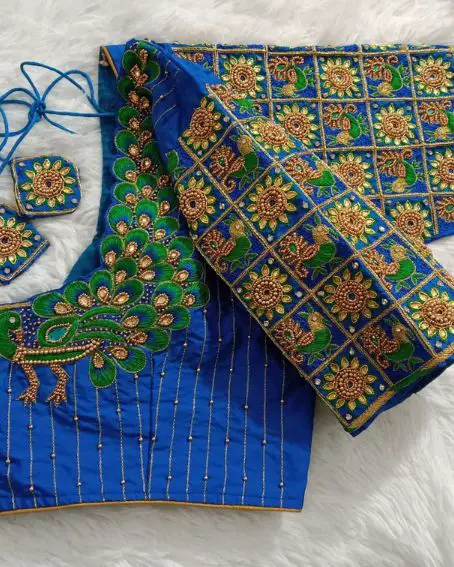 The Peacock blouse pattern is given an ethnic touch with stone work. When you are getting ready for any wedding then you can go for a peacock blouse pattern with a silk saree combo.
8. Black Color Embroidery Maggam Work Blouse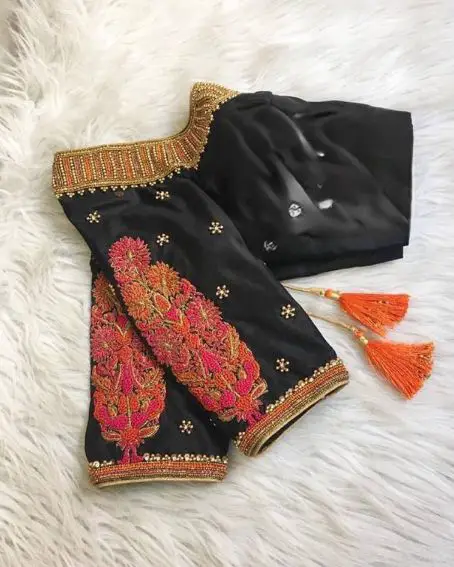 Maggam's work will be extremely stunning on the black color blouse. There are a lot of elements that you can add to make the saree stylish and traditional. Your saree blouse is sure to look wonderful when it is in black color.
9. Bridal Kundan Work Readymade Blouse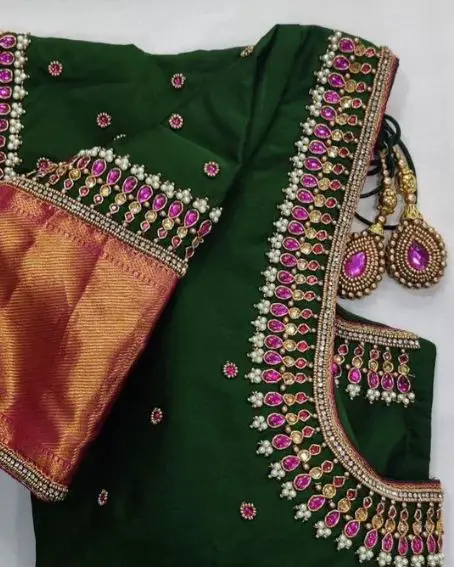 This bridal Kundan work blouse in ready-made is worth crushing on! With simple jewelry on the neck will improve the blouse very beautiful and attractive.
10. Wrap Blouse Saree Patterns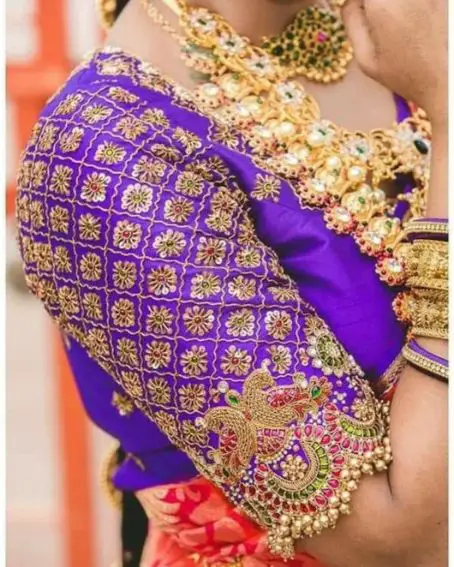 There is nothing as elegant as a wrap blouse saree patterns design. This blouse is fit for the bride and makes the best pre-wedding blouse for any of your saree. The wrap blouse is worth staring at for hours.
11. Gorgeous Maggam work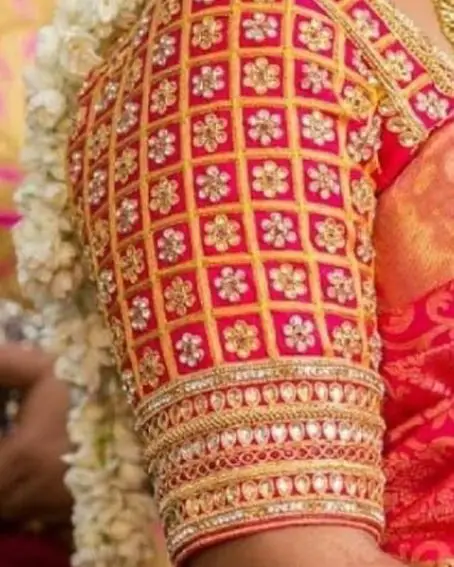 Gorgeous maggam work design on pattu saree or pattu blouse is perfect for women on their wedding day. If you have a maggam worked pattu blouse, then you must have a simple saree to render a good balance. This blouse delivers an expensive and rich look.
[ Read: 21 Beautiful Pics of princess cut blouse]
12. Design Blouses for Silk Saree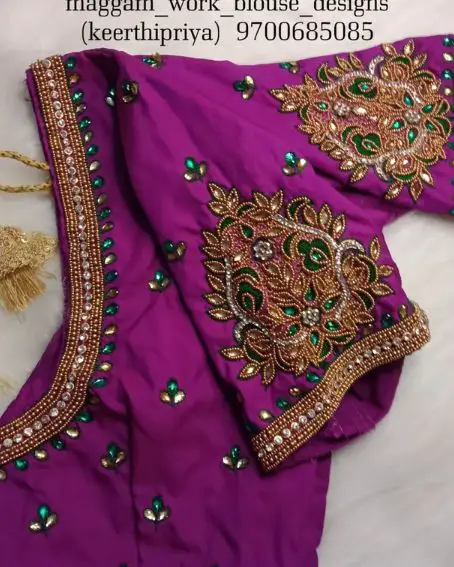 Maggam designer blouse gives rich look to the outfit when paired with silk sarees. If you don't want to comprise on the blouse design, get yourself a designer blouse for silk sare that is going to obtain you all the attention.
13. Blouse Work Designs for Pattu Sarees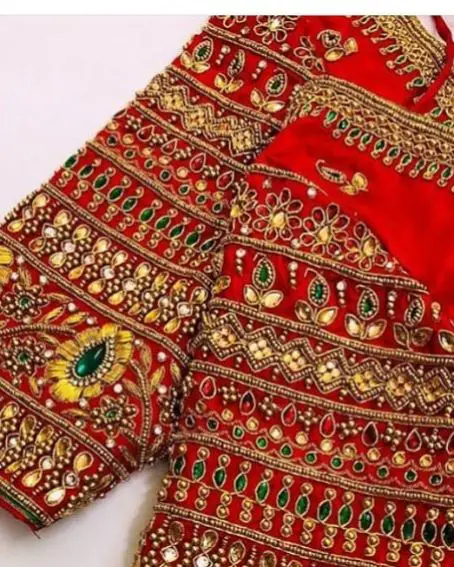 Blouse work design on pattu saree is beautiful in the wedding. They highlight as well as match any saree and make it a superb wedding ensemble. Maggam blouse design for pattu saree will look splendid.
14. Pink kanchipuram Sari with Contrast Yellow Blouse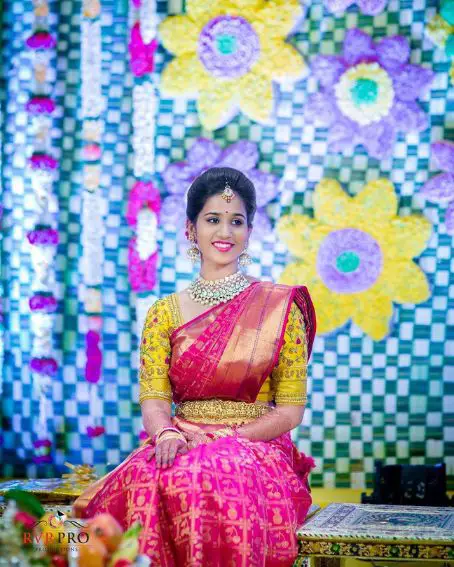 The richness of embroidery work looks fabulous on a pink Kancheepuram sari with a yellow blouse in contrast. Pink pair with a yellow blouse add some elegance to the appearance.
15. Royal Blue Blouse with Green Thread Work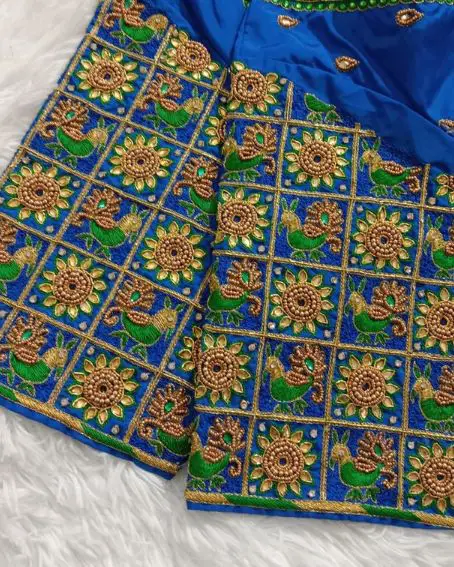 Not sure about to style your reception or lehenga blouse! Well, this amazing and latest maggam worked royal blue blouse with green thread work is for modern braids. Go for one that looks mesmerizing.
16. Peacock Maggam Work Blouse Design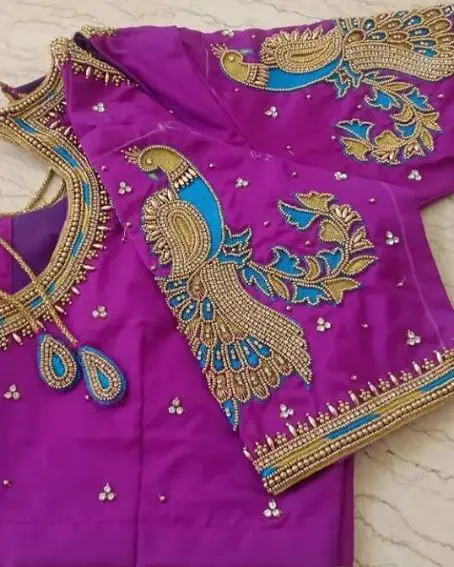 This is so distinctive that people will wonder in awe about peacock maggam work blouse design. It gives a grand look on all occasions and is also suitable for all young women mostly.
[Read:18 Awesome Pics of Sree Kuchu Design Patterns]
17. Latest Maggam Work Designs On Pattu Blouses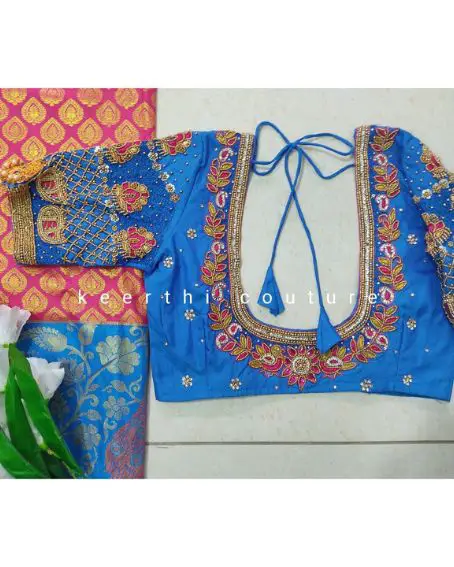 If you are looking for something out of the world then go for the latest maggam work design on the pattu blouse. It comes in multiple different colors, pick a favorite one but make sure it matches your skin tone.
18. Purple And Green  Embroidery  Maggam Blouse Design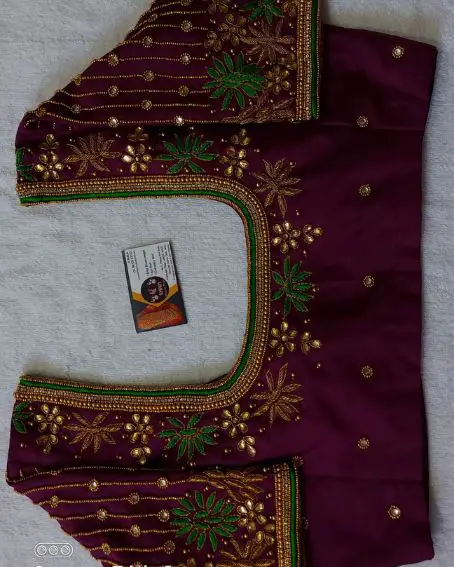 Amazing color coordination, purple and green has been bestowing major feels this season. Just have one glance at this blouse and see how fantastic it is. A purple and green combo with embroidery will add an even more alluring look to you.
19. Pattu Blouse with Maggam Work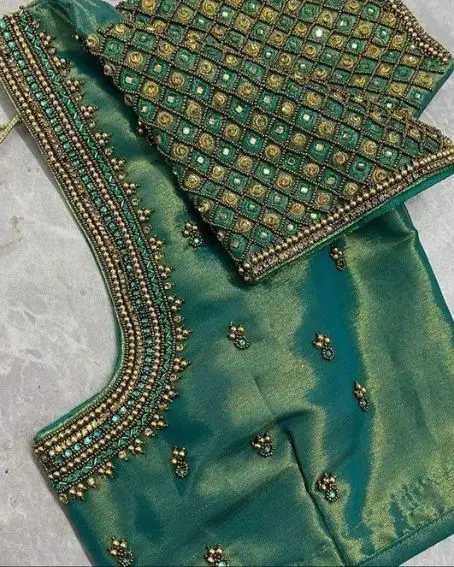 No matter how many changes will come in the clothing industry, maggam work designs always have a special place. Maggam work on pattu blouse gives a traditional look when wearing for puja or wedding.
20. Maggam Flower Work Blouse Design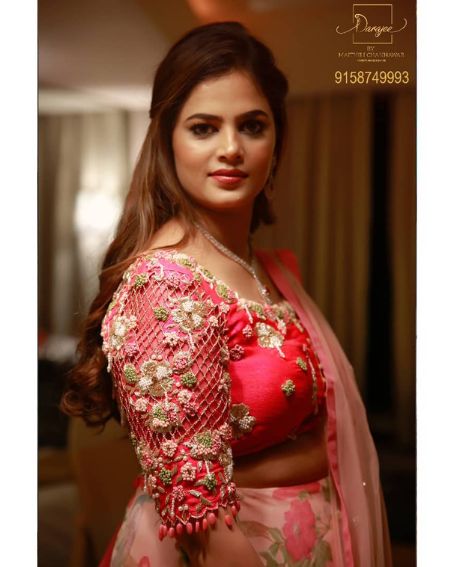 This intricate maggam flower work blouse design is so impressive that we cannot stop staring at it. Do not forget to accessorize the Maggam work blouse design saree with the help of appropriate jewelry to look magnificent.
You Might Also Like: