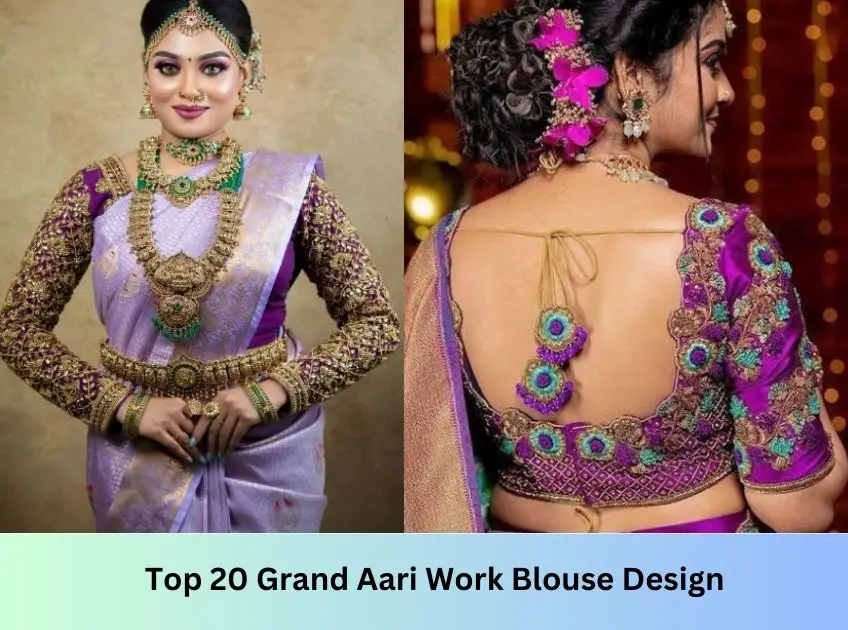 Due to the complex work and various embellishment techniques used, aari work blouse designs are extremely beautiful. The complex embroidery that is adorned with beads, zari, silk thread, and other materials is the most important technique that blouses would have. The use of sequins is also evident in the designs of aari work blouses.
Top 20 Grand Aari Work Blouse Design
1. Wedding Grand Aari Work Of Blouse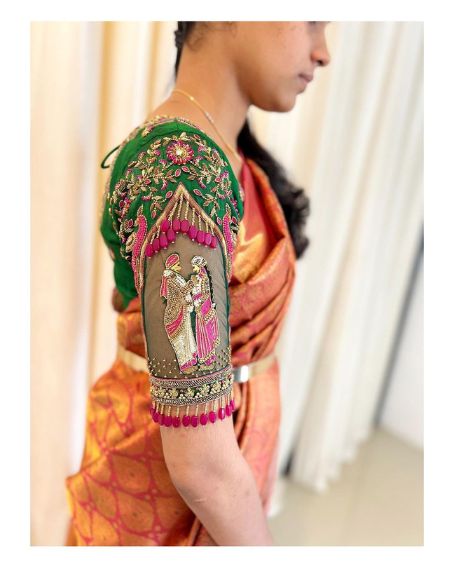 The lovely aari work blouse design features a nice olive green Silk fabric with aari work in golden and pink colors. It's lovely because it's beautifully made with a wedding picture on the sleeves and a complex pattern.
2. Sheer Blouse With Grand Aari Work Blouse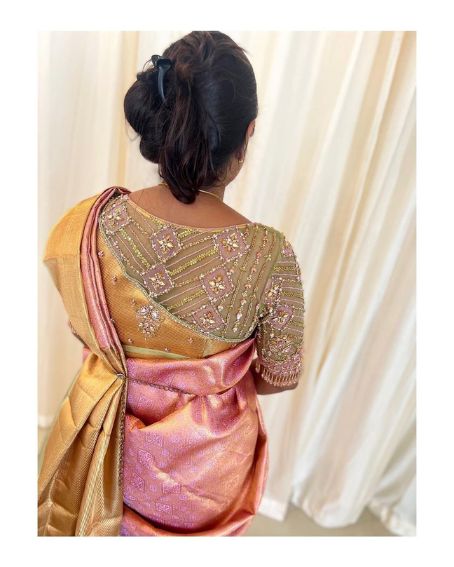 Sheer blouses can be any color and design, If you want to make an interesting embroidery pattern, choose a sheer fabric that is close to your skin tone and let Aari embroidery stand out, to look grand on your special days.
[ Read: 20 Heavy Aari Work Blouse Design ]
3. Grand Aari Wonk On Blue Sheer Blouse Design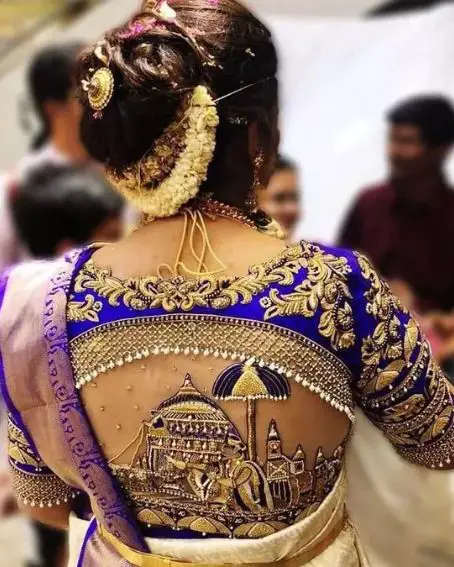 The grand Aari work of blue sheer blouse is very nice with thread patterns. The view of the bridal scenario weaving on the back looks pretty. This vibrant design most likely opts for marriages and events related to it.
4. Boat Neck Blouse With Grand Aari Blouse Design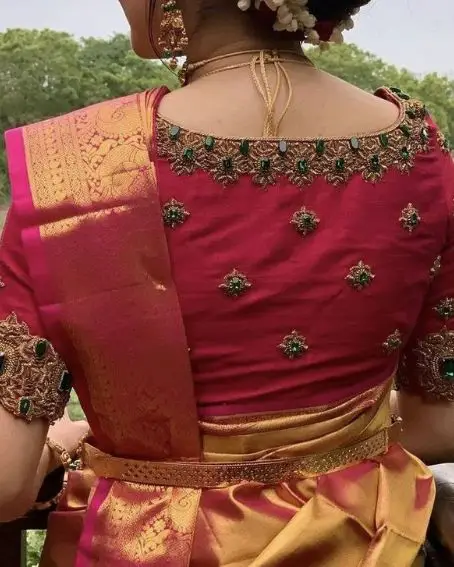 The elegant appearance of this maroon blouse is enhanced by a grand aari work on the blouse neck and sleeves. It is very much suitable for occasions and events. The blouse has a back boat neck that satisfies the women who wear it.
5. Grand Aari Work On Cut Open Neck Blouse Design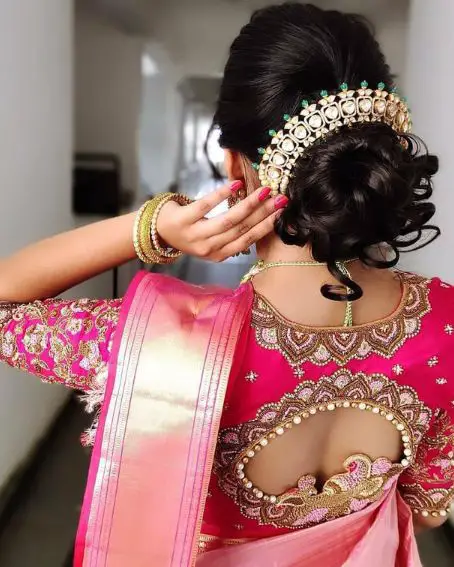 The latest style of pink and white aari work blouse is charming with the amazing design around the open back neck design. The heavy pattern is ruling the saree with an astonishing look
6. Grand Aari Works With A Golden Lace Blouse Design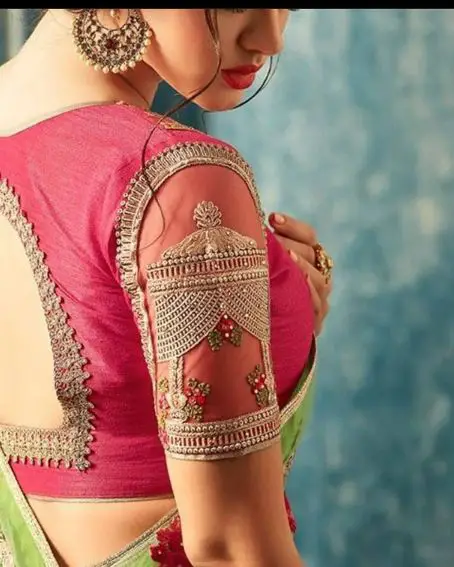 The radiant appeal of gold aari works on maroon blouses with lace borders around cut open neck designs with high neck is eye-catching. The work on hand is very much appreciated for the pattern opted.
7. Grand Aari Work On White Silk Saree Blouse Design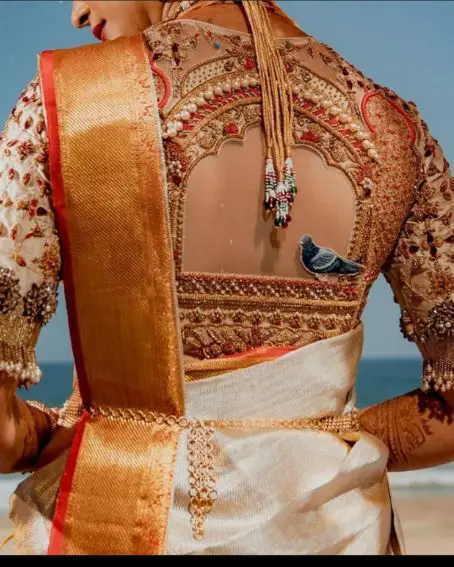 The best bridal attire is with grand aari work on a white silk saree blouse which is fully loaded with stones and threadwork. The open-back design of the blouse itself elevates the idea with a pigeon on it.
8. Stoned Aari Work On Square Cut Back Neck Blouse Design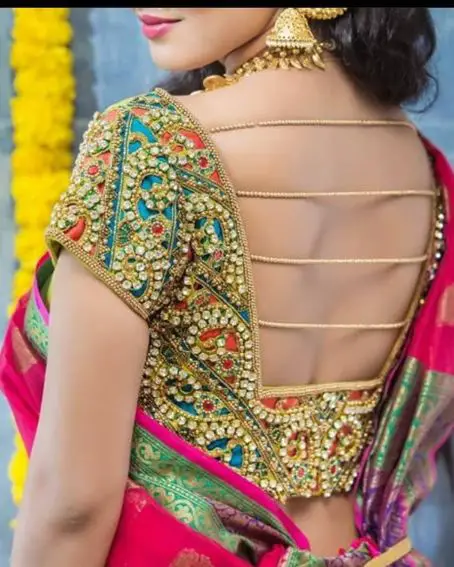 The studded stone aari work on a blue blouse is looking stunning with a square back neck design. It is mostly preferred for grand occasions and festivals. The women are mad at the pattern and choose this work.
9. Bird Cage Design Aari Work Blouse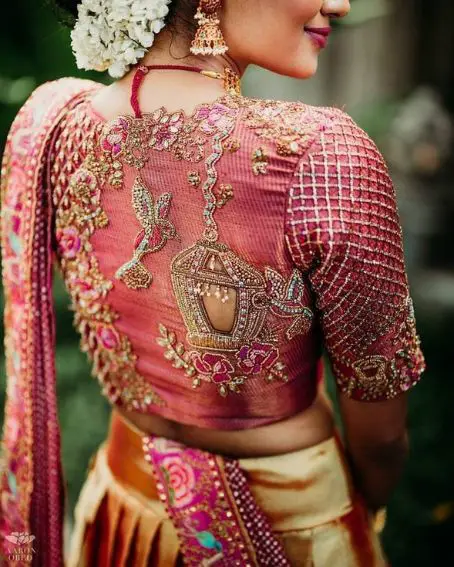 This pattern's beauty is in the richness with which it covers the entire blouse. It has some birds and a cage patterns on the blouse with Aari work. These blouses are ideal for wearing with your party wear sarees and lehengas.
[ Read: 20 Awesome Pics of Party Wear Saree Blouse Designs ]
10. Golden Thread Aari Work Green Blouse Design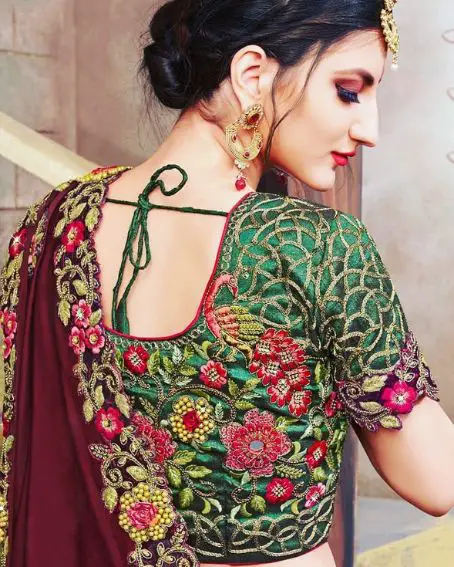 The latest collection golden thread aari embroidery works looks astonishing. The flowers and branches are woven on the blouse to get a natural vibe. This is mostly picked for occasions and events.
11. Grand Aari Embroidery On Purple Blouse Neck Design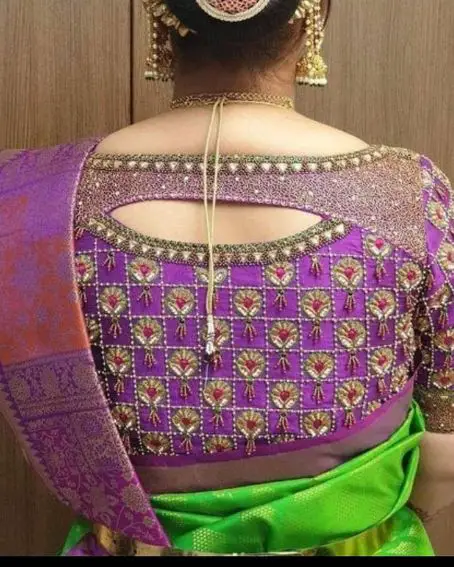 The unique glance of gold and red aari embroidery work on the blouse is highlighted by the miniature design with a slight slit at the back of the blouse. This blouse gives a traditional look at any festival and event.
12. Gold And Green Aari Work On Red Blouse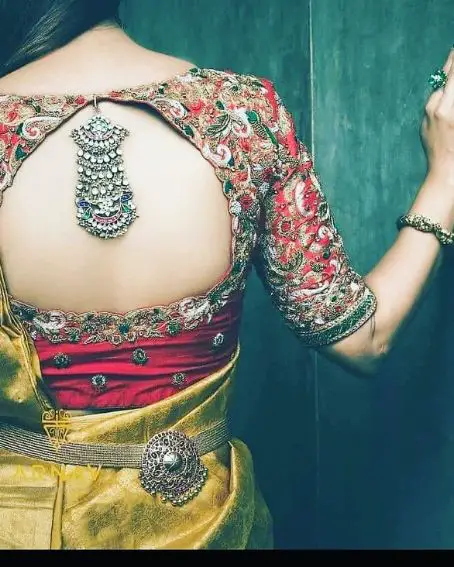 The hanging pendent with stone work highkightens the blouse with golden thread aari embroidery work on red blouse, which is loved by women the most. It is preferred for the grand events and festivals.
13. Grand Aari Work On Full Sleeves Blouse Design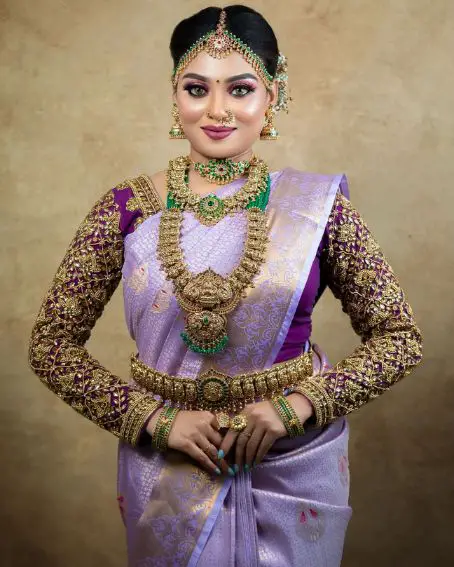 The elegant appearance of the gold stoned full sleeve blouse gives a rich look at functions and weddings. It is beautifully woven on the blouse with a wonderful stone pattern to make it more unique with heavy jewellary set.
14. Grand Beaded Aari Work Blouse Neck Design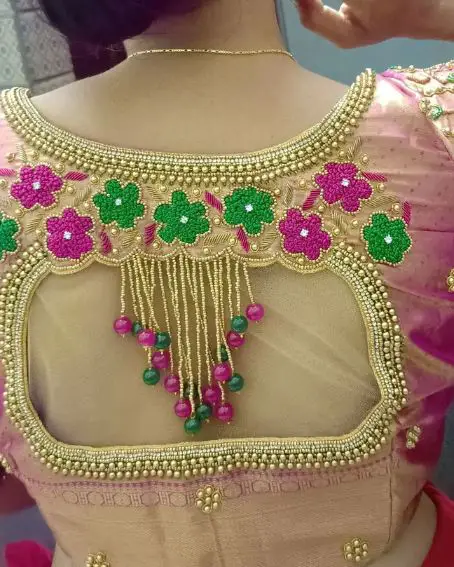 The glossy texture of the blouse comes with the floral aari The work is finished with gold beadwork. The boat neckline blouse pattern has short sleeves and is embellished with colourful thread embroidery and golden bead work and hangings.
15. Gold, Purple And White Aari Work On Red Blouse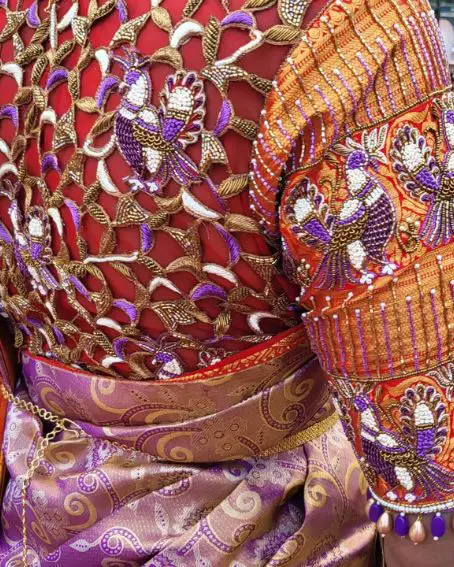 The latest design of gold, purple, and white aari work with a mini peacock looks graceful on the blouse. It is very nice with threadwork. This radiant appeal of the blouse is worn at occasions and events.
16. Pink Wedding Saree Blouse With Grand Aari Work Design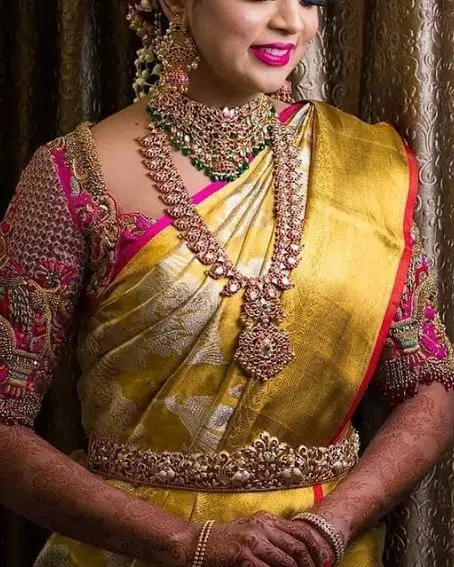 The splendid view of the delicate aari embroidery work on the blouse appears charming. It is specially designed for brides at weddings and functions. The hanging placed on the hand looks pretty with extra elegance.
[ Read: 15 Different Embroidery Blouse Designs for Back Neck Blouses ]
17. Heavy Wedding Aari Embroidery Work Blouse Design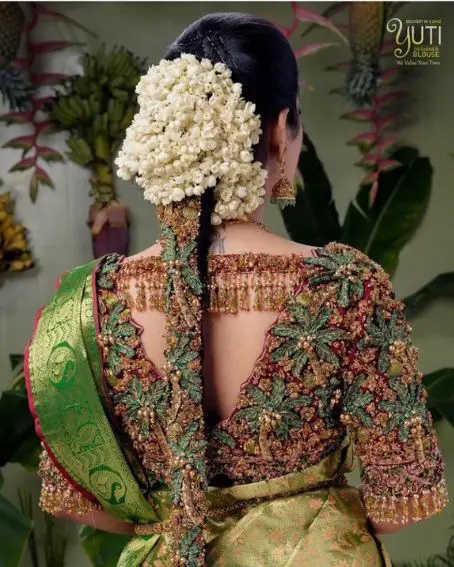 The creative coconut tree pattern of gold and green aari embroidery work is most appreciated when worn at occasions and events. The heavy design of the blouse itself elevates the idea of Leaves on it, with a deep V neck back design.
18. Purple Grand Aari Work Blouse Neck Design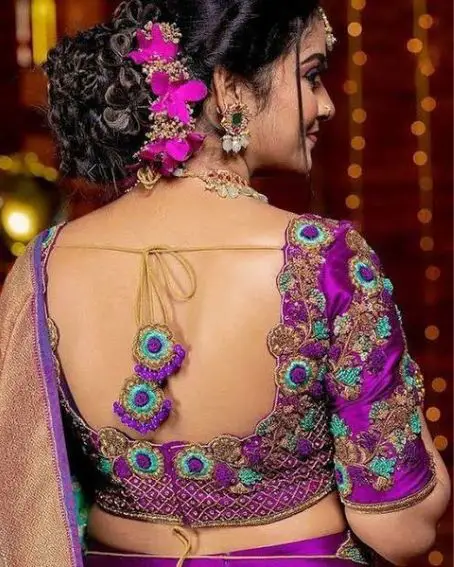 This purple saree blouse is with an Aari embroidery work blouse aari most likely opted for weddings and festivals. It is sparkling with the stones added up on the deep U cut neck design with latkans. Best design to go with for any grand functions.
19. Sheer Blouse Neck Design With Aari Embroidery Work Blouse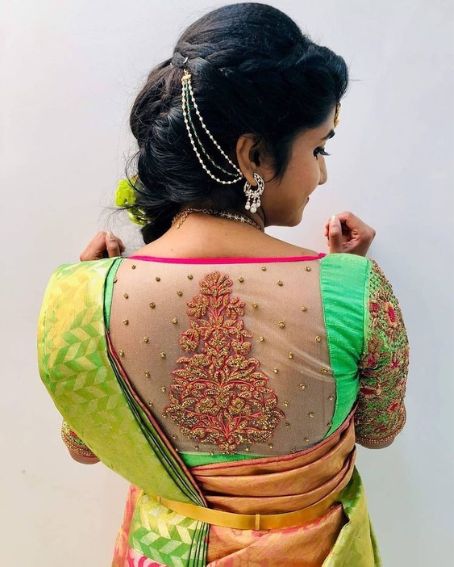 Sheer blouses are one of the best blouse designs which gives a grand look with Aari embroidery designs. It is opted for festivals and events where simplicity is highlighted with netted material. The women are crazy for the design.
[ Read: 20 Graceful Pics of Net Blouse Designs ]
20. Grand Aari Embroidery With Kundan Work On Maroon Blouse Neck Design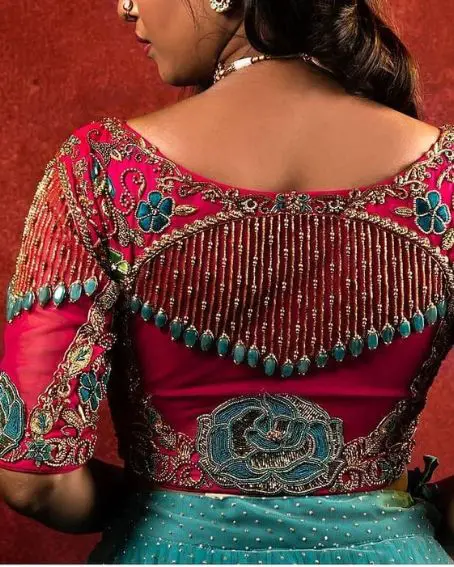 The remarkable look of teal blue Kundans hanging on Aari embroidery work attracts the event. The thread work with floral design gives a more fresh appearance. It Is mostly suitable on both saree and lehengas.
You Might Also Like: