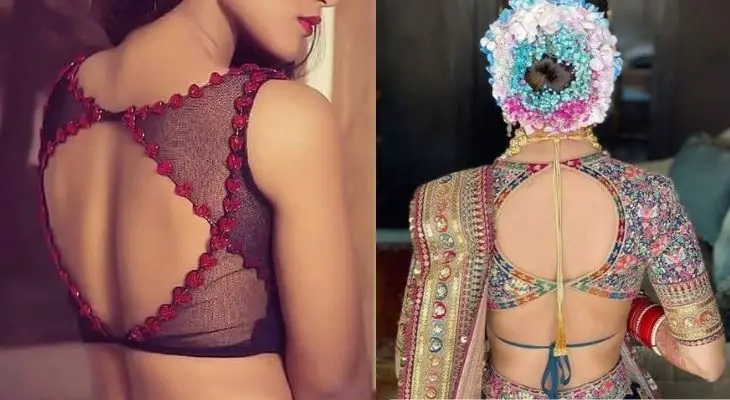 Getting a creative blouse design is a resource for any festive occasion and is quite easy today as people are getting new ideas and thoughts for making a blouse with different types of fabrics. The design and pattern of lace blouses also change from time to time. So let us take a look at the lace border blouse designs available.
Top 20 Latest Lace Border Blouse Designs
1. Golden Lace Border Blouse Neck Design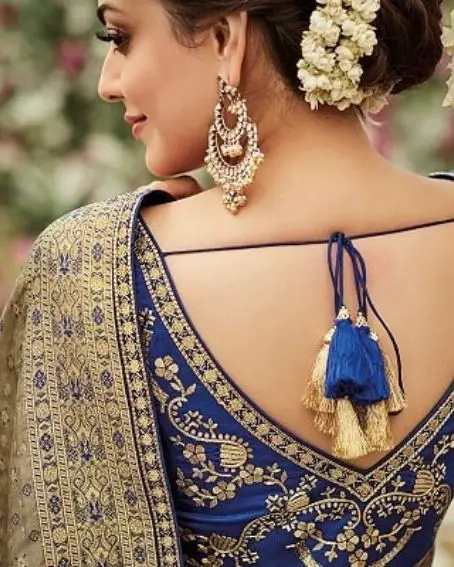 The adorable blouse is very pretty with gold lace that gives a shiny appearance. The deep-neck blouse grabs everyone's attraction with a glossy texture. It also comes with hangings of gold and blue mix for the best finishing of the blouse.
2. Crisscross Strap Lace Border Blouse Neck Design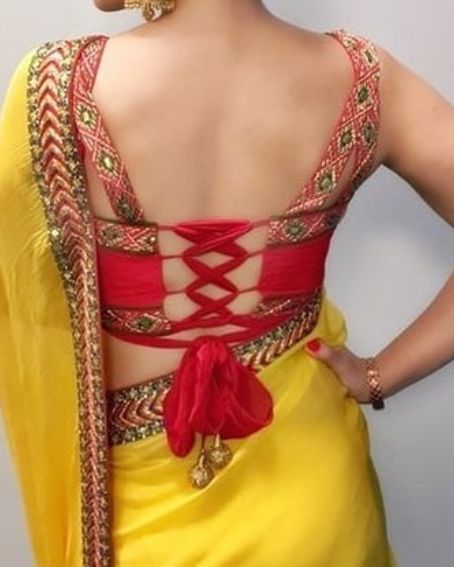 The stylish appearance of red and green lace is just awesome to look at with an amazing pattern. The lace of the blouse itself acts as the straps for hands with sleeveless blouses that mesmerize the viewers.
3. Blue Net Blouse With Lace Border Neck Design
The sky blue blouse decorated with a lace border on the high neck and sleeves gives a glittery effect with the designed border on the net fabric blouse. The modern designer blouse comes with an elegant appearance.
4. Triangular Cut Design Lace Border Back Neck Design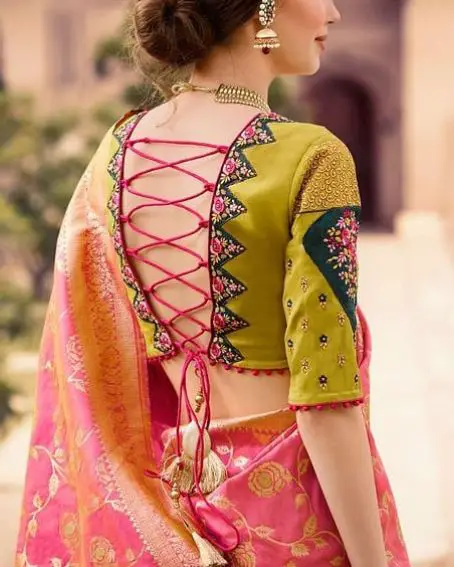 The super cool blouse with green lace comes in a triangle shape that gives the best vibes on any occasion. This lace border comes on the side view of a zig-zag thread design making you look more beautiful.
[ Read: 20 Pattu Big Border Blouse Design ]
5. Golden Beads Lace Border Back Neck Design
The latest collection of lace with gold color comes in a glossy texture. The attire of the blouse is highlighted with the best quality material. It gives a sparkling effect when worn out for any occasion.
6. Black Chemki Lace Border Blouse Back Neck Design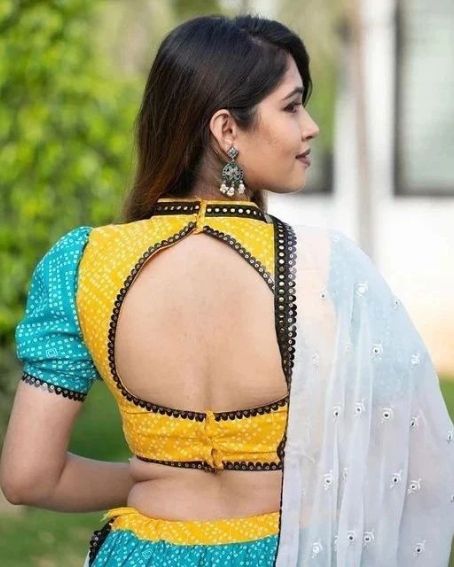 Black is a universal color it matches all colors. Hence try this epic combination of black lace on the border of the yellow blouse to give it the natural look. The design selected shows simplicity and perfection.
7. Yellow Lace Border Blouse Back Neck Design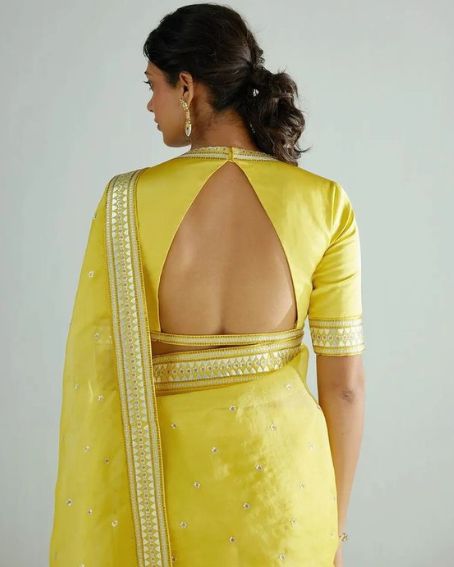 The coolest and simple design of blouses comes in a yellow thin lace pattern. The supreme look comes with the back neck decorated with the yellow lace on the triangle cut-open back neck design.
8. Wedding Blouse With Lace Border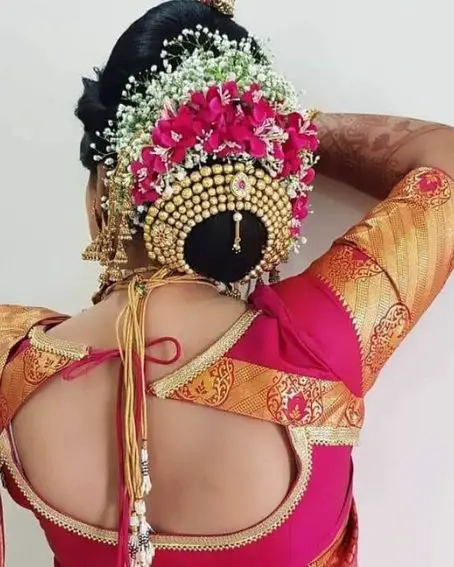 The unique bridal look is very much appreciated when gold lace is added up. The back of the neck appears very stylish in this design. The hemisphere of the neck is rounded off for an amazing look.
[ Read: 15 Beautiful Wedding Saree Blouse Designs ]
9. Colorful Lace Border Back Neck Design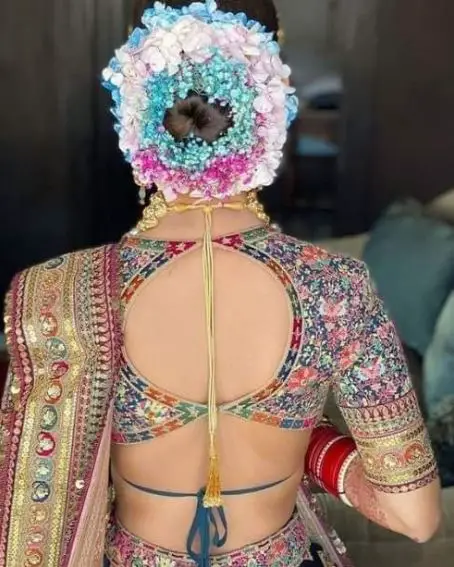 The gorgeous appearance of any female comes with the type of blouse worn. The multi-color lace gives a glamorous look on grand occasions. This lace is surrounded by a backless round cot open back neck design.
10. Golden Lace Border On Pink Blouse Neck Design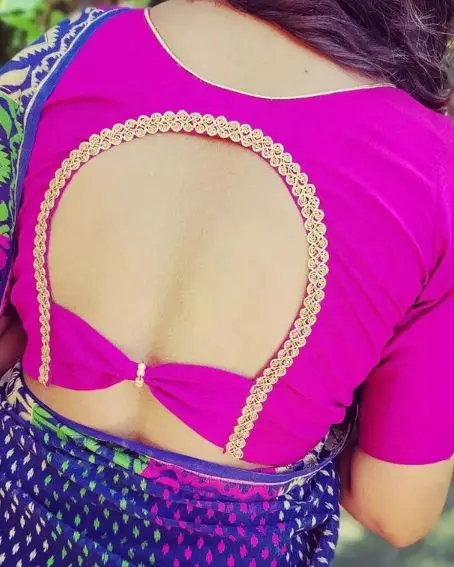 This is a simple and easy back neck design with lace material. This latest collection of blouse designs comes in gold lace with a semi-circle cut open decorated with golden lace. The back neck design comes with a high neck and a bow.
[ Read: 20 Pink And Green Combination Blouse Neck Designs ]
11. Gold Beads Lace Border On Wedding Blouse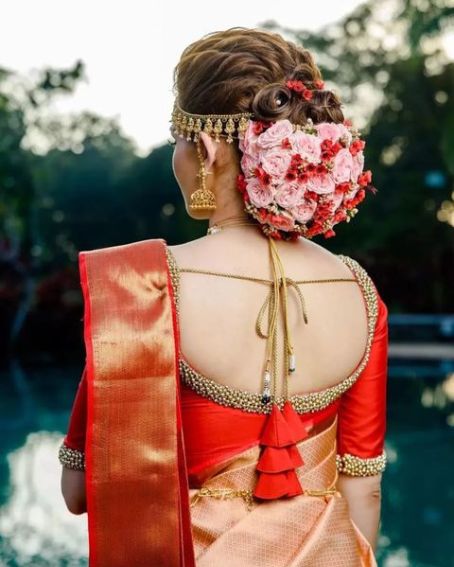 The traditional pattern of the blouse comes in a heavy back neck design. This blouse design comes with golden beads thick lace border, which is the main attractive part of the blouse these blouses can be worn for weddings and functions.
12. Stone Lace Border Back Neck Design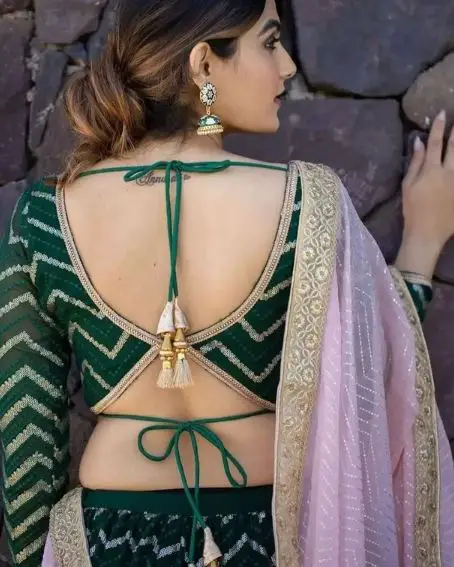 The good-looking gold lace comes with miniature stones inside it. This vibrant fancy look gives the pleasant appearance of a blouse. This beautiful green blouse has a backless back neck design with full sleeves.
[ Read: 20 Simple Blouse Back Neck Designs With Borders ]
13. The Gold Stoned Lace For The Red Blouse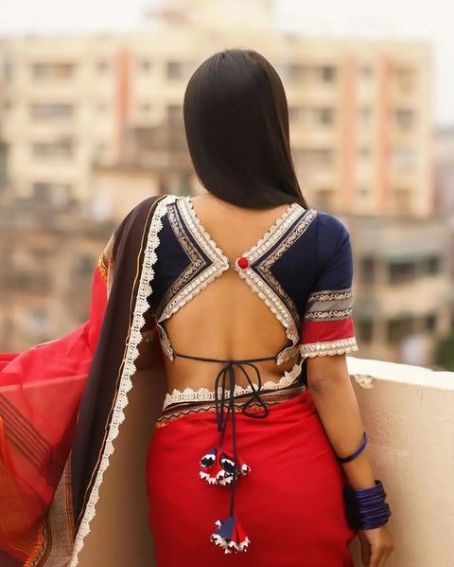 Another blouse that is different from the usual patterns, is a navy blue blouse with a white lace border decorated on the back open-back neck design. The single button gives you a more dignified appearance.
14. Red Cotton Lace Border Back Neck Design Blouse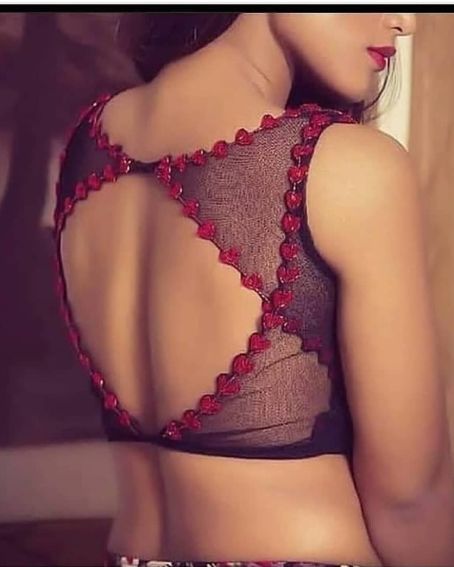 The ethnic appearance of a blouse comes when it is added up with red cotton lace decorated on the open cut-back neck design. It gives a seamless vibe with a divine look on a backless blouse design.
15. Green Lace With Modern Blouse Design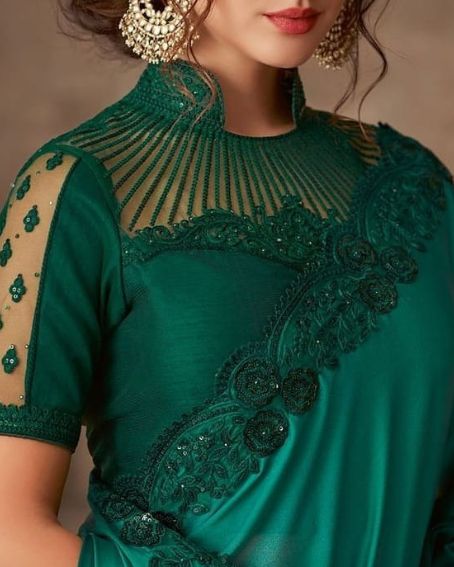 The coolest green color collar blouse with lace material gives a splendid view. The charm of lace in the borders is lovely with a trendy outlook. It is preferred on most special occasions.
[ Read: Top 20 Half Collar Neck Blouse Designs ]
16. Blue Lace Border Back Neck Design Blouse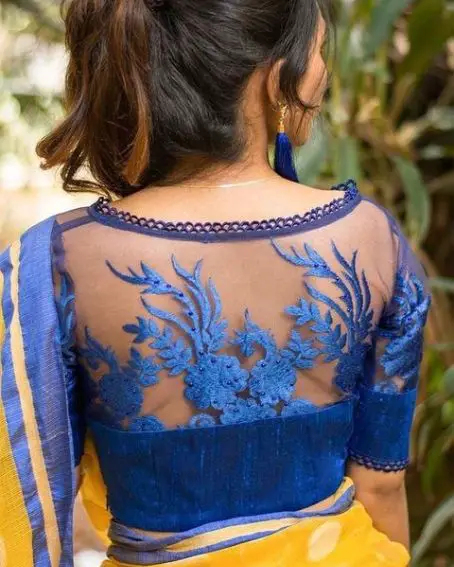 The most beautiful patterns of lace in blue color are weaved for the fascinating attire of the blouse. It is patched with netted back design for an extra stylish appearance. The lace adds up the fancy look at any event.
17. Gold Piping Design Of Lace Border Neck Design Blouse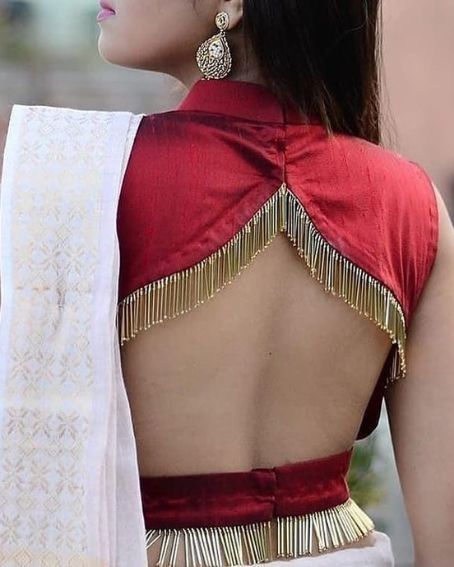 The latest collection of lace in gold color mesmerizes viewers with its pretty look. The hangings of gold chain on a cut-open design unique texture to the blouse. The lovely red blouse has a collar neck design with an elegant appearance.
18. White Pearls Lace For Netted Blouse Neck Design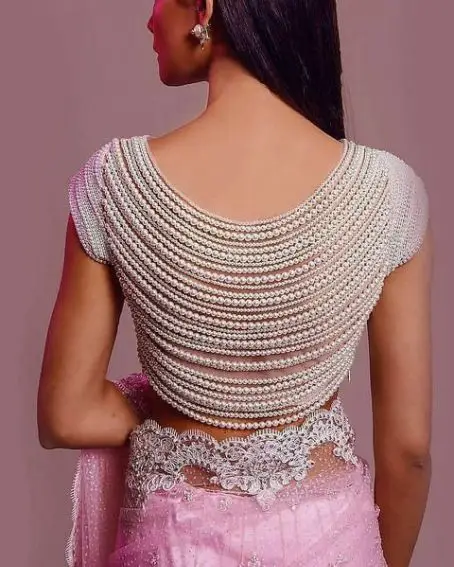 The most adorable motif balls as lace all over the blouse look authentic. They are arranged in long U-shaped patterns for a charming look. The blouse is simply the best and most lustrous.
[ Read: Top 20 Latest Silk Saree Blouse Designs (With Borders) ]
19. Silver Chain Lace Border Blouse Neck Design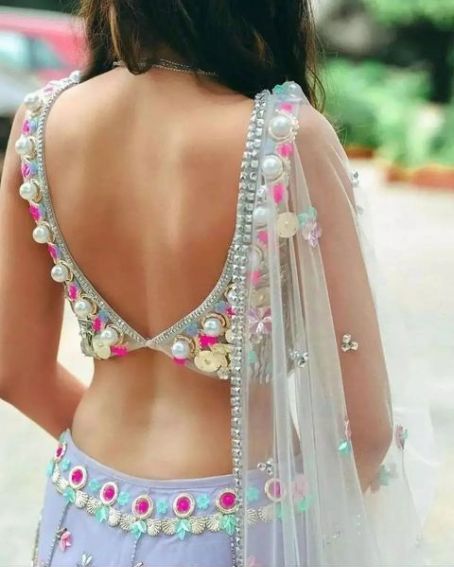 The divine look of the blouse comes with silver lace decorated with a design of silver stones in two rows as borders. It is pretty much better for fancy parties and events. The most attractive part comes with a backless back design.
20. Gold Lace Border On Black Blouse Neck Design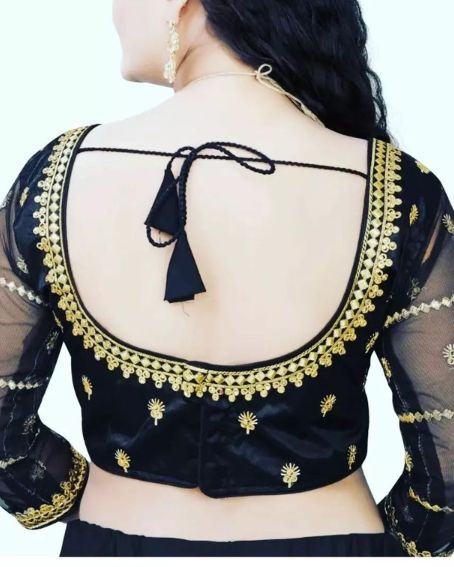 The artistic gold lace for the blouse is shining with a glittery look. It is mostly preferred for grand occasions and events. The thread for tying is designed in black for contrast and an elegant appearance.
You Might Also Like: