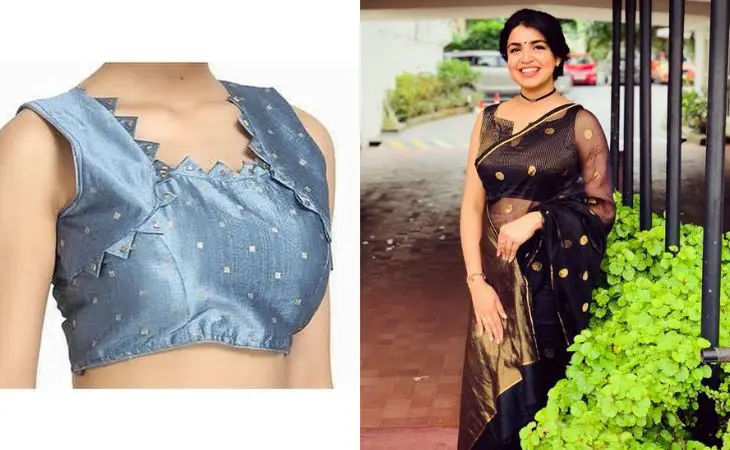 Nowadays, the sleeveless blouse is the hottest trend when it comes to showing off your modernity in traditional attire or ethnic outfits. With no hesitation, the sleeveless blouse delivers a bold, stylish, and fashionable style statement. The sleeveless blouses fit in seamlessly and enhance your natural beauty by letting you flaunt those perfections and appearances. When you want to step up in your fashion game in traditional or ethnic outfits, then sleeveless blouses are a perfect starting point to it. This article exhibits piles of fantastic and incredible sleeveless blouse designs that amaze you and are suitable for any occasion.
20 Amazing Pics of Sleeveless Blouse Designs
1. Velvet Zari Work Style Blouse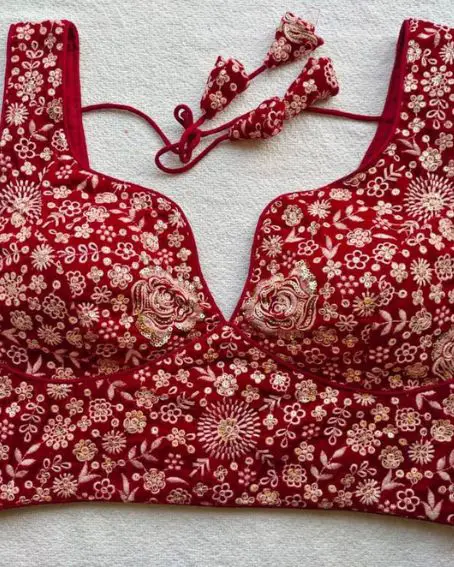 The Velvet zari work blouse design is the most simplest and elegant one that can be matched with your every traditional outfit. It gives you that simple yet grand modernistic look. This pattern goes well with the lehenga as well.
2. Stunning Green Sleeveless Blouse With Deep Back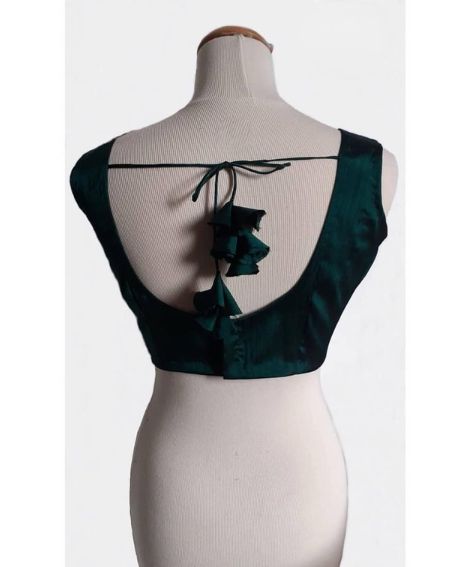 The Stunning green sleeveless blouse with a deep back is the new trend now which is available in various colors also. The green sleeveless with a deep back gives you a stylish appearance. It can be paired with any chiffon or satin sarees that will look absolutely stylish.
[ Read: 20 Plain Satin Saree Blouse Designs ]
3. Blue Stylish Chikonkari Blouse With Latkan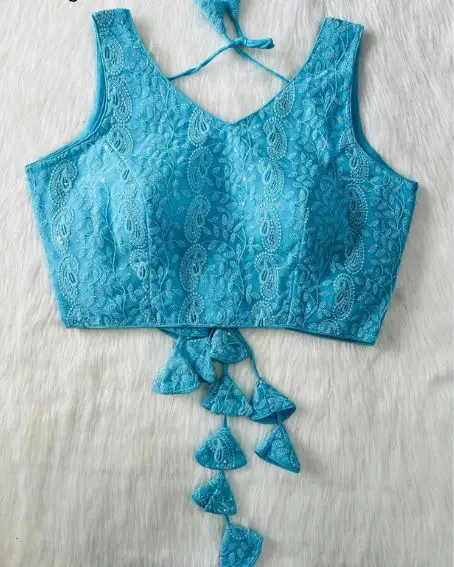 The Blue stylish Chikonkari blouse sleeveless blouse delivers a sexy and bold look that matches well with sarees, lehengas, and skirts. This latkan style beautifully enhances your shoulder and suits anyone who loves to be more fashionable.
4. Pink Floral Elegant Blouse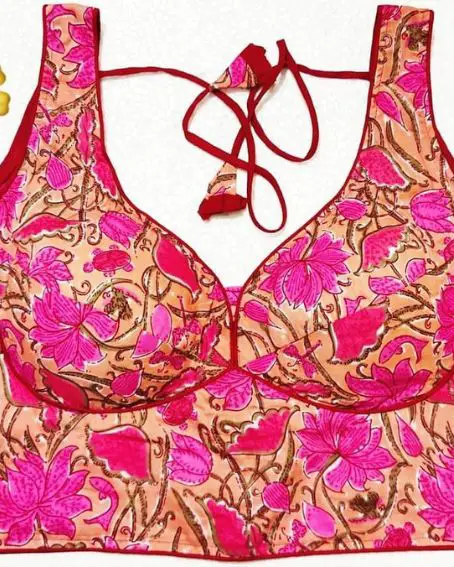 The pink floral elegant blouse is designed in a way that gives you a neat and rich look. These simple yet alluring designs in which are suitable for plain georgette, satin, and chiffon sarees. This sleeveless blouse is most comfortable and weightless to wear on any occasion.
5. Black V Front Sleeveless Design
This black V-front sleeveless blouse looks fabulous and helps you to get a unique view. It can be paired with the same black or contrast saree which will look amazing. The black V-neck sleeveless blouse looks gorgeous on your romantic dates.
6. Peach Pink Halter Neck Blouse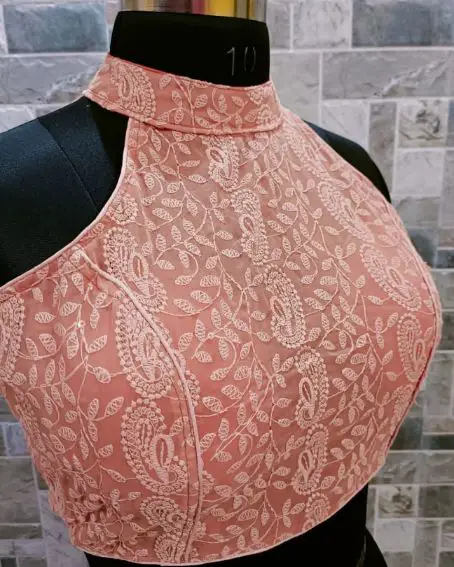 The Peach pink halter neck blouse is the best and right choice for your wedding parties or reception that can be paired with a saree or lehenga. It adds a royal and beautiful appearance to your overall look. The halter neck without sleeves intensifies your chest shape and gives a lovely look as well.
7. Purple Fox Georgette Blouse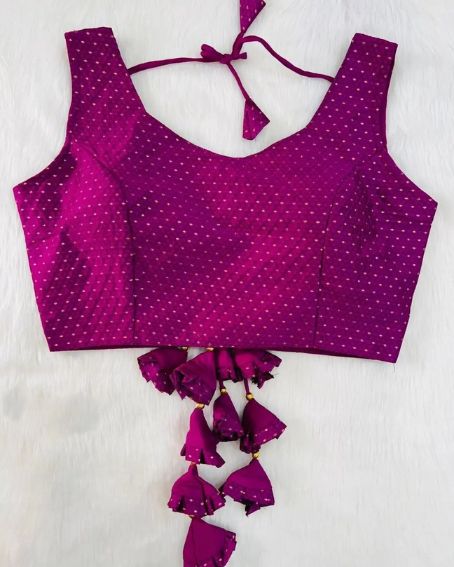 This purple fox georgette blouse design looks sexy and vibrant. It is suitable for any night parties or functions and it gives you a sexy look. This suits anyone who wants to look fabulous and bold in any traditional attire.
8. Golden Yellow Embroidery Blouse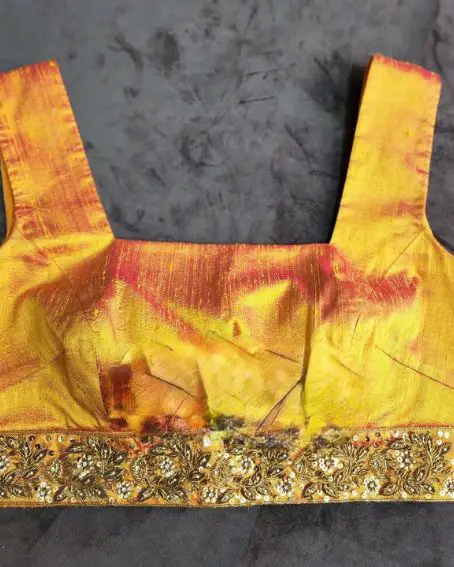 A golden yellow embroidery blouse is a beautiful one and it matches for simple or heavily designed sarees. This gold sleeveless blouse can be worn with silk sarees, designer sarees, or any other plain sarees. The shiny view in which gives a brilliant look that allows you to wear it in any event.
9. Red Zigzag Blouse With Crop Top Design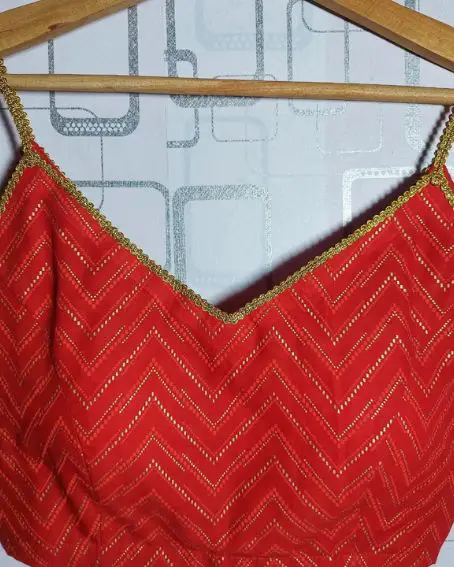 This is a unique design pattern blouse. This fashionable design with padded type is unbeatable and its zigzag pattern is the one that bestows you with different designs among other blouses. It offers a trendy and high fashionable as well as traditional look.
10. Trendy Mirror Work Sleeveless Design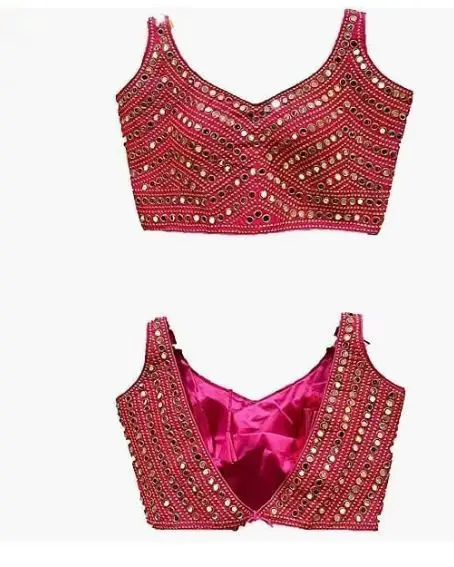 Trendy mirror work sleeveless blouse look splendid. It gives a dazzling appearance with an elegance that suits any event and occasion. This wonderful design blouse when paired with a single pleat saree will look absolutely stunning.
11. Sequins And Thread Embroidery Deep V-neck Blouse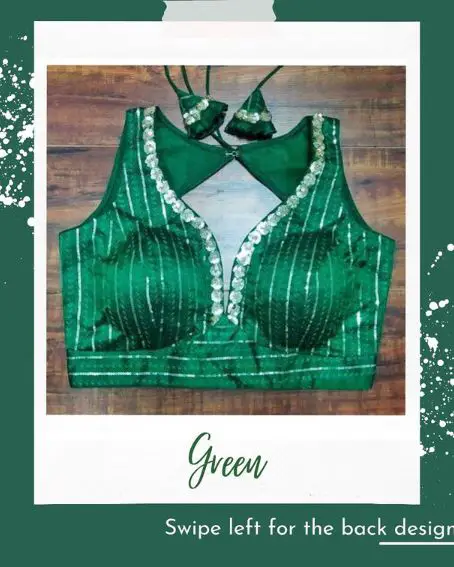 The sequins and thread work deep V neck sleeveless blouse is perfect for any occasion where you want to look simply wonderful. The sequined embroidery blouse adds radiance to your beautiful appearance and the thread work in the blouse makes you look astonishing.
[ Read: 20 Stunning Hand Embroidery Designs For Blouse ]
12. Pink Plain U-shaped Sleeveless Blouse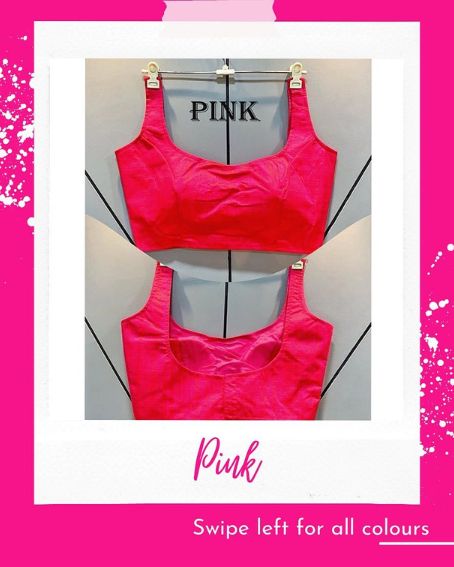 Pink plain U-shaped sleeveless blouse is fantastic and it is perfect for women who like to wear a simple yet stunning style blouse. This plain blouse delivers a modern look that perfectly fits for night parties or galas.
13. Beautiful Paisley Brocade Blouse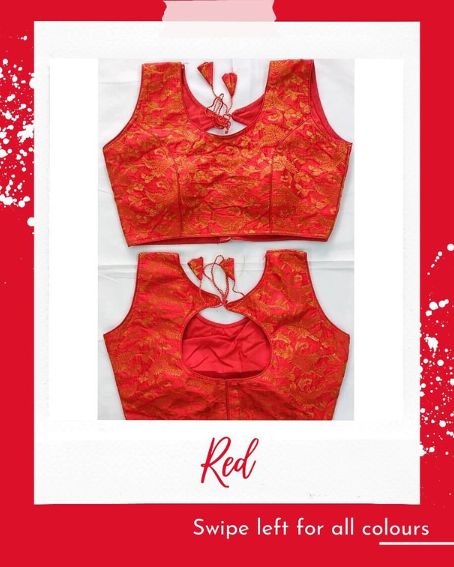 If you are planning to have some indo-western look for any wedding functions, then this beautiful paisley brocade sleeveless blouse would be the best pick. Paisley design when worn gives a smart, stunning, and very crisp look.
14. Boat Neck Embroidery Designed Blouse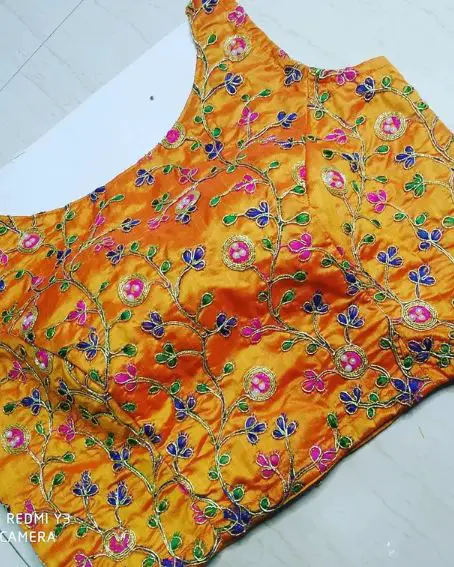 The boat neck embroidery sleeveless blouse with multicolor embroidery work never goes out of fashion as it is suitable for everyone. This grand blouse when paired with a plain saree gives wonderful look.
15. Multi-designed Sleeveless With Back String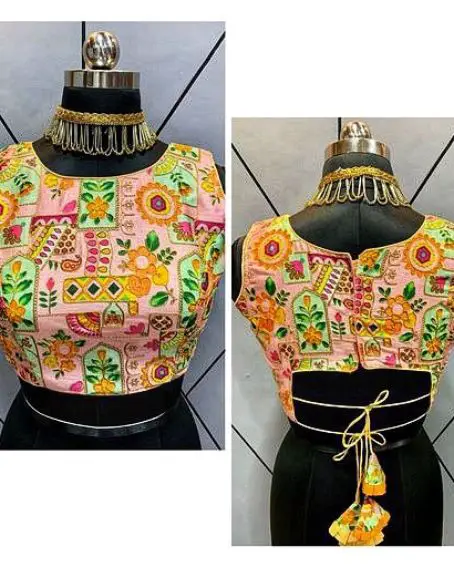 This is something that appears immensely hot and sexy. If this design paired with the plain saree you will be in fabulous look. It is excellent for attending parties and celebrations.
[ Read: 20 Multicolored Checked Saree Blouse Design ]
16. Rich And Classy Collared Blouse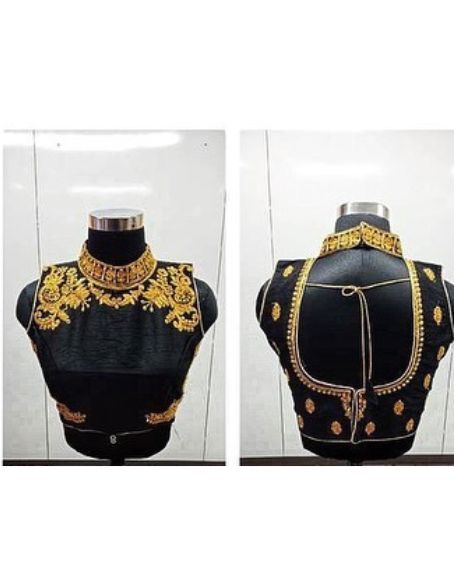 A rich and classy collared blouse design is the ideal pick for your reception or important functions. The embroidery work on the neckline is so impressive that when paired with a saree or lehenga offers you a splendid appearance.
17. Motti Work Sleeveless Blouse Design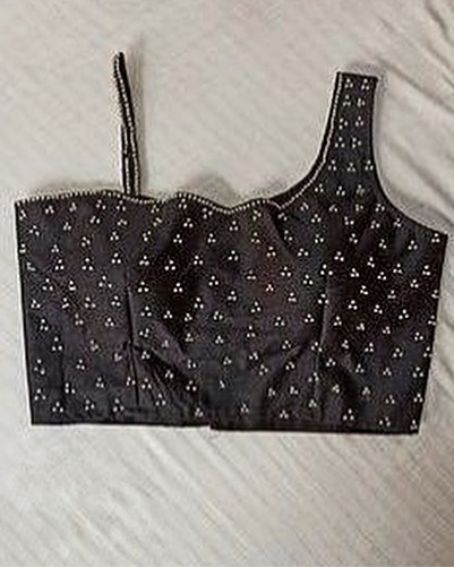 When you want to present yourself elegantly, then this motti work sleeveless blouse is a great option. The style in which gives you a rich look and also elevates your shoulder to appear wider and broader.
18. Solid Pattern Triangular Neck Design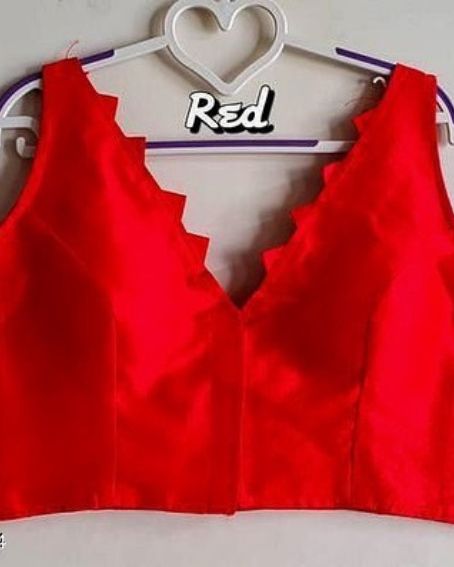 How graceful and chic is this solid pattern triangular neck design? This plain blouse offers a neat and well-dressed look as well as gives a stylish and fashionable appearance. A triangular neck can be matched with any type of saree which will look pretty lovely.
19. Floral And Pastel-designed Blouse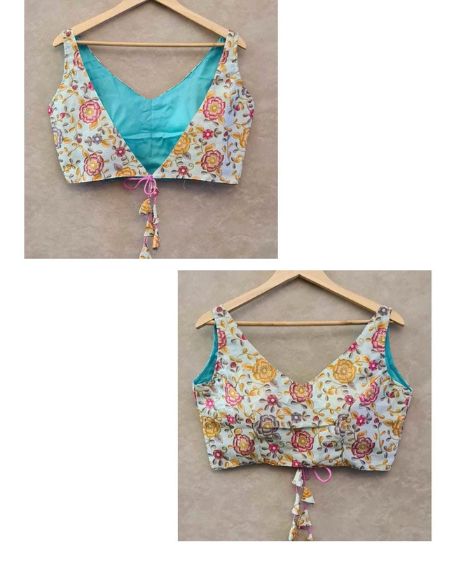 This Floral and pastel-designed sleeveless blouse fits any saree that looks modern and vibrant. The pastel pattern is loved by most young girls as it gives the trendy look whenever they want to flaunt a saree.
20. Printed Pattern Beautifully Styled Sleeveless Blouse
The printed pattern beautifully styled blouse looks great on any modern outfit. If you want to wear a trendy and updated one, then this is for you. It will fit all young ladies who like modern rather than tradition.
You Might Also Like: