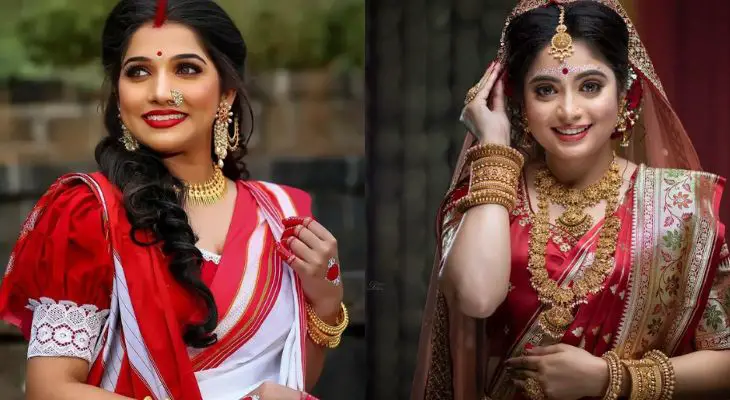 The custom of Bengali sarees are so authentic which most women love to wear for all the occasions. Here are collective designs of ethinic Bengali sarees.
Presenting the super attractive Bengali sarees for any grand events. Do pick one of them and try today that will amaze you for sure.
15 Traditional Bengali Sarees With Images
1. Beige Bengali saree with black and red Border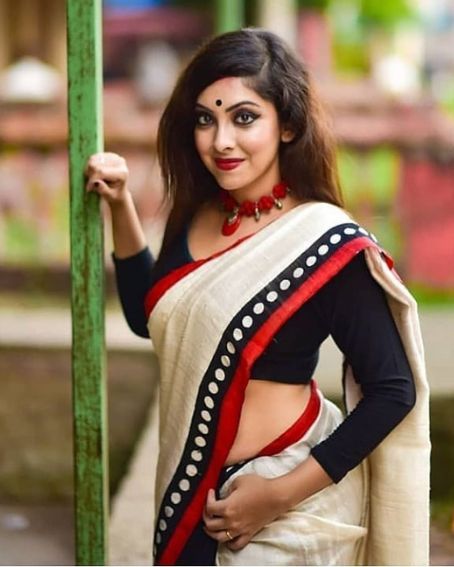 The beautiful Bengali saree of beige color has a classy black and red border. The black blouse is perfectly matching the saree with three fourth hands along with a deep U neck. This is preferred for functions and traditional events.
[ Read: Nice Looking Molakalmuru Sarees ]
2. Cream And red Traditional Bengali Saree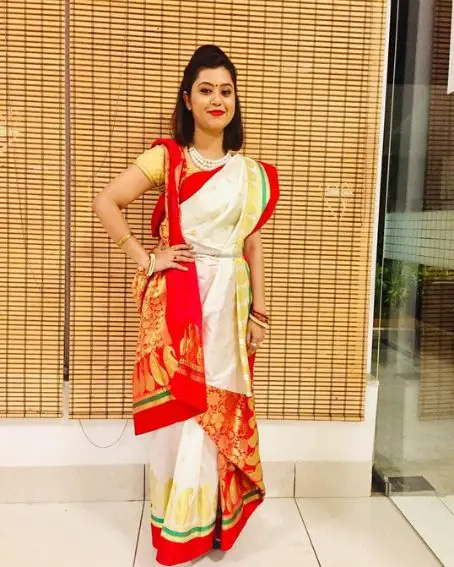 The unique Bengali saree of cream with red border and pallu along with golden zari work. The gold classy blouse has a stunning look. Most women love to wear it at kitty parties and get-togethers in Bengal States.
[ Read: Latest Blue Color Sarees ]
3. Dark Red Bengali Saree Of Embroidery Border Border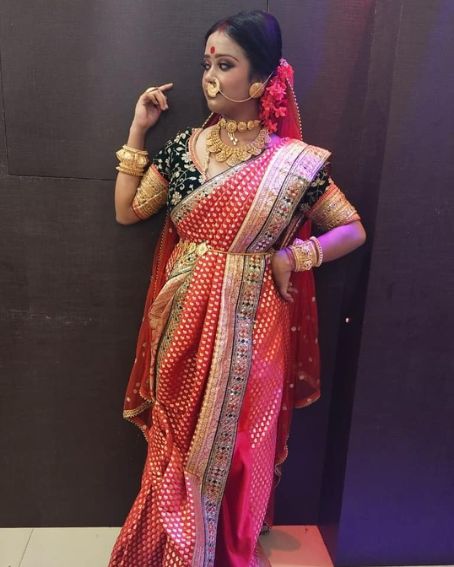 The royal look of dark red Bengali saree has a graceful look with a heavy zari border of gold color border. This saree is unique in its own way of black embroidery blouse. It is preferred for weddings and grand occasions.
[ Read: Entire Collection of Traditional Kandangi Sarees ]
4. Bengali White Saree With Red Zari Border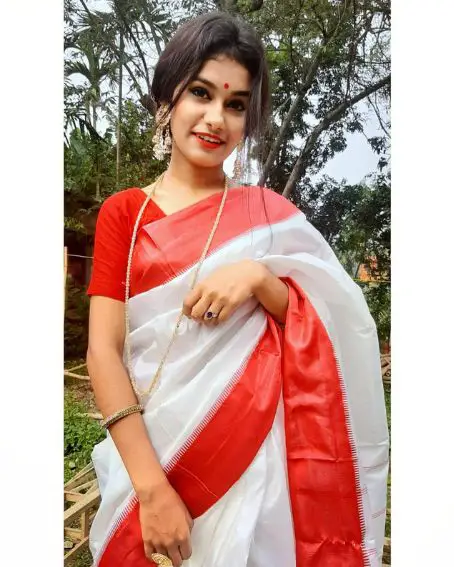 The fascinating Bengali saree of white color has a red border along with small stripes that give a bright look.Many women are crazy for this saree due to its artistic pattern.
[ Read: Good looking Baluchari Sarees ]
5. Bengali Style black and white Saree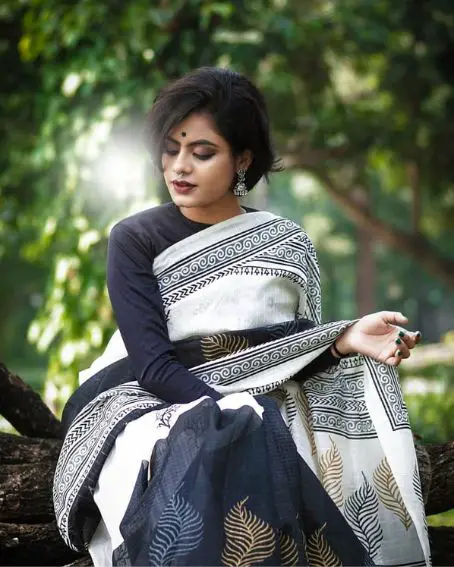 The amazing pic of Bengali saree is in black and white combination. The fabulous curves and patterns on the saree are very pretty. This kind of sarees look dignified in official meetings.
[ Read: Fresh Designs of Venkatagiri Sarees ]
6. Bengali Saree With Maroon Color Gold Border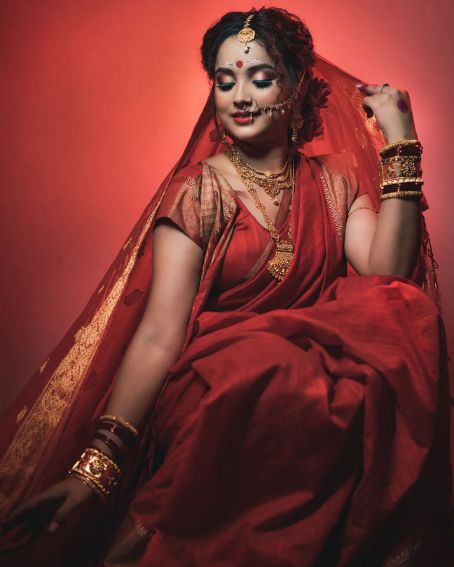 The divine look of maroon Bengali saree is very much preferred for Poojas and cultural events. This pattu saree glitters with a gold shine border that makes it more special. It's a must try for every woman to enhance her appearance.
7. Bengali Saree With Red And Gold Color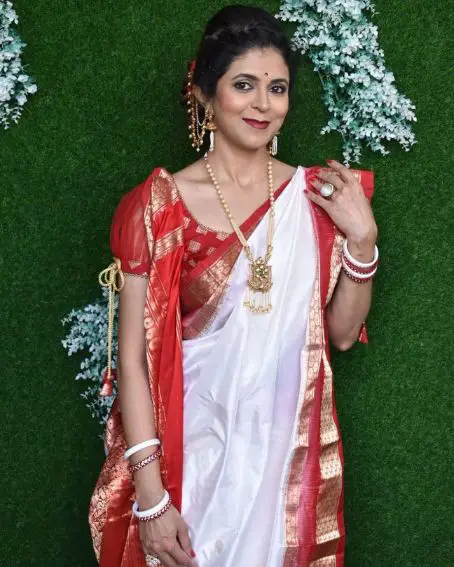 The dazzling look of red Bengali saree with golden finishing is mesmerizing. The most attractive saree among all the combinations. The broad golden border gives a fancy glance.
8. Bengali Saree Of White And Red Color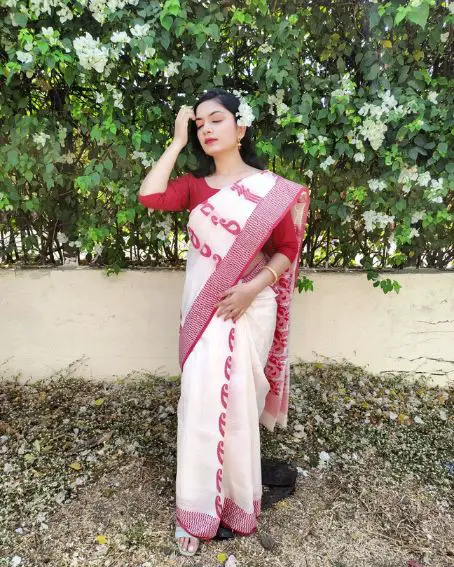 The stylish look of white Bengali saree has a red border with gold finishing. The finest net crochet pattern of red blouse gives a trendy look along with striped pallu.
9. Maroon Bengali Saree With Zari Border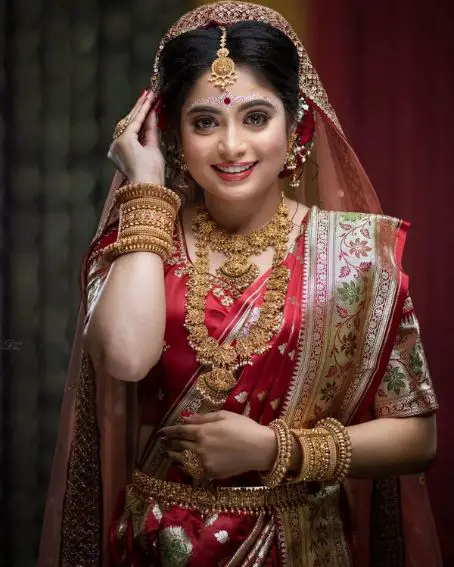 The lustrous Maroon Bengali bridal saree of silver zari border is very nice. The finest material of this saree has a smooth texture. The modern embroidery blouse suits on this saree with a radiant look.
10. Traditional Bengali Saree With Beige Color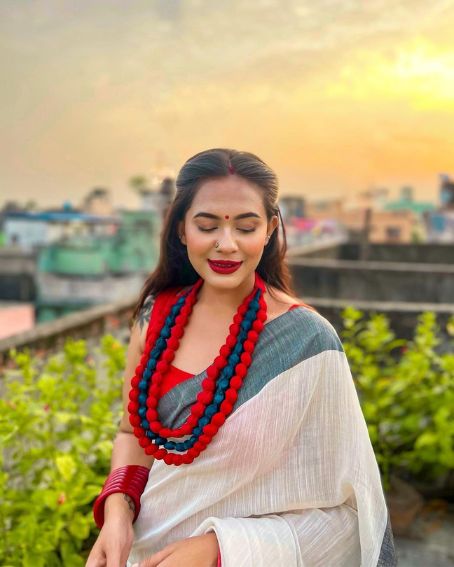 The rich look of Bengali saree is in beige color. The pretty great border is very good looking saree for parties and traditional events
11. Bright red Color Bengali Saree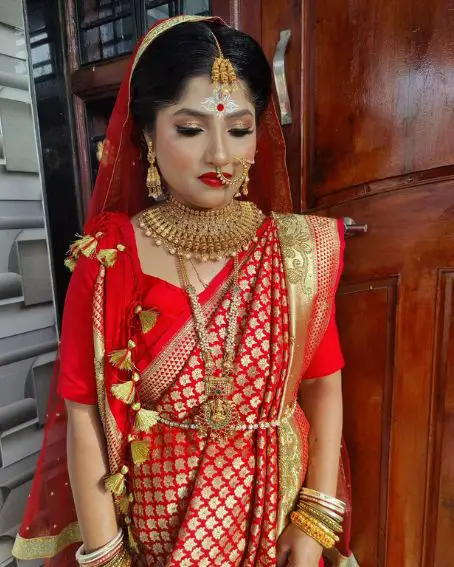 The seamless glow of bright red Bengali saree in banarasi silk mix. Women crave to wear a classic saree in festive seasons. This saree has a heavy gold zari work finish with a shiny appearance.
12. White and red Bengali Saree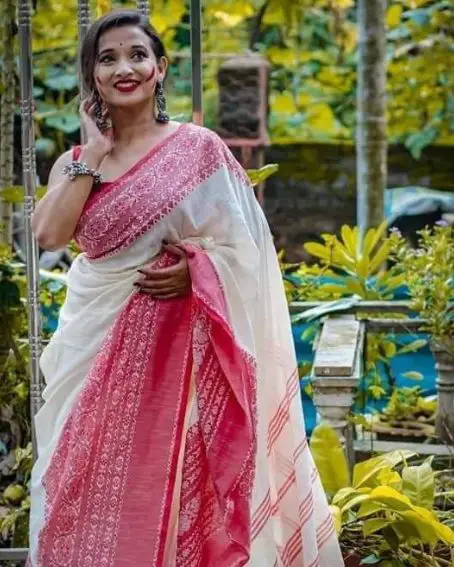 The lovely Bengali saree is very beautiful with white color and red border. This is a simple plain saree that is used as formal wear. This saree is matched with a red sleeveless blouse for elegant posture.
13. Red and white Bengali Saree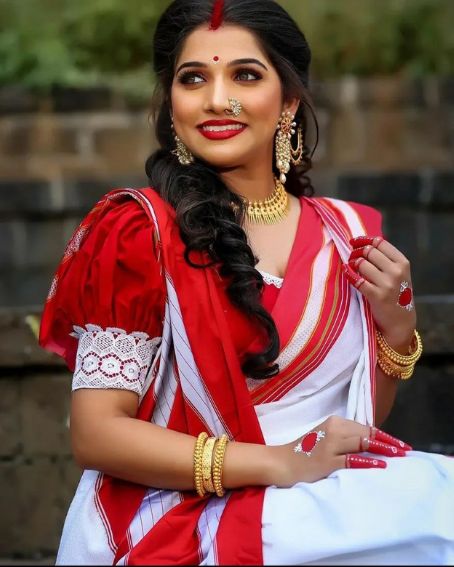 The bright look of Bengali saree with white colour and striped red borders. It is worth preferring for festivals and events. The saree has a fluffy blouse to make it more fabulous.
14. White And Bright Red Color Bengali Saree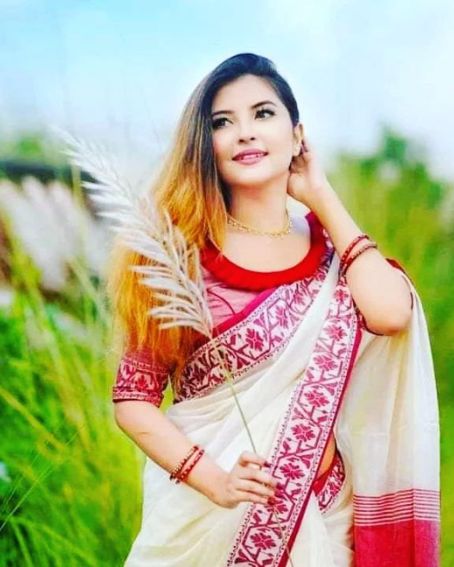 The splendid view of Bengali saree with white color and floral red border. This gives a traditional look and is preferred for wedding ceremonies and functions.
15. White And Red Floral Border Bengali Saree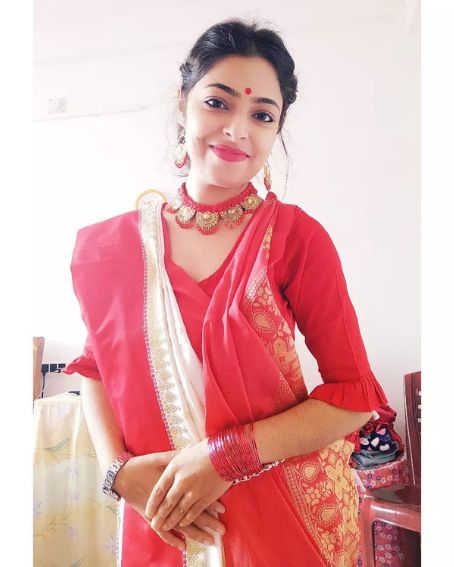 The awesome look of the Bengali white saree has three fourth length of a blouse which gives a charming look. The gold finishing pallu lace is designed in such a way that it changes the entire attire of the saree.
You Might Also Like: