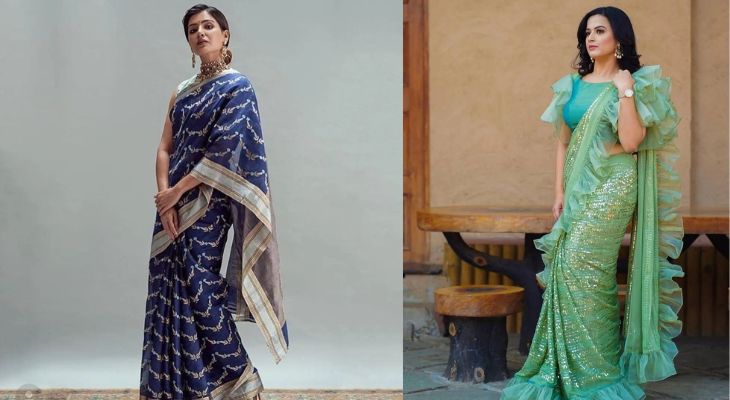 Are you eagerly counting the days for your farewell to get decked up in stunning sarees? Then this article is for you. A saree is a farewell staple. You might wonder what kind of sarees suit farewell parties. This article helps you in attaining some ideas of awesome sarees that you can flaunt at your farewell parties and be a show stealer.
20 Awesome Pics of Saree for Farewell Party
1. Pink And Black Fashionable Saree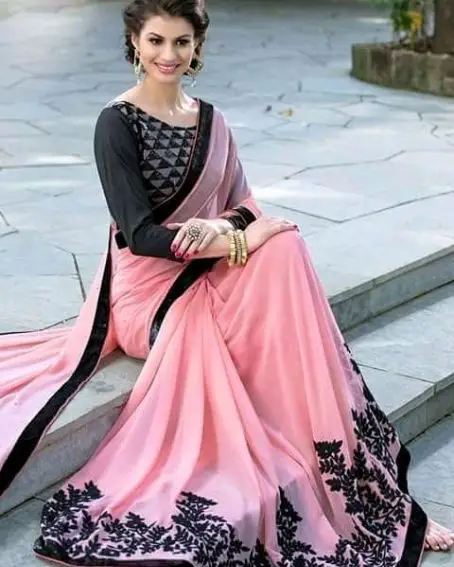 This pink and black saree looks stunning with beautiful black embroideries at the bottom. Teaming it up with a black elbow-length blouse and dazzling earrings may add to the charming look.
[ Read: 14 Gorgeous Pics of sri lankan wedding saree blouse designs ]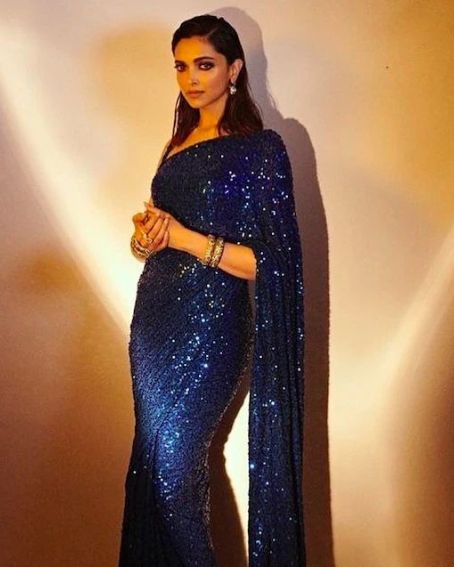 This navy blue shimmery saree is all about shine and glitters. The perfect saree for you to bling and glow at your farewell party. Wear simple accessories to enhance your look.
[ Read: 13 Different Types Of Sarees As Per Religion in India ]
3. Pink Georgette Saree With Stone and Piping Work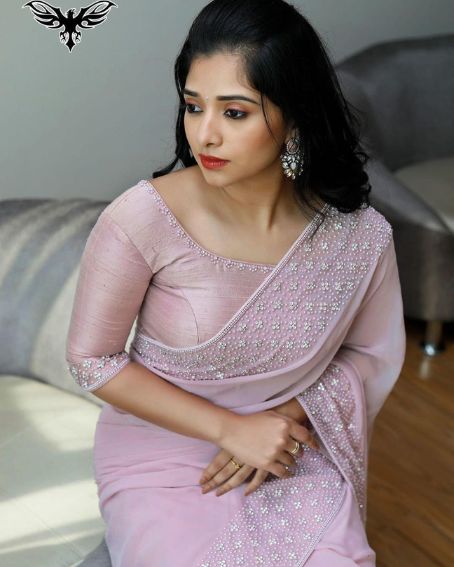 Get decked up in this premium soft georgette pink saree featuring hand stone work and piping at the borders to get that rich and elegant touch. Pair it with a decent elbow-length matching blouse.
[ Read: Beautiful Pics of Indian Wedding Saree Blouse Designs ]
4. Black Cotton Linen Saree With Gold Zari Prints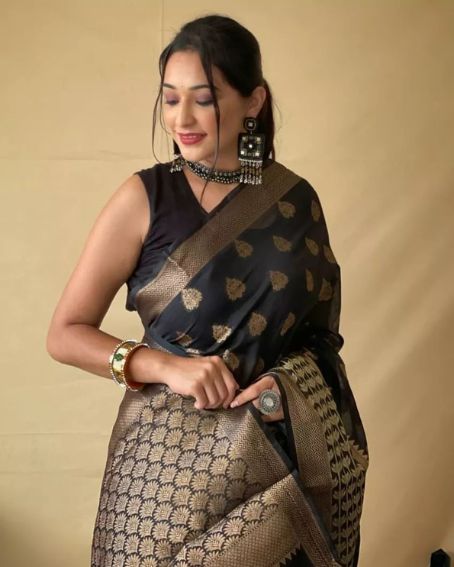 This black cotton linen saree is designed with amazing gold large motif prints all over the body and intricate gold print designs on the border and pallu. Sport it with a plain sleeveless black blouse and metal jewels that are enough to complement the saree.
[ Read: 40 Latest Back Neck Blouse Designs ]
5. Ombré Trendy Sequence Work Saree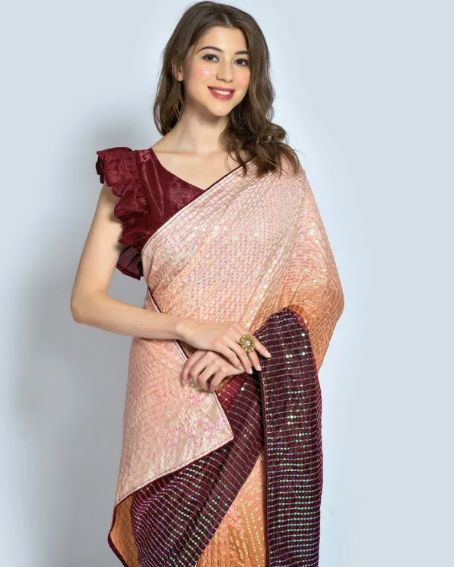 This ombré saree is lightweight with blinging sequence work. This can be perfect for your farewell matching it with a darker shade ruffle handed blouse. Team it up with a nice shiny clutch and minimal makeup and rock on your farewell party.
[ Read: 20 Beautiful Pics of white and gold saree ]
6. Plain Satin Saree with Heavy Embroidery Blouse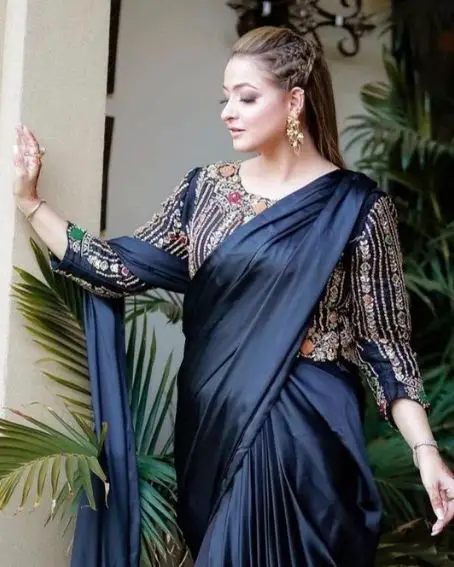 This plain satin saree is easy to carry and you can dance all night at the farewell party. Stitch an elbow-length long blouse that has got heavy embroidery in it. You will look unique in this saree styling it with a braided hairstyle and huge earrings.
7. Off White Gold Saree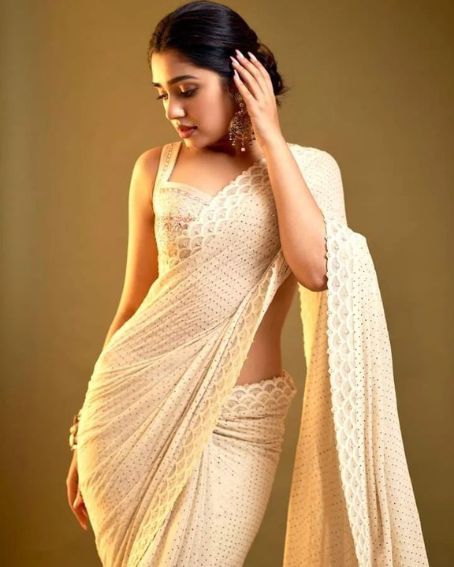 Look like a glam diva in your college farewell by pulling this amazing off-white and gold combo saree. Match it with the monochrome sleeveless princess-cut blouse. You can knock off your overall glimpse with some big stone and pearl chand bali earrings.
8. Baby Pink Heavy Organza Silk Saree With Fancy Embroidery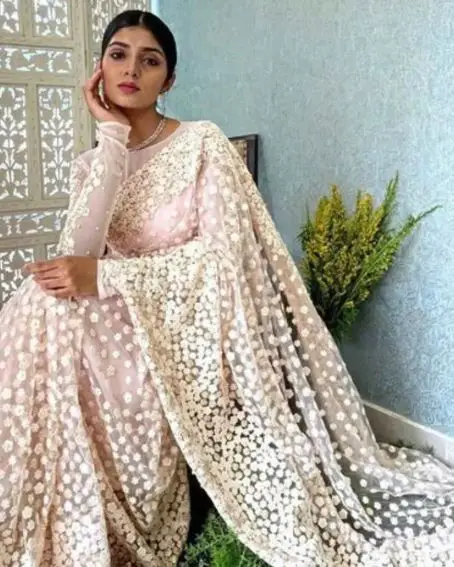 This organza fabric saree features a heavy fancy floral embroidery all through it. Pair it up with a monochrome closed-neck full-sleeve blouse. Adorn yourself with the simple stone necklace and stud earrings.
9. Ash Grey Sequin Designer Saree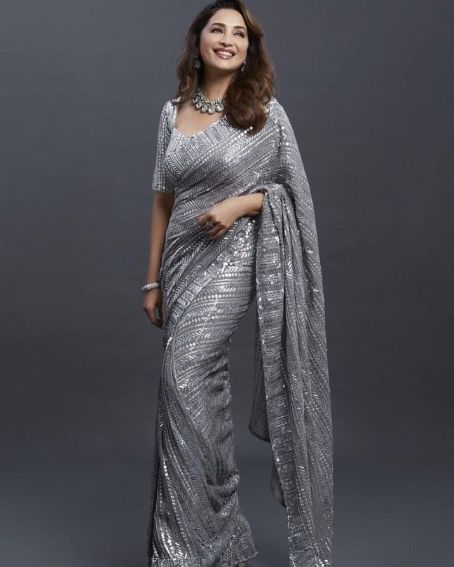 Young college girls love wearing glittery ethnic outfits on their farewell. One such ethnic wear is this fabulous ash grey georgette fabric saree with heavy sequin designer works. Team it up with white stone embellished accessories to finish off your look.
10. Dark Pink Handwoven Chanderi Silk Saree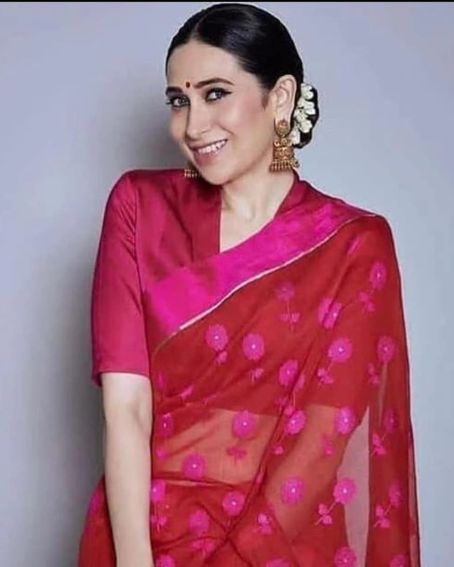 If you want to steal hearts with a traditional yet modernistic saree appearance, then pick this handwoven chanderi silk saree. This saree has got beautiful flower prints on it which you can match with a closed deep neck plain monochrome blouse.
11. Blue Checked Designer Saree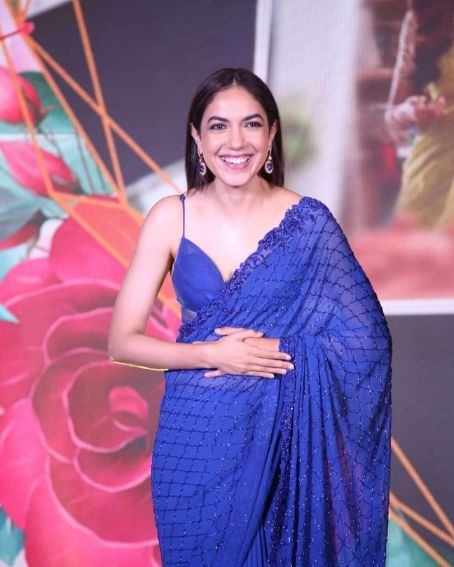 A beautiful checked sequin saree with a designer border are enough to make the overall glimpse appropriate for your farewell. It won't make you look too over the top but at the same time makes you a showstopper on this special day.
12. Neon Green Saree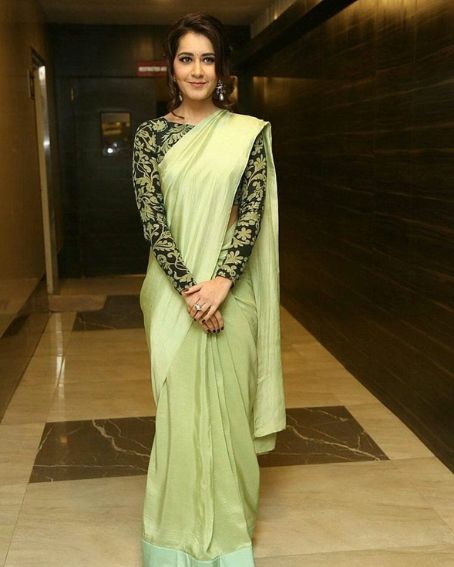 If you want to keep things simple and yet stylish on your college farewell, then go for this elegant neon green saree pairing it with full sleeve boat printed blouse. Dangling earrings and a messy hairdo are enough to complement your appearance.
13. Half And Half Saree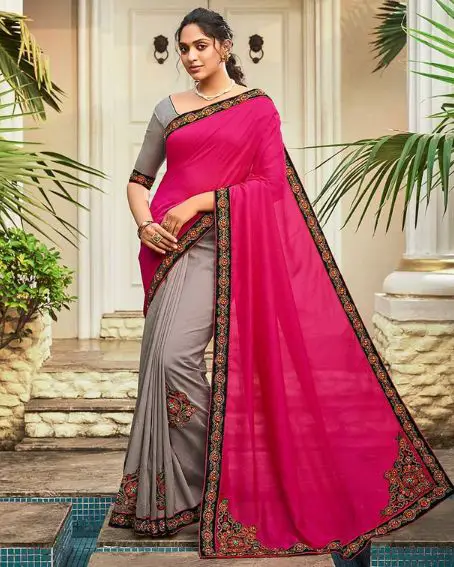 Half and half sarees are always a great option that brings out two colors complementing each other perfectly. Wear this pink and dark grey thread work embellished saree that's totally party-worthy. Add unique antique jewels and a purse and you will slay.
14. A Net Designer Saree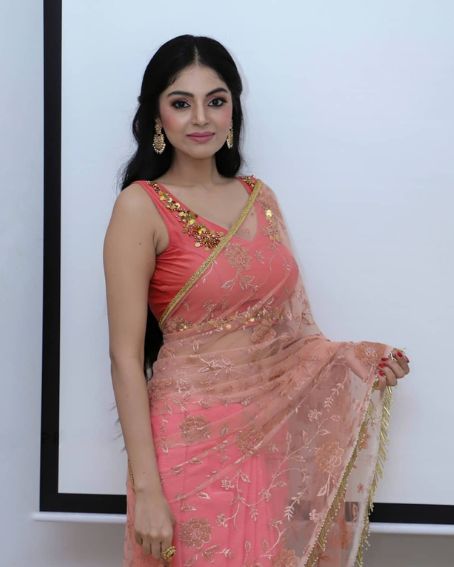 This light pink Net Saree features heavy embroidery and stone embellishments. Opt for a pink sleeveless blouse with a heart neck and heavy work for the ultimate saree look. Choose this saree for your farewell and highlight your cheekbones and wear dangling earrings for a farewell party glam.
15. Purple Sequin Work Ruffle Saree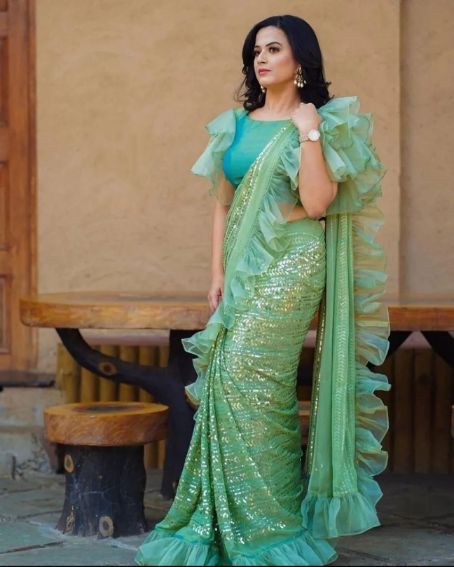 If this purple sequin work ruffle saree doesn't make you look like a princess, nothing will. The shimmering sequin work combined with ruffles makes this saree go pretty. Pair it with a saree color ruffle blouse to add glam to your farewell party.
16. Multicolor Designer Saree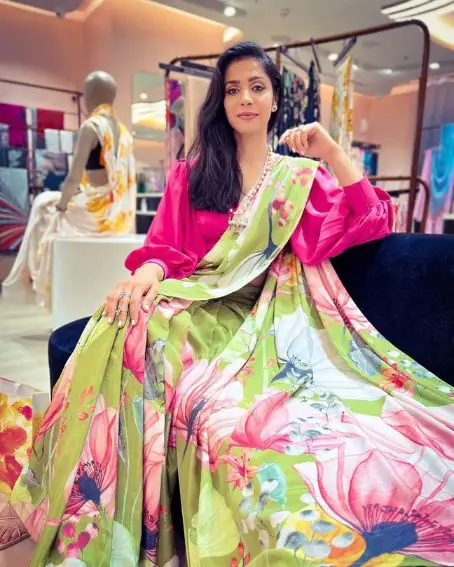 Splurge on this multicolor amazing floral print saree and attain compliments that will last you a lifetime. A nice vibrant pink puffed long-sleeve blouse emphasizes this saree. Pair this comfortable weightless saree with a flats slipper.
17. Chanderi Handloom Soft Silk Saree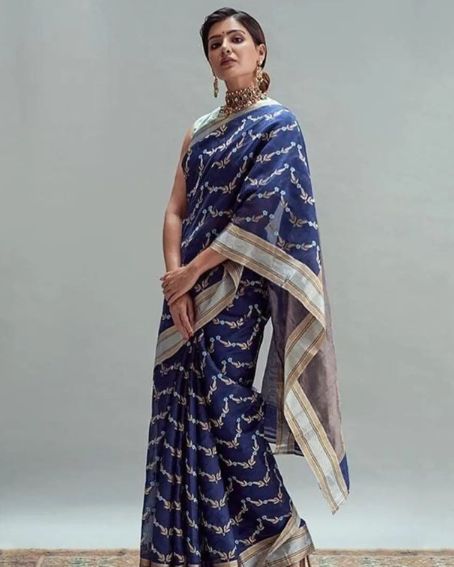 The sequence of necklace design pattern and silver stripe zari border is what makes this saree go from basic to the boss. Pair it up with a closed white cotton sleeveless blouse for an ethnic look.
18. Dark Grey and Brown Shimmery Saree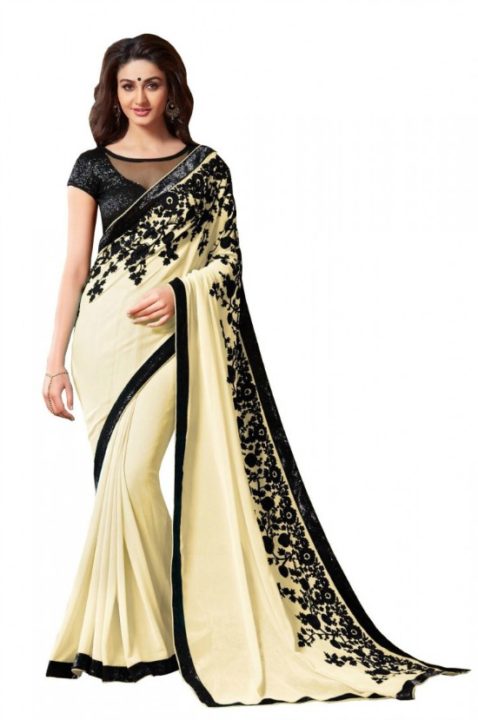 You will be effortlessly gorgeous and glam with this dark grey and shimmering brown border saree. Team up this saree with a belt for a chic appearance. A glam makeup and pearl jewel set make you shine perfectly at a farewell party.
19. Bronze Gold Tissue Saree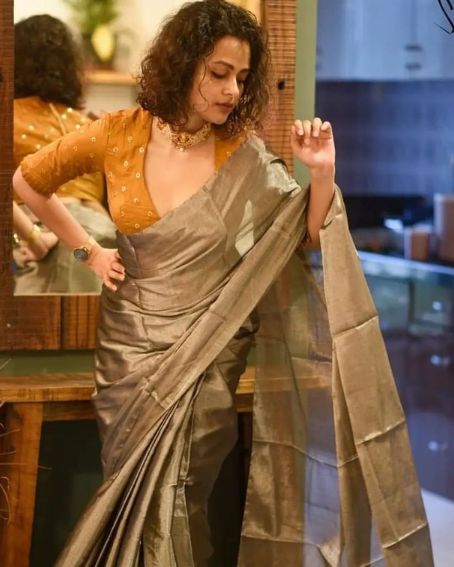 A bronze gold tissue saree is a lightweight and plain woven fabric. Wearing this saree with the matching blouse is what makes you appear versatile, stylish, and statement worthy.
20. Art Silk Saree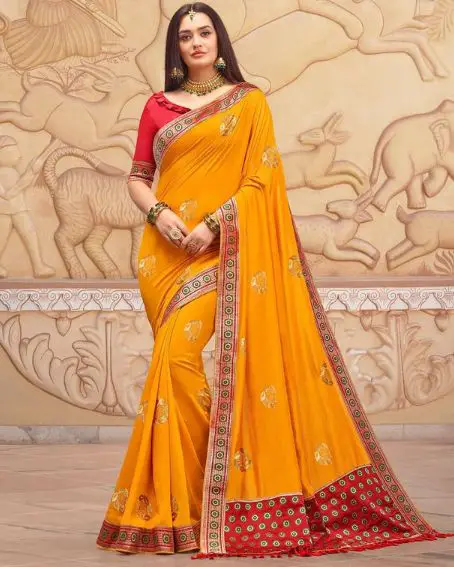 This kind of saree is perfect for any kind of party. This saree looks amazing with heavy zari and embroidered work with woven border details. A boat neck elbow-length blouse worn with this saree can make you look chic and unique.
You Might Also Like: