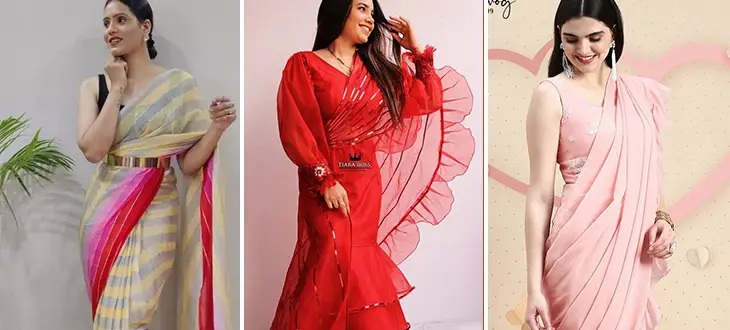 Indian dressing style is truly awesome and they known when and what moment need to wear what type of dresses. Different occasion and events have distinct wearing styles whether you say about wedding ceremony, birthday party, conference, cultural program, events, traditional function, or others all categorized with dissimilar ways of dresses. As the most preferred and adorable traditional outfit for every woman is saree really they look a complete woman in saree always.Let us read to know different styles of wearing saree.
Saree Styles and How it Can Be Worn in Several Steps?
Women always look gorgeous on saree as wee today women mostly prefer western dresses they look smart and stunning but when you will see them in completely traditional look that time it provides them a great eye-catching appear in saree. There are different ways of wearing saree that can be worn on various styles but it depends where you are going or for what function you are attending exactly.
What are The Requirements to Wear Saree?
Simply you need to wrap saree that must be 6 yard drape saree cloth to drape around your body. Second requirement includes blouse this is important part of saree that doubles the elegance of a saree. Third you require petticoat that should be worn bottom wear it is like a long inner skirt that helps to firm the wrapping of saree properly.
Basic Tips That You Must Care Before Wearing Saree That Includes
First of wear petticoat tightly on the waist, so that your saree is pushed in correctly without declining off.
Wear it on heals, or any footwear as well as the saree before putting on, makes the right length wrapped around the body.
Must use all safety pins or clips to fix up saree plates and segments where the wrap is requisite to be preset.
How To Wear A Sarees Step by Step
In most of occasions we mostly wear sarees that increase our beauty and brings perfect glamour in the body.
1. Bengali Saree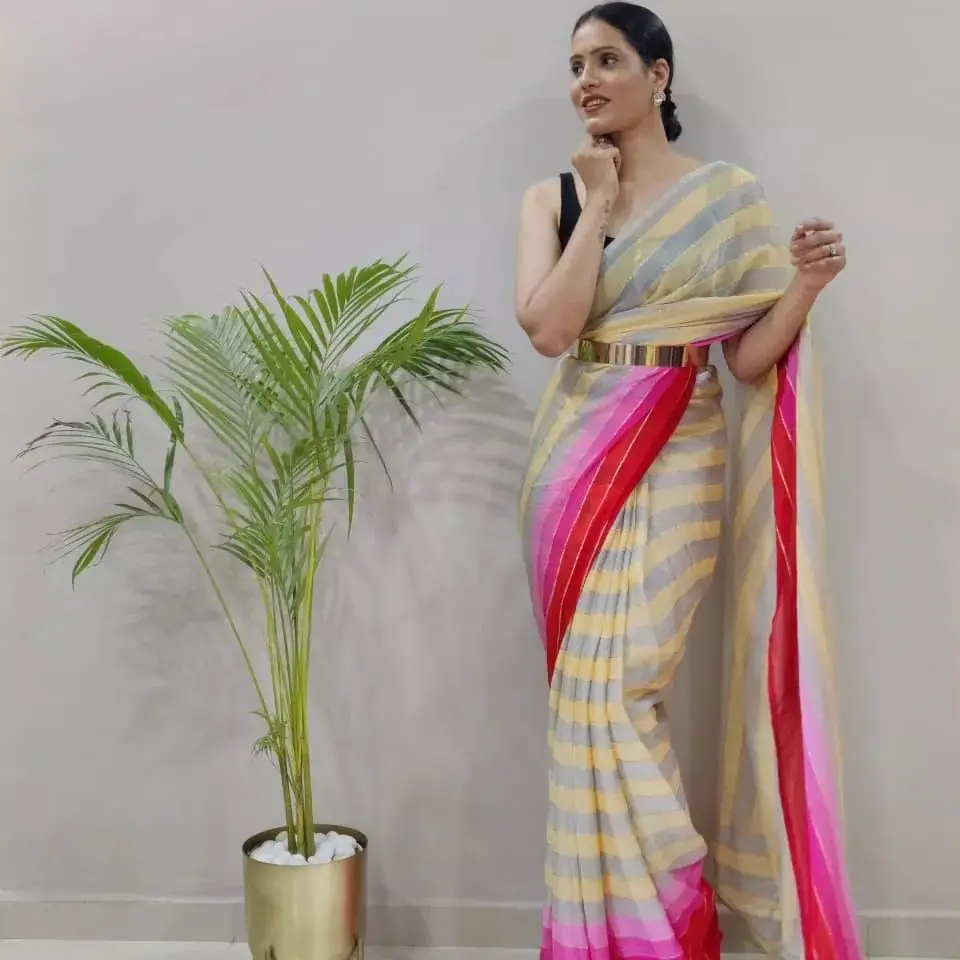 Bengali sarees are popular in west Bengal and perfectly provides very religious appear to every woman. Bengali women they wear saree very well-mannered that completely shows very royal and traditional look to them.
How to Wear Bengali Saree Step by Step
The fundamental step of wrapping saree need to drape around you from right to left and brings to centre before taking the pleats, tuck it in the petticoat.
Next take grip of the open border fold it inside the waist till left waist, then slope it and bring it to facade right waist by pushing it.
Do gaian the phase of sloping it again, bring it crosswise left waist from front place on waist and slope again and lastly get back to right side waist from front and tuck.
Then take the width segment and create pleats of the entire width in 5-6inches where border meets on front and initial pleat. Pin it in place form declining off.
Taking pleats perpendicular throw the pleated wrap on your left shoulder front to back in all possible length hanging on backside.
Then come to the position of holding the first pleat border, dispersion it crossways your back to the right side, carry the area in front under your right armhole to the peak of your right shoulder falling it back on the right shoulder. A fringe or hanging is closed to the corner and left in position.
2. Gujarati Saree
Gujarati saree is quite populat in Gujarati wedding ceremony, events, and other traditional programs.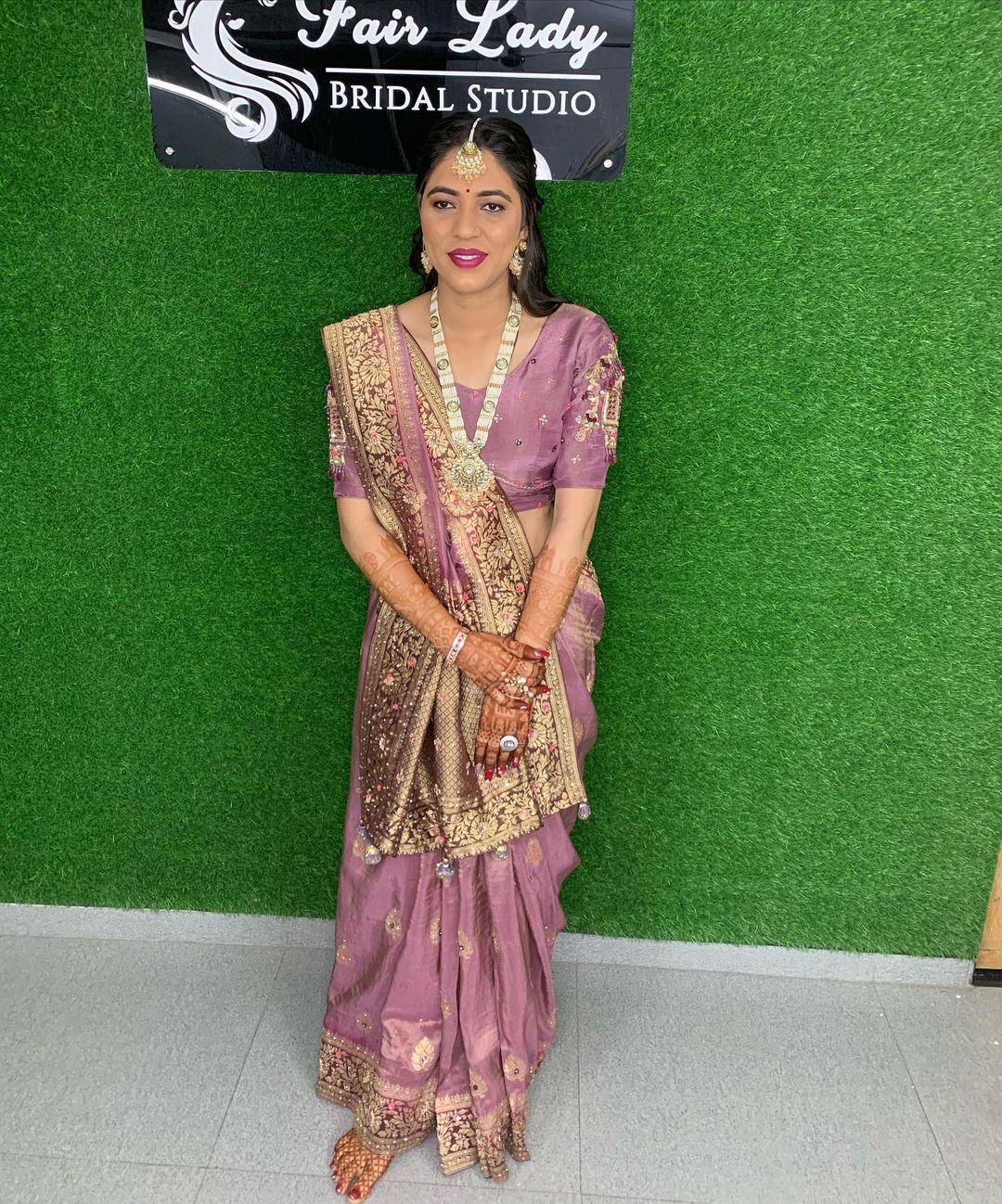 How to Wear Gujarati Saree  Step by Step
The exact style of wearing Gujaraiti saree that needs to wrap from start to the till the pleats taken and placed in to the centre petticoat in front of the left.
Next is to get the breadth segment of the last part wrap and create pleats of the entire width in 5-6 inches, collect them tightly with the peak border as the former pleat.
Then grasp the pleats in straight up and bring them around your flipside waist from left side to the top right back shoulder.
Placing the pleats from right shoulder back to go down facing in a technique which the pleats open to the left hand side and on the right facade bodice in a length less than a metre.
Put the pleats on the shoulder point with a clip to attach it, lift the first border edge and drag it crosswise your left side taking it beneath the left armhole and put it to your left backside waist.
[ Read: 19 Awesome Images of Slim Sarees ]
3. Marathi Saree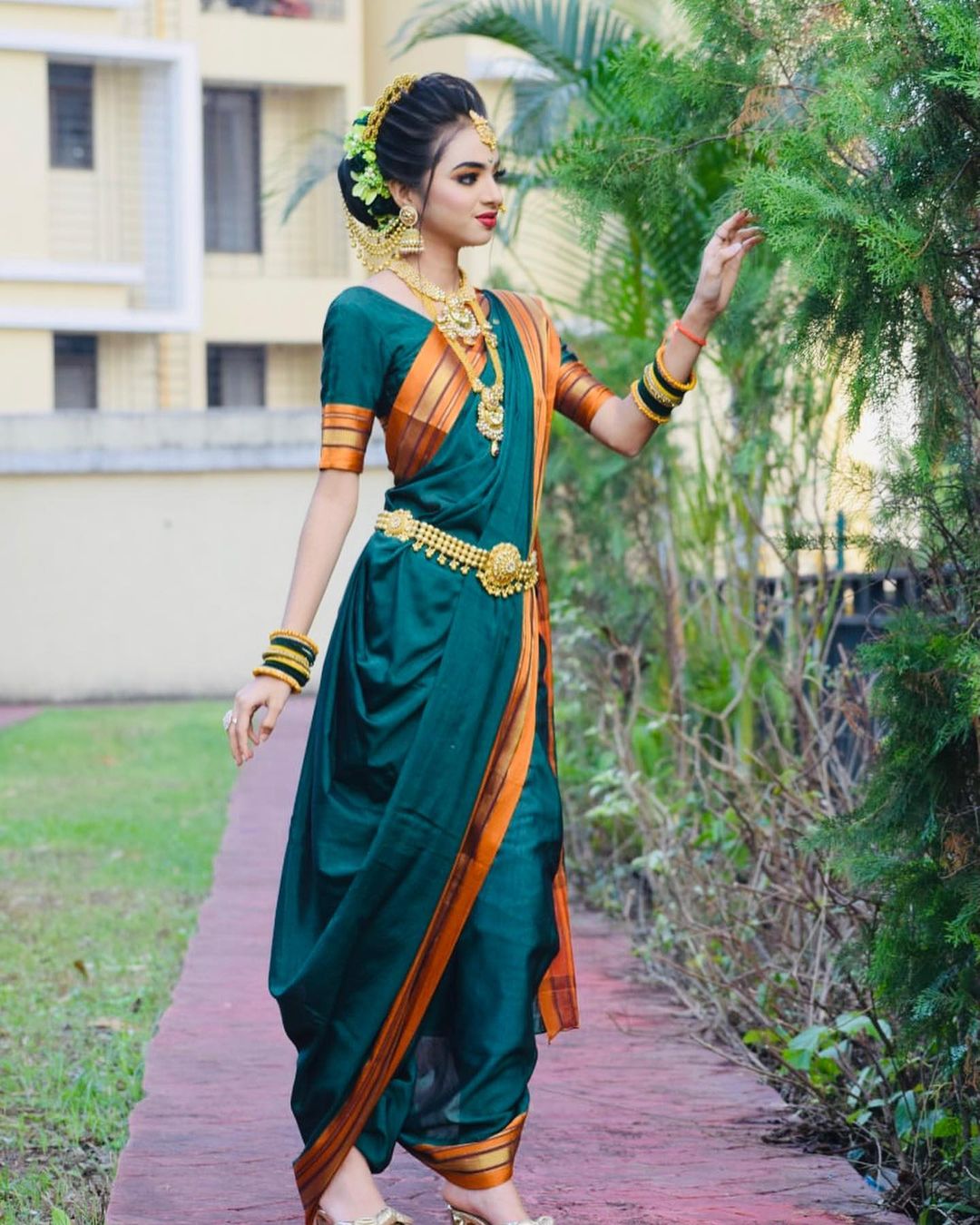 Marathi saree is extremely famous in Maharashtra whereas, women are very active and feel comfortable in Marathi style of saree.
How to Wear Marathi Saree Step by Step
Foremost for draping a saree till the segment of minor drape pleats.
Insert the pleats in the waist keeping them a little towards the left hand from center and in front of the left hand side.
Next lift the open edge of the sari and making pallu pleats of the entire width in 5-6inches.
Toss the pleated wrap from spiraling in from the left back to the right bringing in front, under the right armhole to the left front shoulder.
After then take the drape center middle pleat of the subordinate edge. Tucking it through between the two legs and dragging it up from the back middle in an orderly form.
Continuing the border perimeter in facade vision put it in the waist center back of the petticoat. It expands more free movement completely give a dhoti look.
[ Read: 15 Beautiful Pics of Indian Wedding Saree Blouse Designs ]
4. Parties Saree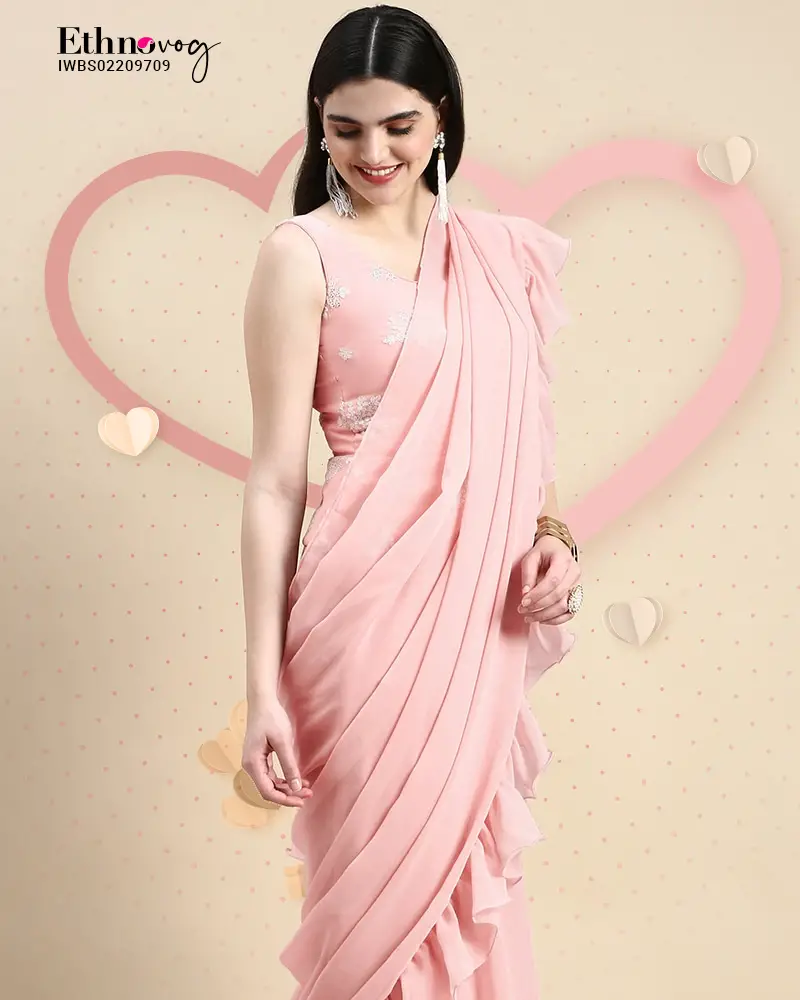 In parties when it comes to wear saree so, obviously you want to look hot and sexy as well as saree wearing style will be quite different than other particular traditional sarees.
How to Wear Party Saree Step by Step
Fundamental techniques of wrapping the saree from 1 to the footstep you put up the pleats of the minor drape and insert them in.
Secondly, you should grasp the rim of the saree which meets exactly after the put in pleats, and twirl the top border edge here facing down so the border can descend on a lower length.
Grasp the breadth part of the saree and just unequally meet it and pinning it crossways your back bring it from your right under arm to front and tossing it back your left shoulder.
The pull the part you have twisted downward after the pleats, for it to droop till your hip level, dragging and widening it consistently on your left hip passed on to the back and kept to draped till the right underarm passing wrap.
Finally adjust the pleats correctly to fall on the shoulder which was previously temporarily thrown at the back. Manage the borders on the frontage bodice to look two equivalent line until gathering at the left shoulder point and clip up to attach it in place.
[ Read: 20 Amazing Pics of Western Look Sarees Designs ]
5. Mumtaz Saree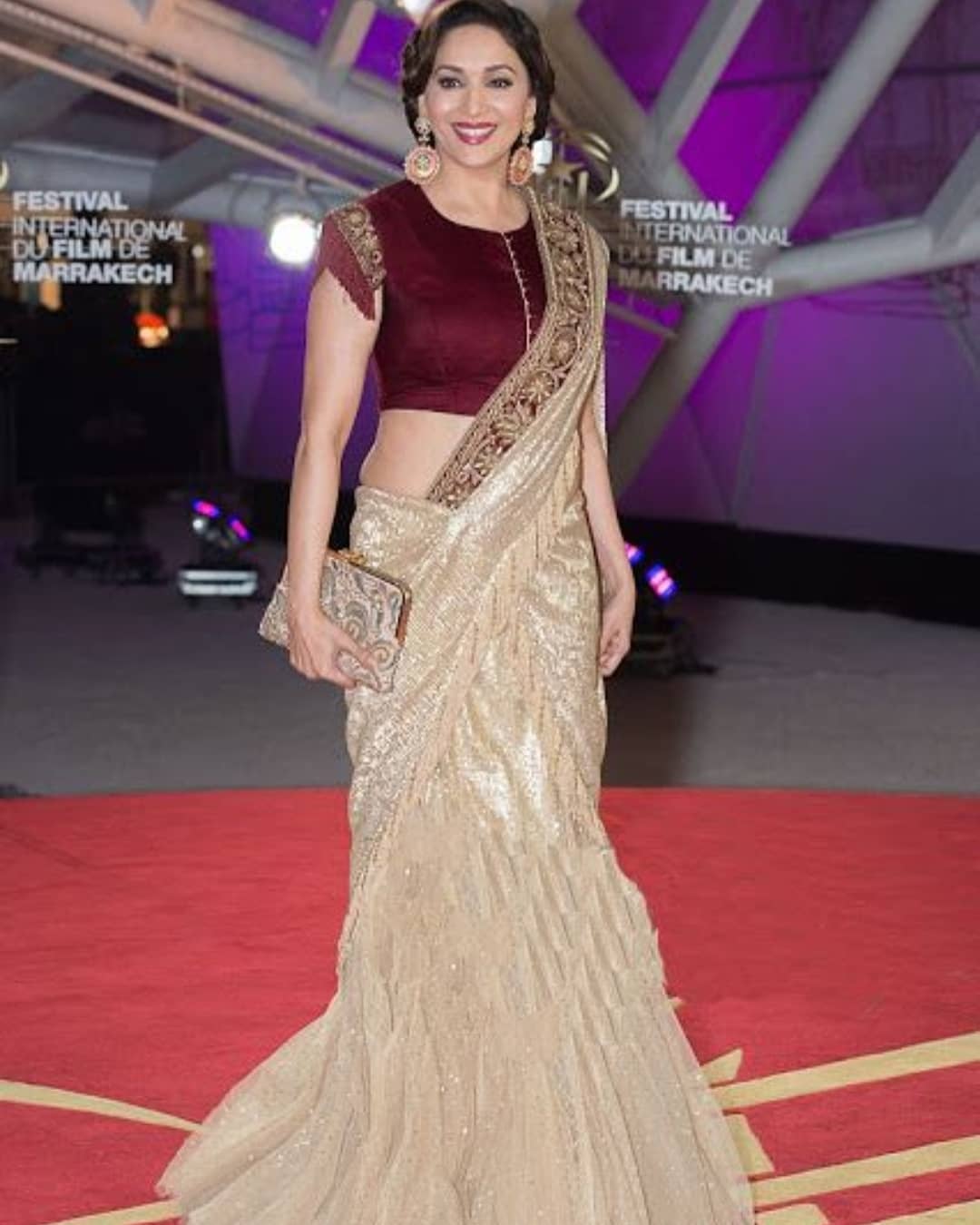 The bollywood diva Mumtaz was one of the sexiest and the best actresses during 1990's she wrapped a very stylish saree in layers segments. Let's know about Mumtaz saree style.
How to Wear Mumtaz Saree Style
Firstly finish the 1st and 2nd pace of the essential draping saree, till where insert in the centre of the petticoat before pining in pleats.
Next brings 2 pleats of 5-6 inches and insert them in front of the left hand side.
Lifting the longer edge of the saree from the centre pleat drape around the left side to back until carried ahead at right side waist.
Put it 5-6 inches over the normal toe length of the saree. As same way unless carried on twist in same till right side yet again.
Again put in on top of the level of another 5-6 inches and keep on in the level and drape around the waist of right side.
Now create pleats of the breadth segment, in 5-6inch and then taking it under the right armhole carry it crosswise the front to left shoulder and toss it falling back side.
Place the front bodice wrap to become more slender then the common wrap and pin in point at the shoulder.
[ Read: 20 Different Look Gorgeous In Your Chantilly Lace Saree ]
6. Mermaid Saree Style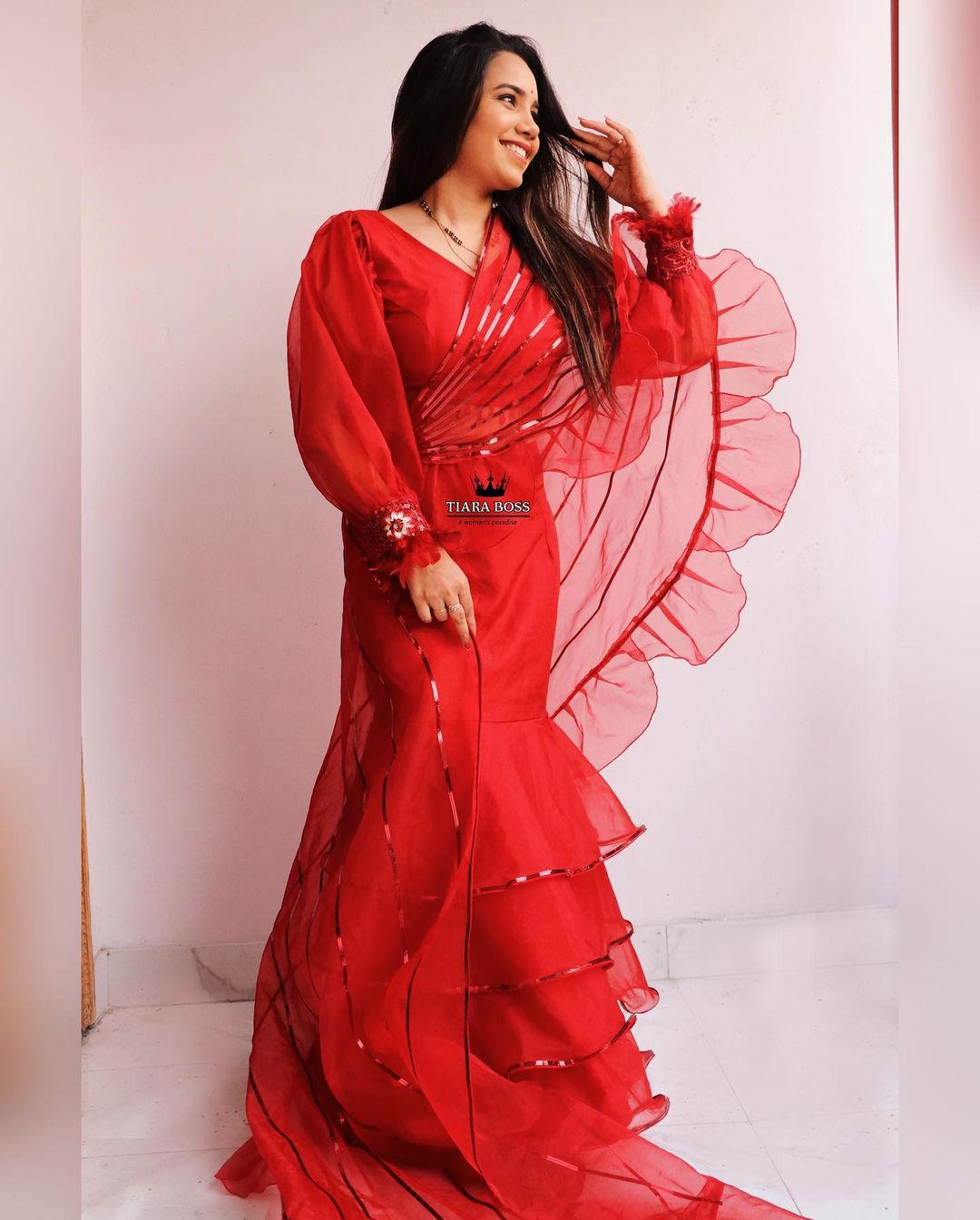 This saree style gives you complete fit and fine mermaid look where it provides amazing amalgamation of beautiful and golden look as well.
How to Wear Mermaid Style Saree Step by Step
Firstly get the fundamental wearing steps of the start till the step after insertion the edging on front level centre petticoat insert, there is no pleats, put the edge till your left side waist.
Next hold the open edge and grasp width segment to form pallu pleats of the whole width in 5-6inches keeping the peak border on top as first pleat.
After that you should get pleated wrap come across your left hand side to your back and right side. Tossing it from right back side to right shoulder front, as hanging on your right.
Remember as the length of your pallu should be lengthy reaching 5-6inches on top of the toe level, and then clip the pleats at shoulder point such as the Gujarati wrap style.
Then finally bring first pleat edge and extend it to your front bodice, draping around till back side, bring it again onward till the left side in full lengthened fixed form.
Then grasp the edge and clip under the wrap across, on the left side by the thigh.
[ Read: 20 Beautiful Pics of Pattu Saree Blouse Back Neck Designs ]
7. Professional Saree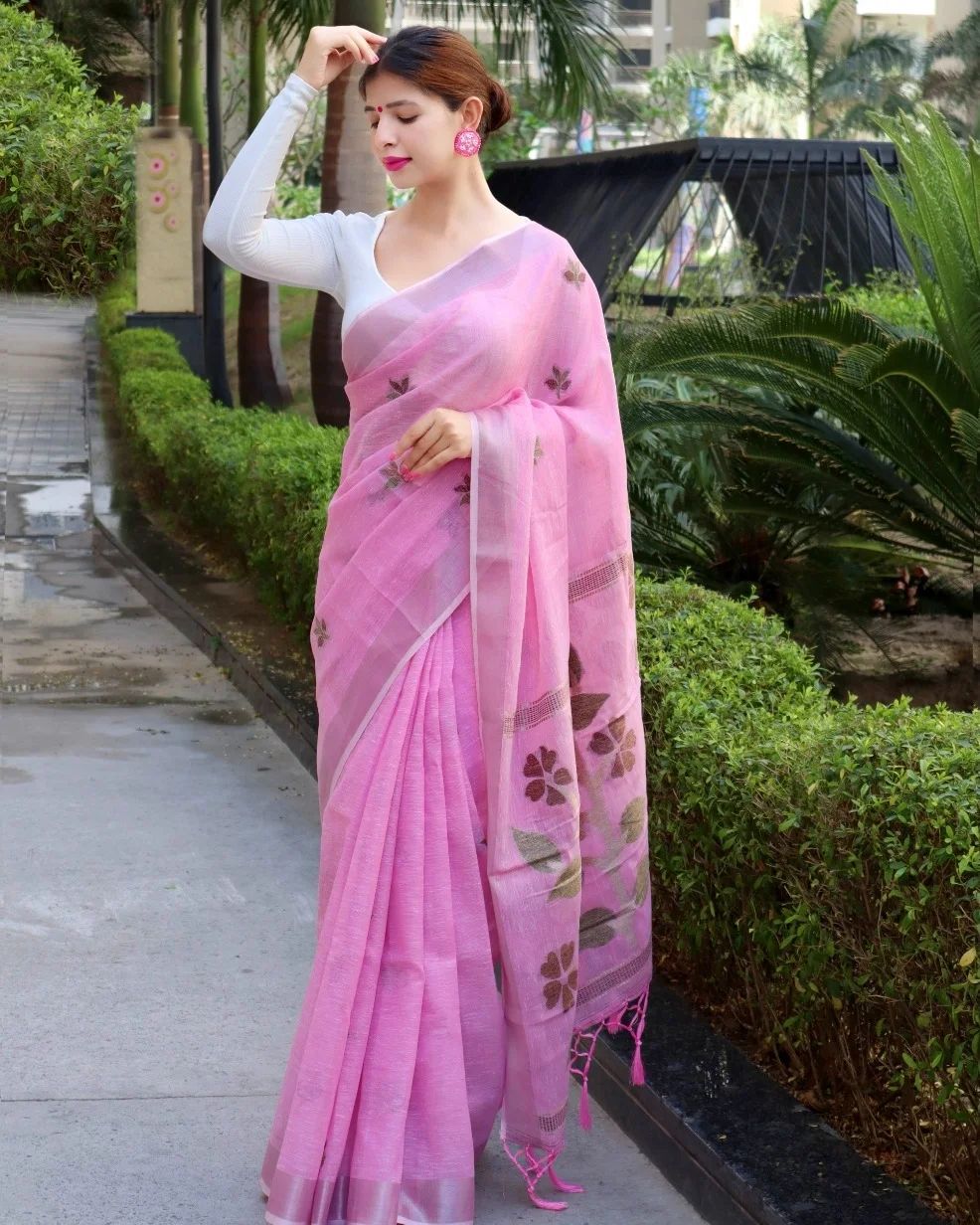 Professional lifestyle is quite different where you don't have to do as personal and you must be work like with other colleges. Your professional dress up as we talk about saree so, that must be decent and give rich and royal look.
How to Wear Professional Saree
Bringing the pallu pleats properly, pin up on the left shoulder and left hanging back.
The saree front wrap going crosswise the shoulder can be accustomed in either putting pleats in 5-6 inches in basic look, for smaller pleats 3 inches in fine look, or also 8-9 inches to wrap the bodice contentedly.
8. Open Pallu Style Saree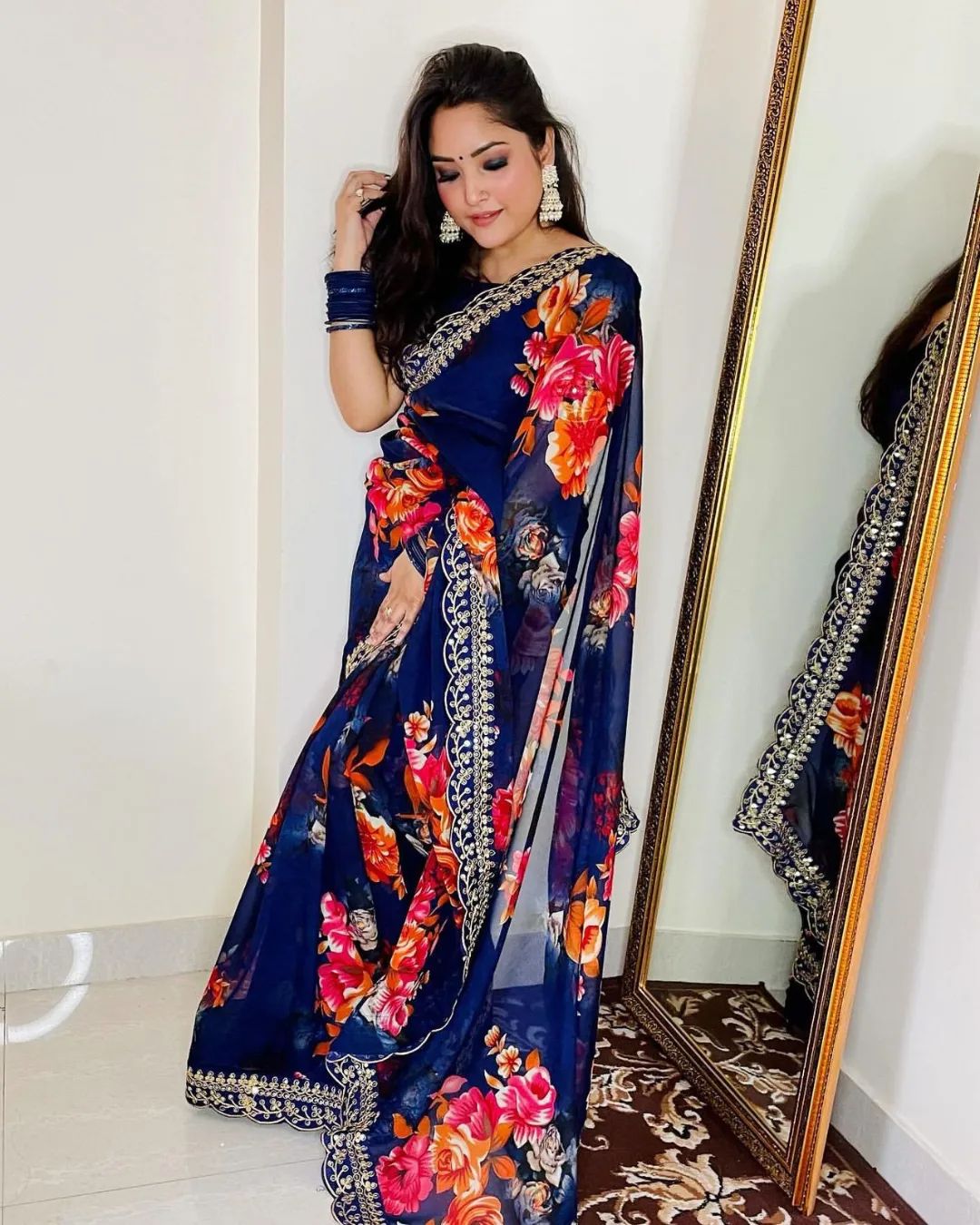 This style of saree wearing in open pallu style is common and looks more stunning when you are ready with clad of open pallu saree.
How to Wear Open Pallu Style Saree
Bringing the entire steps the same unless the pallu pleats are carried.
Don't create pleats, and just drape it wrapping front bodice, clipping the top edge on the left shoulder, let the other edge just droop down.
9. Pant Saree Style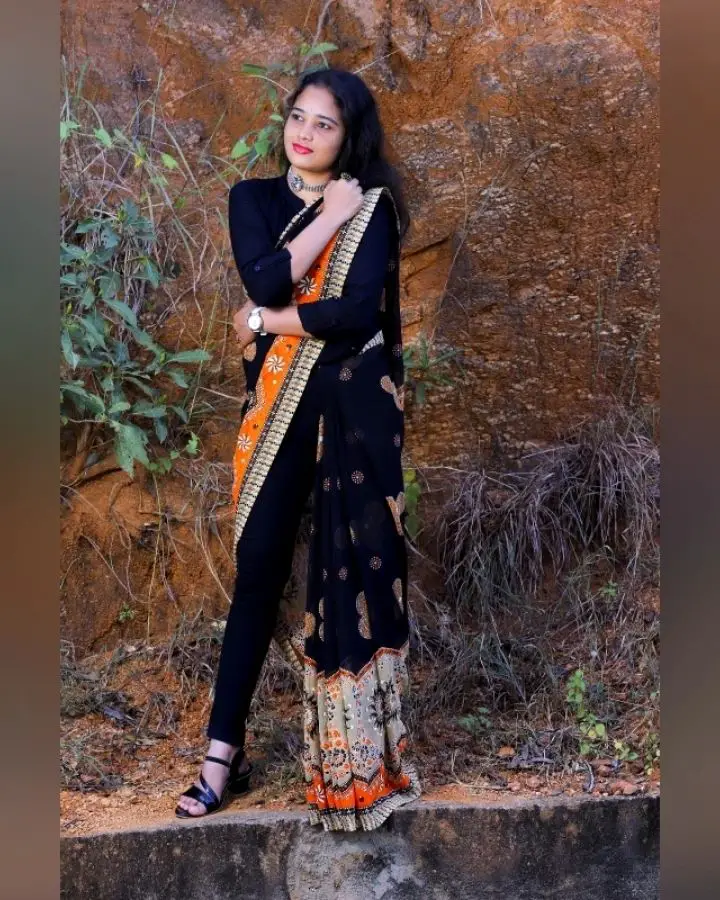 This is unique style of wearing saree that completely provides pants look.
How to Wear Pant Style Saree Step by Step
In this saree don't require to wear a petticoat for this in its place you need to put on a pair of leggings with ankle length or pants in ankle length and a fitting blouse.
Bring the saree pallu last part and make pallu pleats, then drags over your left shoulder.
Next bring other finish and bring it back from right side to your left waist side and tuck in correctly at waist.
Then entire loose hanging saree requires be pleating at the centre and putting in the centre of your pants
Finally re-manage the pallu pleats that your front bodice is draped up properly and clip pleat at shoulder.
Thus, the different styles of wearing saree really enhances your royal looks and give you a complete stylish appear to your body.
You Might Also Like: