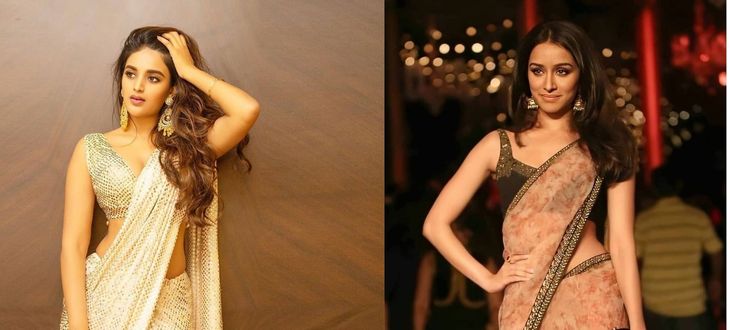 sarees in lightweight fabrics such as Georgette, Chiffon, Satin, or Crepe will help you look slim and glamorous. These fabrics will naturally adapt around your body and give you a well-fitted and head-turning look
Here are some of the beautiful actresses who appeared in a slim saree and looked gorgeous. So let's scroll down.
15 Awesome Saree Fabrics to Look Slim
1. Shilpa Shetty In Pale Pink Slim Saree And Blouse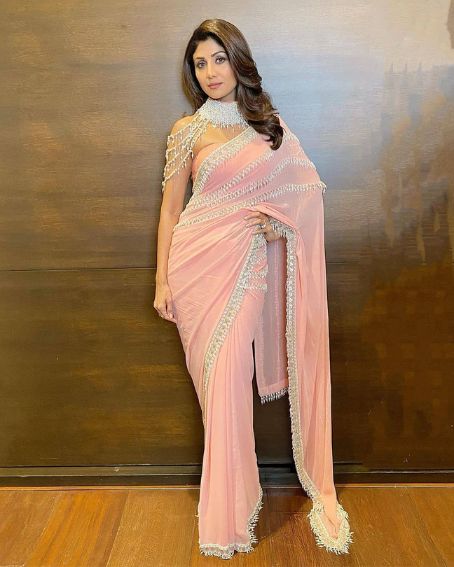 This is a peach color beautiful slim saree of shilpa shetty in which she looks gorgeous and slim. This samee is lightweight in chiffon fabric with white beaded lace border along with strapless blouse.
[ Read: Amazing Pics of Sonakshi Sinha in Saree ]
2. Sonakshi Sinha In Blue Floral Pattern Slim Saree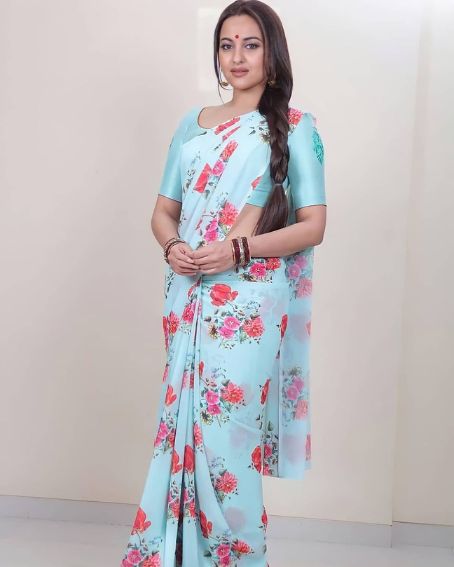 The gorgeous actress Sonakshi Sinha looks very simple and slim in this blue color floral pattern saree. This saree is in silk with floral patterns running all over the saree, with a sequin blouse.
[ Read: Awesome Pics of Nayantara In Saree ]
3. Sharadha Kapoor In Light Brown Floral Pattern Slim Saree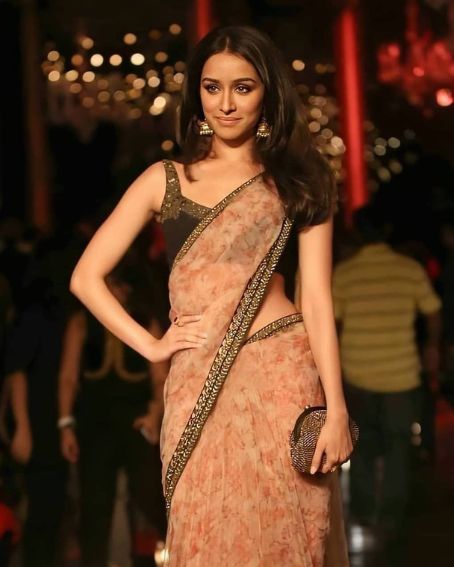 This is a light brown lightweight floral pattern chiffon saree with blace lace border, in which Sharadha Kapoor feels comfortable and slim in this new trendy saree with sleeveless blouse.
[ Read: Most Beautiful Pics of Shruti Hassan in Sarees ]
4. Trisha In Plain Red Slim Saree With Designer Blouse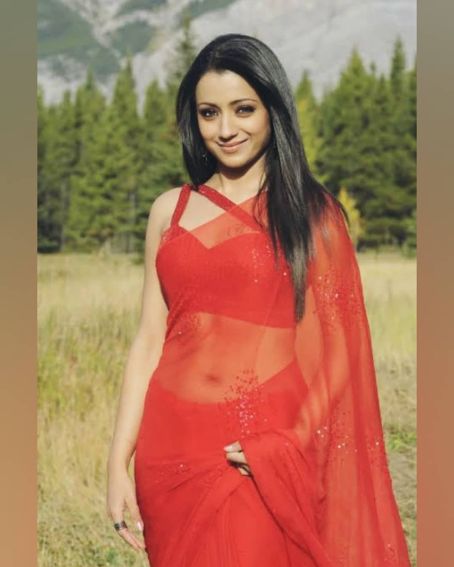 The radiant red coloured plain saree looks gorgeous on trisha which makes her feel comfortable and slim, with a sleeveless designer blouse. Thrisha looks bright and elegant in this plain silk fabric saree.
[ Read: Awesome Pics of Nayantara In Saree ]
5. Nidhi Agerwal In Fancy Slim Saree And Blouse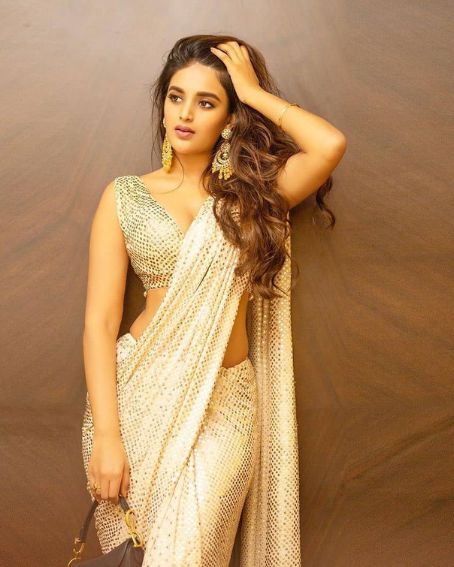 Nidhi Agerwal looks gorgeous in this bright and Radiant cream color saree with glossy, which looks very slim and shiny with a chamki finishing running all over the saree along with a sequin blouse. This saree makes her feel light and slim.
[ Read: Amazing Pictures of Shraddha Kapoor in Saree ]
6. Sunny Leone In Trendy Plain Green Slim Saree With Blouse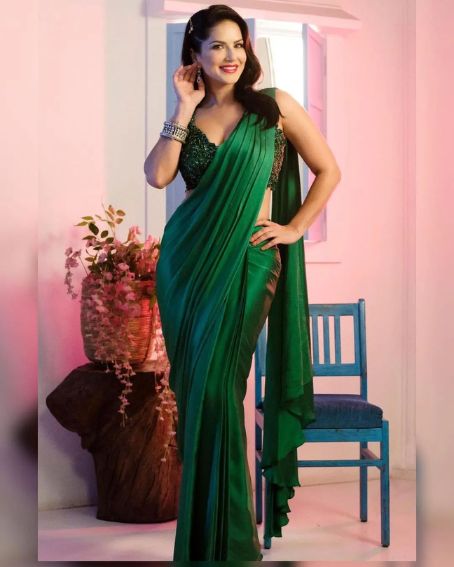 In this plain sarees sunny leone looks trendy and gorgeous. This is a slim saree with lightweight and comfort. This sarees is with a shining texture which will come along with a beadwork dark green blouse.
7. Kriti Sanon In Yellow Slim Saree With Raffle Fancy Blouse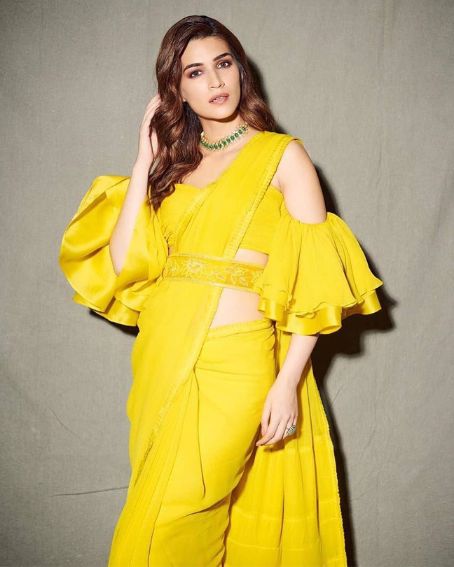 The dazzling look of Kriti sanon in yellow plain saree attire is so elegant. The saree has a thin lace border, In this plain chiffon saree krithi feels light and slim. The blouse also matches with a western style, dropped shoulders with raffles.
8. Jhanvi Kaphoor In Dark Pink Smil Saree With Blouse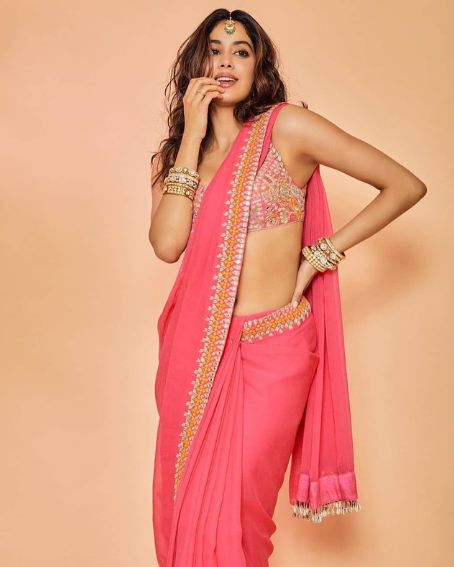 The adorable actress Jhanvi kaphoor has a splendid view of dark pink saree. In this saree she looks slim and feels comfortable with a lightweight saree with thread embroidery borders.
9. Deepika Padukone In Yellow And Pink Slim Saree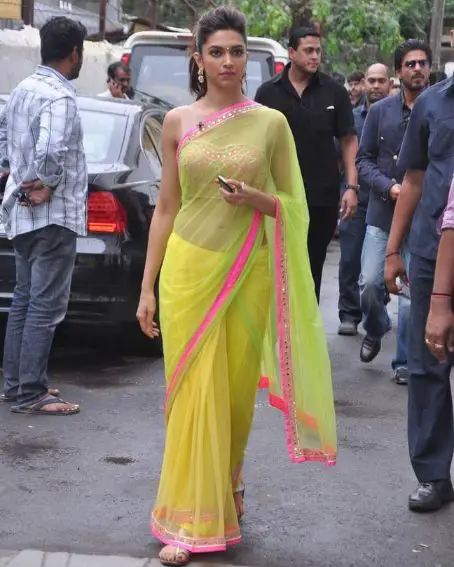 Deepika Padukone looks stunning in a yellow soft and silk lightweight saree which makes her feel light and makes her look slim. This saree has a mirror work lace border along with a strapless sequin embroidery blouse.
10. Rashmika Mandana Is Pale Green Slim Saree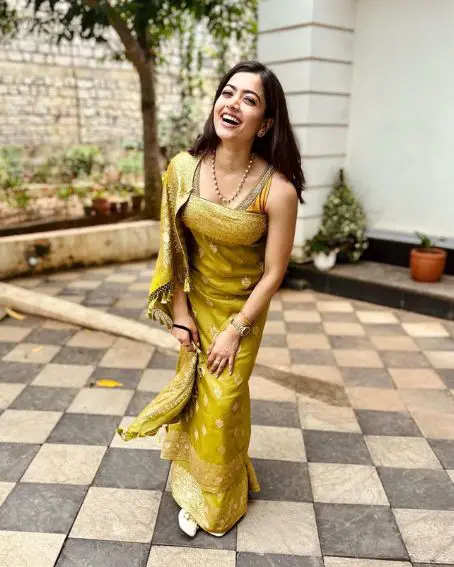 This is an amazing floral print pattern on a light green saree of Rashmika mandana, which looks amazing with an embroidery lace border along with an embroidery blouse. In this saree rashmika feels light and slim.
11. Vidhya Balan In Black Saree With Gold Border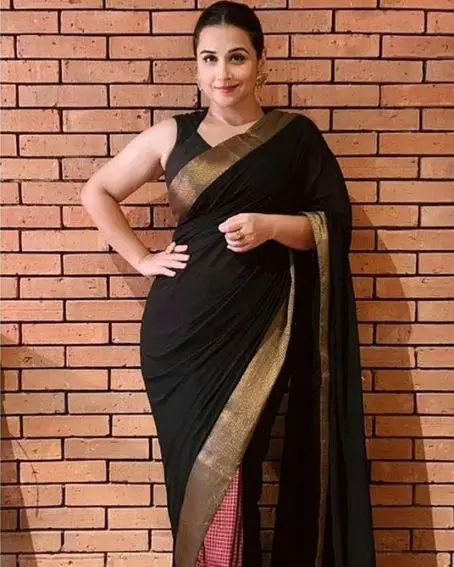 Gorgeous Vidhya Balan looks more attractive in a black saree that will steal your attention. The saree is a plain black and a slim saree with a golden zari border along with sleeveless black blouse.
12. Rani Mukharjee In Beige And Red Combination Slim Saree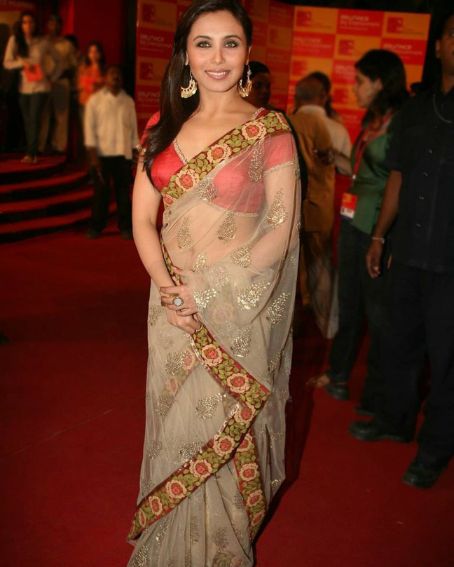 Rani mukharjee looks gorgeous in this netted light weight saree which has come with a chamki work with floral pattern border. In this saree she feels comfortable on a light weight saree along with a regular blouse.
13. Neha Shetty In Pink Fancy Slim Saree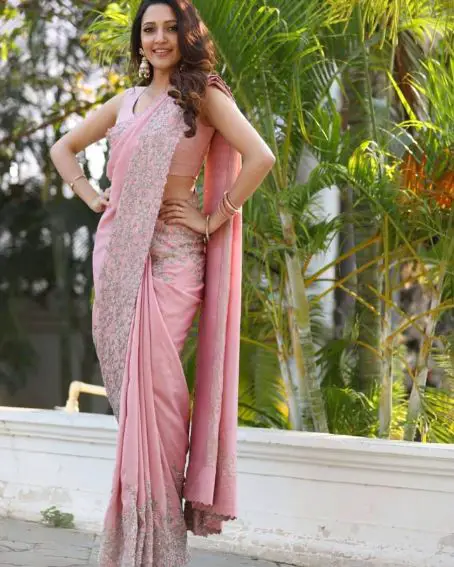 A gorgeios and beautiful pink coloured saree in which Neha Shetty looks slim and fit. This saree comes up with a sliver threading embroidery on borders with sleeveless sequin western blouses.
14. Kiara Advani In Lustrous Gold Slim Saree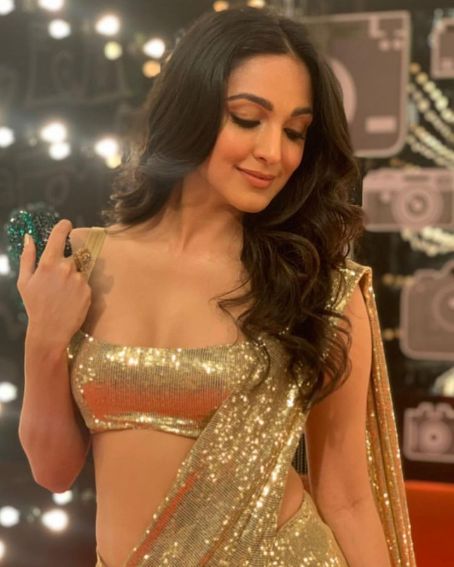 The most stunning actress looks adorable in this glittery shiny gold skinny saree which is draped on her which is making her look slim and fit. This appearance steals everyone's attention with her bright and golden outfit.
15. Nikki Galrani In Peach Color Transparent Slim Saree
This is a transparent and light weight peach coloured saree of Nikki Galrani. This saree comes up with a spotted chamki running all over a saree with a sequin blouse. In this saree she is much more comfortable and feels light and slim
You Might Also Like: