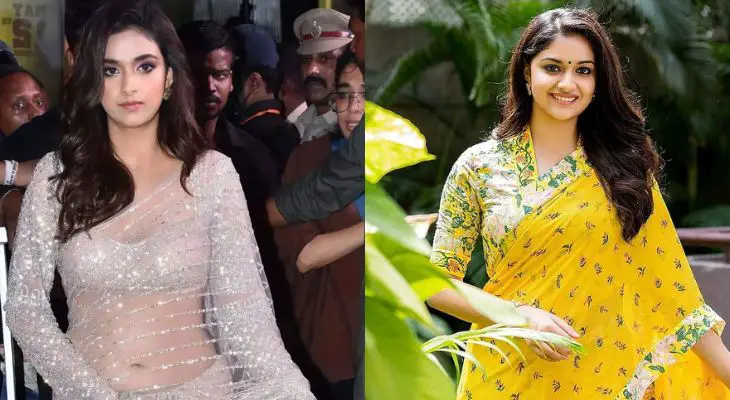 Keerthi Suresh is a popular well-known South Indian actress, who always shows her versatility in her all performances. Mostly she is most welcomed in her traditional appearance of saree. Here, we list out some of the best saree styles from her models, movie, events, etc.
Pics of Keerthi Suresh in Saree
1. Keerthi Suresh In Gorgeous Red Banarasi Silk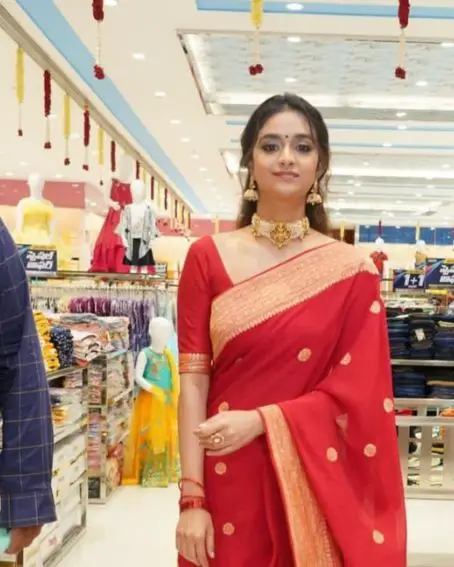 Stunning Keerthi Suresh in dark red banarasi silk with golden color border with the same color matching sleeved blouse. Very traditional looking and apt for south Indian marriage ceremonies. The modest accessories make her ensemble.
[ Read: Awesome Pics of katrina kaif in saree ]
2. Keerthi In Heavy Kanchipuram Silk Saree With Closed Neck Blouse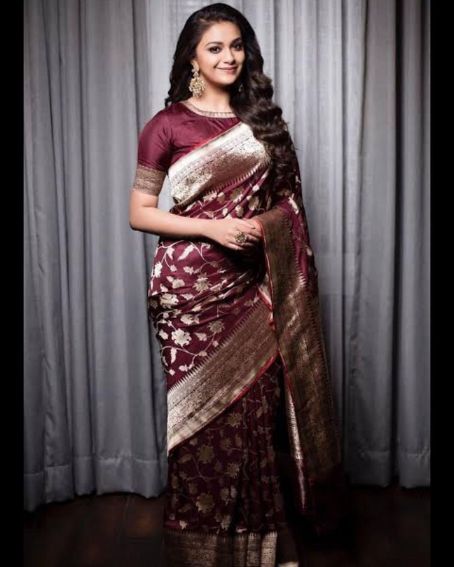 Keerthi looks inspirational for young girls to wear traditional sarees. Especially with this ethical attire, the maroon color saree with a silver color border modified the beauty. The same color closed neck blouse with makeup and curls hairstyle simply stunning in the crowd.
[ Read: Beautiful Black Saree Blouse Designs ]
3. Keerthi In Magic Red With Gold Border Saree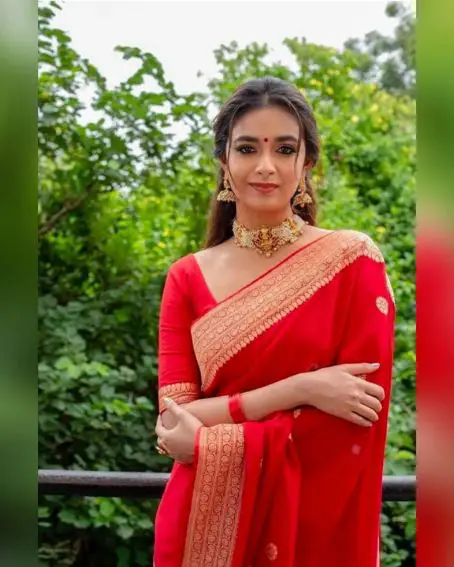 The best in Keerthi always explore her with her dressing style. Particularly, with this ethnic wear, she showed her traditional styles with this attractive red saree with a matching same-color blouse. The make-up and hairstyle are simple adding embellish to her.
[ Read: Top 20 Bollywood Actress in sarees ]
4. The Casual Look Of Keerthi In Yellow Saree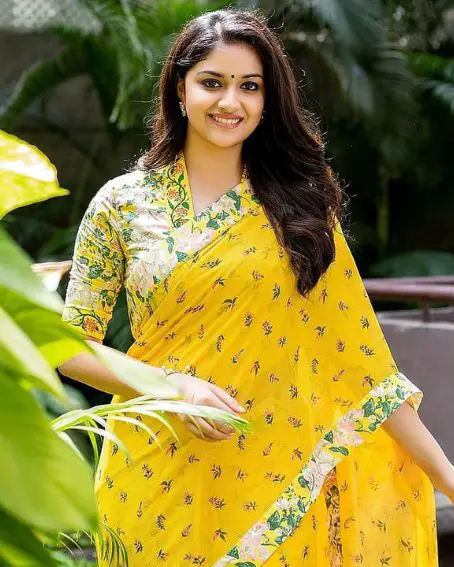 You can learn the casual look from Keerthi Suresh in the right way. The best example is this yellow color saree with a green color motif was exquisite the whole saree. And she used cream and yellow printed matching blouse makes aspire everyone.
5. Keerthi In Malai Silk Saree With Contrast Red Blouse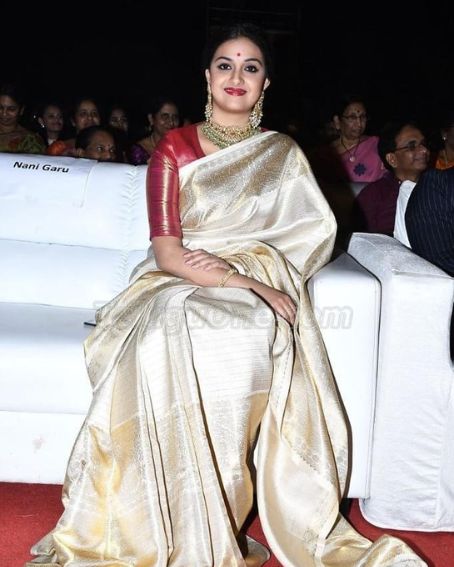 She has worn a cream and golden color border saree at an event. She is the best traditional look of the actress in south India. The contrast dark red color elbow sleeve blouse is enchanting the whole rush in the place.
[ Read: Beautiful Pics of Niveda Thomas In Sarees ]
6. Keerthi Modest Purple Silk Saree With Marya Blouse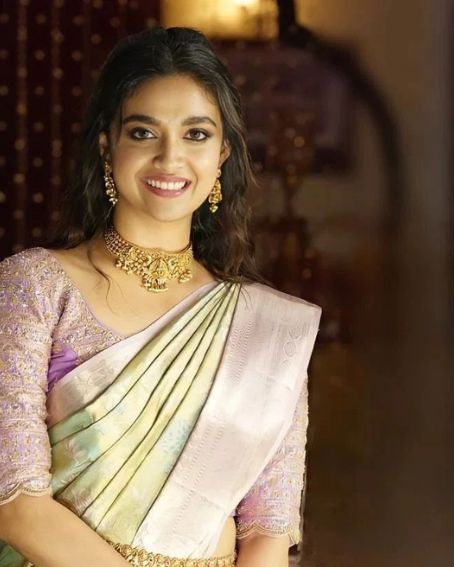 Enchanting Keerthi in this purple silk saree with aari worked blouse makes meandering with her body. The saree looks plain and shiny, but the blouse does much work with beats and sequined. The way she used ornaments is completely for ceremonies and occasions.
7. Glamorous Keerthi In This Fabric Saree With Grand Blouse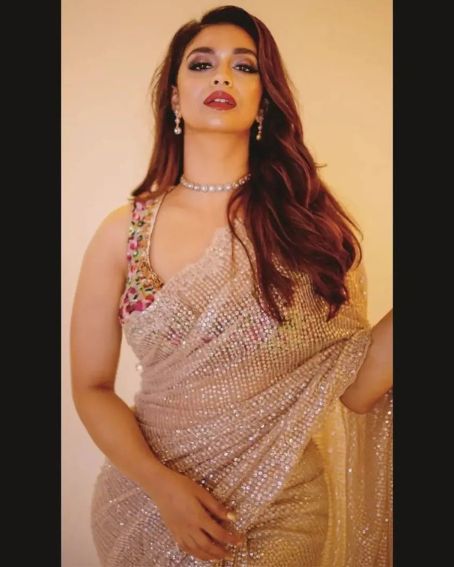 Keerthi looks hot in this fabric saree full of shining and glittering zari running in the whole saree. But, the selection of blouse is a smart tweak because it is multi-colored sequined work in the sleeveless blouse. The make-up is best for her costumes to give more elegance.
8. Casual Keerthi With This Modest Plain Saree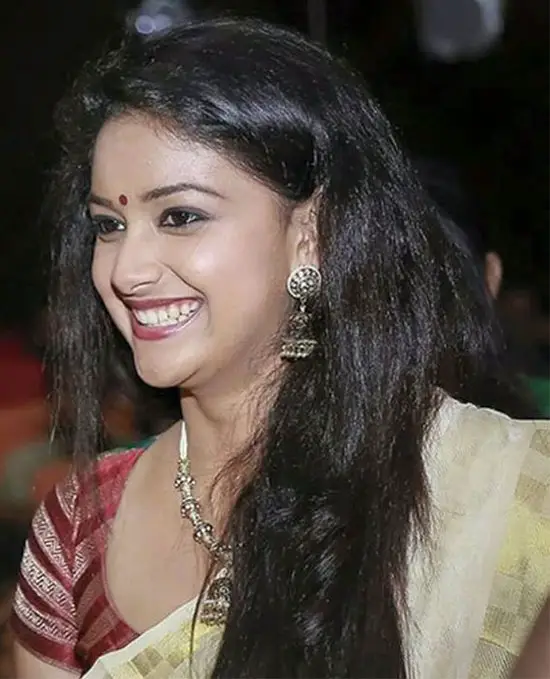 A seamless beauty is present in this saree because of the plain lavender color with a contrast blouse printed sleeve blouse. Which is very casual wear, both trendy contrast blouse and saree give embellishment to Keerthi Suresh.
9. Enchanting Keerthi Suresh In Violet Silk Saree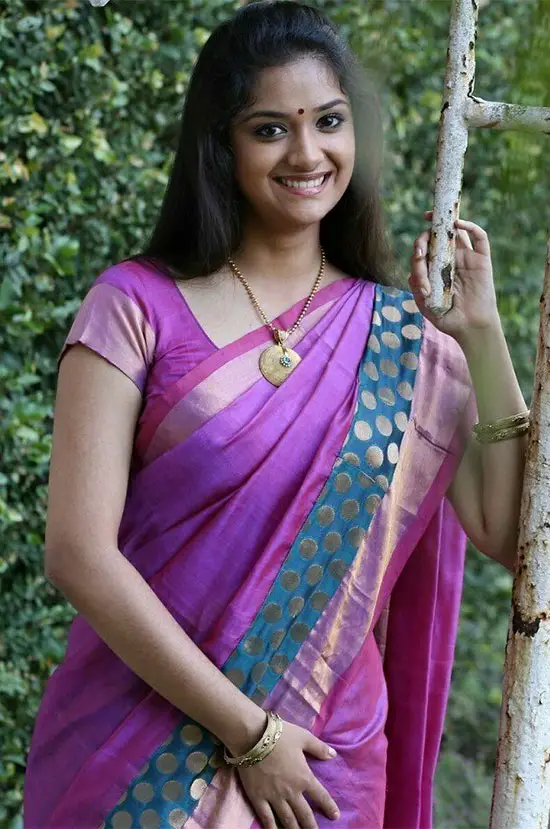 Vintage looking in this violet silk saree makes Keerthi proud of tradition. She stands like a statue in this ethnic wear with royal color. The saree is full of golden printed with border also golden color. The appearance is full of subtle and sleek work.
10. Keerthi Suresh In Silver Zari Saree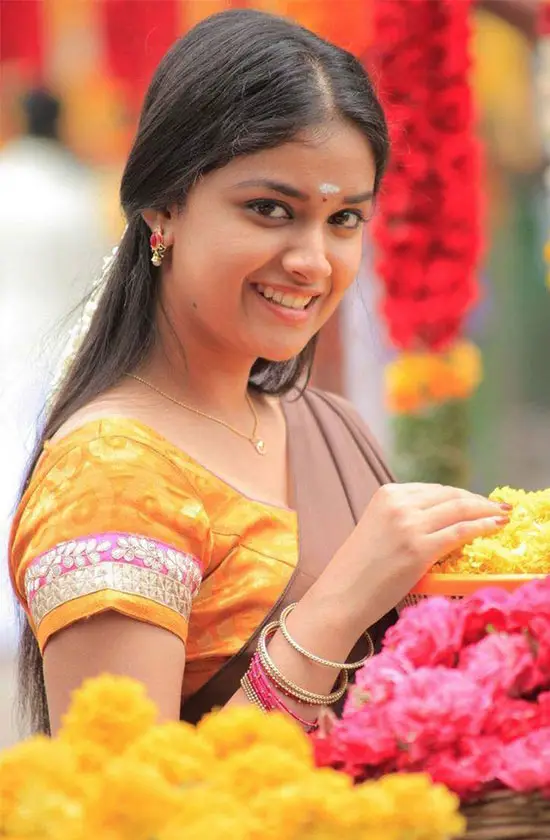 The illustrious actress stands in the silver saree with a pair of ornaments with it. The shimmering saree is a perfect match for all events and ceremonies. She paired it with a matching zari-detailed blouse for flattering beauty.
11. Glimmering Keerthi In An Ash-colored Georgette Saree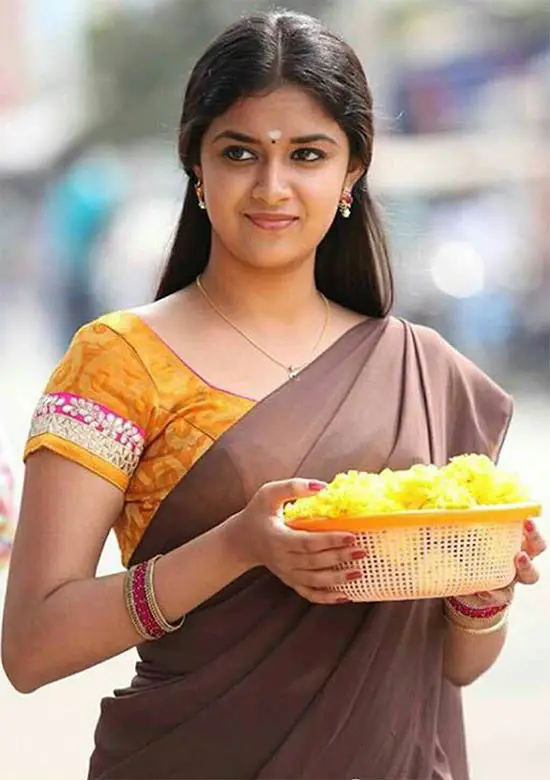 Keerthi's appearance in this saree makes stunning and her beauty is slaying in this picture. The sturdy and sleek design was presented in the entire portion and the rushed-designed sleeveless blouse was perfectly matched. The makeup and the ornaments are fabulous.
12. Silver-colored Transparent Saree In Keerthi Suresh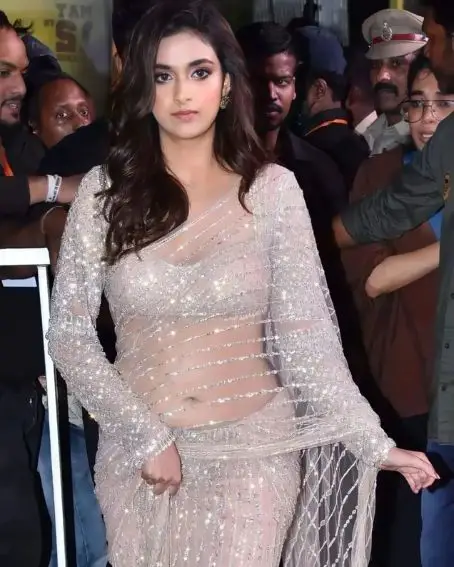 Grand and stunning Keerthi in this transparent saree. The full hand blouse is also the same colored with silver georgette. The prominently visible saree is exquisite in design and matches with the best ornament.
13. Simple And Sleek White Saree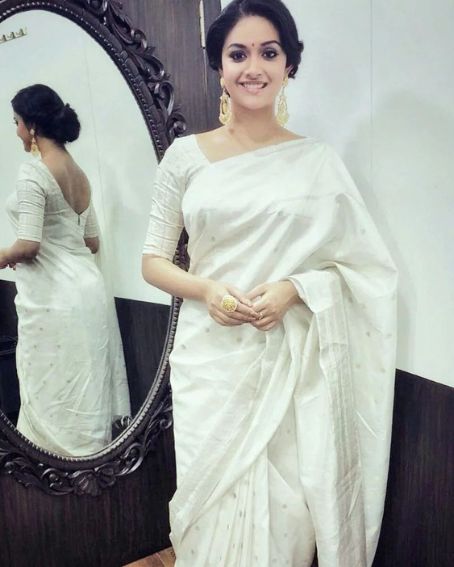 The famous actress always gives her best outfit in all the photo sessions and events. This white saree with a half sleeve looks very simple and gorgeous look. The ornaments she used ethnically and aspire to everyone in this costume.
14. Pinkish Printed And Embroidered Saree For Keerthi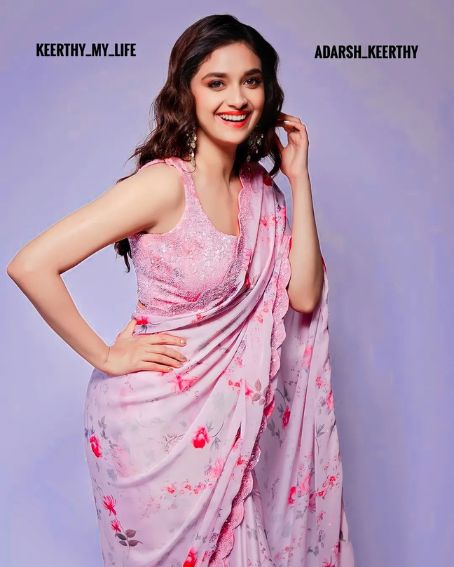 Keerthi is shining in this modest printed saree with a wavy border. The blouse looks grand and speaks more than a saree. The color was embellished and revived the whole saree.
15. Keerthi Stand Statue In Emerald Green Silky Saree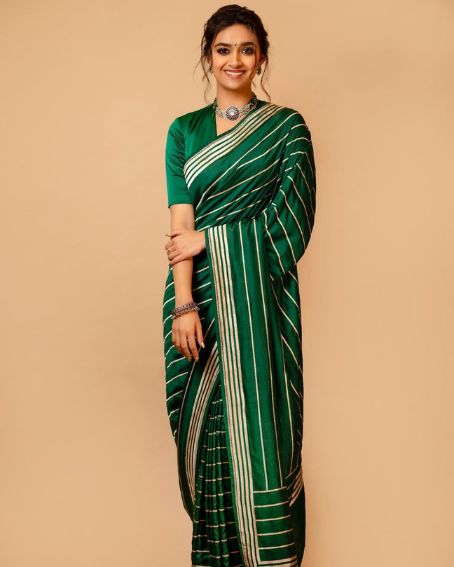 An attractive statement in this emerald green, Keerthi wore in a smart tweak. The stripes run like meandering in the whole saree. It looks modest and feels rich in material. She chooses different types of ornaments for the neck and hand.
16. Keerthi In Onam Malu Saree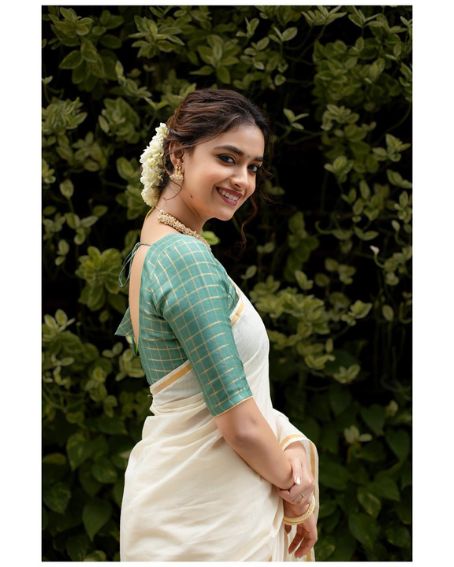 Keerthi wore an Onam special saree for a photo shoot. The look is simple and she matches with a green color blouse. The blouse is embellished with simple printed and reviving the Kerala girl's appearance.
17. Yellow Georgette Saree With A Sleeveless Blouse For Splendid Keerthi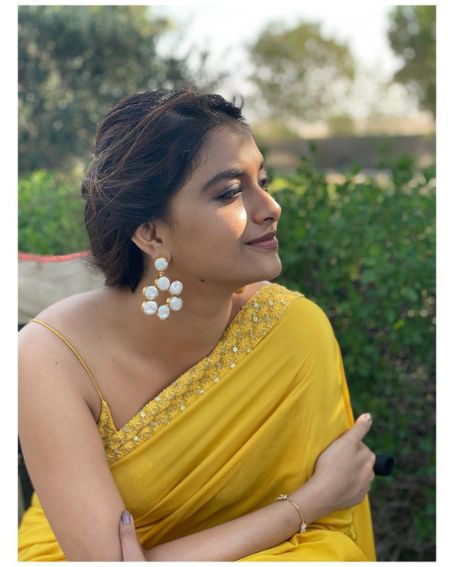 Keerthi Suresh aspired to this bright yellow saree with thin border stares modes. The sleek and soft appearance of this saree gives her light weight. Matching her saree, she used big earrings to make her sturdy and bold look.
You Might Also Like: