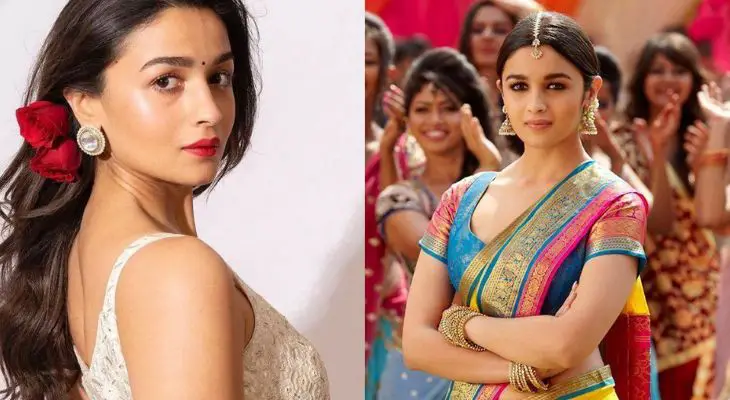 Saree is a traditional one, which we followed from the very olden period. It is a timeless and evergreen custom worn by every Indian woman. It is unstitched enchanting draped the whole body with pleats, freestyle, etc., There are different types of materials and styles followed by different cultured people. Alia Bhatt has wonderful collections of saree and always wins everyone's heart when she wears saree. Here, we see the celebrity Alia Bhatt's free-style saree coming below.
15 Graceful Pics of Alia Bhatt In Saree
1. Alia Sizzle With Pink And Green Bandhani Saree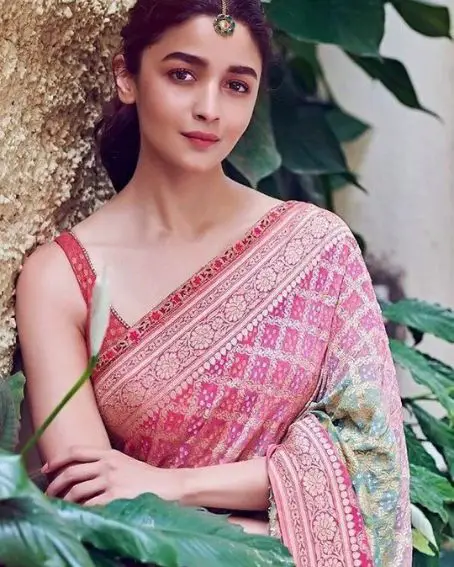 Alia wore a seafoam green and pink bandhani saree during the promotion of her movie, making everyone surprised with her enchanting and stunning out. After she wore this saree, on social media most girls were searching for this particular style.
[ Read: Latest Copper Colour Sarees ]
2. Alia Bhatt In The Latest White Sequence Work Saree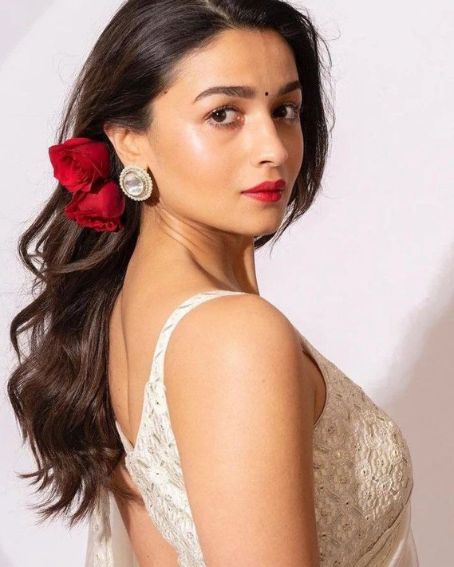 Stunning with the white meandering draped saree with faux georgette sleeveless blouse is perfectly worn for parties, weddings, events, etc., This full white sequence work gives you a rocking and marvelous look as Alia is in the picture.
[ Read: Latest Red Color Saree Collection ]
3. Alia In Red Chiffon With A Sparkly Sequin Blouse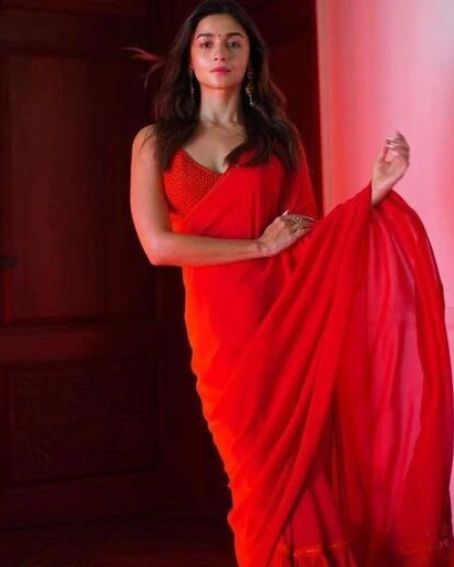 Enchanting look in one of her movie promotions with this saree, as Alia, seems bold and exuded a romantic vibe. Particularly this hot red chiffon with shimmering sequin blouse with a plunging neckline make her a gorgeous look. Wearing simple ornaments add extra cuteness to her.
[ Read: Fresh Collection of Mauve Color Sarees ]
4. Alia In Green Kanchipuram Silk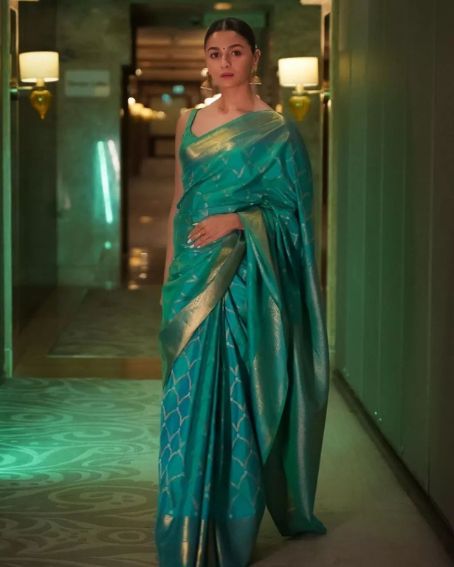 With full peacock green with golden embroidery, over the pallu drape in Kanchipuram silk saree was elegant by an ensemble with the sleeveless blouse. The star is gleaming with Alia accessories giving a look of a typical south Indian girl.
5. Designer Saree In Satin Silk Printed Work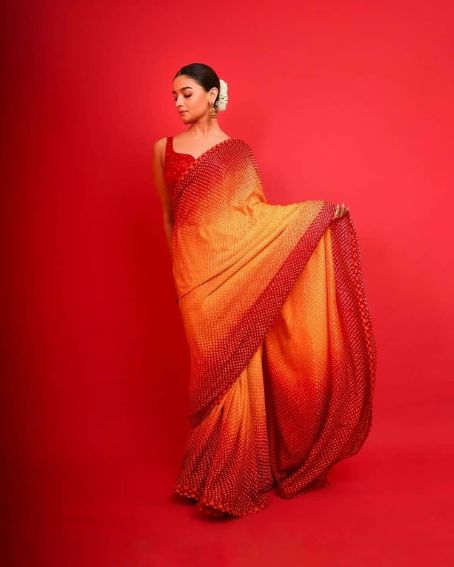 Satin silk is a type of fabric weave with smooth, shimmering and silky. In this image, Alia wears a satin silk saree of nature of two colors red and mango yellow in the middle. And it is fully printed and suits with a full red sleeveless blouse. Can wear this for all occasions and festivals.
6. Alia Butt In Gorgeous Red Saree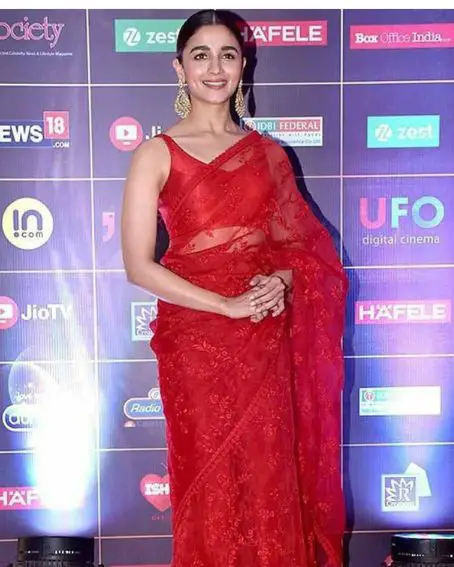 Alia always loves to wear a saree that looks simple and chic. Here, she used the Chikankari Sabyasachi saree for the function. This transparent look breezy and matched with accessories make her a fabulous look.
7. Royal Blue Satin Georgette Saree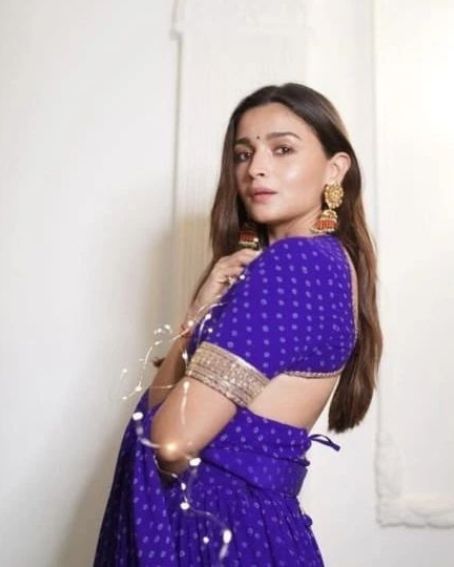 Alia was stunning in this beautiful work with ruffles, sequins, and threads. This royal blue saree never go out of the fashion. It is trendy and not too heavy. Presently fashioned and best for all occasions and parties.
8. Alia In Yellow And White Transparent Fabric Saree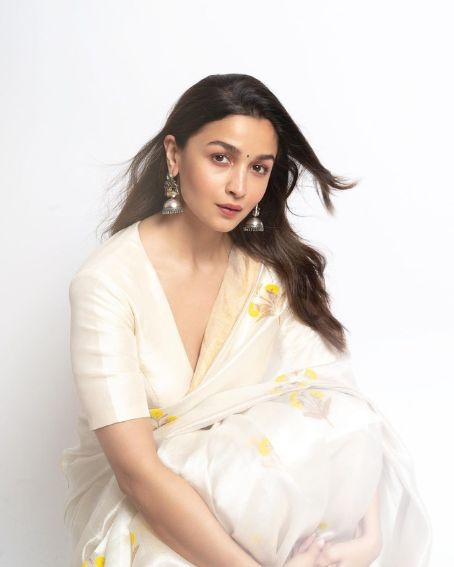 Alia radiated delicacy and elegance in this minimalistic yellow floral print with a border for embellishment. The pretty and peaceful appearance gives a smart tweak to life.
9. A Multi-colored Striped Sequence Saree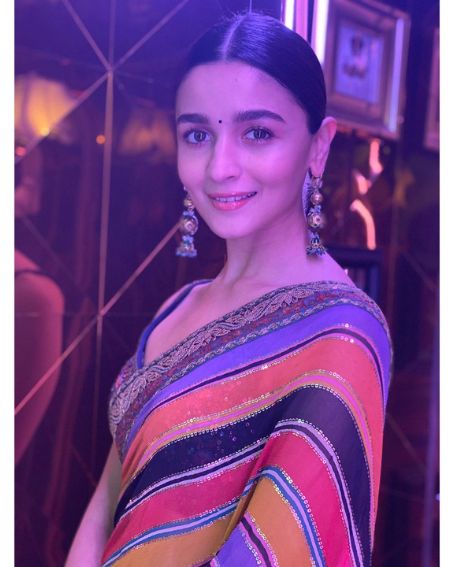 Alia Bhatt wears a Sabyasachi saree for an award function. When describing the saree, it looks multi-colored and glittering with stones. The striped design followed by a grand sleeveless blouse makes a grand and glamorous look.
10. Alia In Glitzy Sequined Pink Saree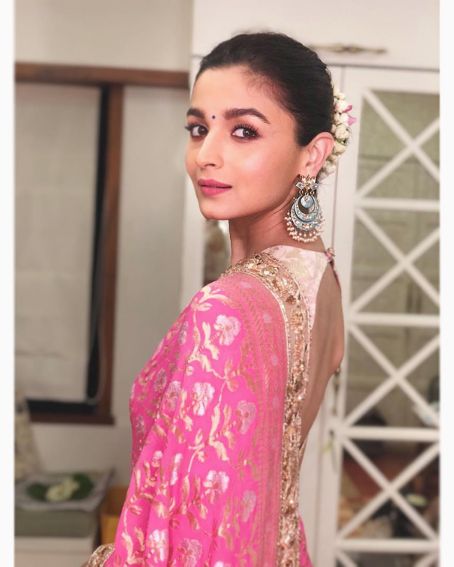 Alia was a showcase in a pink saree, which all the views on her. She looks traditional and elegant in this beautiful saree. A light pink blouse with a cut-out gives a more ultimate and stunning outlook.
11. Alia In White With A Black Blouse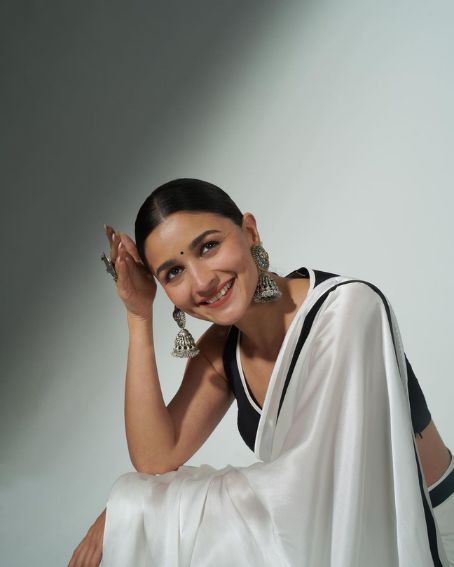 The shining chiffon saree with black silk sleeveless blouse gives a glamorous and enchanting outlook. Can wear this to all parties and events. The final compliment with the silver earrings gives more beauty to her.
12. Alia In Vintage Floral Look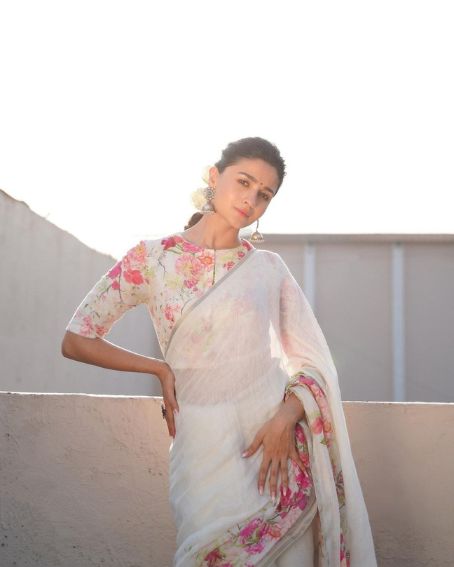 Alia looks fabulous in this lightweight chiffon saree and the blouse was printed with pink flowers and a border. It looks calm and has a temple-going feel at the outset. She draped her saree superly and the blouse will match perfectly and will give excellent glam.
13. Alias South Indian Saree With A Bridal Makeover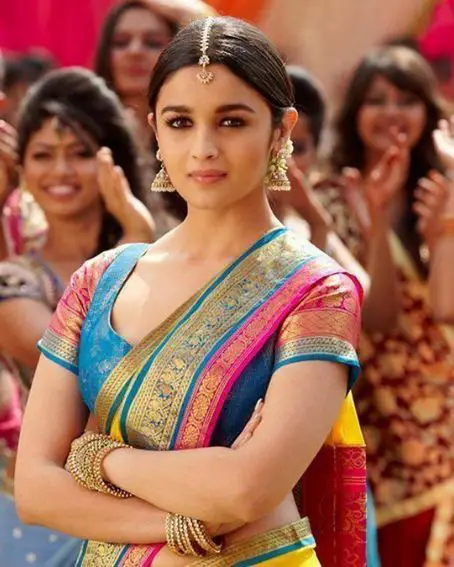 The colorful silk saree in the south Indian traditional look gives you a bridal outfit. There are more than two attractive colors presented here such as blue and yellow with pink. Fully printed and silk thread weaving designs are available throughout the saree is absolutely awesome.
14. Alia Bhatt In Kerala Saree With Border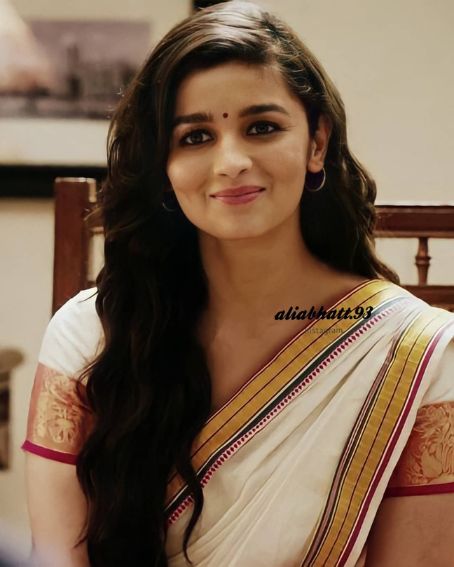 She looks modest and fresh in this white saree with traditional borders. In the same sequence, she wore a blouse with the same borders. The saree looks ravishing and the border makes the saree pop up. For a rustic look, wear an antique jewel for this outfit.
15. Alia In Flower Printed Chiffon Saree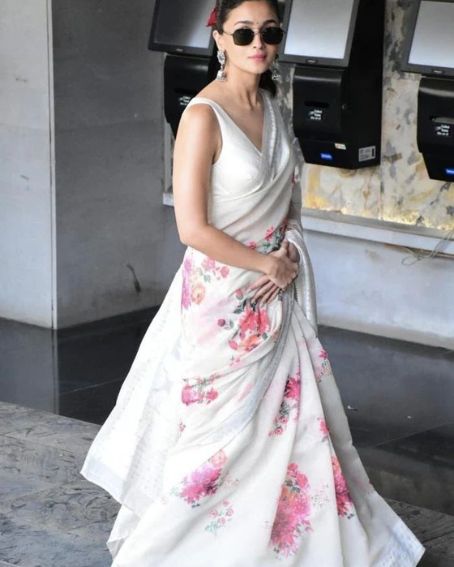 In one of her movie promotions, Alia wears this beautiful and elegant saree. The white sleeveless blouse makes the saree show pretty and trendy. Surely, it will be her best and the simple accessories make her magnificient and modest.
You Might Also Like: