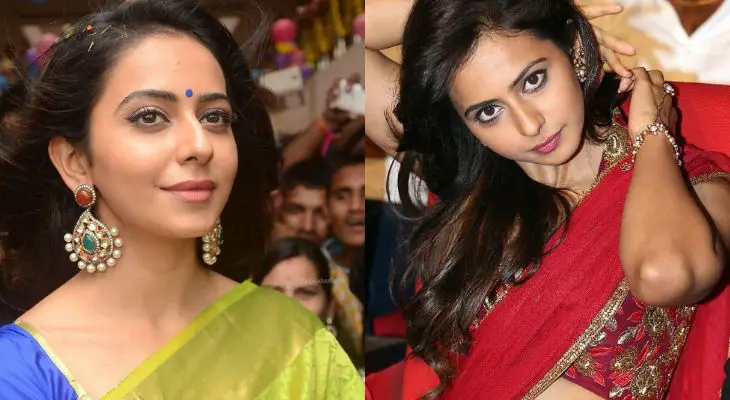 Rakul Preet Singh is an Indian actress who performed in Tamil, Telegu, and Hindi movies. This beauty queen made her debut in the Kannada film industry. This heroine steals million hearts with her acting skills and ravishing cute face. Rakul Preet Singh is an absolute beauty when she appears in a six-yard outfit called a saree. She handles her saree look way better and in different styles. Here are some beautiful saree pictures of Rakul Preet Singh inspiring you to try them out immediately.
20 Beautiful Pics of Rakul Preet Singh in Saree
1. Rakul Preet Singh In Beautiful Red Saree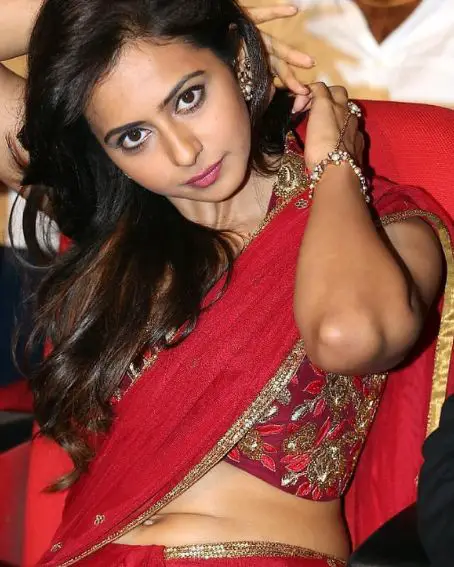 The red saree is one of women's favorites. Rakul Preet Singh appeared in this stunning red saree in an event that grabbed the hearts of her fans. She gains a glamorous and alluring look in this red saree.
[ Read: Amazing Pics of Sonakshi Sinha in Saree ]
2. Rakul Preet Singh In Lemon Yellow with Sheer Yoke Neck Floral Blouse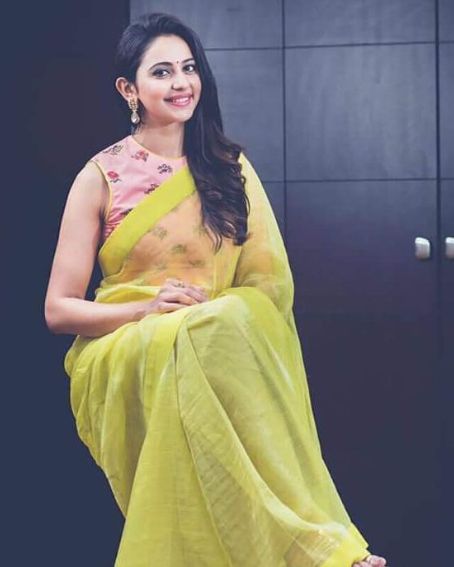 Here is an image of elegant and wonderful looking Rakul Preet Singh. She sets an example of how to carry a lemon yellow plain saree. She matched this saree with a sheer yoke neck sleeveless floral blouse which is simply amazing. Rakul is effortlessly chic in this outfit.
[ Read: Amazing Pictures of Shraddha Kapoor in Saree ]
3. Rakul Preet Singh In Orange Kanjeevaram Saree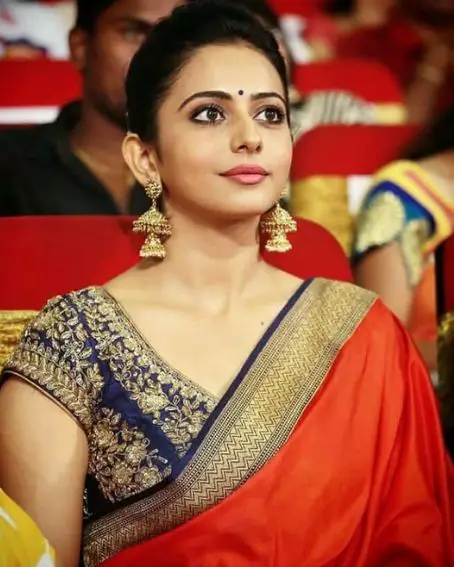 This South Indian actress is so divine and traditional in this orange Kanjeevaram saree pairing it with the heavy embroidery blouse. The big long jhumka earring adds prettiness to her overall glimpse. You can copy this style of her for a perfect South Indian Cultural look.
[ Read: Most Beautiful Pics of Shruti Hassan in Sarees ]
4. Rakul Preet in Parrot Green Saree with Contrast Blouse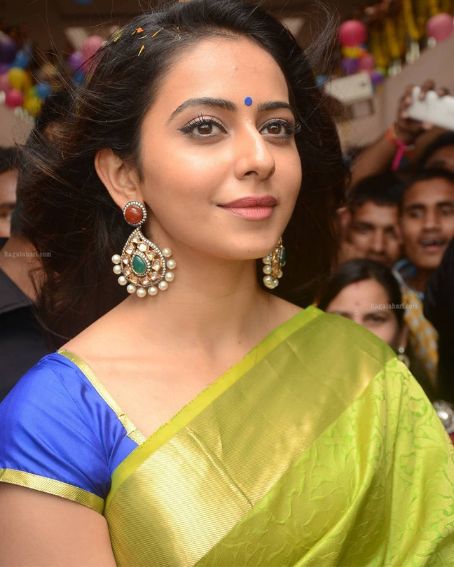 No wonder this beauty can snip plenty of folks. This radiant look of Rakul in a green saree with a contrast hot blue blouse is a complete pack of fabulousness. A minimal makeup and chand bali earrings complement her saree look.
[ Read: Awesome Pics of Nayantara In Saree ]
5. Rakul Preet Singh In Yellow And Blue Combo Silk Saree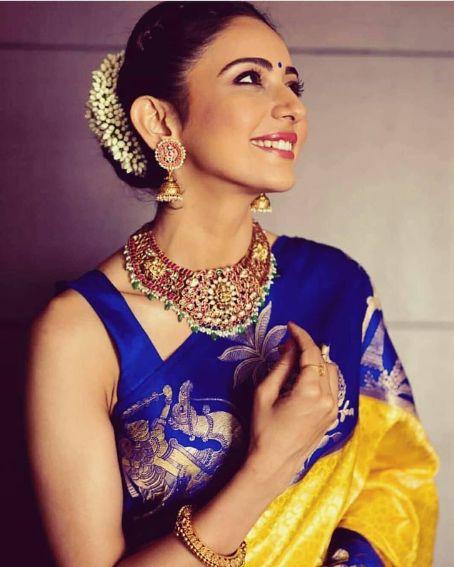 Get the traditional vibe inspiration from this divine beauty. The yellow and blue combo silk saree with sleeveless blue blouse and temple jewels and floral bun hairstyle is a perfect example for you to get ready for a wedding or temple visit.
[ Read: 17 Beautiful Pics of Lavanya Tripathi in Saree ]
6. Rakul Preet In Hot Red Saree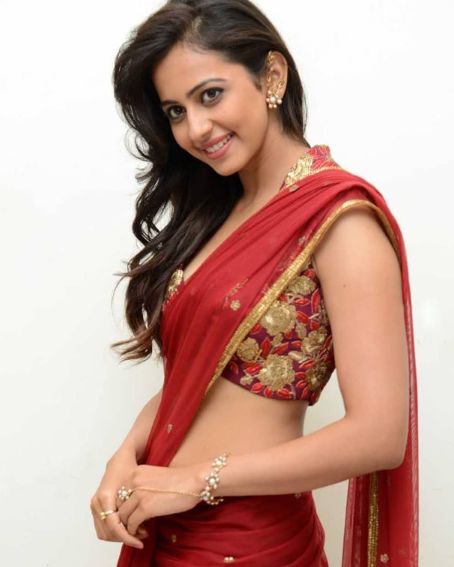 Rakul is chic and lovely in this hot red saree which has got small gold motifs design. She matched this saree with a monochrome blouse that contains heavy gold and red floral embroideries. She simply seeks her follower's hearts with her captivating and hot look.
7. Rakul Preet Singh In Gold Classic Saree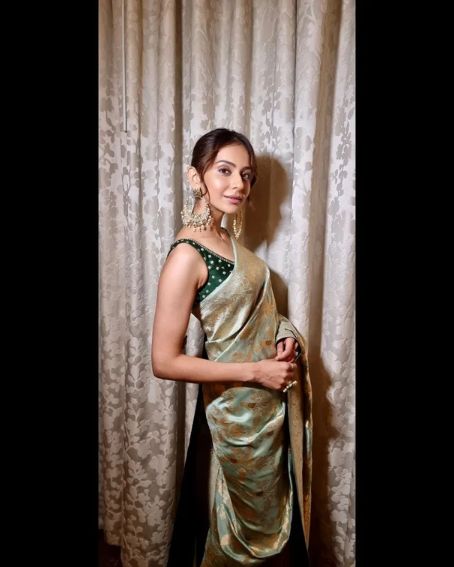 Wow! is the only word that can ultimately describe this look of Rakul Preet Singh. She is drop-dead gorgeous in this saree. This saree is draped to elevate her chic slim body structure. A big chand bali earring and a face-framing curls are stunning.
8. Rakul Preet Singh In Shimmery Saree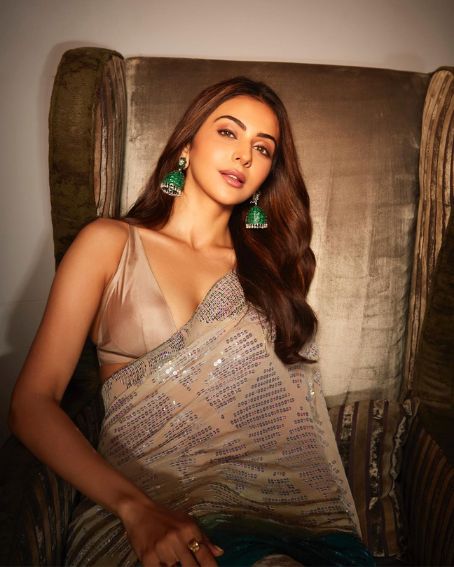 Want to look stylish and hot at a party flaunting in a saree? Then don't miss to try the jaw-dropping look of Rakul Preet. The shimmery sequence saree gives you a blingtastic mood and with a deep V-neck sleeveless blouse can give you a glamorous appearance.
9. Rakul Preet In Fuschia Pink Sequin Saree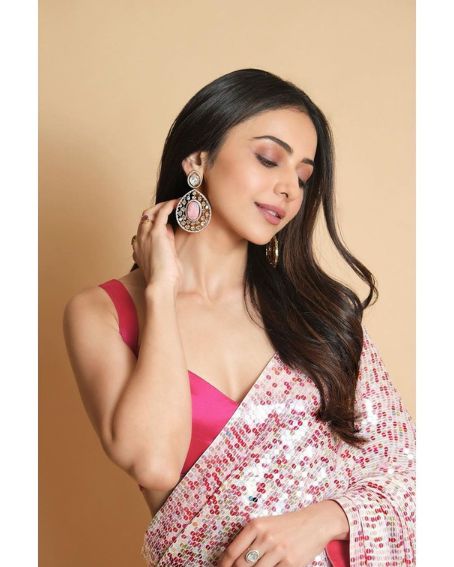 Rakul Preet Singh flaunted her pretty look in this pink sequin saree in one of her movie promotions. Bring out your bling classy mood by following her adorable style. A subtle makeup and beautiful stone earrings are enough to complement her glam diva look.
10. Rakul Preet Singh In Pink Fashionable Saree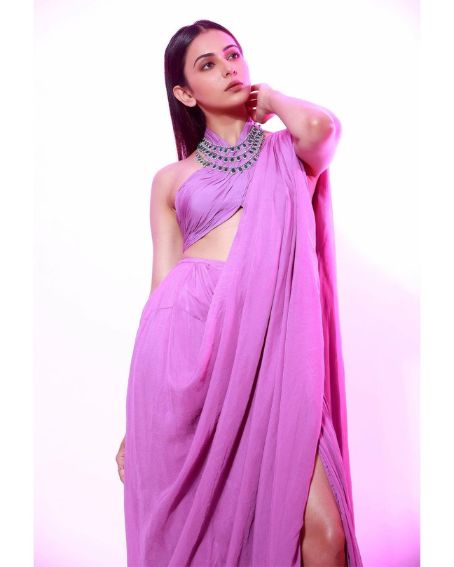 Rakul Preet Singh drops some major styling inspo in this pink uniquely styled saree. You will be amazed by her look. She draped this saree in a different way matching it with a monochrome blouse. The green stone three-layer neck piece is the key here.
11. Rakul Preet Singh In Half and Half Saree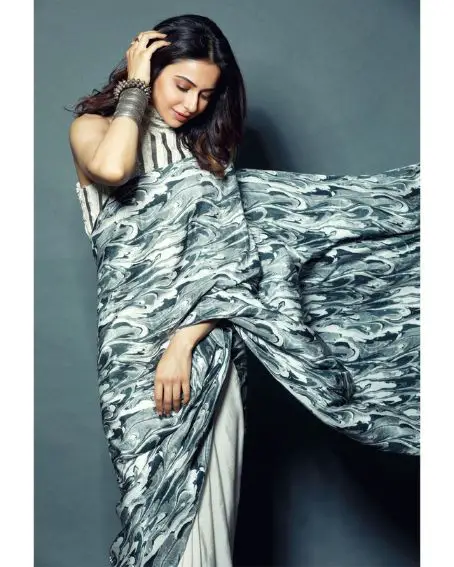 The talented actress kept it simple and yet fashionable with this half and half saree. She accessorized this look with black metallic bangles and earrings. You will be utterly stylish and elegant when you try out this saree.
12. Rakul Preet In Ash Color Shimmery Saree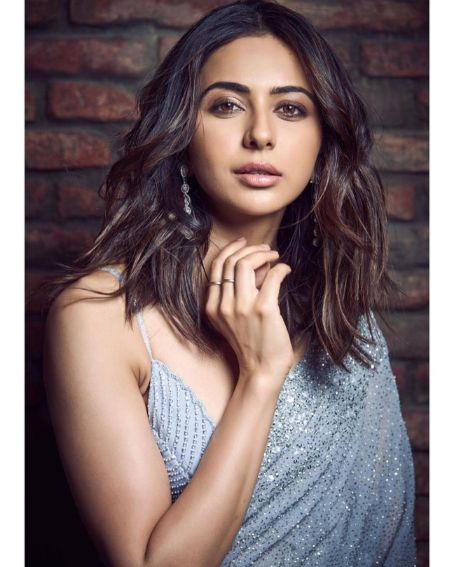 Rakul Preet looks all glam and bling in this ash-color shimmery saree. She is absolutely ravishing and stunning in this outfit with no doubt at all. You can wear this breathtaking lovely saree when you want to look gorgeous at a night party.
13. Rakul Preet Singh In Yellow Traditional Saree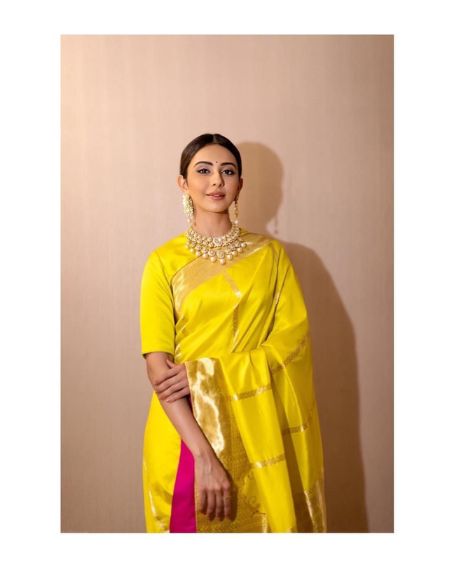 Once again this divine beauty popped up in a traditional classic look. The yellow-toned saree with a monochrome blouse brings extra brightness to her face. The pearl and stone work amazing necklace and earrings add extra loveliness complementing the saree.
14. Rakul Preet Singh In Dazzling Gold Glittery Saree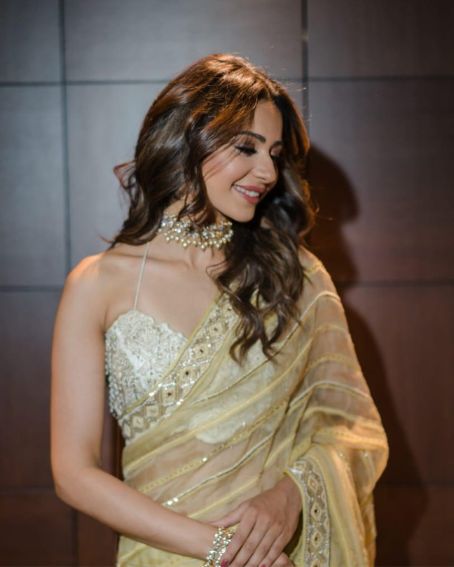 You will be awed by her glamorous dazzling appearance in a golden shimmery saree. This style gives you the urge to attend wedding receptions and parties flashing with this stunning saree. Highlight your cheekbones and use darker lip shades to amplify your look.
15. Rakul Preet In Amazing Pattu Saree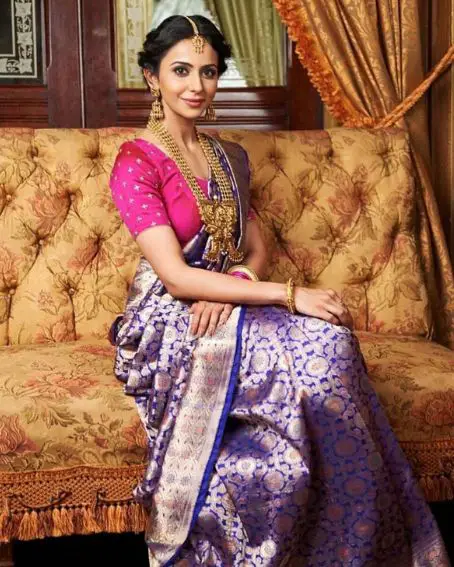 Be a royal queen flaunting a wonderful pattu saree at your wedding by following this excellent muse. The heavy bridal jewels accessorized with this pattu saree give you the bridal vibes.
16. Rakul Preet Singh In Black Saree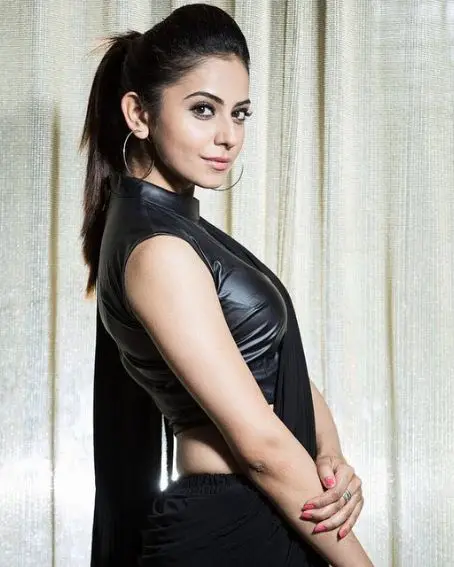 You will fall in love with this stunning black saree semblance of Rakul Preet. This lady in black is too fabulous and captivating. She looks fashionable and comfortable in this wonderful attire.
17. Rakul Preet Singh In Traditional Pattu Saree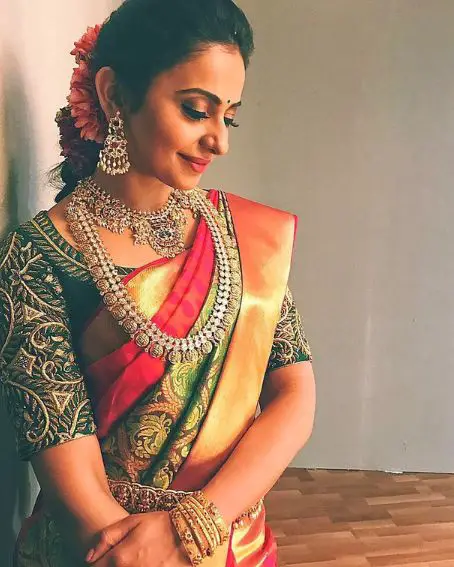 Sarees always bring out the inner feminity. Rakul never fails to impress her fans with her heavenly traditional glimpse. This diva wears a multicolored pattu saree paired with a green heavy embroidery bridal blouse.
18. Rakul Preet Singh In Black Saree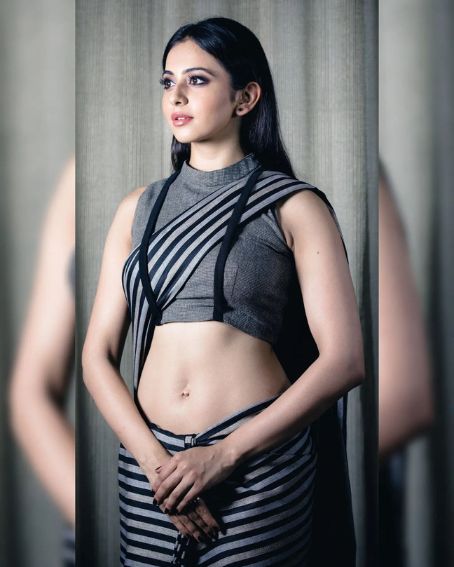 Rakul Preet is popularly called as navel beauty. Rakul styled this black striped saree showing off her sexy navel. The Chinese collared blouse with a belt gives the Indo-Western look. This look gives her a touch of uniqueness and richness.
19. Rakul Preet In Red Floral Saree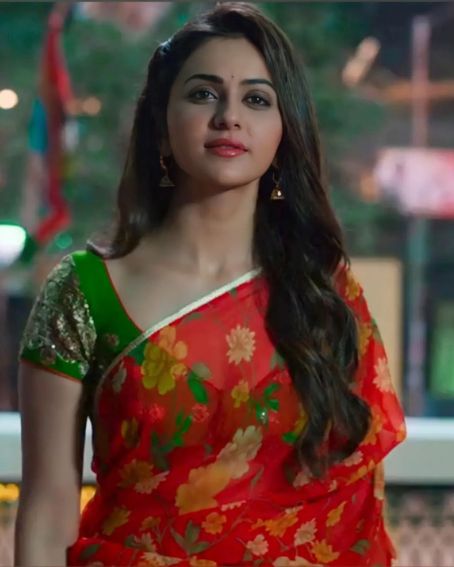 This red floral saree can be comfortable and easy to carry when you want to stay in a saree for a longer time. Rakul looks super elegant and lovely matching this saree with a contrast green blouse. Her pinky cheekbones attain her a romantic face.
20. Rakul Preet Singh In Cute Pink Ruffle Saree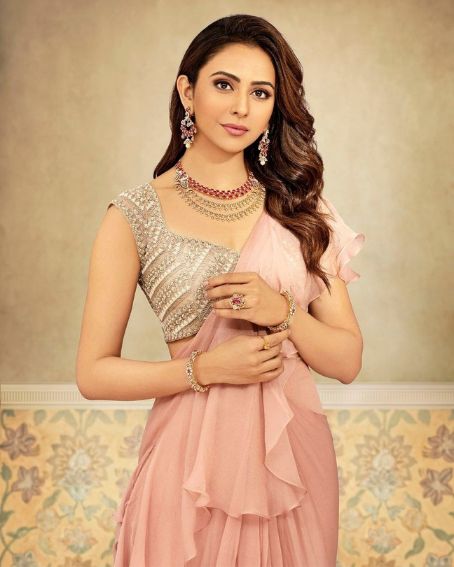 Style your fashionable ruffle saree by observing how Rakul wore her pink cute ruffle saree. She paired this statement saree with a princess-neck sleeveless heavy embroidery blouse. She accessorized this look with rich diamond jewels which adds gorgeousness.
You Might Also Like: