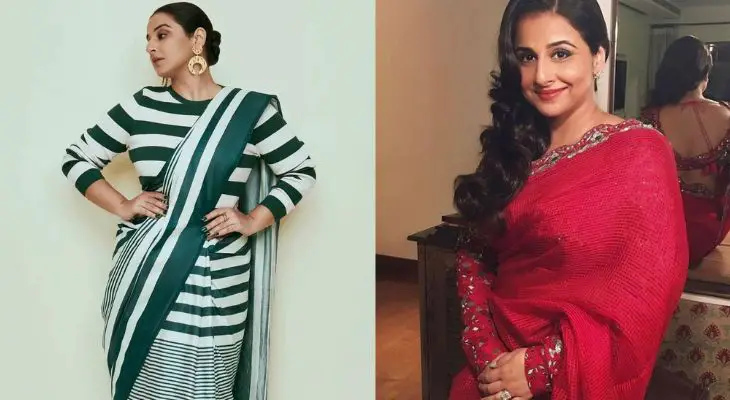 The veteran actress Vidhyabalan's favorite outfit is Saree. Most of the time Vidhabalan appeared in traditional and classy look sarees. She almost tried all the different types of saree and materials which she felt comfortable and cool. Here, we see some of the saree styles and costumes she wore in photo shoots, events, and occasions.
17 Amazing Pics of Vidya Balan in Saree
1. Vidhya Balan In Yellow Banarasi Silk Saree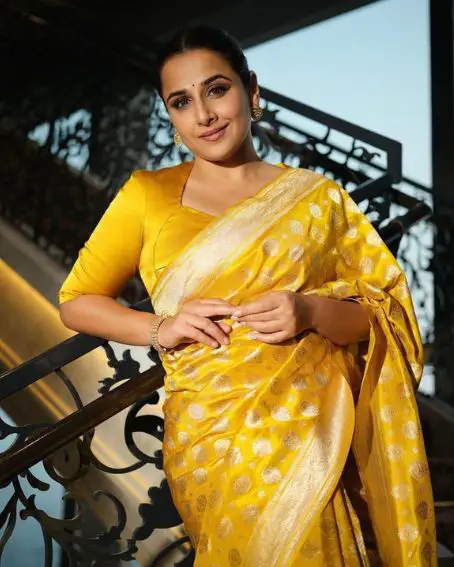 Illustrious Vidhya Balan gives the best view in yellow color banarasi saree. She appeared grand and the bright yellow renders traditional and ethnic ways. The blouse was plain and shiny with half sleeves. They wore a pair of earrings and bangles with a simple bindi giving them gorgeous.
[ Read: Awesome Images of Slim Sarees ]
2. Vidhya Balan Rocks In Tiger-printed Silk Saree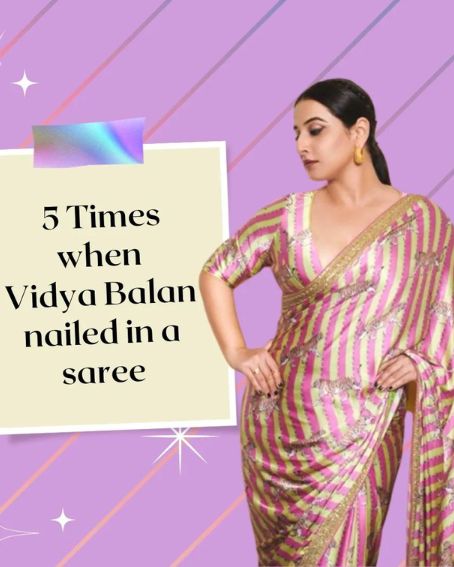 Vidhya Balan gleamed in the promotion of her movie with a great outfit. The saree is striped in pink and green with a tiger printed on the whole costume. The blouse is also in the same pattern and used a pair of earrings which makes it more splendid.
[ Read: 24 Gorgeous Pics of Tamanna Bhatia In Saree ]
3. Glamorous Vidhya Balan In Plain Black Saree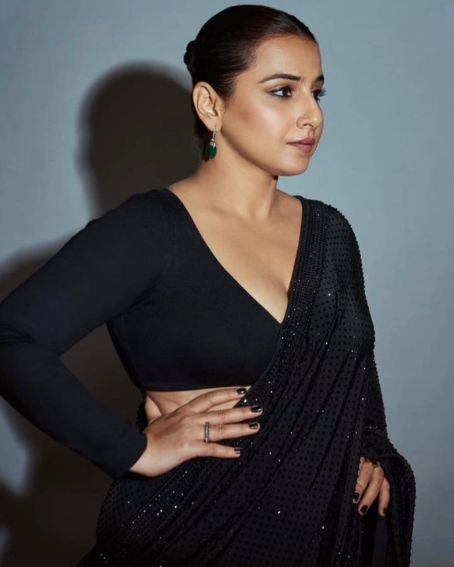 The modest appearance of Vidhya Balan in this black plain saree with a plain blouse, she concentrated this outlook more and it is very simple as well as flattering. And there are no accessories on the hands and neck, only a pair of earrings in a green precious stone.
[ Read: 16 Amazing Pics of Trisha In Saree ]
4. Famous Vidhya Balan In Maroon Color Plain Saree With Grand Blouse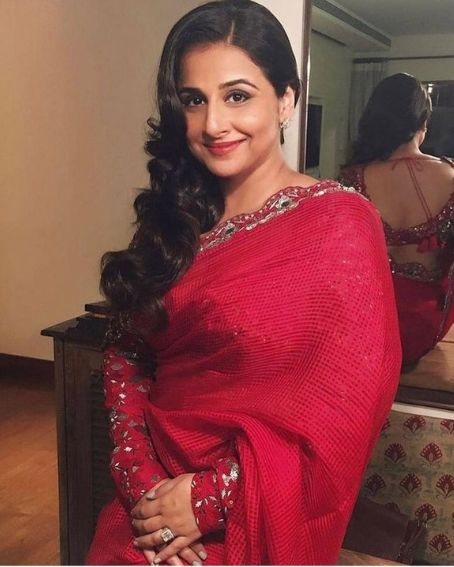 The way an actress appears in front of the audience is always treated to an eye. She was popularly speaking for her saree which creates her style. Like that, the maroon plain saree with thin borders is exquisite work. The same border work is done in a full-hand blouse which is very grand.
[ Read: 9 Gorgeous Pics of Vaani Kapoor in Saree ]
5. The Elegant Checkered Linen Saree In Vidya Balan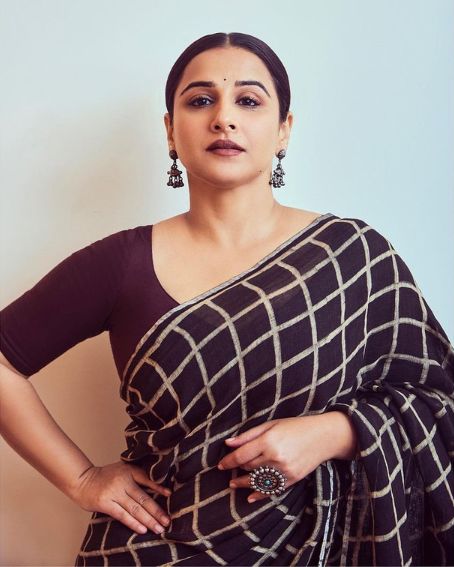 The gorgeousness overloaded with this minimal use of ornaments is one of her styles. The black checkered linen saree showed her boldness and beauty. Silver earrings and a big oxidized ring are used for ornament giving an eye-catching experience.
[ Read: 14 Awesome Pics of Urvashi Rautela In Saree ]
6. Vidhya Balan In The Bottle Green Saree With A Blue Border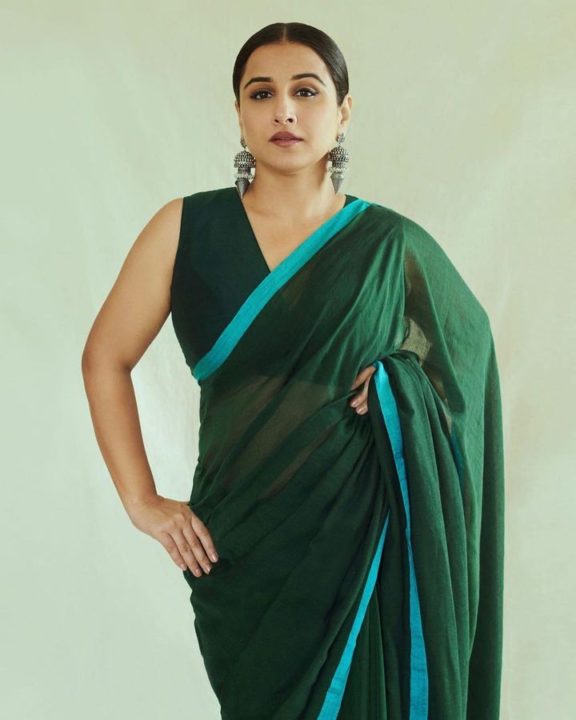 The elegant beauty Vidhya Balan given casuall pose in one of the house events. The ultimate saree shows her simplicity, the plain green and thin blue border embellished the whole saree. She just wears a pair of silver earrings, and no other costumes added to the list.
7. Vidhya Balan In New Bollywood Celebrity Style Printed Saree
Famous Bollywood Vidhya Balan oozed with confidence in six yards of sheer elegance every time. Then she used limited make-up with ornaments are modest. The printed saree was connected with beautiful designs and a tiger roar face on the end bestows a final touch to this.
8. Vidhya Balan Spots Her With A Beautiful Handloom Saree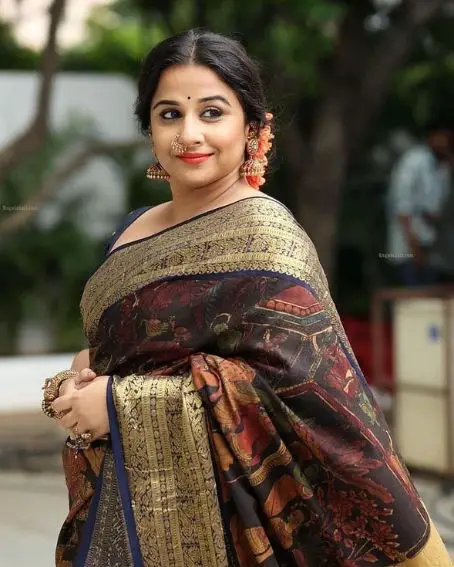 Illustrious Vidhya Balan stunning in this saree for a handloom saree promotion. In this way, she expressed and showed interest in this handloom saree. This pretty lady wears a silk border woven throughout the saree and is dressed up with ethical touch.
9. Vidhya Balan Stands Like A Statue In A Fabric-printed Saree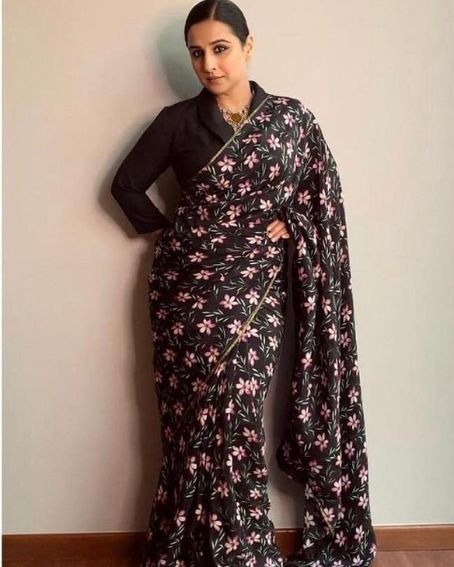 The gorgeous actress choose a black fabric Bangalore silk saree with printed pink flowers. The collar black blouse gives trendy and reviving the beauty of the saree. A very simple makeover, only with a necklace makes her modest.
10. Vidhya Balan Shows Her Prestigious Saree In The New Trend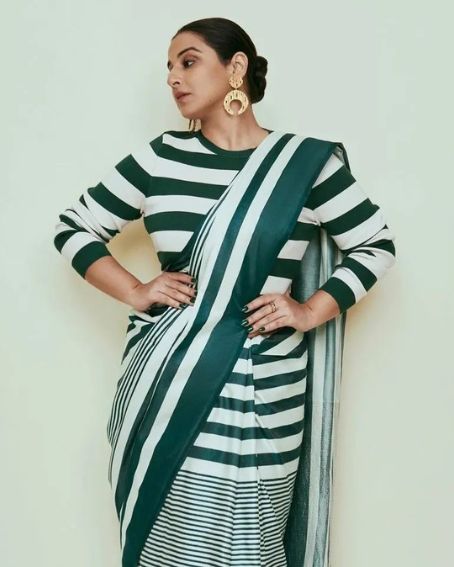 She never forgets to show her love of traditional garments revealed briefly to her stylists. Particularly this saree is on trend and the matching blouse is quite simple and trendy.
11. Vidhya Balan Continues To Love With Black Saree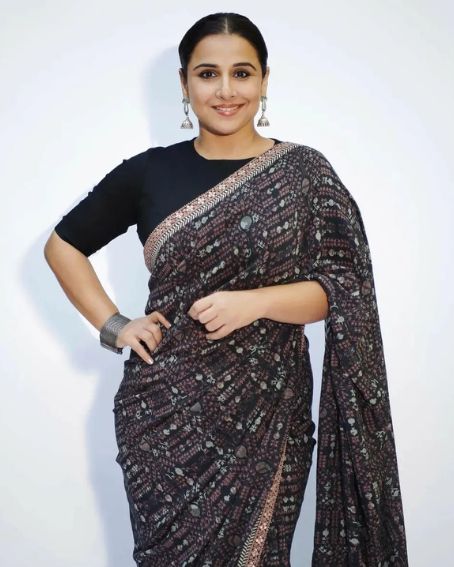 Stunning with her beauty in a black saree offers ethnic attire. A very simple printed fabric saree with a thin border with clothes and a black full-hand plain blouse show her attitude and pride. This complete black saree is meandering along to her and attention-seeking in the crowd.
12. Vidhya Balan In Red Silk Saree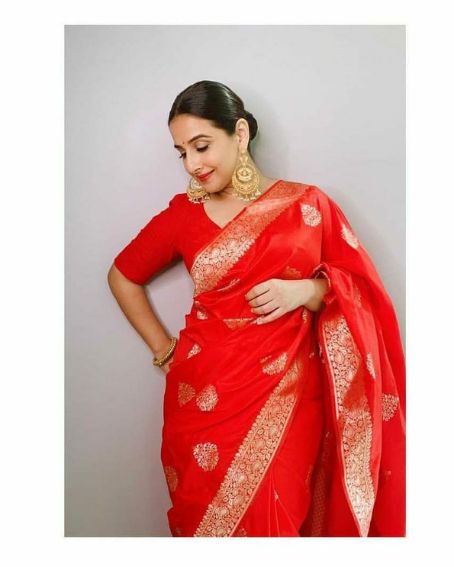 She looks sheer vintage looking in this grand red ethnic wear. Vidhya Balan looks fabulous and comfortable with her favorite saree. She used a simple plain shining blouse to match the grant saree and wear heavy earringṣ She always create a statement regarding her saree styles.
13. Favorite Fabric Black Saree With Sequin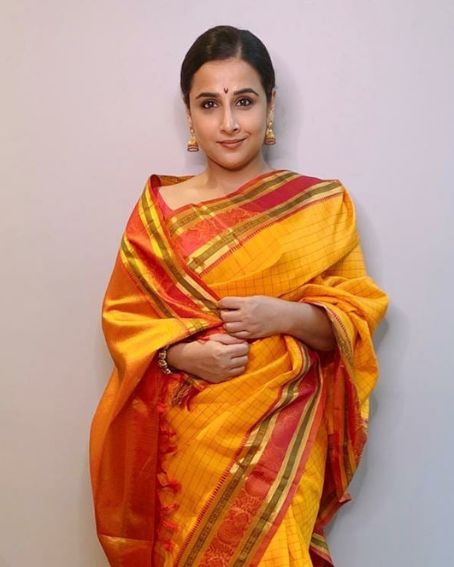 Vidhya Balan is stunning in an award function, magic with the black sequined fabric saree. She was glittering in the event and everyone's heads turn on her. She matches this saree with a plain black silk blouse.. Very unique and simple in the crowd, this always looks pretty.
14. Vidhya Balan Opted Yellow Silk Saree With A Contrast Red Blouse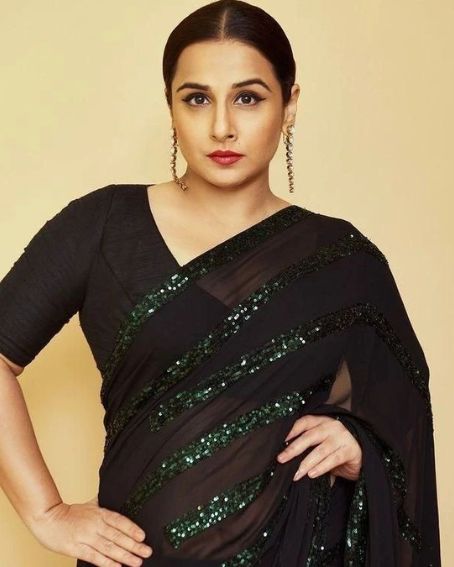 One of the Ganesh Chaturthi, Vidhya Balan opted for this yellow silk saree with red golden borders. And she used a contrast red blouse to match it. Draped saree, and enhanced with a pair of gold earrings and bangles in gold. She glows with minimal makeup, this is enchanted all the way.
15. Stunning In Full Black And Golden Border In Silk Saree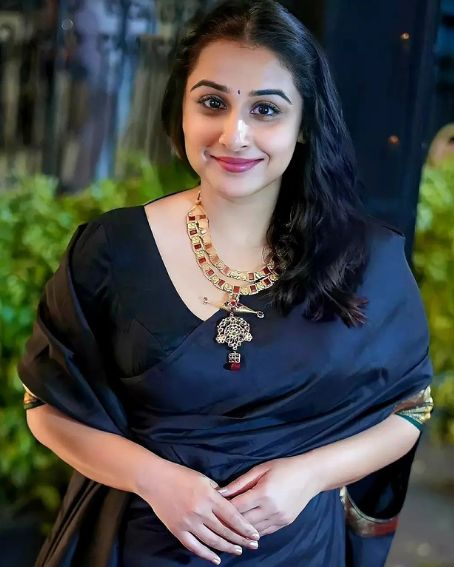 Enchanting Vidhya Balan is in black saree with golden border in a sleek and study. The half sleeve also plain black shows her simplicity in every walk. The ornaments she wore in an antique touch with stones.
16. Gorgeous Vidhya Balan In Maroon Bordered Saree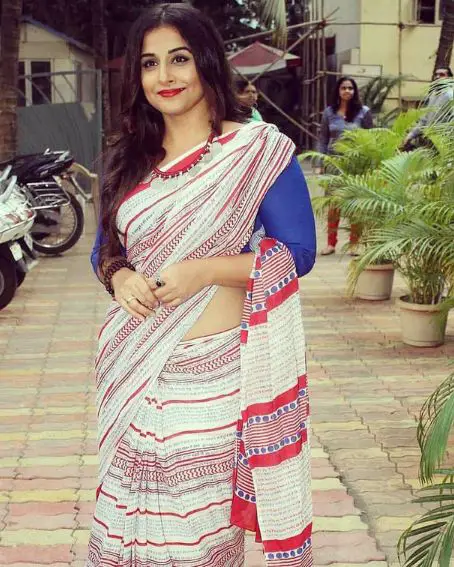 Vidhya Balan has a huge number of sarees collections which she like love and comfort. She tried this ethnic wear on ceremonies, just in a simple way. The maroon saree with a golden border with a plain blouse bestows an awesome appearance.
17. Slaying Beauty Vidhya Balan In Black Printed Saree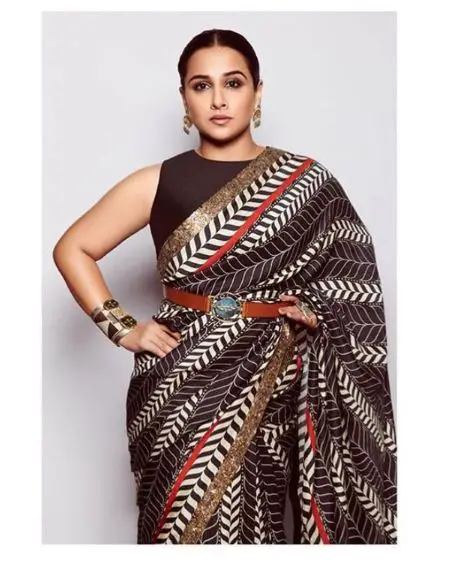 She renders a style to drape and manages to add modern techniques to this saree. Wearing a belt and jewelry are matching the saree in a stylish way. The printed saree with a sleeveless closed-neck blouse make this style as a more elegant outfit.
You Might Also Check: