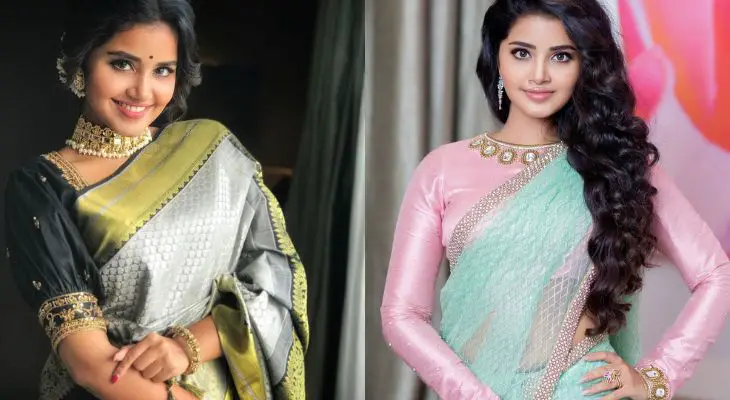 Anupama Parameswaran is the most beautiful and lovely actress in South Indian Cinema. This Malayali beauty stole the hearts of South Indian audiences with her performances in movies like Premam, Kodi, Hello Guru, etc. Anupama with her curly hair, glowing smile, and saree is a real divine beauty. Here are the exclusive pictures of Anupama Parameswaran in a saree.
20 Awesome pics of Anupama parameswaran in Saree
1. Anupama Parameswaran in Hot Red Saree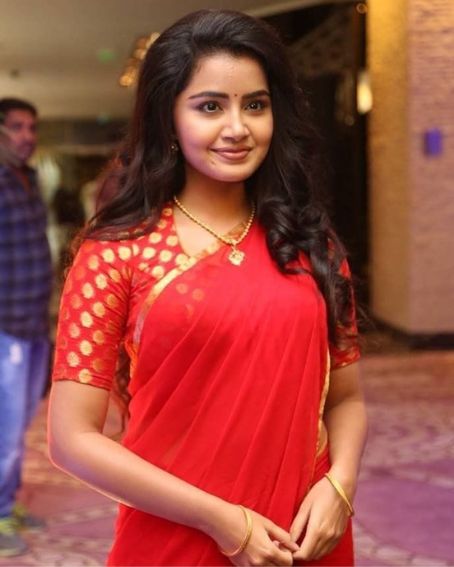 The red saree is everyone's favorite. Anupama is gorgeous in this plain hot red saree. She paired this saree with the golden motif red blouse. You can try this look for a glamorous appearance at a party.
[ Read: Latest Collection of Mekhela Chador Sarees ]
2. Anupama Parameswaran in Kerala Saree with Black Blouse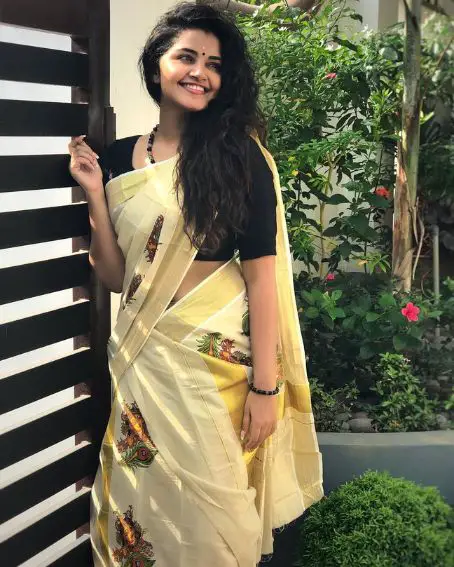 This South Indian beauty is absolutely lovely in this Kerala saree. The golden border and Krishna prints in this saree is really an awesome pick for Onam celebrations. This look of Anupama proves that this saree can look great with a black blouse.
[ Read: Trendy Thirubuvanam Sarees ]
3. Anupama in Pastel Green Net Saree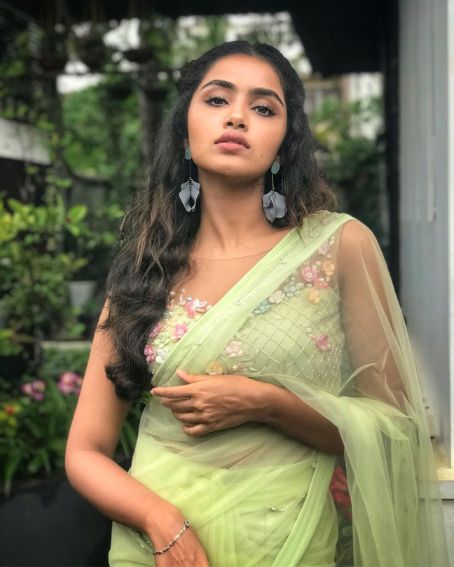 This look of Anupama is stunning and steals the hearts of her fans. The sheer yoke neck floral blouse with green net saree is gorgeous on her with her ravishing face.
[ Read: Amazing Pics of Shriya Saran in Saree ]
4. Anupama Parameswaran in Golden Yellow and Blue Combination Saree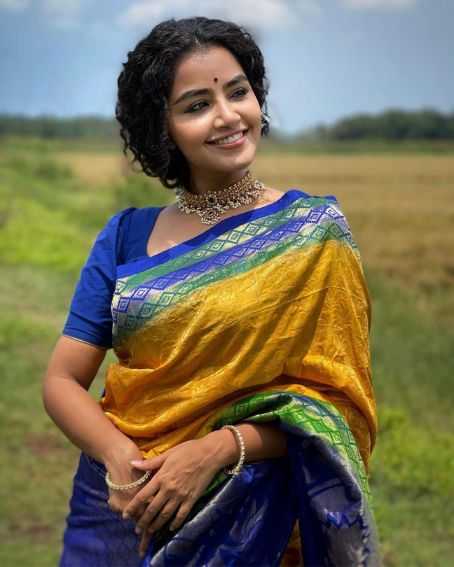 Anupama's smile and this traditional saree is what defines her perfectly. The curly traditional hairstyle and a choker neckpiece with this amazing saree give you vintage vibes. You can try this look for your temple visits which will be so divine and beautiful.
[ Read: Exclusive Collections of Chinnalapattu Sarees ]
5. Anupama Parameswaran in Casual Printed Red And Green Saree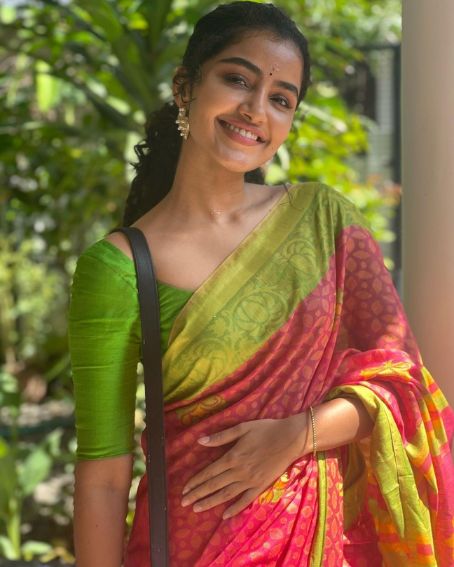 No doubt Anupama is cute and gorgeous in this casual saree look. The red and green combo printed saree is matched with a plain green elbow-length blouse. This look is the best choice for your casual office visits.
[ Read: Latest Collection of Coimbatore Sarees ]
6. Anupama Parameswaran in Satin Yellow Saree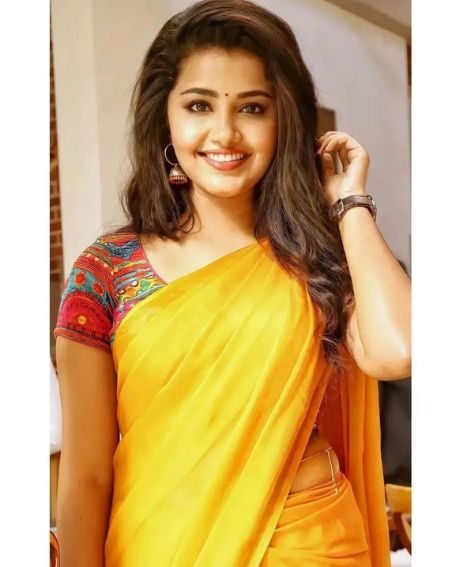 Anupama is astonishingly wow in this satin yellow saree. Her voluminous hair and multicolored printed blouse with this plain yellow saree is perfect and beautiful on her. You can match any contrasting blouse with this saree.
7. Anupama Parameswaran in Light Green Silk Saree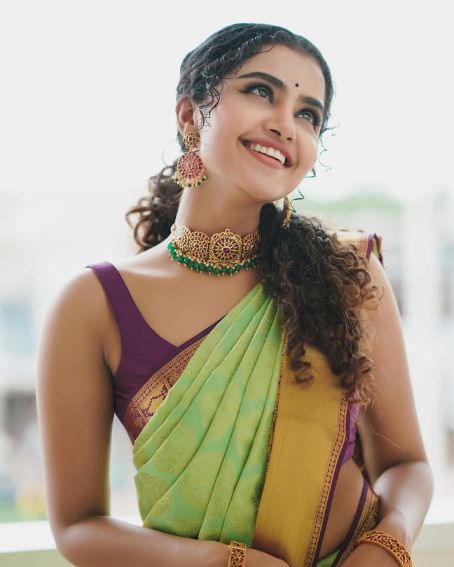 You can witness the traditional avatar of Anupama in this silk saree. The green and purple combo silk saree is amazing. Wearing a contrast sleeveless purple blouse and stone embellished choker necklace and large earrings for this silk saree is the perfect attire for attending a wedding.
8. Anupama Parameswaran in Mini Checked Cream and Black Combo Saree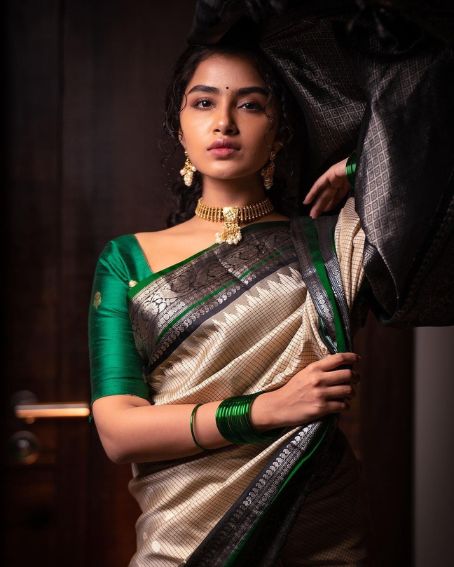 Anupama has a unique love for silk sarees. She mostly appears in silk sarees at many events. One such peculiar and ravishing look of her is this mini-checked cream color saree with a green and black border. This combo is extraordinary.
9. Anupama in Black and Cream Color Cotton Saree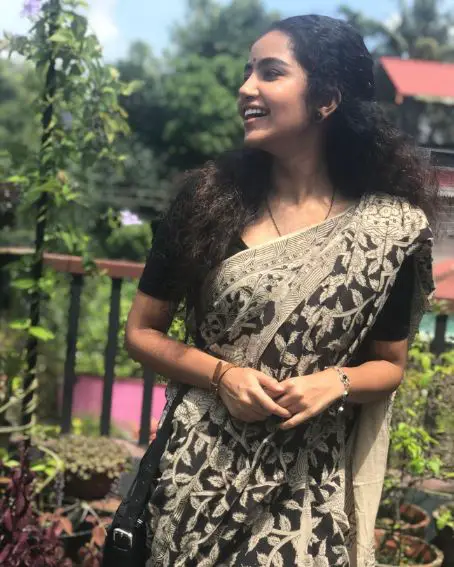 For a casual glimpse of the saree, just follow Anupama's black and cream combo cotton saree look. This can be comfortable to wear at any time. Her charming smile and lustrous curly hair make the whole look simple and better.
10. Anupama Parameswaran in Golden Net Saree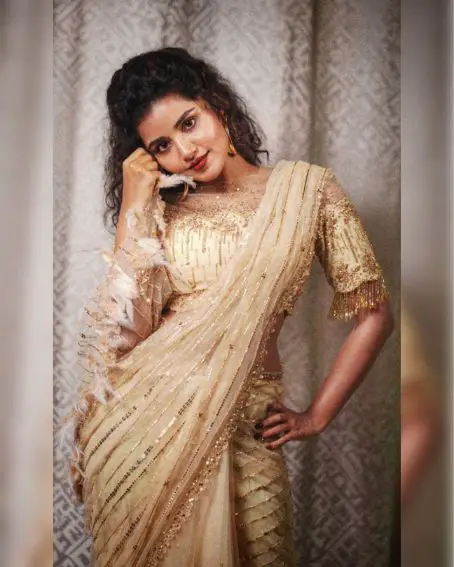 The natural glam beauty looks stunning in this mesmerizing golden net saree and a heavy work gold blouse. Anupama is a real glam diva in this fabulous saree. If you want to be a show stealer of a party, then don't miss to try out this breathtaking look of Anupama.
11. Anupama in Black and Gold Ash Pattu Saree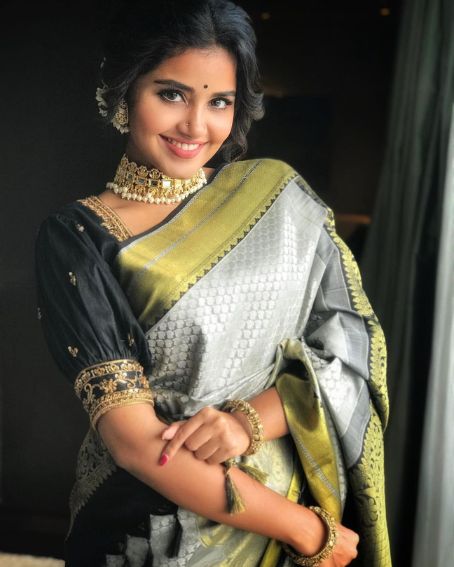 If you are going to attend any wedding, take all the inspiration from Anupama as this is an impressive look. She is beautifully gorgeous in this black and gold ash pattu saree, hair bun, bindi, and accessories. Especially the puff elbow-length blouse is super trendy and amazing with this saree.
12. Anupama Parameswaran in Red Kalamkari Saree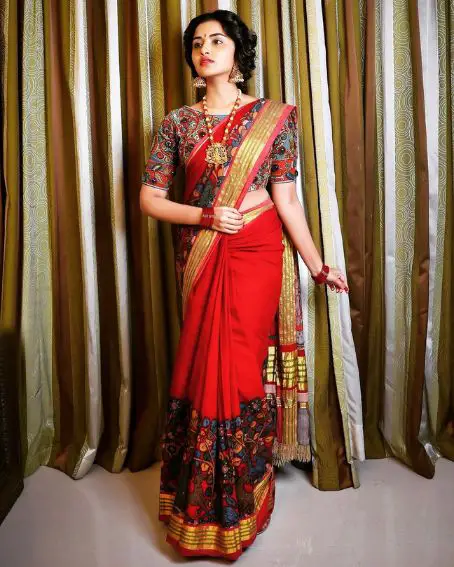 She looks like a beautiful painting in this classy look. The red kalamkari saree is draped to perfection. She accessorized this look with antique jewelry and big jhumka earrings. No wonder this beauty amazes you to go for this vintage look.
13. Anupama Parameswaran in Turquoise Green Net Saree and Pink Full Sleeve Blouse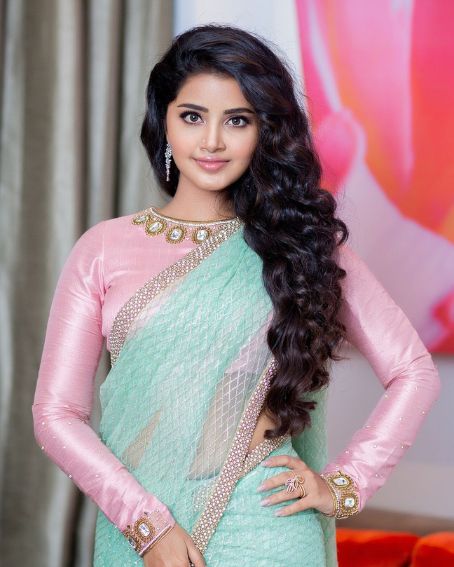 Anupama never ceases to amaze her fans. This stone embellished border turquoise green net saree matched with a contrast pink full sleeve blouse is a real wow look. The cascading waterfall hairstyle is simply gorgeous on this beauty.
14. Anupama Parameswaran in Yellow Tissue Silk Saree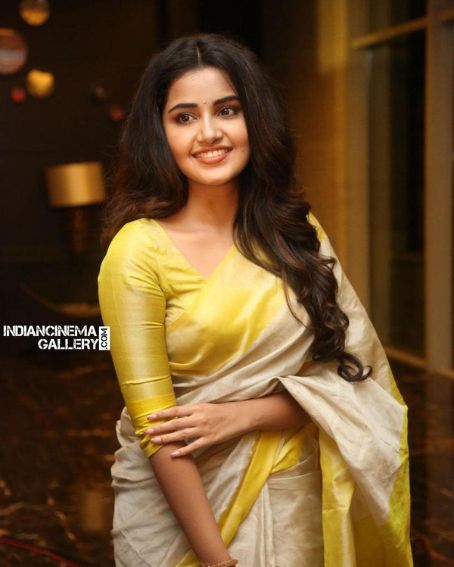 You will fall in love with her sheer elegant look. Anupama is simply beautiful in this attire even without any accessories. This cutie styled this saree in a single pleat which is flare and adorable.
15. Anupama is Stylish in White Saree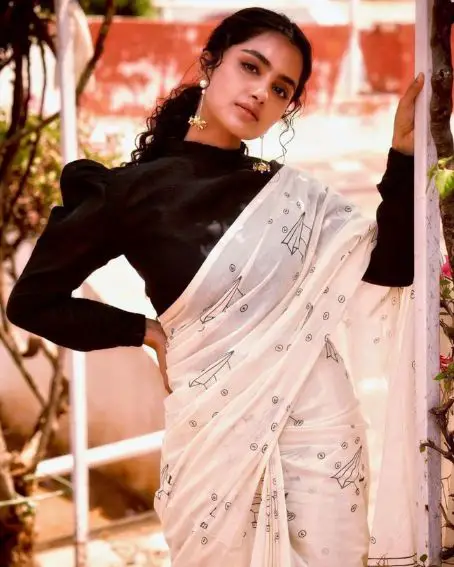 All fashion and stylish loving women will go behind this look of Anupama. The Chinese collar puff full sleeve black blouse is superb stunning with the white saree. Dazzling earring and her curly hair styled with this saree is absolutely ravishing.
16. Anupama Parameswaran in Half and Half Saree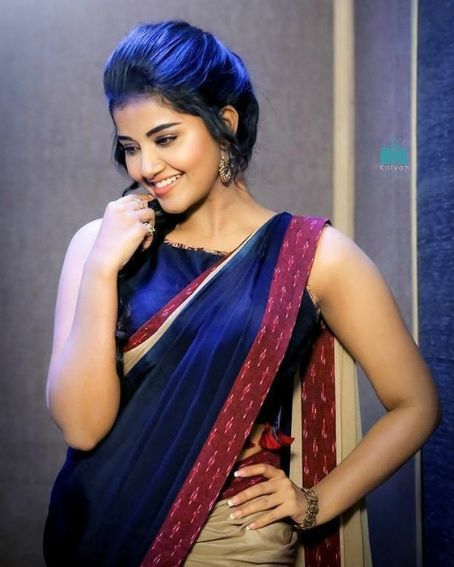 Anupama again proved her love for saree with this wonderful half-and-half saree. She looks like a doll and absolutely stunning in this outfit. She proves that a saree can make you look both stylish and traditional with this attire.
17. Anupama Parameswaran in Floral Black Organza Saree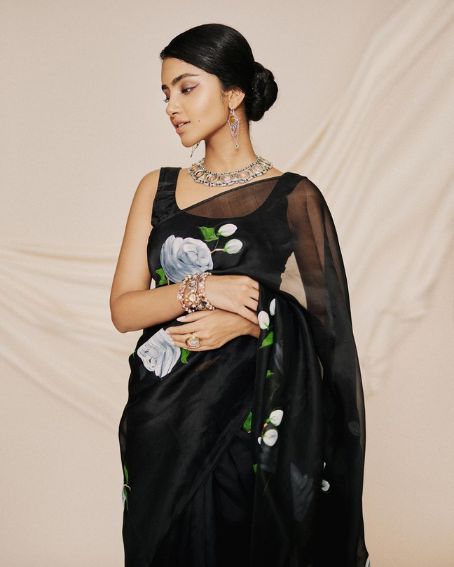 Organza saree is a new trend that everyone loves to flaunt in any event. Anupama also brags this trend with this floral black organza saree. She styled this organza saree with unique jewels and a hair bun that sets an example for saree lovers.
18. Anupama Parameswaran in Stunning Red and Black Saree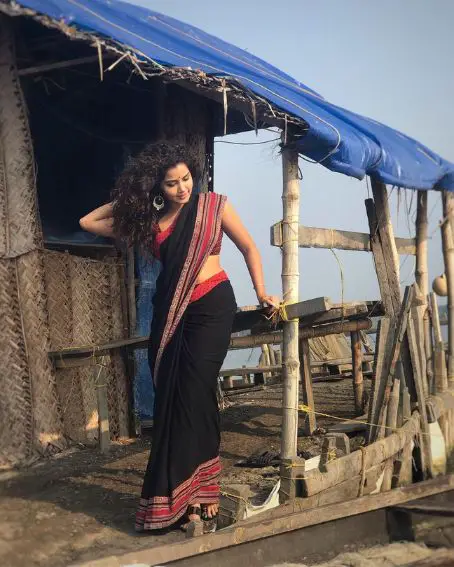 This glam diva flaunts a red and black combo saree which is loved by most women. The alluring and sheerness of this look leave her fans awestruck with her feminine beauty and charm.
19. Anupama Parameswaran in Multicolored Silk Saree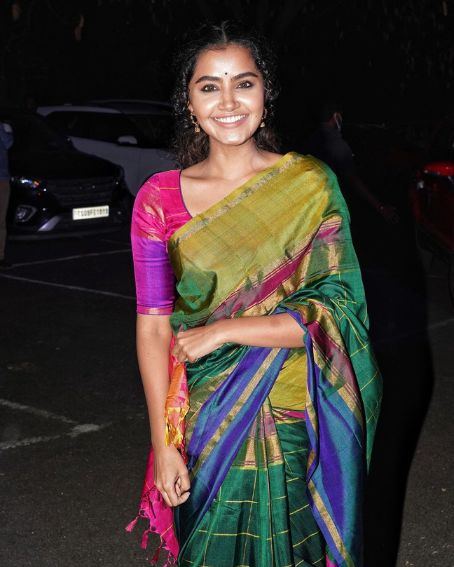 Anupama Parameswaran is spotted in this multicolored silk saree teamed up with a checked pink blouse. She enhanced this look only with simple earrings and her gorgeous curly hair and minimal makeup.
20. Anupama Parameswaran in Golden Silk Saree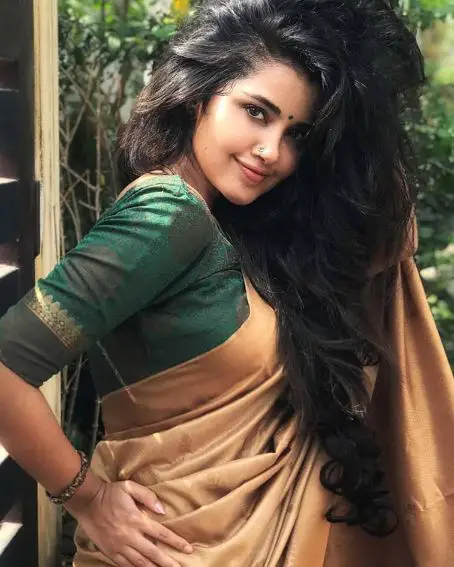 The stunning Anupama's pretty hair, contagious smile, and classy saree-wearing sense is surely a heartthrob. She carries this traditional wear just as beautifully as she does her usual clothing. This amazing look is proof of her gorgeousness.
You Might Also Like: