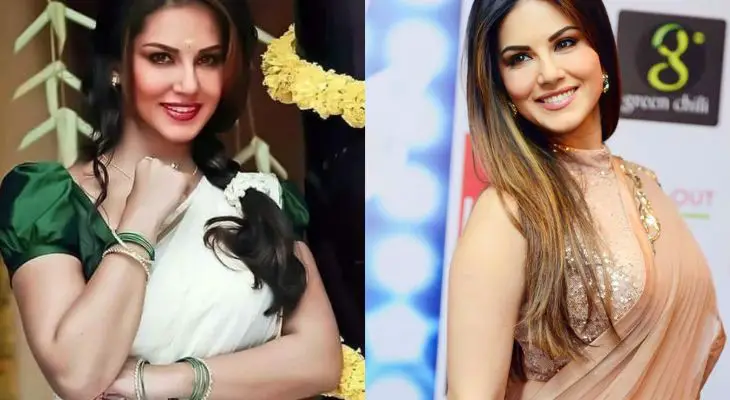 The rare unseen pictures of Sunny Leone in a saree mesmerizes everyone with her new and gorgeous traditional look with her new attire in sarees. The hot and bold beauty is very rarely seen in sarees which grabs everyone's attention and inspires to try these saree styles.
Below are the best collections of a sunny leone with a saree and a half saree images that will make you want to try them.
15 Amazing pics of Sunny Leone in Saree
1. Beautiful Plain Blue Saree With Sleeveless Blouse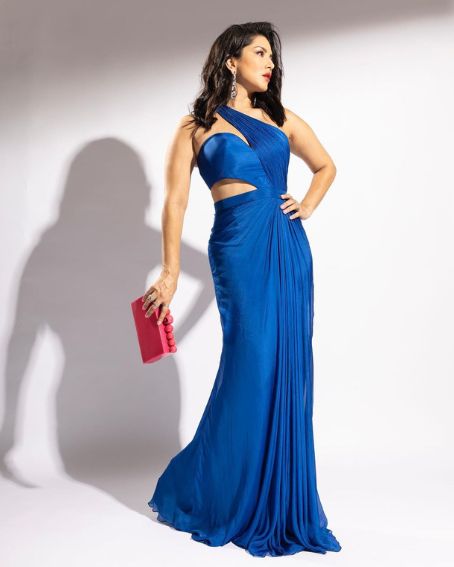 This is an amazing fashion oriented saree of Sunny Leone which is in blue color which is in plain and the blouse comes with sleeveless. This is a flawless blue saree which is fashion oriented and suit very well for Sunny Leone
[ Read: Amazing Celebrity transparent sarees ]
2. Sunny Leone In Beige Embroidery Pattern Saree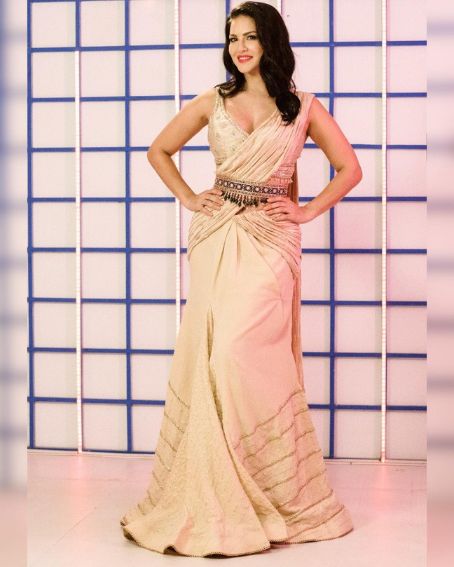 This is a beige color half saree set with beige color lehenga decorated with embroidery work on borders along with sleeveless blouse. This is a fashion oriented lehenga blouse which suits everyone.
[ Read: 7 Amazing Pics of Poonam Pandey In Saree ]
3. Gorgeous Black Saree With Belt And Color Neck Blouse
This is a plain black chiffon saree in which sunny Leone rocks with a new trendy blouse which is sleeveless and has a belt and collar. This black color saree attracts everyone with its black texture.
[ Read: 20 Beautiful Pics of Kajal Agarwal in Saree ]
4. Trendy Plain Chiffon Green Saree With Embroidered Blouse
Nowadays these plain sarees have become Trend whereas everyone is trying this trendy plain sarees with shining texture which will come along with a contrasting designer blouse, here Sunny Leone tried this plain green saree with beaded work blouse.
5. Sunny Leone In Black And White Half Saree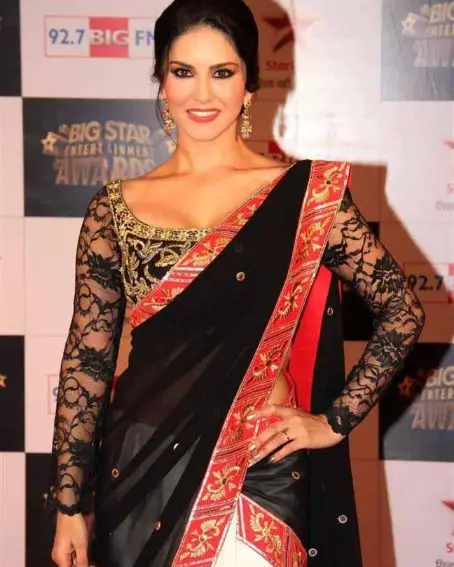 This is a black and white half saree set in which Sunny Leone rocks with her new trendy style. Here the white lehenga comes with black full sleeved blouse with lace material along with black Unni which has a red border.
6. Heavy Stone Work Beige Net Saree With Blouse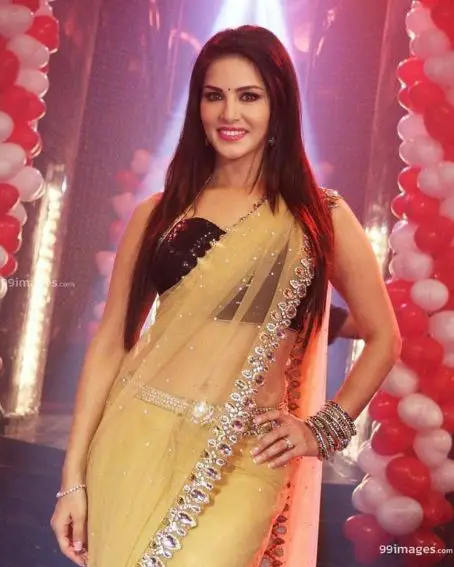 This is a wonderful beige color saree which is in net fabric and decorated with stone and kundan lace work on borders. This heavy saree comes with a contrasting black color blouse with sleeveless.
7. Sunny Leone In Orange Shaded Saree And Blouse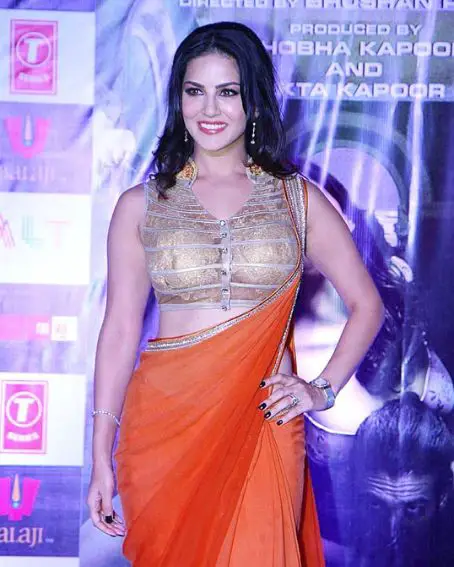 This is a wonderful Orange shaded saree plain saree decorated with tin chamkila's border along with a golden front button sleeveless blouse. This orange saree is very simple and can be worn for parties.
8. Simple And Classy Blue Saree With Blouse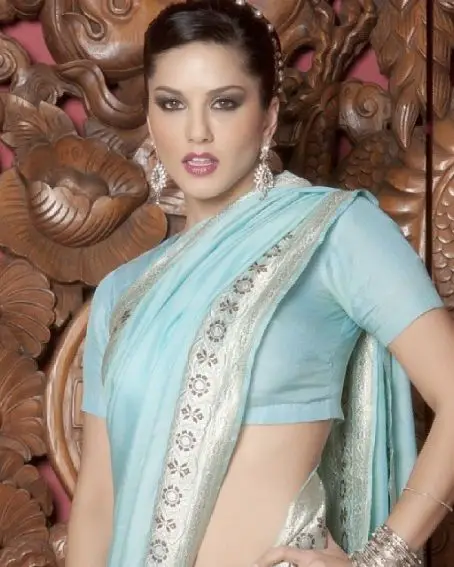 This is a simple and neat sky blue pattu saree which is with a silver self design border and Pallu. The saree blouse comes with regular sleeves and is lightweight, easy to carry.
9. Sunny Leone In Radiant Red Saree With Blouse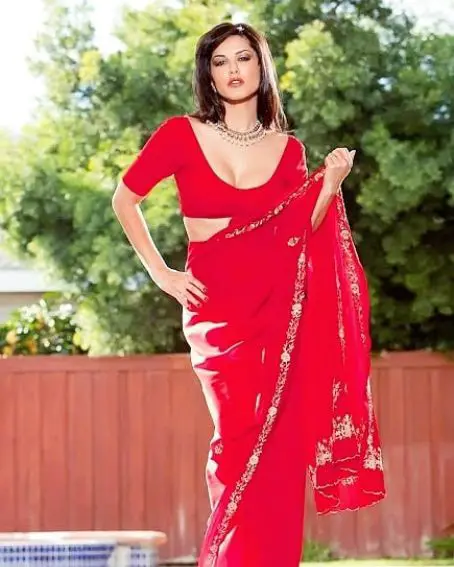 This red saree with embroidery border looks great and charming on Sunny Leone with a regular running blouse. These saree suits her very well and brings out her beauty.
10 Traditional Kerala White Saree With Green Fuffed Blouse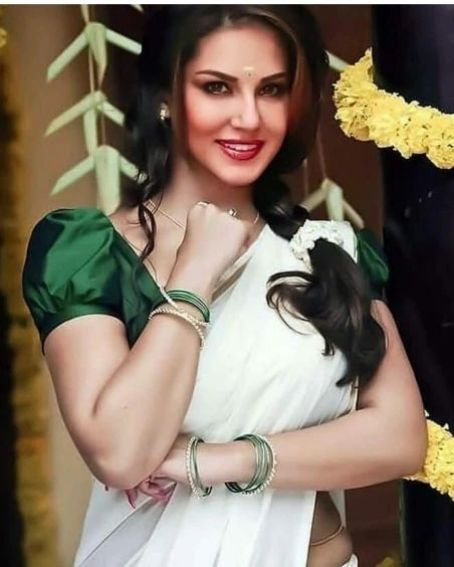 The new look of Sunny Leone is in Kerala white saree which comes with a green color contrast blouse with puffed sleeves. her new looks and Kerala get up makes everyone fall in love with her.
11 Awesome Red And Black Embroidery Saree
The glamorous red saree of sunny leone is trending with black and gold embroidery work. The good looking blouse design is strapped with gold lace. Preferably women choose this for grand occasions .
12 Sunny Leone In Pink Saree With Stone Work Blouse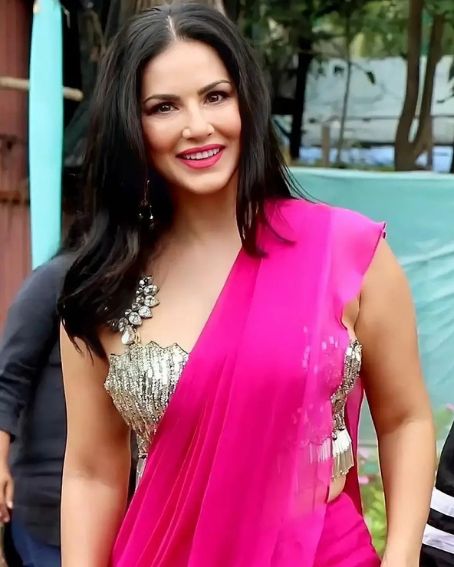 The gorgeous look of sunny leone is very attractive with bright pink saree. The silver blouse is very good looking. This saree is mostly chosen for parties and events.
13 Bright And Lovely Beige Saree With Sleeveless Blouse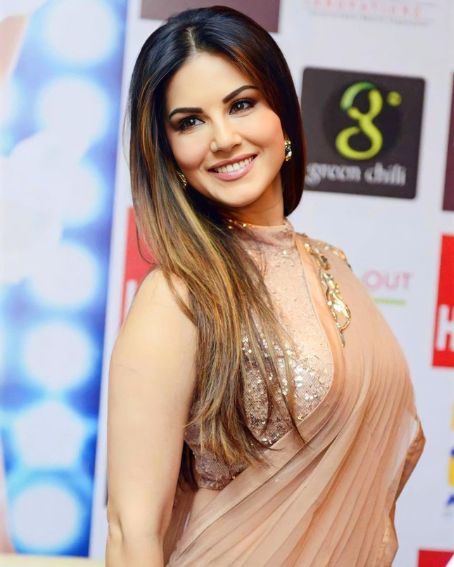 The stunning look of sunny leone in beige color saree is very beautiful. This saree has plain glittery lace as a border. The unique silver blouse is very nice with a round neck.
14 Lemon Yellow Color Saree With Red Blouse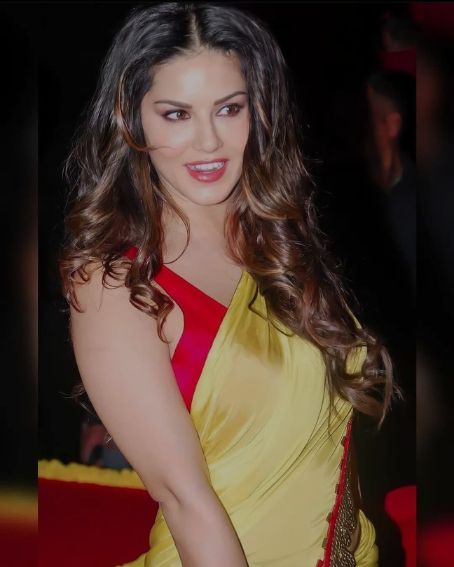 The amazing pic of sunny leone is in yellow silk material that looks glossy. The red blouse with sleeveless hands is a perfect match for the saree. It has embroidery lace as a border.
15 Dark Pink Beautiful Saree With Golden Chamki Work Blouse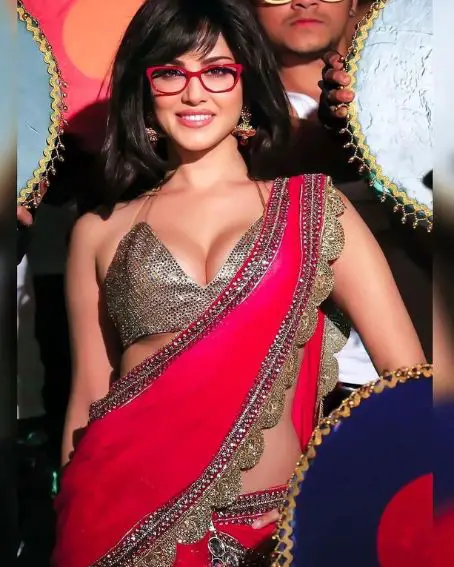 Look at the gorgeous Sunny Leone with a new look like a nerd Still making her more beautiful in a pink shaded heavy embroidery lace material saree with golden sleeveless blouse.
You Might Also Like: